"Hesse's start-up ecosystem and middle class future-proof"
AI Innovation Lab of hessian.AI opened at GSI Helmholtzzentrum in Darmstadt
2023/03/20
Hesse's Minister for Digital Affairs, Professor Dr Kristina Sinemus, opened the AI Innovation Lab of the Hessian Centre for Artificial Intelligence (hessian.AI) at the GSI Helmholtz Centre for Heavy Ion Research in Darmstadt today (March 20). The project of the TU Darmstadt, which is funded with around 10 million euros, serves as a contact point for companies, start-ups, and science with the central aim of providing access to an AI supercomputer infrastructure. In the laboratory, AI systems and applications can be developed, trained, tested, and evaluated.
The AI Innovation Lab of the Hessian Center for Artificial Intelligence (hessian.AI) at the Green IT Cube of the GSI Helmholtzzentrum in Darmstadt has been opened: (from left to right) Professor Dr Dr h.c.. Paolo Giubellino, Scientific Director of GSI and FAIR, TU President Professor Dr Tanja Brühl, Hesse's Minister of Digital Professor Dr Kristina Sinemus, Professor Dr Dr h.c. Mira Mezini, Co-Director of hessian.AI, and Dr Ulrich Breuer, Administrative Managing Director of GSI and FAIR.

Joint press conference with representatives from politics, science and business.
Previous
Next
Go to picture 1

Go to picture 2
Users from research and application not only receive support in the conception and implementation of AI projects and access to the infrastructure, but also support in adapting to alternative hardware architectures and performing computationally intensive AI tasks. Companies can thus accelerate processes, make workflows more efficient, and develop breakthroughs. Industries that benefit from this computing infrastructure include finance, biotechnology, pharmaceuticals, mobility, and logistics.
"Sustainable and cutting-edge AI computing infrastructure is a prerequisite for the long-term economic success of companies. With the AI Innovation Lab, we are creating a unique center nationwide that will increase the startup dynamics in Hessen, enhance the state's innovation capacity, and provide a competitive advantage", emphasized Hesse's Minister for Digital Affairs, Professor Dr Kristina Sinemus.
Many Hessian start-ups are using AI for their innovative business models – from agri-technology to finance and environmental technologies. That's why the AI Innovation Lab at the Green IT Cube plays a key role in transferring knowledge from science to industry. At the same time, we are strengthening Hesse as a start-up location for sustainable business ideas. And we need these for the economic transformation in Hesse: we want to support the transition to climate-neutral economy and make Hesse the leading location for green start-ups," said Hesse's Minister of Economics Tarek Al-Wazir, pointing out that already one third of the start-ups in Hesse are green start-ups.
Recommended external content
We have selected external content from Twitter for you and would like to show it to you right here. To do this, you must reveal it with one click. You can hide the external content at any time with another click.
I agree to external content from X being shown to me. This may result in personal data being transmitted to third-party platforms. You can find more information in our Privacy Policy.
Among the world's top 300 AI supercomputers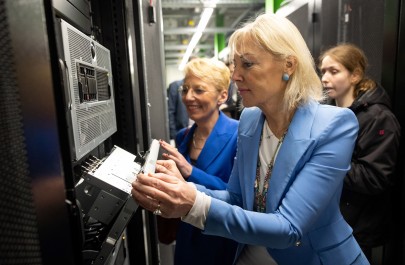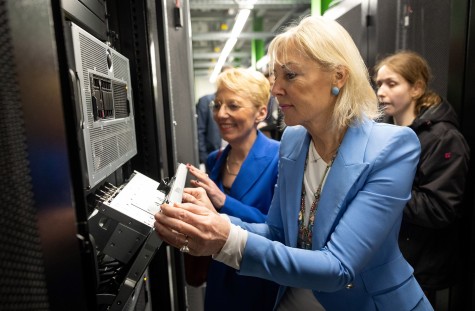 The TU Darmstadt concluded a framework agreement with the GSI Helmholtz Centre for the use of the water-cooled Green IT Cube to house the hardware of the AI Innovation Lab in hessian.AI, one of the most sustainable computing infrastructures in the world. The AI Innovation Lab will be among the top 300 AI supercomputers worldwide in its entirety. With its 38 computing nodes and 304 GPUs (graphics cards) and half a petabyte of storage, it provides excellent infrastructure for research and development. The computers weigh approximately six tons and several kilometers of cable were installed.
"The establishment of the AI Innovation Lab in the Green IT Cube creates a bridge between cutting-edge research and application, because low energy consumption is a key requirement for the sustainable use of AI and the operation of powerful data centers," explained Minister of Science Angela Dorn. "Therefore, the Ministry of Science has provided 5.5 million euros from the European Regional Development Fund (EFRE) for the expansion of the Green IT Cube into a research and transfer center for water-cooling of large-scale computers."
Professor Dr Tanja Brühl,
President of TU Darmstadt
As a forward-looking component of the strong Hessian AI ecosystem, the AI Innovation Lab creates excellent conditions to transfer excellent AI research from the TU Darmstadt and all participating universities at hessian.AI into applications in breadth and depth, With the help of robust, secure, and efficient AI systems, we want to develop solutions for global challenges in exchange with our partners in business and society. I am delighted that we can continue to pursue this goal in hessian.AI thanks to the great support of the Hessian state government.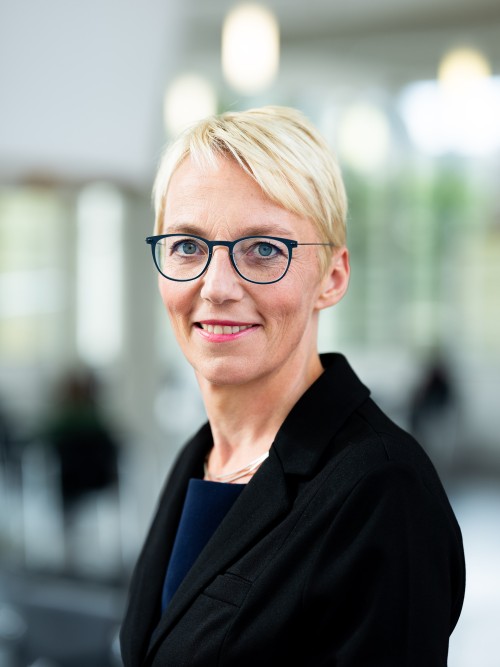 Picture: Katrin Binner
Professor Dr Dr h.c. Mira Mezini,
Co-Director of hessian.AI
The AI Innovation Lab of hessian.AI, the Hessian Center for Artificial Intelligence, opens up new opportunities for Hessian companies, start-ups, and science in dealing with AI as a key technology. Access to large compute infrastructures and the offer of individual services from a single source in close connection with the cutting-edge research of hessian.AI are necessary prerequisites for lifting the potentials for new AI innovations in the Hesse region and thus promoting AI sovereignty. It is great that with the help of the Hessian state government, we can further advance AI cutting-edge research and application in Hesse.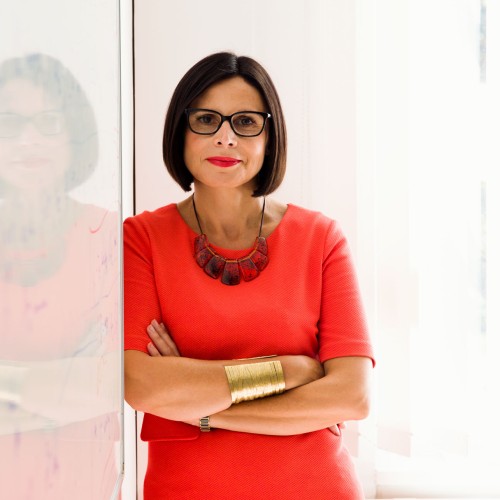 Picture: Katrin Binner
Interlocking building blocks of the AI future agenda
"Hesse has the potential to become the Silicon Valley of Europe, and as a state government, we are investing in the future technology of AI to make Hesse future-proof in both cities and rural areas. We are convinced that AI can only unleash its potential if people have confidence in the development and use of AI. This applies to existing measures such as the Hessian Center for Artificial Intelligence hessian.AI or the Center for Responsible Digitalization ZEVEDI, as well as our nationally unique "AI Quality & Testing Hub". And with our funded Center for Applied Quantum Computing, Hesse is already preparing for the use of the next generation of supercomputers," concluded Sinemus.
More statements from the opening
"High-performance computing and the use of artificial intelligence play a big role in modern science and are rapidly gaining importance. Our sustainable data center, Green IT Cube, provides the best conditions to drive forward the development of AI and connect it with our research. The funding we received through the REACT-EU program allowed us to expand our available capacity for use by external project partners. They also enable the development of important synergies, such as the one we are proud to inaugurate today."
"With the Digital Open Lab real-world laboratory, an environment for the development, testing and upscaling of energy-efficient high-performance computing to the scale of industrial demonstrators has been provided. Through collaborations with academic institutions and companies, particularly startups, we offer a platform to contribute to green computing and the development of AI-based technologies. We are delighted to welcome hessian.AI as a partner on our campus."
Proteineer GmbH uses AI on a large scale to find new proteins for the production of mRNA activate ingredient in huge datasets for our customers, for example. The graphics processors and computing nodes in the KI-Innovationslabor will help us significantly improve and accelerate these developments."
"The advancements of the disruptive cognitive AI solution EMMA include AI modules based on neural networks that require a high level of computing power to train models, for example to classify wood defects in production batches and automatically adjust the resulting evaluation for the process. In addition to excellent AI computing infrastructure, the KI-Innovationslabor provides a holistic range of development-related components that make the business location even more attractive and significantly increase its performance."
"Machine learning and computationally intensive algorithms are at the core of our products and research activities. The GPU cluster in the Green IT Cube provides the necessary computing capacity regionally to further expand our competitive advantage."
"The computing infrastructure of the AI Innovation Laboratory could help us tremendously in training and testing our AI to the extent necessary for autonomous, yet safe and reliable flights. The initiative strengthens our location and keeps know-how and experts on a central topic of the future in the country."
"Given the steadily increasing complexity of deep learning models, the requirements for both humans and machines to use the systems are also increasing. The AI Innovation Laboratory addresses both areas and creates a very good starting point for start-ups from the Rhine-Main area and beyond."
hessian.AI
hessian.AI, the Hessian Center for Artificial Intelligence, pursues the goal of conducting excellent basic research with concrete practical relevance and also to promote transfer to industry and society. The center, in which 13 Hessian universities are involved, bundles the expertise of 22 AI scientists and expands this with 22 new professorships. Based on cutting-edge research conducted at the TU Darmstadt and other Hessian universities, a significant contribution will be made to the research and development of novel AI systems with human-like thinking and communication capabilities, which are classified as part of the so-called "Third Wave of AI".