Arrival by Public Transport
Get off at Darmstadt main station, take tram line 2 in the direction of "TU Darmstadt-Lichtwiese/Campus" at the station forecourt and get off at the last stop "TU-Lichtwiese/Campus". After getting off, turn right towards the blue gantry crane. The building L5|09 is located approx. 250 m from the stop in a north-westerly direction behind the Lichtwiese multi-storey car park.
Alternatively, Lichtwiese can also be reached via the Odenwaldbahn / VIAS (line 81/82, Erbach – Frankfurt a. Main). The stop where you have to get off is called "Darmstadt TU-Lichtwiese Bahnhof".
For online directions click here.
Arrival by Car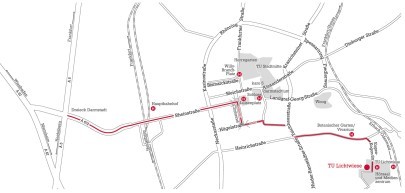 Coming from highway A5 or A67 from the direction of Frankfurt / Cologne or Heidelberg / Basel, take the exit "Darmstadt – Stadtmitte", follow "Rheinstraße" and pass through the Citytunnel. In the Citytunnel keep to the left. Then follow the signs "TU Darmstadt – Lichtwiese" or "Aschaffenburg".
Building L5|09 is parallel to the access road (Eugen-Kogon-Straße) and is located behind the large Lichtwiese car park on the right-hand side.
Parking is available along Eugen-Kogon-Straße and in the marked parking areas of campus Lichtwiese.
Alternatively, you can click here to use online directions for navigation.
Delivery Information
For incoming goods, please use the online directions here.
Information on delivery times and contact persons can be found here (opens in new tab) .