Publications
Machines are Frozen Spirit. The Scientification of Refrigeration and Brewing in the 19th century – A Weberian Interpretation, Campus Verlag/Westview Press, Frankfurt a.M./Boulder, Col., 1994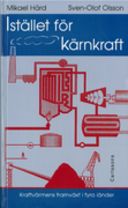 Istället för kärnkraft. Kraftvärmens framväxt i fyra länder, Stockholm: Carlssons förlag, 1994 [with Sven-Olof Olsson]
Edited Publications
"Coping with Modernity: European Ways of Housing in the American Century", Special issue of Home Cultures, Vol. 7, No. 2 (2010), pp. 105-238 [with Liesbeth Bervoets]
Kunnskap og kultur: Vitenskapens roller i det norske samfunn, 1760-2000, Tapir, Trondheim [with Anne Kristine Børresen]
Journal Articles (Auswahl)
"History of Modern Chinese Technology—A Review Essay," accepted for publication in ICON—Journal of the International Committee for the History of Technology [mit Wei Wu]
"Maintaining the Local Empire: The Public Works Department in Dar es Salaam, 1920-1960," The Journal of Transport History 41, 2020: 27–46. doi.org/10.1177/0022526619883457 [mit Frank Edward]
"Trading Zones in a Colony: Transcultural Techniques at Missionary Stations in the Dutch East Indies, 1860–1940" Social Studies of Science, published online first 2020: doi.org/10.1177/0306312720925913 [mit Mai Lin Tjoa-Bonatz]
"The Historical Ironies of Roads", The Journal of Transport History 41, 2020: 3–5. doi.org/10.1177/0022526620908265 [mit Alexis A. De Greiff]
"Inventing Traditions: Interests, Parables and Nostalgia in the History of Nuclear Energy," History and Technology 31 (2015), pp. 84-107 [mit Tilmann Hanel]
"Jenseits der Netzstadt? Stadt- und Infrastrukturentwicklung in Dar es Salaam," Informationen zur modernen Stadtgeschichte 2015, Heft 1, S. 81-92 [mit Jochen Monstadt und Sophie Schramm]
"Common Cause: Public Health and Bacteriology in Germany, 1870-1895", East Central Europe 40 (2013), pp. 319 – 340 [with Anne I. Hardy]
"Innovation – the Endless Frontier: Historical Modes of Engineering Science", Technology Analysis & Strategic Management 22 (2010) pp. 443-445 [with Andreas Knie]
"The Victorian Eye and Its Blind Spot: Toward a Cultural Assessment of Technology" ,History and Technology 26 (2010), pp. 173-177
"Society, Culture and Users: The Missing Masses of J.D. Bernal", Centaurus, 50 (2008), pp. 103-104
"Den kulturelle tilegnelse af den moderne teknik i Tyskland omkring 1900", Den jyske historiker 102-103 (2003) pp. 47-63
"Zur Kulturgeschichte der Naturwissenschaft, Technik und Medizin: Eine internationale Literaturübersicht", Technikgeschichte 70 (2003) pp. 23-45
"The Story-Lines of Technological Change. Innovation, Construction and Appropriation", Technology Analysis & Strategic Management 15 (2003) pp. 81-91 [with Andrew Jamison]
"Cultural Politics in Action. Developing User Scripts in Relation to the Electric Vehicle", Science, Technology, & Human Values 27 (2002), pp. 262-281 [with Heidi Gjøen]
"Die Praxis der Forschung: Zur Alltäglichkeit der Technikentwicklung am Beispiel einer britischen Ingenieurfirma", Dresdener Beiträge zur Geschichte der Technikwissenschaften 27 (2001) pp. 1-17
"The Cultural Dimension of Technology Management: Lessons from the History of the Automobile", Technology Analysis & Strategic Management 13 (2001) pp. 91-103 [with Andreas Knie]
The Grammar of Technology: German and French Diesel Engineering, 1920-1940", Technology and Culture 40 (1999), pp. 26-46 [with Andreas Knie]
"Alternative Cars: The Contrasting Stories of Steam and Diesel Automotive Engines", Technology in Society 19 (1997) pp. 145-160 [with Andrew Jamison]
"Technology as Practice: Local and Global Closure Processes in Diesel-Engine Design", Social Studies of Science 24 (1994) pp. 549-585
"Beyond Harmony and Consensus. A Social Conflict Approach to Technology", Science, Technology, & Human Values 18 (1993) pp. 408-432
"Die Dinge gegen den Strich bürsten: De- Konstruktionsübungen am Automobil", Technikgeschichte 60 (1993) pp. 224-242 [with Andreas Knie]
Book Chapters (Auswahl)
"Representation, Negotiation, and Tinkering: Stories of Electrification from Colonial Dar es Salaam," accepted for publication in: Jochen Monstadt, René de Bercegol, and Bérénice Bon, eds, Translating the Networked City: Urban Infrastructures in Nairobi and Dar es Salaam. New York: Routledge, forthcoming 2020.
"Judengeschäfte:' Warenhäuser im urbanen Kontext 1876-1938", in: Andreas Hoppe, ed., Von Ninive über Jerusalem nach Darmstadt: Städte im Kontext materieller und immaterieller Ausstattung und Entwicklung, Frankfurt am Main: Campus, 2011 [with Marie-Christin Wedel]
"Ingenieure unter dem Sonnenkreuz: Die Norwegische Technische Hochschule während der Besatzungszeit 1940-1945", in: Noyan Dinçkal, Christof Dipper and Detlev Mares, eds, Technische Hochschulen im "Dritten Reich": Selbstmobilisierung der Wissenschaft, Darmstadt: Wissenschaftliche Buchgesellschaft, 2010, pp. 145-161
Technik und Kultur, in: Sabine Haupt und Stefan Bodo Würffel, eds.: Handbuch Fin de Siècle, Stuttgart: Alfred Kröner Verlag, 2008, S. 680-693.
"Die Aneignung der modernen Stadt durch Künstler und Schriftsteller um 1900", in: Matthias Luserke-Jaqui, ed., 'Alle Welt ist medial geworden.' Literatur, Technik, Naturwissenschaft in der Klassischen Moderne, Tübingen: Narr Franke Attempto Verlag 2005, S. 35-52 [with Marcus Stippak]
"'Das norwegische Athen.' Das geistige Leben im Trondheim des 18. Jahrhunderts", in: Georg G. Iggers et al., eds, Hochschule – Geschichte – Stadt. Festschrift für Helmut Böhme, Darmstadt: Darmstadt University of Technology, 2004, pp. 121-134 [with Monica Aase]
"Erfolgreiche und erfolglose Alternativen im Automobilbereich – eine historische Bilanz", in: Armin Grunwald, ed., Technikgestaltung zwischen Wunsch und Wirklichkeit, Berlin: Springer Verlag, 2003, pp. 161-173
"Die intellektuelle Aneignung der Technik am Anfang des 20. Jahrhunderts. Zur Analyse von Spreachhandlungen", in: Andreas Lösch, Dominik Schrage, Dirk Spreen and Markus Stauff, eds., Technologien als Diskurse. Beiträge zur Kultursoziologie Konstruktionen von Wissen, Medien- und Körpertechnologien, Heidelberg: Synchron, 2001, pp. 197-208
"Construction, Reconstruction, or Deconstruction: How to Write Engineering History", in: Hans Glimell and Oskar Juhlin, eds, The Social Production of Technology: On the Everyday Life with Things, Gothenburg: Business Administrative Studies, 2001, pp. 207-226
"Genese von Techniken und betriebliche Technikpolitik: Tradition und Flexibilität im Dieselmotorenbau", in: Meinolf Dierkes, ed., Technikgenese: Befunde aus einem Forschungsprogramm, Berlin: ed. Sigma, 1997, pp. 17-36
"Enforced Marriage: How District Heating and Electricity Systems Have Been Combined", in: Arne Kaijser and Marika Hedin, eds, Nordic Energy Systems. Historical Perspectives and Current Issues, Canton, MA: Science History Publications, 1995, pp. 187-204 [with Sven-Olof Olsson]
"Technological Drift in Science: The Making of Radio Astronomy in Gothenburg and Onsala, 1942-1976", in: Svante Lindqvist, ed., Centre on the Periphery. Swedish Physics in the 20th Century, Canton, MA: Science History Publications, 1993, pp. 378-397
Rezensionen (Auswahl)
Hård, Mikael, review of Thomas Zoglauer, Karsten Weber, and Hans Fries, eds, Technik als Motor der Modernisierung (Verlag Karl Alber, 2018) accepted for publication in Technology and Culture, forthcoming 2020.