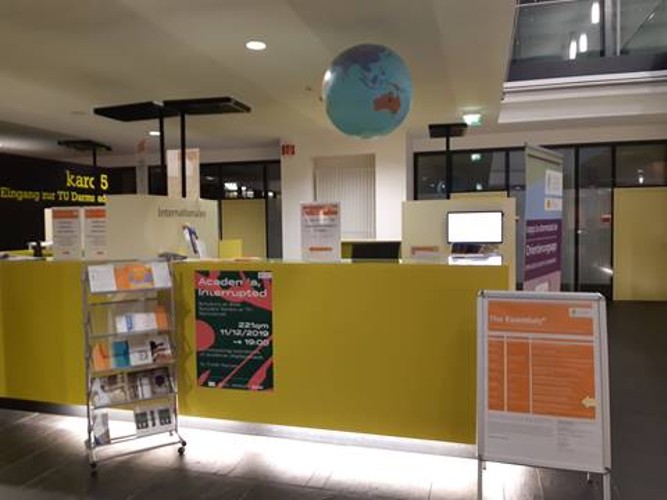 NEW: Online-Counter
Online-Counter times International Relations Department. Our front office and service counter are accessible online via Zoom. If you have questions and would like to speak with us, please click the following button during the Online-Counter times to enter the virtual waiting room and wait for our student assistants.
Online-Counter times
Tue 14.00 – 15.00
Thur 10.00 – 11.00
Concerning your E+ Placement TU Darmstadt is cooperating with the local contact for EU-Placements in Fulda.
You are enrolled at the Technical University of Darmstadt
The duration of the internship has to be between 2 and 7 months
The internship will be carried out in one of the eligible countries
It is a full-time internship with a clear connection to your study programme
Mandatory and voluntary internships are eligible
Erasmus promotes funded internships in Erasmus + programme countries. These are the 27 EU states as well as: United Kingdom (funding possible until May 31, 2023), Iceland, Liechtenstein, Norway, Macedonia, Serbia and Turkey.
The financial support (monthly) is classified into the respective country group.
The following documents must be submitted with your application:
1. CV (signed and dated)
2. Letter of motivation (at least one DIN A4 page, signed and dated)
3. Valid certificate of enrollment
4. The firm commitment of the internship company
5. Insurance declaration (TU Darmstadt template)
6. Certificate of reference to your study programme certificate of recognition (TU Darmstadt template)
Additional information on the required application documents you can also find here.
In order to receive a grant for your Erasmus+ internship, you have to apply online 6 weeks before the internship starts.
To apply for an internship in the UK, all the required documents must be submitted 4 months before the internship starts.
During the Online Application you are ask to upload all required documents.
As soon as you have submitted the online application, please inform us by sending an email to europe-internships@zv.tu-… with the information that you have submitted your online application.
Link to the Online Application
In order to apply online you will need a student email address of TU Darmstadt (either you are going to activate your student email address or you are configuring the direct forwarding) via IDM-Portal.