Interaction between man and machine
"Athene Young Investigator" Martin Adam takes a socio-technical look at the digitalised world
2022/04/28 by Astrid Ludwig
How can modern technology be designed and used to achieve the best possible benefit and well-being for people? Athene Young Investigator Dr. Martin Adam investigates this question. Dr. Adam (30) conducts his research at the interface between social and technical phenomena. The specialist in information systems has already received the Athene Special Prize for Digital Teaching at TU Darmstadt for his master's course, which addresses questions on mental health and uses modern data analytics tools for that purpose.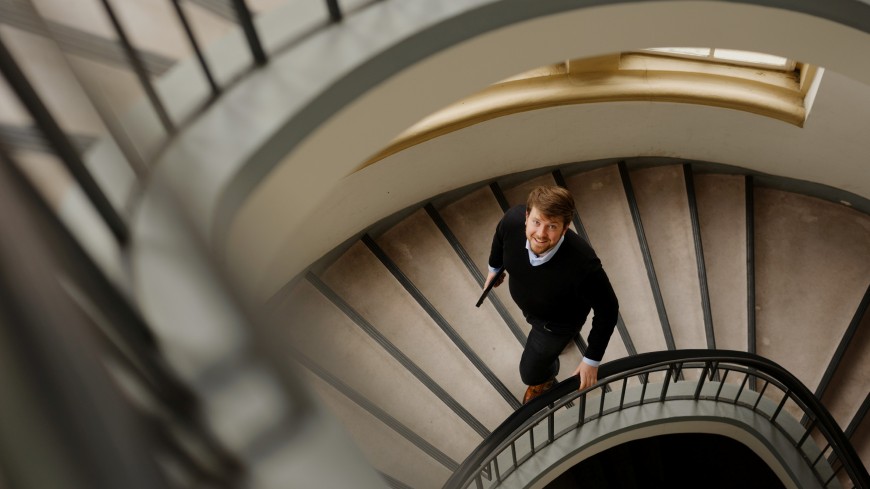 How do people react to technical innovations? For instance, do we welcome voice-controlled assistants like Alexa or do we find them rather scary – especially when, instead of just accepting commands, they start to show initiative and make suggestions? What are the consequences of Artificial Intelligence (AI) for humankind; what ethical questions arise, and how does AI have to be designed so that, rather than just delivering a good performance, it is also accepted by users? Dr. Martin Adam addresses these questions on the interaction between man and machine every day in his scientific work at the Department of Law and Economics at TU Darmstadt.
As the Athene Young Investigator explains, his research focuses on three main areas. They include above all the issue of the use and implementation of AI, but also areas such as digital transformation, user behaviour and well-being. Aspects of sustainability and motivation from better technology design are currently of significance, but emotional content such as techno-stress or techno-detox is also becoming more important in our increasingly digitalised world. "Mental health is taking on an increasingly important role in society," says Martin Adam. His master's course on "Improving well-being with data analytics" offered in the 2021 Corona summer semester was a cross-departmental hit with students. More than 100 people signed on for the course, which explored mental health issues using modern data analysis tools and empirical methods to scientifically demonstrate how to improve well-being and technology use.
Focus on digital transformation
Dr. Adam considers established phenomena in the context of today's high technology. Another example is to be found in his research focus Digital Transformation, where he investigates topics such as digital platforms and algorithm-based management. A procedure of this kind is used by the app-based taxi provider Uber, for instance, which manages drivers by algorithms rather than people. But is algorithm-based management really fair to the drivers? And how can they defend themselves against unfair treatment by algorithms? Yet another aspect that the researcher is exploring in-depth. "The TU is making a fundamental contribution to this area of research," says the young scientist. "We are absolutely in step with the times."
Dr. Adam was born in Offenbach, studied business administration at the European Business School and then worked in industry for two years before coming to TU Darmstadt in 2016 to complete his doctorate in information systems. He has been working on his post-doctoral lecturing qualification since 2019. His desire for the further course of his career is a professorship. Martin Adam's aim is that "[his] ideas should make people think". He wants to convey new perspectives, a different angle and their implications to interested parties in his studies and courses.
Award with a signal effect
Admission to the Athene Young Investigator funding programme of TU Darmstadt is, in his own words, both a privilege and a sign of "confidence in my past and, in particular, my future work". He emphasised that the award had a "signal effect" for him, and would increase his scientific options. With the support of the university's funding programme, he wants to intensify his research in the field of technology usage and well-being and is planning, among other things, to spend several months abroad in the summer on a professional exchange to the USA. The recognition as an Athene Young Investigator "makes my research, teaching, and in particular me as a person visible," he says.