Unite! for FSPways
The Alliance is committed to Flexible Study Pathways
2022/06/10
The alliance presents a first report including definitions and recommendations for Flexible Study Pathways (FSPways) in order to build a common framework for flexibility that can be easily communicated to students, teachers and non-teaching staff.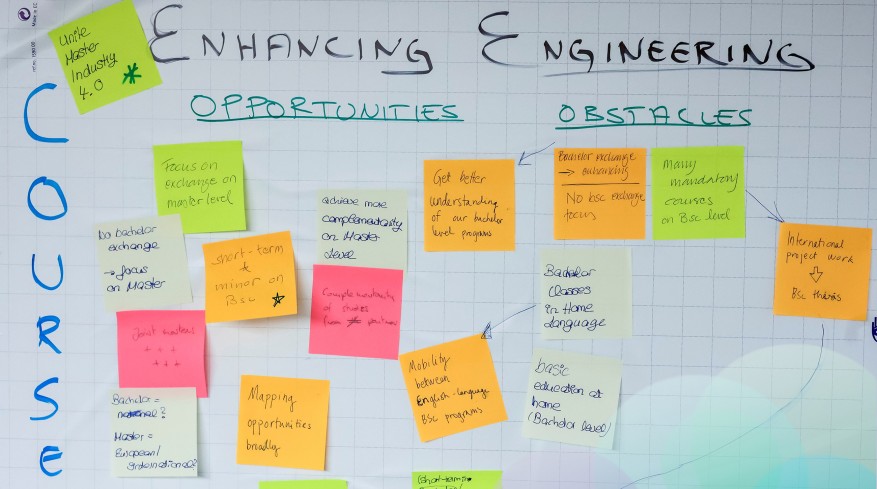 FSPways is a key element in revolutionising the quality and competitiveness of European higher education. Consequently, Unite! believes that FSPways should be at the centre of education development activities as well as being essential for the implementation of joint programmes (JP). This would enable Unite! to offer meaningful experiences to students and prepare them for the future, broadening their cognitive and experiential capacity.
Rapid societal transformations, coupled with digital transition and technological change, accelerated by the COVID-19 pandemic, pose new challenges to education at European level. As a University Alliance for Innovation, Technology and Engineering, Unite! is working on the development of new pathways to generate responses to the new demands of learning and higher education and, ultimately, for the integration of graduates into a changing global labour market.
Why are flexible study pathways important?
In Unite! the development of innovative approaches to teaching and learning is specifically focused on the creation of Unite! joint programmes and the advancement of shared degree offerings for all members of the alliance. Unite! is therefore working on the development of Joint Programme offerings with integrated mobility and flexibility. This will allow students to develop individualised professional profiles, in which they can be co-creators of their learning.
These JPs also require from teachers mentoring skills to develop and adopt innovative pedagogies. In order to build a framework that provides Unite! with a common language and guidance for the design of future JPs, one of the Unite! working groups has produced a first report for FSPways.
Methodology for the report
This report summarises the main results of a survey on the perception of Unite! partners on FSPways, i.e. the degree of flexibility, desirable forms of flexibility in the future and possible challenges of implementing FSPways within Unite! The survey was sent to representative members of the Unite! community including informed directors, coordinators, student representatives, teachers, students and randomly selected administrative staff. The survey included both closed and open-ended questions, promoting both quantitative and qualitative data. The survey considered three different types of complementary flexibility: Choice (what, how, where, when to learn); Curricular Mobility (mobility within cycles, credit transfer, joint programmes, Erasmus) and Engagement (accreditation of skills and competences acquired through non-formal and informal education, intercultural and professional experiences).
Recommendations
Taking into account the results of the survey and the objectives of Unite!, the working group has presented some recommendations in the Report:
Achieve a common understanding, clarifying what these new forms of flexibility mean and create a common terminology shared by all actors in the system.
Create a strong bond of trust between all stakeholders, ensuring greater student engagement and satisfaction and creating the necessary conditions for a successful implementation of FSPways.
Build a common framework based on existing types of flexibility, allowing for the sustained implementation of a European degree.
Take measures to ensure higher levels of flexibility in Unite! partner universities by facilitating the development of more JPs.
Develop a joint information, guidance and counselling system for students to support their choices and enable them to succeed in their chosen pathway.
Explore new forms of flexibility within Unite!, complementing the traditional mobility offer and representing new spaces for teaching and learning.
Identify existing legal constraints in order to anticipate possible legal limitations at local, national and European level.
Enhance student experience and success and increase accountability as a pathway to employability.
Unite!
About Unite!
Alongside TU Darmstadt as the coordinator, Unite! (University Network for Innovation, Technology and Engineering) also includes Aalto University (Finland), KTH Royal Institute of Technology (Sweden), Grenoble Institute of Technology (France), Politecnico di Torino (Italy), Universitat Politècnica de Catalunya (Spain) and Universidade de Lisboa (Portugal).
The seven partner universities aim to use the European University to create a trans-European campus for students and researchers with the involvement of regions and companies. The partners have a total of 167,000 students, already cooperate closely in more than 80 EU projects and have exchanged more than 2,000 students in the past five years. The alliance has set itself the goal of combining courses for the benefit of students, breaking down existing technical and administrative hurdles, and thus significantly increasing student mobility. Research will also benefit from the conditions created for larger and easier cooperation, which will strengthen the competitiveness of the European Higher Education Area overall.