Dr. Frank Stangenberg-Haverkamp,
Chairman Executive Board and Family Board of E. Merck KG
It is the people behind any foundation and global company who are highly interested in the training and education of young people. The Deutschlandstipendium is best suited for just that. I cannot imagine a better investment into the future as an entrepreneur, foundation manager, parent or grandparent.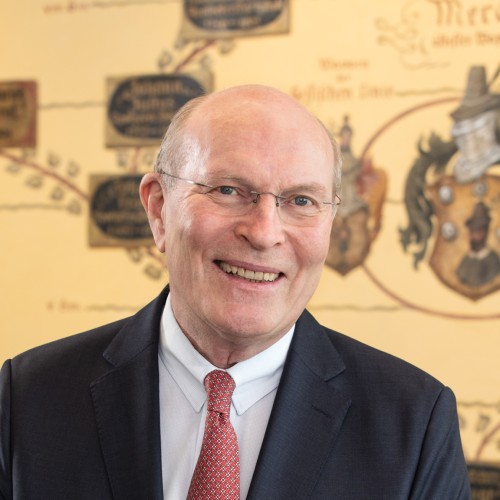 Picture: E. Merck KG
We sincerely thank our anonymous donors!

A

AAM Germany GmbH

Accso - Accelerated Solutions GmbH

ALD Vacuum Technologies GmbH

Avanade Deutschland GmbH

B

BASF SE

BAUMANN & BAUMANN PartmbB Steuerberater Rechtsanwälte

Bickhardt Bau AG

BKW Energy Solutions GmbH

Bosch Rexroth AG

BSI Business Systems Integration Deutschland GmbH

C

Cancom SE

Carl Zeiss SMT GmbH

CGI Deutschland

clickbar. GmbH

COM Software GmbH

cosee GmbH

D

Deloitte

Deutsche Bahn AG

Deutsche Bank AG

Deutsche Post IT-Services GmbH

DE-CIX Group AG

Die Haftpflichtkasse WaG

d-fine GmbH

E

Ed. Züblin AG

Endress+Hauser (Deutschland) GmbH & Co. KG

Essity Operations Mannheim GmbH

F

Fabasoft Deutschland GmbH

Fintegral Deutschland AG

Fischer Ingenieure GmbH

Fujitsu Technology Solutions GmbH

G

GE Energy Power Conversion GmbH

G+H Tragwerksplanung GmbH

Goldbeck

GREBNER Ingenieure GmbH

H

Helaba Invest Kapitalanlagegesellschaft mbH

HORNBACH Baumarkt AG

I

Infraserv GmbH & Co. Höchst KG

ING AG

Ingenieursozietät Prof. Dr.-Ing. Katzenbach GmbH

Isra Vision GmbH

K

KFT Chemieservice GmbH

KSB SE & Co. KGaA

L

LEONHARD WEISS GmbH & Co. KG

Lotum media GmbH

Lufthansa Technik AG

M

Merck KGaA

MEWA Textil-Management

MLP Finanzberatung SE

N

O

P

S

SAP SE

SCHENCK RoTec GmbH

Software AG

Sparkasse Darmstadt

STRABAG AG

Süwag Energie AG

T

TE Connectivity Germany GmbH

Thinkport GmbH

Threedy GmbH

Tosoh Bioscience GmbH

TRAGRAUM Ingenieure PartmbB

360 Treasury Systems AG

TRUMPF GmbH & Co. KG

U

V

Vössing Ingenieurgesellschaft mbH

W

wörner traxler richter planungsgesellschaft mbH

WSP Infrastructure Engineering GmbH

X

Y
A ABB AG, ALD Vacuum Technologies GmbH, Avanade Deutschland GmbH
B BASF SE, Bickhardt Bau AG, Bosch Gruppe, vertreten durch Bosch Rexroth AG, BSI Business Systems Integration Deutschland GmbH
C Clariant Produkte (Deutschland) GmbH, clickbar. GmbH
D Deloitte GmbH Wirtschaftsprüfungsgesellschaft, Deutsche Bahn AG, Deutsche Bank AG, Deutsche Post DHL Group – CSG GmbH, d-fine GmbH
E Ed. Züblin AG, Endress+Hauser (Deutschland) GmbH+Co. KG, Essity
F Fabasoft Deutschland GmbH, Fischer Ingenieure GmbH, Fujitsu Technology Solutions GmbH
G GFP Goldschmidt · Fischer · Schütz Projektmanagementgesellschaft mbH, GOLDBECK, GREBNER Ingenieure GmbH, G+H Tragwerksplanung GmbH
H Hornbach Baumarkt GmbH, Hottinger Brüel & Kjaer GmbH
I Infraserv GmbH & Co. Höchst KG, ING AG, Ingenieursozietät Prof. Dr.-Ing. Katzenbach, Isra Vision AG
K KFT Chemieservice GmbH, KSB SE & Co. KGaA
L LEONHARD WEISS GmbH & Co. KG, LOTUM media GmbH
M Merck KGaA, MEWA Textil-Management, MLP Finanzberatung SE
N Nintendo of Europe GmbH
P Plus.line AG, PPI AG, PSI Software AG
S SAP SE, SCHENCK RoTec GmbH, Sparkasse Darmstadt, STRABAG AG, Süwag Energie AG
T TE Connectivity Germany GmbH, Tosoh Bioscience GmbH, 360 Treasury Systems AG, TRUMPF GmbH & Co. KG
V Vössing Ingenieurgesellschaft mbH
W wörner traxler richter planungsgesellschaft mbh, WSP Infrastructure Engineering GmbH
X XPACT Consulting AG
Y Yatta Solutions GmbH
Z Zürich Beteiligungs-AG
(Stand: 06.10.21 / Liste wird laufend aktualisiert)
A ABB AG, acarda GmbH, ALD Vacuum Technologies GmbH, Avanade Deutschland GmbH
B BASF SE, Bosch Rexroth AG, Bickhardt Bau AG, BSI Business Systems Integration Deutschland GmbH
C Clariant Produkte (Deutschland) GmbH
D dacoso GmbH, Deutsche Bahn AG, Deutsche Bank AG, d-fine GmbH, Döhler GmbH
E Ed. Züblin AG, Endress+Hauser (Deutschland) GmbH+Co. KG, Essity Operations Mannheim GmbH
F Fischer Ingenieure GmbH, Frankfurter Volksbank eG
G GREBNER Ingenieure GmbH, Goldbeck, G+H Tragwerksplanung GmbH
H Hottinger Büel & Kjaer GmbH
I Infraserv GmbH & Co. Höchst KG, ING AG, Ingenieursozietät Prof. Dr.-Ing. Katzenbach, Isra Vision AG, IT-Seal GmbH
K KFT Chemieservice GmbH, KSB SE & Co. KGaA
L LEONHARD WEISS GmbH & Co. KG
M Maingau Energie GmbH, Merck KGaA, MEWA Textil-Management, MLP Finanzberatung SE, MTG AG
N Nintendo of Europe GmbH
P PPI AG, PSI Software AG
R real.digital, Roche Diagnostics GmbH
S SAP AG, Schenck RoTec GmbH, Schwarz IT KG, Sparkasse Darmstadt, STRABAG AG
T TE Connectivity Germany GmbH, Tosoh Bioscience GmbH, TRUMPF GmbH & Co. KG
U Union Investment
V Vössing Ingenieurgesellschaft mbH
W Weisenburger Bau GmbH, WISAG Sicherheit & Service Holding GmbH & Co. KG, wörner traxler richter planungsgesellschaft mbh
X XPACT Consulting AG
Y Yatta Solutions GmbH
Z Zürich Beteiligungs-AG
The main sponsor of this period is Merck KGaA
A ABB AG, Airbus Defense & Space GmbH, ALD Vacuum Technologies GmbH, Atotech Deutschland GmbH, Avanade Deutschland GmbH
B BASF SE, Bickhardt Bau GmbH, BIG BAU Investitionsgesellschaft, Board Deutschland GmbH, Bosch Rexroth AG, BSI Business Systems Integration GmbH
C Clariant Produkte (Deutschland) GmbH, Coca-Cola European Partners Deutschland GmbH, Compagnie de Saint-Gobain
D dacoso GmbH, Deloitte GmbH Wirtschaftsprüfungsgesellschaft, Deutsche Bank AG, Deutsche Bahn AG, d-fine GmbH, Döhler GmbH
E Ed. Züblin AG, Endress + Hauser Messtechnik GmbH + Co. KG, Essity Operations Mannheim GmbH
G GFP Projektmanagementgesellschaft mbH, Goldbeck, Gruber + Hartmann Ingenieurbüro für Baustatik
H hkp Deutschland GmbH, Hottinger Baldwin Messtechnik GmbH, HPP – Harnischfeger, Pietsch & Partner Strategie- und Marketingberatung GmbH
I Infraserv GmbH & Co. Höchst KG, ING AG, Ingenieursozietät Prof. Dr.-Ing. Katzenbach, Isra Vision AG, IT-Seal GmbH
K KFT Chemieservice GmbH, KSB SE & CO. KGaA
L Leonhard Weiss GmbH & Co. KG, Lufthansa Technik AG
M Maingau Energie GmbH, Merck KGaA, MEWA Textil-Service AG & Co. Management OHG, MLP Finanzberatung SE, Mobile Industrial Robots GmbH
N Namics (Deutschland) GmbH, Nintendo of Europe GmbH
P PPI AG, PSI Energy Markets GmbH
R real digital, Roche Diagnostics GmbH
S SAP AG, Schenck RoTec GmbH, Schwarz IT KG, Sparkasse Darmstadt, Strabag AG
T Talentschmiede Unternehmensberatung AG, TE Connectivity Germany GmbH, Tosoh Bioscience GmbH, Trumpf GmbH & Co. KG
U Union Investment
V Viridium Service Management GmbH, Vössing Ingenieurgesellschaft mbH, vwd Vereinigte Wirtschaftsdienste
W Wayss & Freytag Ingenieurbau AG, Weisenburger Bau GmbH, WISAG Sicherheit & Servie Holding GmbH & Co. KG, wörner traxler richter planungsgesellschaft mbh
Y Yatta Solutions GmbH
Z Zürich Beteiligungs-AG