Moritz,
Digital Philology B.A.
In my degree programme, almost all of the lectures are open to students from other fields, such as linguistics or philosophy, but also from engineering programmes. I'm finding it super exciting to meet students from other disciplines and to learn from each other.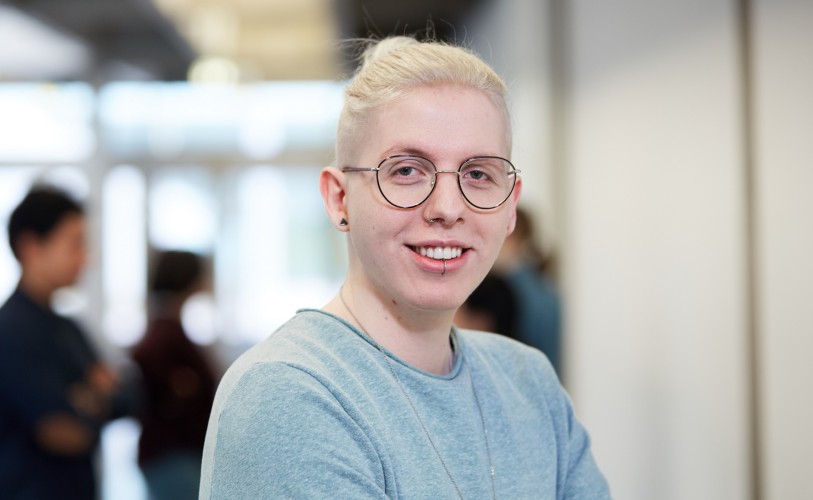 Picture: Britta Hüning
Interdisciplinary projects from day one
My first semester started with an interdisciplinary seminar. Along with history students, we looked at "Blood, Toil, Tears and Sweat: British Political Speeches in a linguistic and historical perspective." Even the topic was interesting: We examined the rhetorical methods that the Prime Ministers of Great Britain used to pursue their political goals over the course of the last century. It was interesting to see how the history students approached the issues differently than those in my programme did. But it's exactly because of these different approaches that complemented each other so well.
Interdisciplinary learning from and with each other starts from day one of a bachelor's degree at TU Darmstadt. Interdisciplinary projects are especially exciting. By the way, these are offered in almost all bachelor's degree programmes. For example, biologists work together with mechanical engineers, electrical engineers and information technology students, as well as physics, architecture and sports science students. In projects like this, you meet students from other departments and solve a socially relevant problem together. One awesome example was in 2016, biology, sociology and philosophy students took part in a project called "Flying Doctors" and developed a genetic engineering design for a flying vector (vaccination mosquito) to combat a highly infectious pandemic in areas with underdeveloped medical care. So, you can see: TU Darmstadt is always one step ahead of the pack.
Of course, good teamwork is an important component of these types of projects, where everyone contributes knowledge from their own field. Interdisciplinary cooperation not only helps increase your knowledge in your field, but also contribute on a personal and intercultural – the keyword here being "soft skills". It also looks great on your CV. And don't worry if you're not sure whether you can manage it. Research assistants and tutors, who are students from higher semesters, support the teams both academically and with teamwork. And of course, the professors, who are the experts, are there for the teams as well.
And just in case you still haven't had enough of interdisciplinary exchange, I have a small piece of advice: by actively participating in your department's or even the university's student council, you'll get to know other students and you can work together to represent all TU Darmstadt students. I don't think you can ask for more interdisciplinarity than that and I think it's a lot of fun!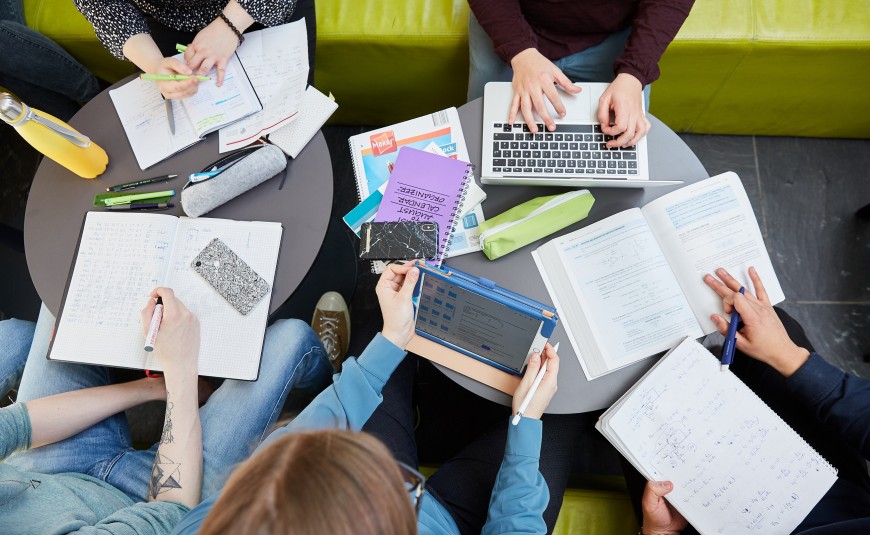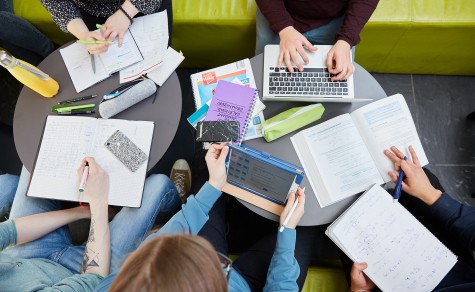 "KI2VA" – What, and more importantly why?
Interdisciplinary Studies – it might sound pretty fancy at first, but what does it mean in concrete terms? One thing is clear, looking beyond the horizon is more important today than ever. Just think about the huge global issues which we're currently facing as a society –transforming the energy system, cyber security, artificial intelligence, sustainability, health, etc. These problems have become so complex that solutions can't and won't be found by one field alone. What we need is smart people from every field working together to find a solution. It's precisely for this reason that TU Darmstadt created the various interdisciplinary degree programmes. It makes sense that we start cooperating while still at university and not just after we graduate. These programmes have been so successful that other universities worldwide have copied them.
Interdisciplinary work is so important to TU Darmstadt that there is even a publicly funded project called "Developing Competence through Interdisciplinarity and International Networking from the very Outset" – the KI²VA. One of its goals it to develop new interdisciplinary projects where every single degree programme is involved. These projects have been part of some degree programmes since the 1970s and have been expanded within the KIVA project to include cross-discipline, or interdisciplinary studies, since 2011. Originally "international" was not part of the project, but in the follow-up version "international" was added on top, making it I-squared. Check it out for yourself!
INSPIRED is an excellent example. In this programme, teams work together across physical borders to find solutions to far-out problems. How does it work? Since you can't always physically meet, you can work together online via digital spaces and e-learning.
Interdisciplinarity at TU Darmstadt
TU Darmstadt has successfully embedded interdisciplinary teaching into its degree programmes through its project "Developing Competence through Interdisciplinarity and International Networking from the very Outset " (KI²VA). One of its aims is to offer more interdisciplinary courses in university degree programmes, especially in the first few semesters.
The culture of openness prevailing at TU Darmstadt has led to a wide range of interdisciplinary teaching and learning opportunities. In addition to interdisciplinary courses from the first semester onwards, students can add "interdisciplinary specialisations" (iSP) into their curriculum or choose a whole interdisciplinary degree programme.
In the elective modules, students can choose from a wide range of courses and seminars from other degree programmes. Right from day one of the bachelor's!
Even research is interdisciplinary. Researchers from various fields work together on significant issues for the future, including artificial intelligence, cybersecurity, the internet and digitalisation, energy systems of the future, materials to product innovation, particle radiation, and thermo-fluids and interfaces.
E-Learning, video tutorials and video lecture – TU Darmstadt makes it possible
E-learning starts before your first day of lectures. You can't avoid math, not even at the TU Darmstadt. Wait, what? Even if you decide on a humanities or social sciences degree programme, math lectures will most likely be a part of the curriculum. Mathematics is the language of science; without it, science doesn't work. But because not everyone is (and doesn't have to be) a math genius, TU Darmstadt has developed various online learning options. Even before your lectures start, you can brush up on and polish your math skills in an online course from home or in digital study groups. Tutors are standing by to help you if the answer to a problem isn't so easy to find.
The VEMINT course is structured in a way that allows you to customise the content to fit your needs. So, you'll be well equipped when the semester starts.
TU Darmstadt is continuously expanding its e-learning portfolio with several creative ideas. Lecture videos and presentations can be viewed from any location as often as you like. Assignments can be downloaded from the MOODLE learning platform and the answers and term papers can be uploaded. Teaching formats with interactive elements are also available. These elements make it possible to learn and communicate with the professor without setting foot in a lecture hall. It's even possible to use virtual reality; students can take part in a fire simulation in the "Physics in Construction" lecture. All you need is a smartphone or tablet. I think e-learning is great and it allows me to do my work bit by bit in my favourite place.
Digital learning creates new opportunities beyond TU Darmstadt's campus. Why not study with students from other universities in far-away countries? This is already being done in some of the joint master's degree programmes. Ngoc Vo will tell you more about her experiences while doing her master's in Sustainable Urban Development both at TU Darmstadt and at the Vietnamese German University in Ho Chi Minh City.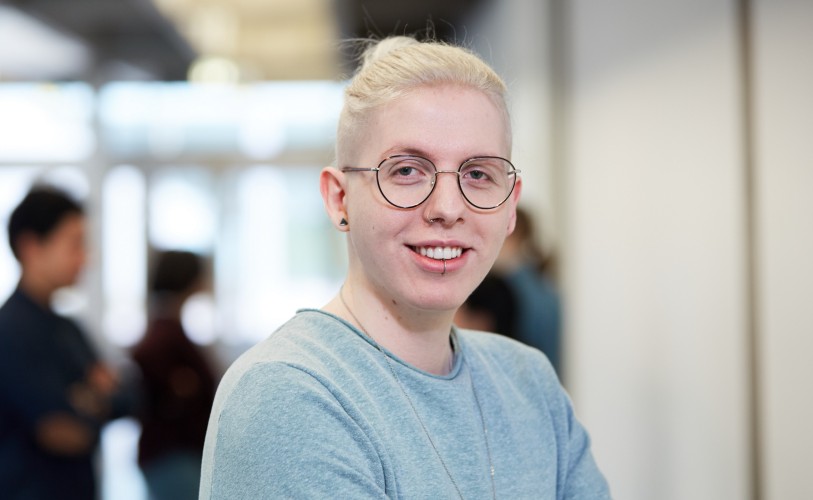 Picture: Britta Hüning
Moritz
Hey, my name is Moritz and I'm studying Digital Philology at the TU Darmstadt. You can find out here why I chose such a specialty degree programme and why I especially profit from and enjoy working together with other departments. Maybe we'll run into each other at TU Darmstadt on Campus Stadtmitte or we'll get to know each other through my work on the faculty's council and as a member of the university student council. If you see me around, please feel free to say hi!