Published: 29th April 2021, last Update: 19th July 2022
Patrick,
Business Administration/Industrial Engineering M.Sc.
For me it's a great feeling to be at a university that's not only a strong partner while I'm a student here, but also after I graduate. TU Darmstadt provides you with so many opportunities on the path to your dream job and has some really useful stuff to help you get started on your career. Totally excellent!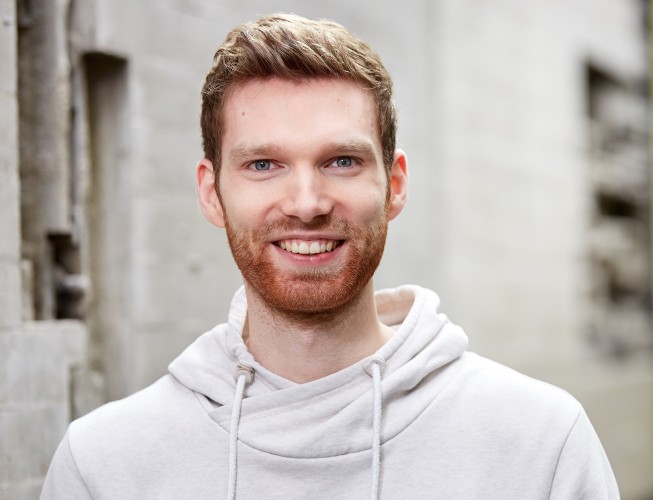 Picture: Britta Hüning
The real fun begins after graduation
Like a lot of you, I'd already been thinking about life after graduating before I even picked a university to do my master's. A few questions went through my mind: Is the university and my degree really going to prepare me for professional life? Is TU Darmstadt ranked high with HR people? And are there any TU Darmstadt graduates who've made a name for themselves in business, research, or NGOs?
Do you feel the same way? Then TU Darmstadt is just the right place for you! A glance at the well-known university rankings makes one thing clear: the university is always at the top of the list and isn't only highly respected by students. WirtschaftsWoche (WiWo) magazine stated that TU Darmstadt is also highly regarded by HR decision-makers in national and international companies. A degree from TU Darmstadt can be a door-opener for national and international career opportunities. The QS Graduate Employability Ranking, which lists the 500 best universities worldwide lists TU Darmstadt as among the top 100 universities. Sounds pretty good, doesn't it?!
Networking from the start
The clock is ticking, I'm already in the 6th semester of my master's in industrial engineering and I have to start getting ready for life after university. TU Darmstadt has really supported me and has lots of great opportunities to network with potential employers. Do you still have a few semesters left? You don't need to wait until you graduate to start working towards your career. Internships and part-time jobs can help you gain real world job experience and hone your soft skills. You can apply what you've learned to everyday life and meet people from your desired field. You can easily find suitable job offers via the Stellenwerk website.
When it's time to network, TU Darmstadt has a great opportunity for you: The konaktiva! This is a recruiting fair that's organised and professionally put on by students for students! Every year more than 11,500 students come to find an internship, a working student position or even their dream job at this trade fair. Around 260 well-known companies, from A for Accenture to Z for Züblin AG, are represented and are more than happy to answer your questions. All I can say is: It totally helped me make a lot of contacts and get a good overview of my job options!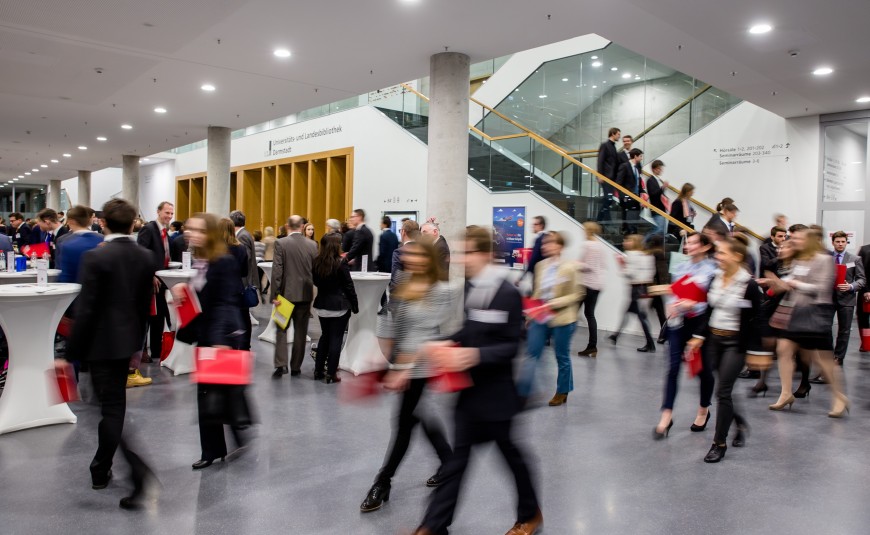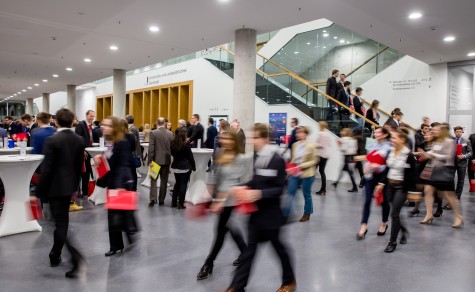 The Deutschlandstipendium is also a special highlight in the networking scene. TU Darmstadt is one university in Germany that goes above and beyond for its students. The result is a record number of over 380 scholarships that can be awarded by the university annually. Around 80 companies contribute, not only with a 300 € monthly scholarship, but with concrete insights into their companies. For some scholarship recipients, this has become a steppingstone to their dream job.
Soft Skills Support Programme
TU Darmstadt is not only committed to conveying the knowledge needed for a degree, but also sees the importance of teaching several key qualifications which are crucial for professional life after graduation. Every semester, students can choose from a wide range of workshops and training courses. These are extra to your degree and mostly free of charge.
For example, TU Darmstadt students, doctoral candidates, faculty and staff can find free support for their academic writing projects and a comprehensive range of advice on their academic work at the Writing Centre. The Language Resource Centre also offers language classes in preparation for a stay abroad or to fulfill their degree requirements, for example. And the Centre for Intercultural Competence (ZIKK) is the place to go for students who want to further their education beyond their own degree programmes. The ULB (University and State Library) also offers workshops ranging from literary research to learning scientific word processing programmes.
Besides that, INGENIUM, the umbrella organisation for the support of young, talented researchers at TU Darmstadt, offers continuing education programmes specifically put together for TU Darmstadt doctoral students.
TU Darmstadt guides start-ups to success
TU Darmstadt is a great partner – even after you finish your degree. Maybe you've had a really cool business idea for years, but you simply lack professional and goal-oriented support? No problem, because with HIGHEST TU Darmstadt has an Innovation and Start-up Centre, which gives a leg up to start-ups in the fields of high-tech and digitalization. The team helps young creators and innovators to develop business models, find investors and suitable support programmes. Pretty exciting, righ?
And not only that, HIGHEST has a very broad range as a networking platform for start-ups: for example, the last Startup & Innovation Day was attended by over 1,000 visitors from business, science, research and politics.
The FabLab and the Open Digital Lab gives life to theory. The labs provide students, researchers and even companies access to various kinds of digital technologies in cybersecurity, artificial intelligence and 3D printing. But let's go back a step: Fab what? That's definitely how I reacted when I first heard the name. In the FabLab and Open Digital Lab, anyone who is interested can experiment with new digital production technologies. The lab is great for tinkerers, creative types, inventors, techies, researchers, and programmers to work together and exchange ideas.
Do you want to get a start-up off the ground, but you're not sure if your idea will catch on? Try using HIGHEST. It's an excellent platform for networking with bright minds from a whole bunch of different disciplines. Be one of the over 1,000 visitors to the Start-up & Innovation Day, take part in regular meetings for start-up founders (Gründungsstammtisch) or become a member of the HIGHEST Club. With so many different opportunities, it's not surprising that TU Darmstadt is one of the top start-up universities in Germany!
HIGHEST | Home of Innovation, GrowtH, EntrepreneurShip, and Technology Management
The goal of the Innovation and Start-up Center HIGHEST at TU Darmstadt is turning theories into reality and generating products from great ideas. HIGHEST has a lot to offer to anyone interested in setting up their own company at TU Darmstadt and in the region. With the Pioneer Fund to help fund innovation, the Athens Prize for Knowledge and Technology, the TU Idea Competition in the categories of researchers and students, the Open Digital Labs, and start-up, innovation and invention consulting services, HIGHEST contributes to an extremely lively and innovative environment in Darmstadt.
The team at the Innovation and Start-up Center provides free and confidential advice and can help with the preparation of idea papers, business models, corporate concepts and business plans. It can also assist with the search for and selection of funding and financing opportunities, team members and partners, as well as experts from start-up support networks.
Off to a career with degree in hand
Once I started looking into who's graduated from TU Darmstadt, I was really impressed. Lots of well-known business and research leaders started their career in Darmstadt, The City of Science in southern Hessen. Along with publishing a ranking of the most popular degree programmes, WirtschaftsWoche (WiWo) magazine has also taken a close look at the career paths of the almost 200 board members of DAX companies. With a pretty amazing result: six of them got their degrees from TU Darmstadt. There are only three other universities nationwide that have more alumni board members. Impressive, right? As a student of industrial engineering and economics, I was particularly pleased to see that my department is rated as excellent – four of the six DAX board members graduated with the same degree as I'm getting. If those aren't the best conditions for a successful start to my career, I don't know what is!
TU Darmstadt alumni are also successfully establishing businesses in other areas with new and creative ideas in Germany and world-wide. And many TU Darmstadt alumni are also leading their fields in academic research. Four Nobel Prize winners alone began their higher education at TU Darmstadt.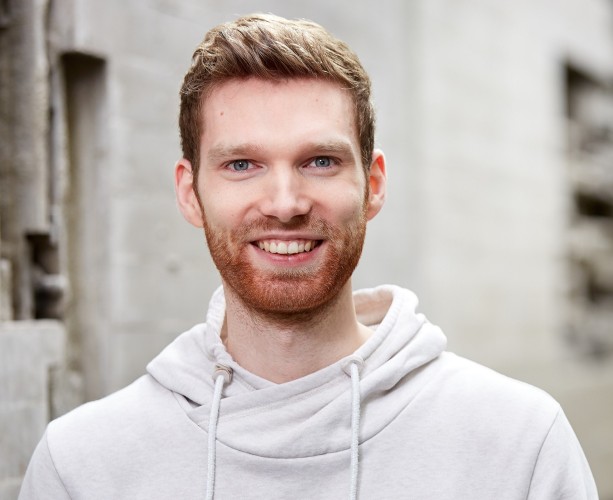 Picture: Britta Hüning
Patrick
Hi everyone, my name is Patrick and I'm studying industrial engineering and economics at TU Darmstadt. Two main factors made me decide to come to TU Darmstadt: the excellent rankings and the personal recommendation of some TU Darmstadt alumni engineers that I know. I'm really happy to have TU Darmstadt as a strong partner who's supported me in my career planning. Maybe we'll run into each other on campus or at one of the university clubs.