Presentation of the Thesis Award of the Centre for Synthetic Biology
2023/03/20 by Melanie Mikosch-Wersching
The Centre Thesis Awards were presented during the International Synthetic Biology Workshop on 20 – 22 March 2023 at the Centre for Synthetic Biology in Darmstadt.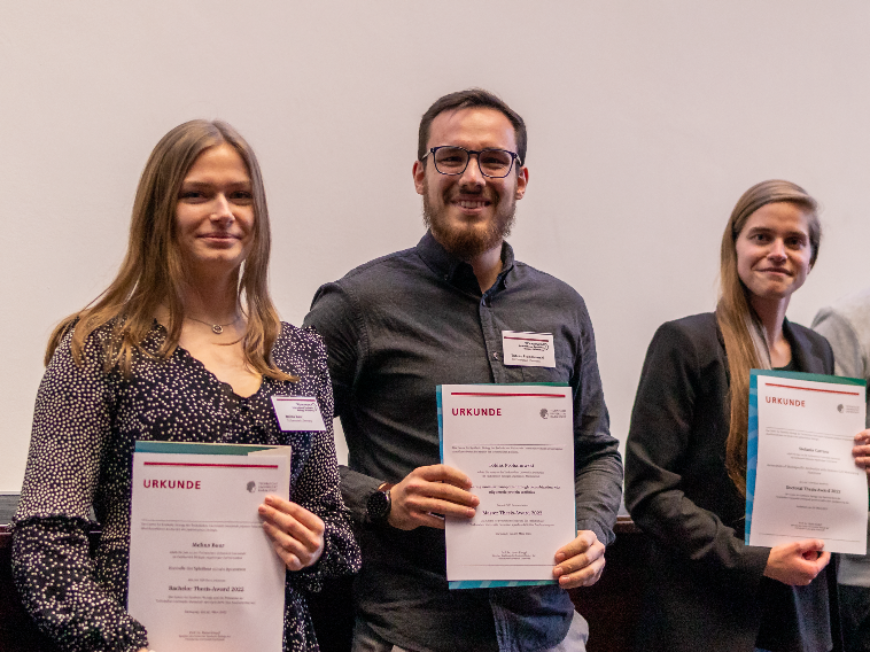 The speakers of the Centre for Synthetic Biology Prof. Dr. Heinz Koeppl and Prof. Dr. Beatrix Suess presented the Awards to:
Stefania Carrara
In her dissertation, Dr. Stefania Carrara developed novel multispecific antibodies with immune cell modulating functions and established new methodologies for the optimization of antibody drug discovery workflows. These included the design of a bidirectional vector system for mammalian antibody production and a streamlined yeast surface display-based screening procedure. Furthermore, bi- and multispecific molecules engaging different immune cells were generated, resulting in targeted and efficient in vitro tumour cell killing. The tetraspecific antibodies contain a built-in risk mitigation strategy for commonly observed adverse effects with this class of antibody molecules, which may overcome limitations of existing therapies and pave the way for new multispecific antibody formats.
Tobias Probanowski
In his master thesis, Tobias Probanowski developed a new modular approach for the systematic construction and engineering of recombinant protein nanopore assemblies with novel properties and functions in E. coli. This approach involved the recombination of different pore-forming transmembrane domains with ring-shaped oligomeric protein scaffolds via protein linkers. The resulting variants were characterized using the newly developed FuN screen, which allows for quick and thorough assessment previously only possible using technically challenging and low throughput biophysical methods. In synthetic biology, such nanopore assemblies could find a wide range of potential applications both in live cells and in vitro.
Melina Baur
In her bachelor thesis, Melina Baur used a tetracycline-binding aptamer to control gene expression in eukaryotes at the posttranscriptional level. Integration of the switch led to control of alternative splicing of not only synthetic but also native sequences. Further testing showed that the switch can be fine-tuned and therefore adapted to specific applications. Overall, this work expands the synthetic biology toolbox for controlling eukaryotic gene expression at the level of splicing.
Centre Thesis Award
Every year, the Centre for Synthetic Biology at TU Darmstadt awards prizes for outstanding theses in the field of synthetic biology. The application deadline for theses in the field of synthetic biology written at TU Darmstadt in 2023 is the 15. February 2024.