Forum for Interdisciplinary Research (FiF)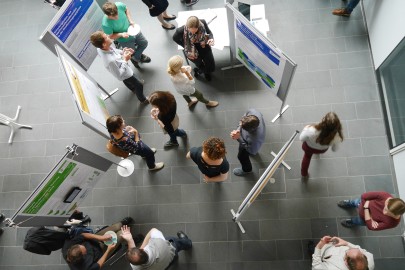 The Forum for Interdisciplinary Research (FiF) serves to promote interdisciplinarity as an integral part of the university's research culture. As an open, flexible platform, the Forum aims to pick up on existing approaches to interdisciplinary research while also encouraging new ways of cooperating across different disciplines.
To support this mission, FiF holds various types of events ranging from one-off lectures to workshops and conferences.
It also provides grant funding to stimulate promising new research alliances. The FiF Commission and FiF Fellows support the Forum in this.
University and State Library Darmstadt (ULB)
ULB facilitates research and learning and provides access to the current literature as well as historic holdings in both printed and electronic form.
There are 1,100 workstations in the new library buildings at ULB Stadtmitte (central library) and ULB Lichtwiese (campus library), including numerous individual cubicles and study rooms for groups. Workshops and tours on various topics are held regularly.
As the state library, ULB serves the general public as well as educational, research and cultural institutions from across the region. The library is also a designated legal deposit library. Patent and Trademark Centre Rhine-Main, European Documentation Centre and the Historical Archive of TU Darmstadt form part of ULB.
Science Communication Centre (SCC)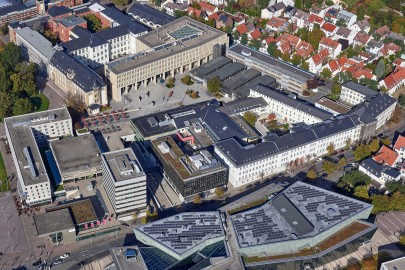 The Science Communication Centre (SCC) is the central service for strategic science communication at TU Darmstadt. It combines communication, marketing, fundraising and friendraising under one roof. It is oriented towards the Darmstadt Model of Science Communication.
The SCC was founded on 1.7.2022.
University IT-Service and Computing Centre (HRZ)
The University Computer Centre (also known as HRZ) at TU Darmstadt provides central information technology (IT) services for research, teaching and learning. It is also the university's IT competence centre acting as a source of knowledge. HRZ plans, builds and operates central information and communications infrastructure as well as powerful systems for scientific computing.
For customers and users the first point of contact is the HRZ Service team. They will answer your questions or pass the matter to the right place.
University Sports Centre (USZ)
With more than 200 different activities, the University Sports Centre (USZ) offers a wide choice of sports courses for students and staff alike. It arranges university sports events, hosts internal university championships and organizes sports excursions both nationwide and abroad. The sports unit supports students participating in German university championships.
The majority of USZ's sports facilities are located in and around the university stadium. These include the university swimming pool, artificial pitches, multifunctional court and beach volleyball courts, TU sports halls, the Unifit gym and a disc golf course. There is thus a multitude of ways to practise sport on a self-organized basis or with professional supervision.
Language Resource Centre (SPZ)
The Language Resource Centre (SPZ) is the central service for courses in various languages covering both general topics and specialist technical terminology. Instruction in most languages is conducted at UNIcert® accredited level. The SPZ also carries out the TOEIC® English language test amongst others. The Writing Centre at the SPZ provides support in academic writing skills both face-to-face and online as well as running workshops.
Useful information about writing can be found online on the OWL (Online Writing Lab) microsite. The Centre for Intercultural Competence delivers intercultural training, the language café and language tandems.
Academic Bridging Courses (Studienkolleg)
Centre for Teacher Education (ZfL)
The Centre for Teacher Education (ZfL) is a central service that provides support on an institutional basis across disciplines in the form of training and continuing professional development for teaching staff. To promote the professionalism of prospective and active teaching staff, the ZfL performs tasks associated with the organization of practical training, teacher training and continuing professional development, professional advice for those studying for teacher training certificates, and cooperation with schools and other institutions.
In order to fulfil this remit, the ZfL supports, advises and evaluates those studying for teacher training certificates as well as teaching staff and works closely with all faculties and stakeholders involved in teacher training at TU Darmstadt.
Centre for Educational Development (HDA)
State Materials Testing Institute (MPA)
The State Materials Testing Institute in Darmstadt is an independent, accredited materials testing facility for construction, high-temperature/medical/surface technology, materials analysis, and so on.
With its calibration laboratory and examination and certification body for building products both at national and European level (e.g. approved PÜZ body and notified body) the Institute's expertise can be accessed by businesses, public authorities, law courts and private individuals.
Together with the Institute for Materials Technology (IfW) at TU Darmstadt, it forms the Centre for Engineering Materials and is involved in a number of research and development projects.