»Imagined Homeland«
Sharbendu De is an Indian artist born in 1978. In the folk legend of the indigenous Tibeto-Burman Lisu community, a flood had carried away the orphaned siblings Lecha and Secha from their village in the mountain forests. Alone, they traveled for years in search of survivors. Since no others were found, they eventually asked God for permission to become man and wife. This folklore contains all the archetypal features that still resonate with the Lisus today – distress, loneliness, and the search for belonging. The North Indian minority lives in the inaccessible jungle of the Namdapha National Park and Tiger Reserve (NNP), about 150 kilometers from the nearest town of Miao. The establishment of the national park by the Indian government without involving the Lisu in 1983 led to decades of marginalization of the Lisu.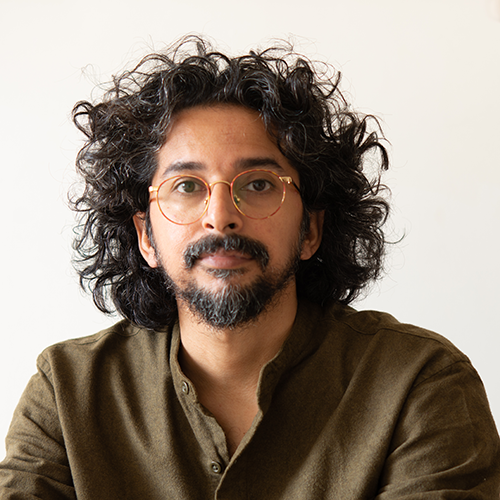 Picture: Sharbendu De
Sharbendu De
Sharbendu De was born in India in 1978. He lives and works in New Delhi, India.
Despite all the adversity, they live symbiotically with nature and enjoy its secrets as an autonomous community. They want to find a place where myth and modernity can coexist without giving up their culture: losing the forest as their home would be unthinkable.
»In my seven-year work (2013-19) on the Lisu community, I borrowed from dream symbolism and magical realism and based my practice on ethnographic research, extensive fieldwork, journalistic processes, popular customs, and a poetic aesthetic to sensorially capture their feelings and relationship with nature – the intangible cultural heritage that defines them and distinguishes them from urban hyper-capitalist societies. Through creative collaborative imagination, 'Imagined Homeland' undermines the colonial paternalistic gaze and shifts the boundaries of imagination. It advocates for a perspective beyond anthropocentrism and serves as a call for urban audiences to return to coexisting with nature.« (Sharbendu De, *1978 in Indien)
Interview with Sharbendu De
Recommended external content
We have selected external content from YouTube for you and would like to show it to you right here. To do this, you must reveal it with one click. You can hide the external content at any time with another click.
I agree to external content from YouTube being shown to me. This may result in personal data being transmitted to third-party platforms. You can find more information in our Privacy Policy.