Moritz,
Digital Philology B.A.
Darmstadt is my home and I love it. The warmth of the people in the South Hesse region surprises newcomers. But that's just the way we are. The size of the city is great, everything is easily accessible by bike and you can find everything here that makes student life a little bit better!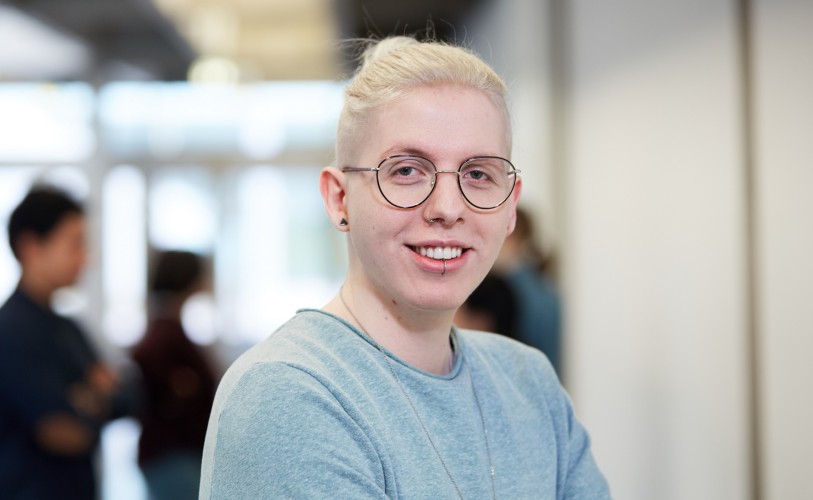 Picture: Britta Hüning
Challenge accepted: Finding an apartment
I was born in Darmstadt, which maybe made getting started at TU Darmstadt a little easier for me. I knew the city, had a circle of friends and so I had a pretty smooth start. But lots of my classmates came to TU Darmstadt especially for their degree programme and don't regret it a single day! May people don't immediately think of Darmstadt when they're choosing where to go to university, which is a real shame, because the city has a lot to offer. What I love about Darmstadt and its residents is the warmth of the people of Hessen, the great size – around 160,000 people live here – and that you've got everything you need for the perfect college experience: nice little cafés, quaint pubs, cool bars and clubs, an ever-evolving foodie scene, the Staatstheater, the Landesmuseum, the football stadium, a shopping mile and lots of greenery. The location is also simply great: you can be in Frankfurt, Wiesbaden, Mainz, Heidelberg or at the airport in no time. And I feel super safe here. As you can see, I'm a real fan of my hometown.
Once you've decided to go to TU Darmstadt, your first test begins right away:
finding a suitable flat, a room in a shared flat with other students or a room in student housing. And yes, just like in lots of other college towns, this can be tricky. You'll probably have to comb through the usual platforms or become a member of various groups on social media. If you want to stay in one of the ten student dorms, please contact the Studierendenwerk. Sure, unfortunately the current Corona crisis is making the search for accommodation a little more complicated. But some landlords have reacted really quickly and now offer virtual flat inspections. Others will show you the flat in compliance with the applicable regulations. The AStA of the TU Darmstadt recommends starting the search for a suitable place really, really early and I can only agree. Have a look at their website. You'll find some helpful tips there about finding an apartment in Darmstadt.
I'd also like to give you another one of my personal tips, which worked really well for some of my friends. Try finding a room or a flat in Darmstadt's surrounding areas first, and then make some friends in Darmstadt who can help you find a more central room or flat. You know how it is; maybe they know someone who knows someone who's looking to rent out their room or flat. It's all about who you know because they can literally help you get your foot in the door. You can use public transportation within Darmstadt for free with your semester ticket. And definitely check out the ads in the Darmstädter Echo regularly! Lots of older private landlords still use these to find reliable tenants.
And incidentally, the International Student Services (ISS) offers international students help with finding accommodation. To find out more, just visit their website.
The Studierendenwerk at TU Darmstadt
The Studierendenwerk is one of the first point of contacts when you arrive in Darmstadt. It provides support during your entire degree programme, helps with BAföG applications, provides meals for students and staff of the TU Darmstadt in its canteens and bistros and manages the student dorms. As well, the Studierendenwerk is committed to improving the general conditions of education and makes an important contribution to making equal rights and opportunities a reality.
Even during the Corona crisis, the Darmstadt Studierendenwerk is supporting and implementing measures to contain the spread of the virus. It serves as the contact point for financial and job-related problems during the crisis and gives advice and practical tips.
During the Corona crisis, the Intercultural Department of the Studierendenwerk Darmstadt has started a video project called "We'll be there for you – ITT will get you through". The team regularly publishes videos on issues related to the current situation, such as motivation tips or help finding a job.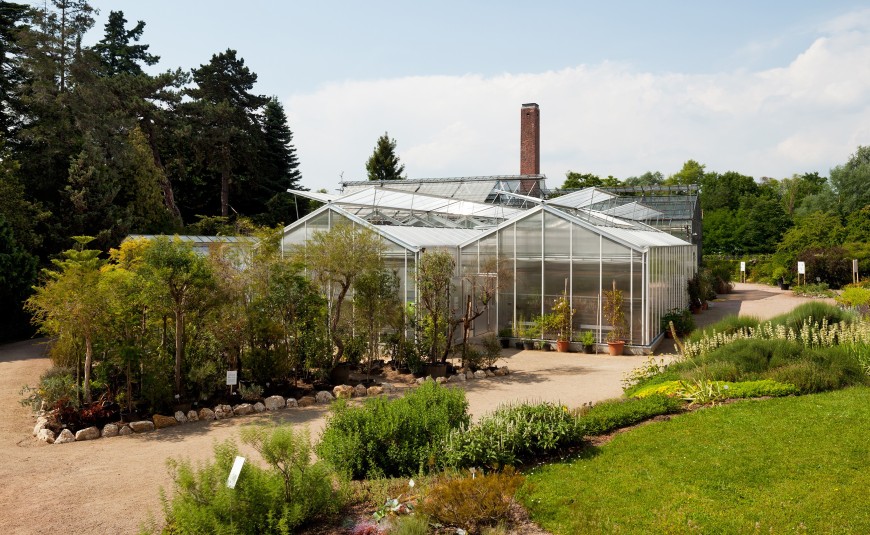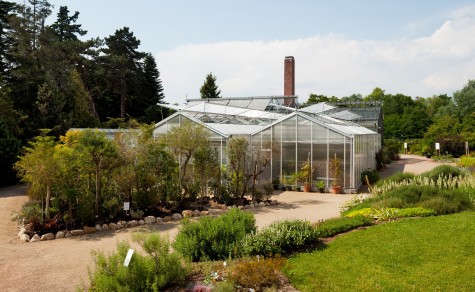 Partying, chowing down and enjoying your new home
Well, unfortunately social life is on ice at the moment because of the Corona virus outbreak. But as soon as the restrictions are lifted, you'll be surrounded by beautiful places in Darmstadt which will make student life a little bit cooler. I promise! Excuse me while I reminisce a bit: Lazy summer evenings under the old trees in the Herrngarten, hanging out with friends while drinking an Äppler (a German regional hard cider) and eating Handkäs' mit Musik (a regional cheese specialty with caraway, which I highly recommend) in the beer garden on the castle wall, run by the AStA with very student-friendly prices, and then going to the Mathildenhöhe, one of Darmstadt's landmarks, and watching a gorgeous sunset. Or simply biking into the city and going clubbing in the Schlosskeller or the Goldene Krone! A little fun fact: My father used to go to the Krone, an absolute iconic spot in Darmstadt, over 40 years ago! By the way, the Schlosskeller is currently streaming some great tunes on its quarantine playlist and the Goldene Krone has been posting videos of artist performances.
At the moment, it is a lot quieter everywhere, but that also has its own charm. You can hear nature sighing with relief. I was walking through the city recently and was greeted by a family of ducks waddling towards me in front of the Luisencenter shopping mall. That made me smile. Restaurants, pubs and clubs in Darmstadt have also adapted to the new situation as much as they can. I try to support the local infrastructure by ordering something tasty to eat every now and then and also buy my groceries in the smaller shops in the city centre.
Of course, what you can do at the moment is enjoy Darmstadt's green spaces. Despite being so close to Frankfurt, the city is surrounded by woods and fields. So why not get on your bike or put on your hiking boots and go exploring. Go up to Frankenstein Castle, take a ride over the Rosenhöhe and the Oberfeld or just soak up the sun in the Orangerie.
The International Student Services make sure your start at TU Darmstadt is successful!
The International Student Services (ISS) counsels and supports international, exchange and refugee students in all non-academic areas and work to make sure that students have a successful start at TU Darmstadt.
The mission of the ISS is to provide services to meet the needs of international students, to facilitate their arrival in Germany and at TU Darmstadt. The idea is to contribute to the overall academic success of international students, as well as to promote and encourage the diversity and international experience of all students on campus. The ISS provides information on visas and health insurance, provides advice on financing your studies, assists in finding accommodation and clarifies any other questions having to do with living in Darmstadt.
Staying connected with TU Darmstadt
I've already told you what you can do in and around Darmstadt. But TU Darmstadt has adapted to the new situation as well and has come up with an interesting idea. My fellow student Denise describes this in greater detail here . I'm also taking a lot of online fitness classes at the moment because I want to stay in shape.
TU Darmstadt has also gone on-line with my curriculum, so I can take part in seminars and lectures via Zoom. I get together regularly with my classmates in various groups and chats. So luckily we don't have to live without it.
This year, everything might be very different, but with the TU Darmstadt you have a great partner at your side who is working to keep everyone connected during the Corona crisis. Are you wondering if and how your programme is affected? Then make an appointment with the Central Student Advisory Service. The team is always there for you, especially during Corona, and can advise you by phone, e-mail or in a Zoom meeting. Whatever works best for you.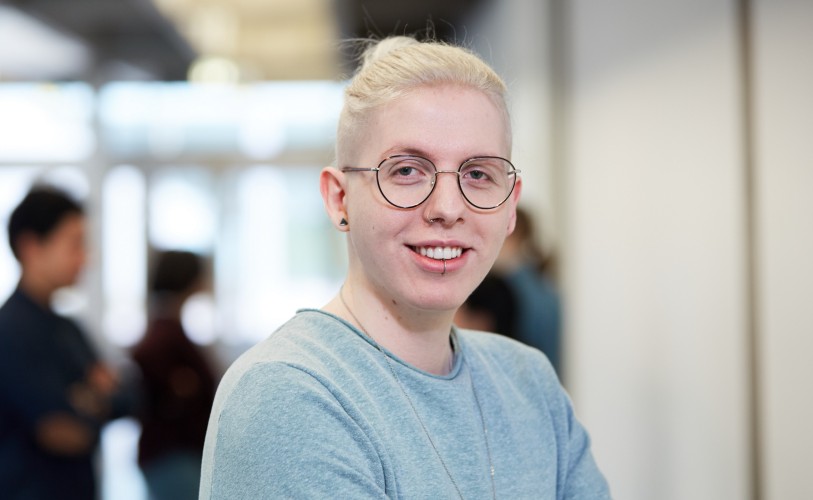 Picture: Britta Hüning
Moritz
Hey, my name is Moritz and I'm studying Digital Philology at the TU Darmstadt. You can find out here why I chose such a specialty degree programme and why I especially profit from and enjoy working together with other departments. Maybe we'll run into each other at TU Darmstadt on Campus Stadtmitte or we'll get to know each other through my work on the faculty's council and as a member of the university student council. If you see me around, please feel free to say hi!