First days: Experiences and impressions
Hello and thanks for taking the time for our interview! Let's jump right in with the first question: "I want to study mechanical engineering" – how did you decide or have you always known? know that from the beginning or how did you decide?
Imke: "Until I graduated, I thought I would be a dentist just like my father. But I looked around to see what else was out there and then mechanical engineering caught my eye. Since I always liked maths anyway and wanted to work more creatively, it just suited me better."
Maximilian: "Maths and physics have always been my thing, but I didn't just want to study theories. Therefore, early on it was clear to me that I wanted to study mechanical engineering, simply because it is very hands-on. "
Stefan: "Since I was little, I wanted to be an inventor, because I always had a lot of fun tinkering and building new things. Biology and chemistry were also on my shortlist of favorite majors, but at the TUDay, I realized that I was totally on the same wavelength as the other mechanical engineering students and immediately felt at home. From then on everything was clear!"
Leonardo: "I originally wanted to study electrical engineering, but after doing some research I ended up in mechanical engineering. Being able to design and create things not only computer-based, but also in real life, is what convinced me in the end!"
Why choose TU Darmstadt and what convinced you?
Stefan: "That was a clear case of 'the apple doesn't fall far from the tree' – my father also went to the TU Darmstadt and the university is renowned! My hometown is near Offenbach and Frankfurt, so I'm not too close, but not too far away from my family and I can get everywhere fairly easy with public transportation. So, I took a big risk and only applied to the TU Darmstadt – and luckily, it worked out!"
Imke: "Family was an important reason for me! I have a very close relationship with my parents and three siblings. The distance between Wiesbaden and Darmstadt is, therefore, perfect!"
Maximilian: "When choosing a university, I was very much guided by the rankings and the TU Darmstadt is one of the top universities. When I got accepted, I moved the 700 km from Rostock to Darmstadt, even though I had never been in the area before!"
At a glance: Mechanical and Process Engineering (B.Sc.) at the TU Darmstadt
The bachelor's degree programme in Mechanical and Process Engineering (B.Sc.) is divided into six semesters, which corresponds to a standard period of study of three years. Throughout the curriculum, you will receive a broad and well-founded education: especially in the first semesters, there is a strong focus on mathematical and mechanical basics. However, your curriculum also includes exciting subjects, such as computer science, materials science, mechatronics, computer-aided design, and thermodynamics.
During the course of the programme, you must apply your theoretical knowledge to the real world through various projects.
You can then apply your knowledge in the context of various project work during the programme. The first semester begins with an interdisciplinary project and later on you do an internship and a product design project. Of course, these tasks are completed under close supervision by the professors and tutors from the Mechanical Engineering department.
To understand the contents of the lectures even better and to get an insight into the day-to-day work of engineers, it is necessary to do an internship in a company. You can do this before or during the programme. Maybe you will find out which area of mechanical engineering you like best! Starting in the fifth semester, you can choose your favorite courses as elective subjects, depending on your personal interests! Also possible: A semester abroad at one of the many partner universities of the mechanical engineering department!
Sounds exciting? Then click here for more information about studying mechanical engineering at the TU Darmstadt or test yourself in our brand-new online assessment!
Leonardo, you probably had the longest "journey" of all: from Nicaragua to the TU Darmstadt – why make that choice?
Leonardo: "I graduated from a German school back home – so studying in Germany was the obvious choice. I did look at the rankings, but it was also important for me to attend a university with an international environment and good research opportunities, and the TU Darmstadt was simply the best option."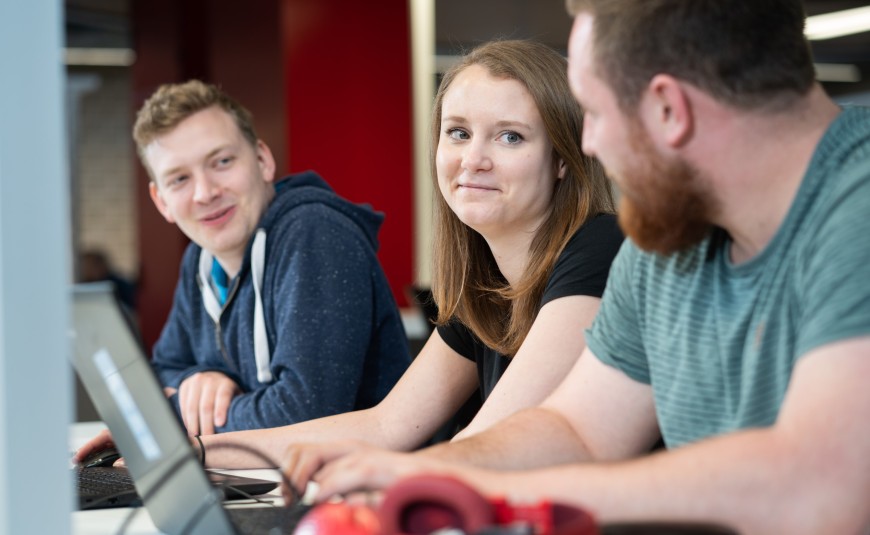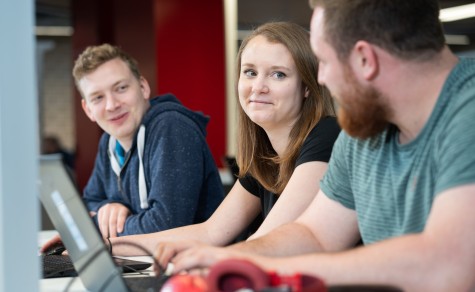 There are a few different orientation events, which are offered by the department of mechanical engineering. Which did you like best and/or helped you the most?
Maximilian: "I was super grateful for the orientation week of the mechanical engineering department. I didn't know anybody yet, but through it I got to know new people and made friends – like Stefan."
Stefan: "Right! That was super helpful! You really make long-term friends there. In the meantime, Max and I have joined the student council and helped organise the orientation week."
Leonardo: "Besides the orientation week, the seminars on successful study management were the most helpful. In the first semester, you learn how to manage your time at university and how to prepare for the exams. It's not enough to start studying one week before exams start."
Imke: "My favourite part was the maths meeting point – I had a lot of fun solving the problems! But maybe this is also due to the fact that I have also participated in the Maths Olympiads in the past. And of course, the orientation week! I didn't think it would happen, but the people I met there have become my closest friends!"
Maths and mechanical engineering – honestly, how difficult is it really?
Stefan: "So maths classes at university are quite different from maths classes at school. The maths support classes really helped me though."
Maximilian: "Me too. For example, I never learned about matrix arithmetic. We didn't have that in school in Mecklenburg-West Pomerania. But with the mathematics meeting place and the support courses in mathematics everyone got on the same page and it was explained in a stress-free environment."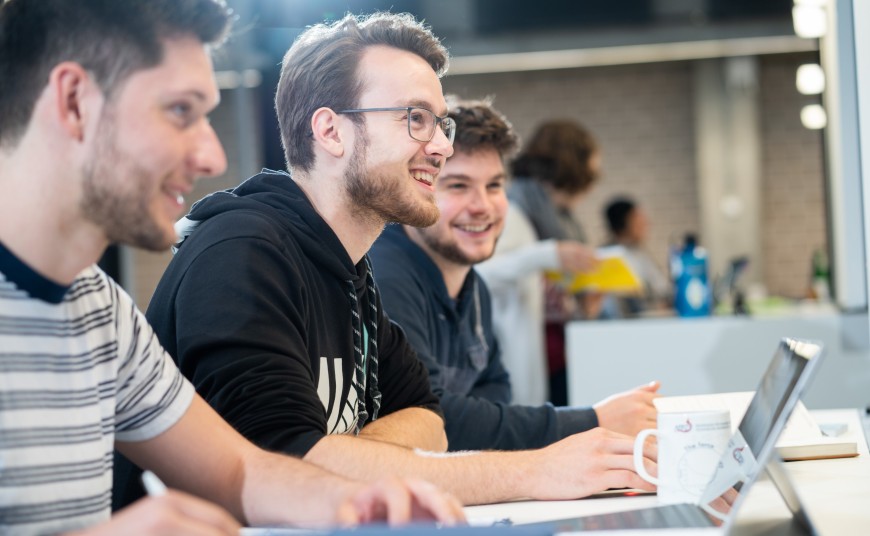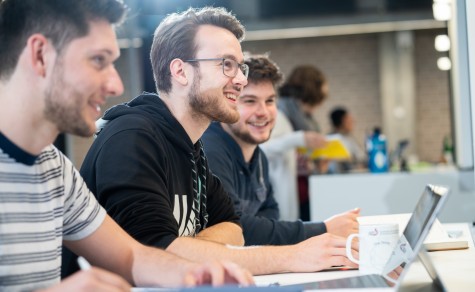 You have all studied mechanical engineering at the TU Darmstadt for several semesters – were your expectations fulfilled?
Imke: "Totally! I discovered that I enjoy analytical and research work and, therefore, knew quite early that I wanted to do my PhD at the TU Darmstadt. During my bachelor's degree, I spent a semester abroad in France. From the moment I arrived until the recognition of my credits from abroad, the MechCenter, the study office of the Department of Mechanical Engineering, was a huge support for me! During my master's, I did an internship in Luxembourg – that's when you realise that you can really apply what you have learned. Since starting my PhD, I have an office in the department, which is great for getting feedback from my supervisor. And as one of the research assistants, I am now available to the students for all questions and concerns!"
Maximilian: "My expectations from when I started at the TU Darmstadt have been fully met. You quickly notice how well the TU Darmstadt is connected to industry partners. During the master's programme, we did a project for Boeing USA, which was very cool. During my time at the university, I realized that I was most interested in energy and power plant technology. These are trending topics and politically relevant. What I like about the Department of Mechanical Engineering is that you can work, either as a researcher or a tutor, alongside your studies. For the last two or three years now, I have been supervising students working on their bachelor's theses. The students usually have great ideas and knowledge, but since we, as mechanical engineers, never really learned to write, we teach our fellow students how to do so. "
Leonardo: "I've only been studying for two semesters, but I've also been on the student council for two months now. I immediately noticed how much influence and say students have in the Department of Mechanical Engineering. Of course, studying is a lot of work and sometimes exhausting, but it's still a lot of fun. And starting next semester, I want to work as a HiWi (student research assistant)."
Stefan: "I also think it's great that you can look behind the scenes and actively shape the curriculum as part of the student body. And the people are simply cool about it. My favorite area of mechanical engineering is mechatronics, a combination of electrical engineering, mechanical engineering, and computer science. This combining of "worlds" brings different aspects together and still applies the same principles of physics. I'm now in the second semester of the master's programme, during which I have had various student jobs. For the past four years, I have been a tutor for the "Machine Elements and Mechatronics II" lecture. Together with two to three other tutors, I supervise groups of up to 20 students, help them, and answer their questions. And this is exactly what the TU Darmstadt and the Department of Mechanical Engineering is all about for me! You don't need to make an appointment, you get help super easily – also from the study office, the MechCenter. It's simply a matter of working together and not against each other; you support each other and give each other a helping hand. The people you see at the university during the day, you also meet when you are doing sports or go to the pub in the evening!"
Great, thank you very much for your time! And for all of you, who want to learn more about studying mechanical engineering at the TU Darmstadt, we have even more!
Picture: Privat
Leonardo
Hi, I am Leonardo and I am studying mechanical engineering at the TU Darmstadt. I graduated from a German school in Nicaragua – so why not study in Germany too? No sooner said than done! I will tell you all about my experiences with the choice of programme and the starting at the TU Darmstadt here!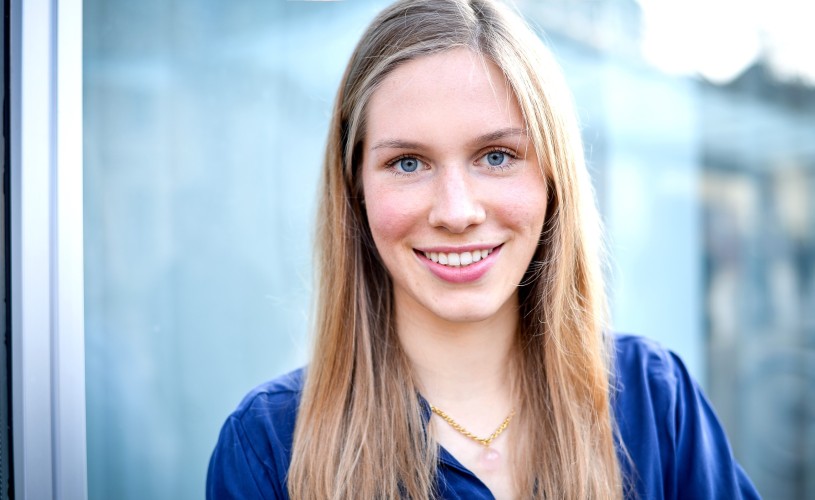 Picture: Sarah Ameer
Imke
Hello everybody, I am Imke Lorenz and I am working on my PhD in the Department of Mechanical Engineering at the TU Darmstadt. Even though I spent some time abroad during my bachelor's and master's, I completed most of my studies here, so that I can call myself a creation of Darmstadt's mechanical engineering. I am more than happy to answer any questions you may have about my experiences, the university, the region, and the various possibilities. It was only during my studies that I really realised mechanical engineering is so much more. It always keeps pace with current changes and has many exciting fields of application associated with it, which I can research today.
Picture: Privat
Maximilian
Hi, I'm Max and I am doing my master's in Mechanical Engineering. I'm active in the student council and I do a lot of different things there, which you can more or less get to know. Why I decided to study mechanical engineering in Darmstadt you can find out here.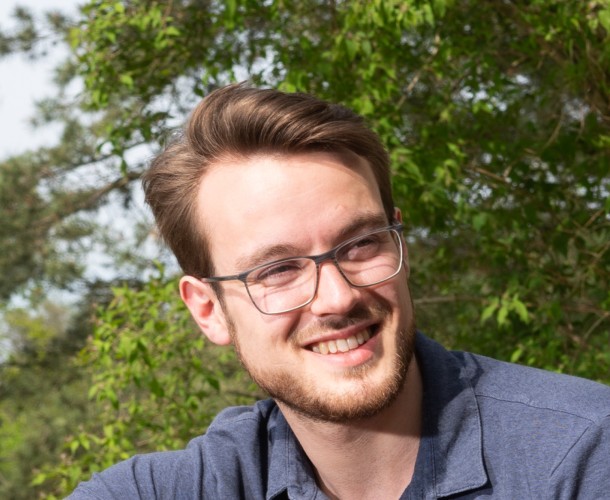 Picture: Jan-Christoph Hartung
Stefan
Hey, I'm Stefan and I'm studying mechanical engineering. What I realised during my studies is that it doesn't matter whether you're a freshman, a Master's student, a doctoral student or a professor – what unites us all is our enthusiasm for understanding and helping to shape the world. You can find out why I chose to study mechanical engineering at TU Darmstadt and what fascinates me about mechanical engineering in my articles.