Published: 8th April 2021
Luisenplatz
The place you will most probably see on all postcards from Darmstadt is Luisenplatz. It is the crossroad of the city, place, where things are humming and everything meets together. Follow Moiz!
Moiz,
Materials Science M.Sc.
Luisenplatz is to Darmstadt what Times Square is to New York.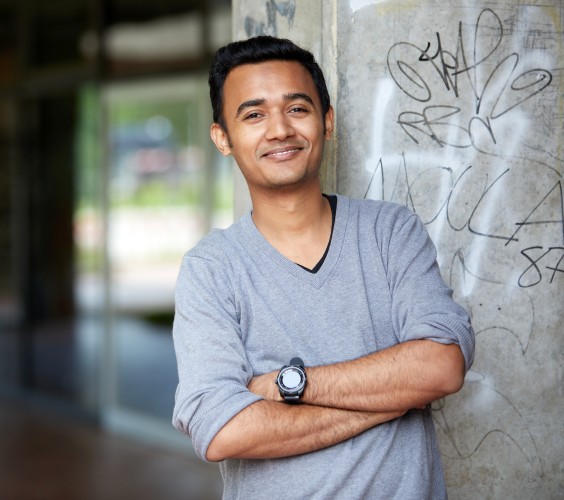 Picture: Britta Hüning
"My favorite place is the Luisenplatz. There you will find the majestic Ludwigsmonument (named after the first Grand Duke of Hesse, Ludwig I) standing tall right in the middle of Luisenplatz for decades.
It is usually my meeting point with friends from Darmstadt and the surrounding areas, as it is the central changeover point for buses and trams. It is also the part of the city where I get the most cosmopolitan feeling because it is surrounded by people of multiple nations and also several shops from different countries."
Residental Palace
Heading from the Luisenplatz east you will see the Residential Palace Darmstadt, which although currently on restoration, normally hosts one of the faculties and one of the libraries of the TU Darmstadt. Together with Luisenplatz, the castle forms the centre of Darmstadt. Here is an insider hint from Julia.
Julia,
Business Administration/Industrial Engineering – specialising in Mechanical Engineering B.Sc.
What I like most about it is that you can always discover something new.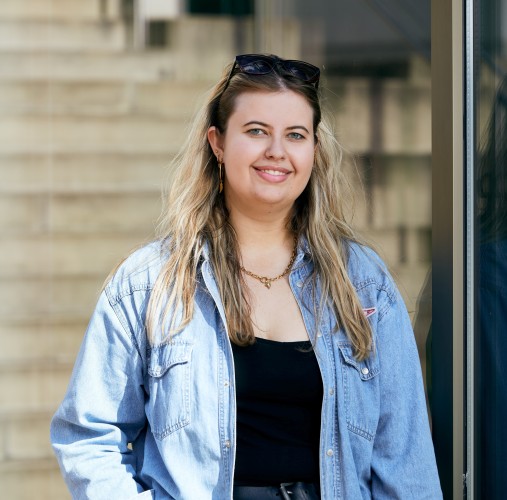 Picture: Britta Hüning
"Ornaments on the doors, pompous ceiling lights, or statues outside.
Always keep your eyes open when you pass this place. Around the castle, there is a park. It´s small but nice. When I want to be alone and don´t feel like the hustle and bustle of the larger parks and gardens, I go there."
Martinsviertel
Next, you will see is the central campus of the university and the famous Karo 5, the very heart of the TU Darmstadt. Once you've passed through the campus, go with Masha to the Martinsviertel.
Masha,
Data and Discourse Studies M.A.
The Martinsviertel is one of the loveliest neighbourhoods in Darmstadt.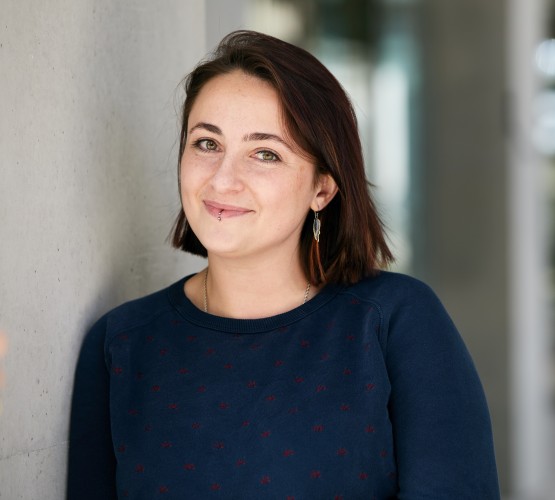 Picture: Britta Hüning
"I do love Martinsviertel and its bohemian vibes. That is often my destination when I need to take time out to breathe in between the classes.
I just let those little colourful streets take me somewhere new where I've never been before. And surprisingly there is always something to discover whether it is a brick house or a piece of street art or a magnolia tree in all its blossom."
Street Art
Speaking of street art, Martinsviertel has lots of it, but it is also all over the city. Polina spent a whole weekend collecting to most interesting pieces of art for you.
Polina,
Linguistic and Literary Computing M.A.
Darmstadt is insanely versatile.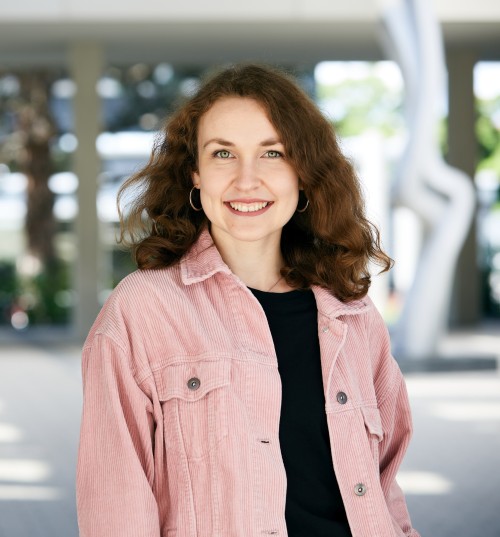 Picture: Britta Hüning
"Besides the historical buildings, classical and modern art, green parks, there is also room for real creativity, spontaneity, and a bit of rebellion – for street art. If you walk through the streets and don't just stare at your cell phone, you'll notice how many walls are decorated with colourful vibrant graffiti.
But that's not all – in Darmstadt, there is a whole graffiti wall – the Lincoln Wall – a unique art project in Hesse. The special thing about it is that it is always repainted and always changes – just like life."
Bürgerpark
If you're tired of all these urbanistic things going on there is always nature around in Darmstadt. Following Polina, on her hunt for street art, you may also join her running in the Bürgerpark.
"After the long winter pause, the body is waiting for some outdoor activities. My choice for that is the Bürgerpark. First, I adore the sport spirit that spreads along the park. Every time, when I'm there, I immediately get this enthusiasm for the sport. People are working out literally at every corner. Whether it's tennis, basketball, cross-fit, skating, running, or walking – there are activities for every taste.
As a hobby runner, I really like places where I can run a longer distance without going round in circles. The Bürgerpark is perfect for that purpose.
So, lace your shoes and off you go!"
Orangerie
In the south of Darmstadt, we can offer another wonderful spot, where you can do activities outdoors: die Orangerie.
Catalina,
Biomolecular Engineering B.Sc.
You want to feel the spring and recharge your batteries? - Orangerie!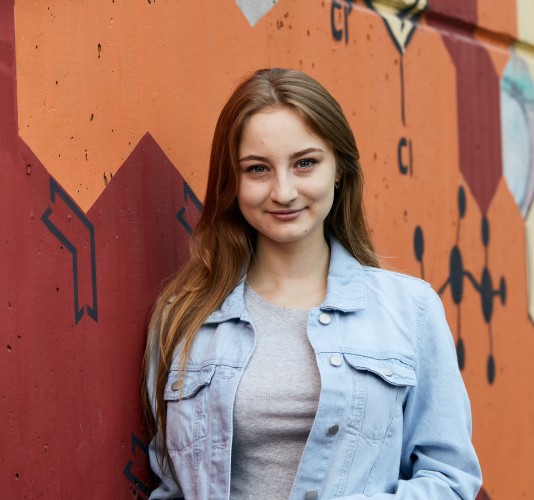 Picture: Britta Hüning
"I often take a walk in the orangery at the end of the day of study. When you are near brightly coloured flowers that fill the air with different aromas, you get a boost of energy.
The baroque complex with its wide axes and fountains creates an exciting atmosphere."
Rosenhöhe
If you love roses, go to the beautiful Rosenhöhe park. Do go with Diego, he will lead you through the main gate guarded by lions.
Diego,
Mechatronics B.Sc.
If you need a short break from the city, Rosenhöhe is one of those places in Darmstadt where you can recharge your batteries.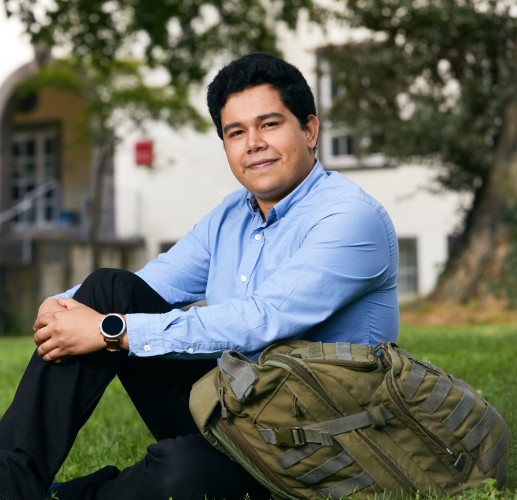 Picture: Britta Hüning
"Although Rosenhöhe is located on the eastern border of the city, it is really easy to get there by bus or (even better) on the bike.The main point of attraction is the Rosarium – an indisputable marvel.
Short Tipp: It could easily be on the top places of a "Darmstadt for two"-list."
Grube Prinz von Hessen
With the bike, you may go further east to the lake Grube Prinz von Hessen. Once you're there, you may go for a swim, or just reflect on life a bit. Just as Masha does.
Masha,
Data and Discourse Studies M.A.
It is good sometimes to take a moment and just be there for yourself.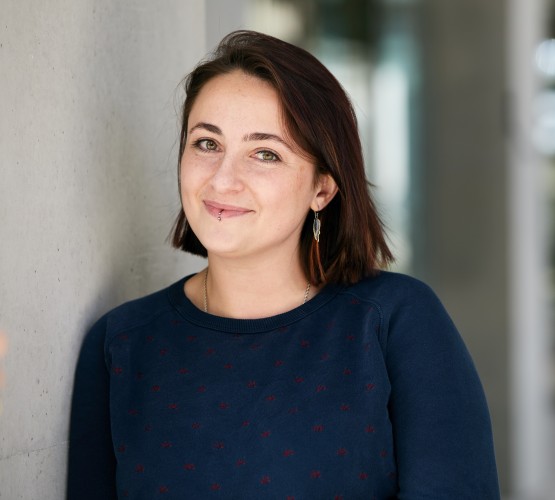 Picture: Britta Hüning
"To give legs a stretch after an intensive and (hopefully) productive week I went for a long walk to the lake Grube Prinz von Hessen. Passing by the Rosenhöhe, Oberfeld, and picturesque forest and enjoying the warm wind and all the shades of green, I could feel the healing power of nature with my every step.
What the luck that Darmstadt is surrounded by the forest and there are such places where you can settle your spirit and mind!"
Darmstadtium
If you are an urban person, there are some unusual buildings that you can contemplate in the city of Darmstadt. Arya, Polina, Nicole, and Ons will guide you through some of them. Sit comfortably and enjoy the journey.
A chemical element or an example of Neoconstructivism? And how can it even be related? Arya has an answer for you.
Arya,
Tropical Hydrogeology and Environmental Engineering M.Sc.
My favorite place is Darmstadtium!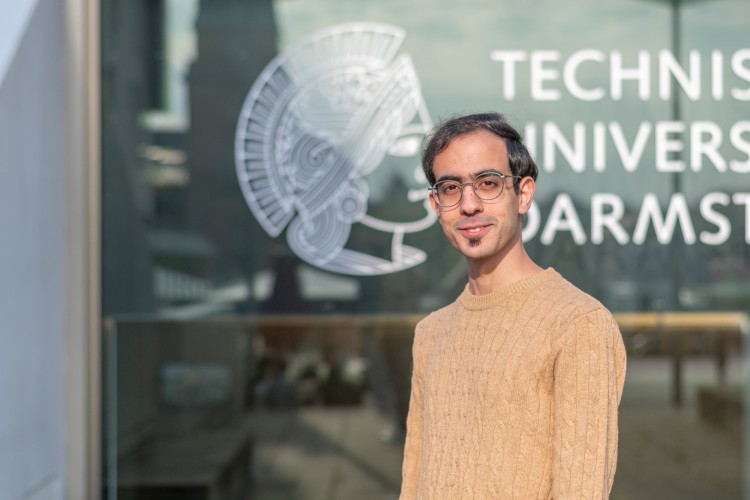 Picture: Juan Aleman
"My favorite place is Darmstadtium. A spacious venue to hold specialist conventions and meetings. A hub for tech-lovers and companies to attend networking events, and a building named after a radioactive, synthetic element of the periodic table.
You can expect all that from this amazing place in the heart of Darmstadt, situated close to the TU Stadtmitte campus. The extraordinary architecture designed by a German-Austrian team will surely impress you as it did me when I attended the Startup & Innovation Day in December 2019 and saw the impressive halls. You can even virtually experience the atmosphere there via VR from the official website. Be sure to check it out next time you're in the city centre!"
Waldspirale
You might have heard about the architect F. Hundertwasser and his famous building in Vienna. Did you know that he also created one of his masterpieces here in Darmstadt? "The forest spiral" is how the house literally called. The house exceptionally combines the elements of nature within an urban space. Polina will share her impressions with you.
Polina,
Linguistic and Literary Computing M.A.
Bored of trivial white backgrounds for your selfies? Need a colourful one? Check out the Waldspirale, where you can take really cool pictures in front of the building!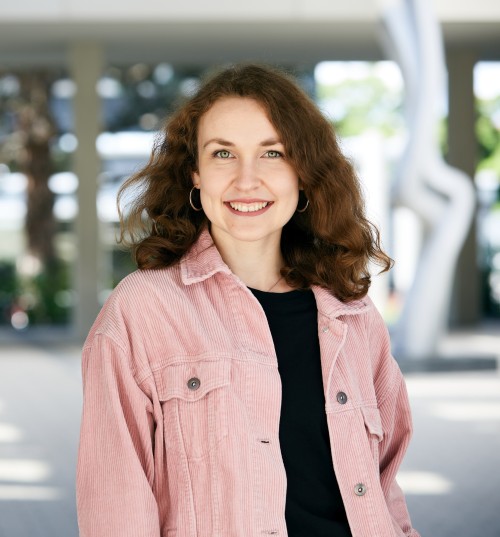 Picture: Britta Hüning
"The building, which looks like a colourful magic castle, is surprisingly a residential building surrounded by other normal houses. I adore this style of the close interweaving of art and everyday life. Behind the Waldspirale there is also a handy supermarket that I visit regularly. Every time I pass the Waldspirale, I allow my gaze to wander over the windows, shapes and colours and I'm fascinated every time. It has a special, uplifting effect on me when it is rainy outside, and the grey weather is dampening my spirit. In these moments, the vivid spiral stands in contrast to its bleak surroundings radiating positive vibes and reminding me that life is beautiful and colourful!"
Staatstheater
If you are more of a person of culture, same as Nicole, you will definitely like to visit Staatstheater and enjoy its creative shape and artistic spirit all around it.
Nicole,
German studies and philosophy J.B.A.
Enjoy the view on the steps in front of the theatre with a hot tea and great conversation.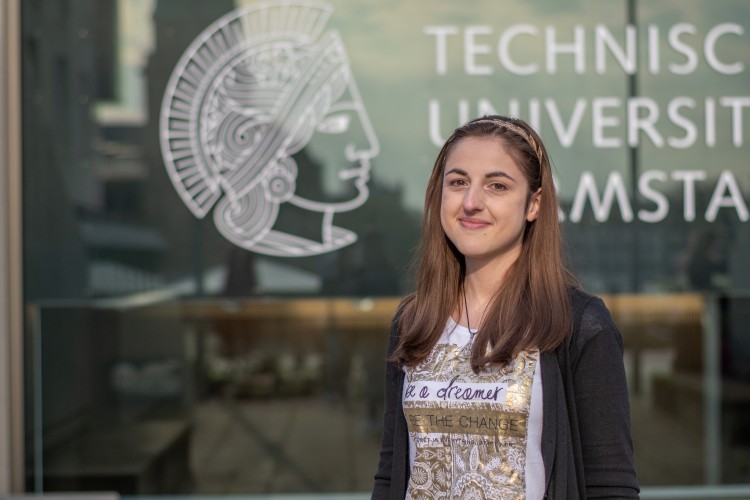 Picture: Juan Aleman
"The large square in front of the Staatstheater is a wonderful place in Darmstadt where you can go to sit, study, chat with friends (or whatever else creative that comes to mind!). You don't have to attend one of the performances inside to be enchanted by the magic of the theatre, but you can take a seat outside on one of the many steps and enjoy the view. Take along a tea, enjoy the sunshine and maybe strike up a conversation with other students who had the same idea as you! Just remember to keep your distance and stay healthy and safe!"
P.S. When the regulations are lifted make sure to check the repertoire. Students can attend performances for free.
Hessisches Landesmuseum
As we are still riding on the wave of culture, let's dive into a bit of a history of the city of Darmstadt. The building of the Hessisches Landesmuseum and museums collections were changing and developing throughout the past 200 years. Let's take a look together with Ons.
Ons,
Mechatronics B.Sc.
I`m impressed by the natural history collection, which is very varied and has been prepared with great attention to detail.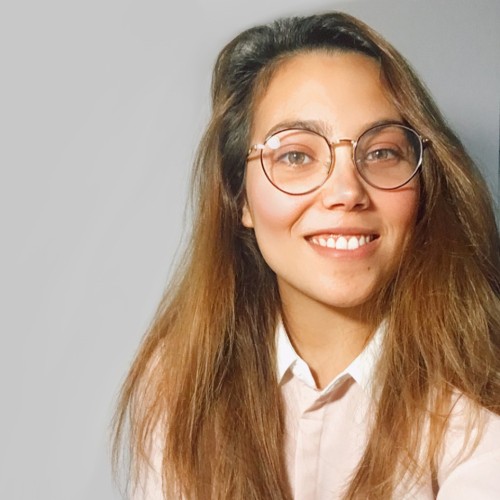 Picture: Britta Hüning
"Whether you like art, cultural history or even natural science, you will surely find numerous different collections from all these fields under one roof at The Hessisches Landesmuseum Darmstadt.
I am personally a nature lover, that is why I got impressed by the natural history collection, which is very varied and has been prepared with great attention to detail.
Thanks to its great location, in the middle of the city, the castle on the doorstep, adjacent to the Herrngarten and the TU, a visit to the museum is always a good idea, especially when the weather outside is not nice. I guarantee you will have a fantastic, inspiring visit."
If you are both culture and nature lover, there are places in Darmstadt just right for you. Whether you plan a short walk or a bike trip, whether you are looking for a peaceful place or on the contrary up for an adventure, see which places Xenia, Juan, Masha and Mia have to show you and pick the one you are in the mood for.
Vortex-Garten
If you want to have a little break, go to Vortex-Garten just nearby the Mathildenhöhe. The creators of the garden experimented with different shapes of water making the garden into a little place for meditation. If you need a bit of silence, follow Xenia.  
Xenia,
Chemistry B.Sc.
The Vortex garden is ideal for a short walk to unwind.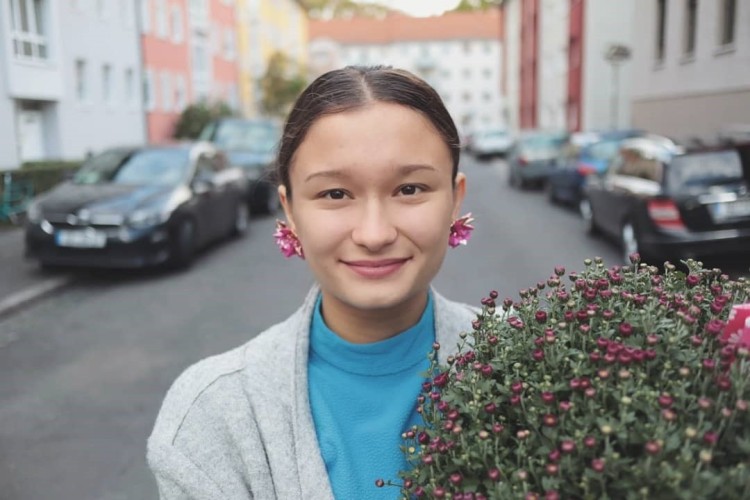 Picture: Privat
"Do you also find places special that are not known to everyone? Well, I certainly do! That's why I have a little insider tip for you: The Vortex Garden, a private garden that is open to the public. Several ceramic figures greet you at the entrance, and if you follow the path, you will soon find yourself in front of a statue covered in colourful beads. The unique thing about this place is not only the many statues and figures but also the different altitudes. Next to a viewpoint, you can go into a small valley where you come across a pond with an island. This quiet place is ideal for a short walk to unwind."
Internationaler Waldkunstpfad
Another place with a lot of culture and nature in-one is Waldkunstpfad. There you may go for a longer walk while enjoying pieces of modern art along the way. It is the place not merely for walking but also for philosophical reflections as the exposition contains different parts which refer to the past and current social issues. With a bit of enthusiasm, you can go up to the Ludwigshöhe and if you are lucky with the weather you can even see the skyline of Frankfurt from the top. Do you also like outdoor art and good views? Then Juan will show you the way!
Juan,
Environmental Engineering M.Sc.
The best time of day for Waldkunstpfad is in the early morning. Then you can also see many different birds.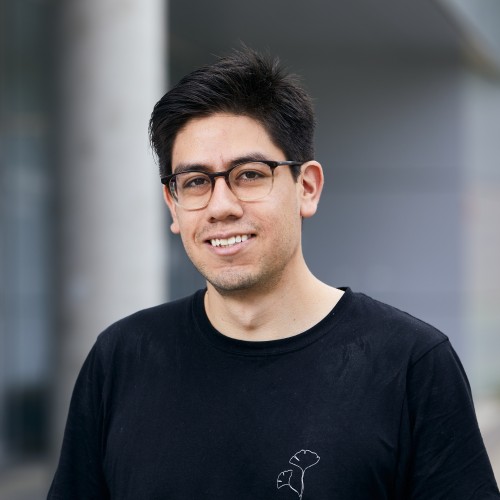 Picture: Britta Hüning
"This is one of the places in Darmstadt where I can always go. For this place, I don't really care what the weather is like because every weather gives me a different experience. I usually go to the Waldkunstpfad to jog through the forest, but sometimes I just go for a walk and appreciate the art along the paths. It is impressive how creative the city of Darmstadt was to give a different experience in nature allowing artists to show their work outdoors. I recommend going in the early morning hours if you are lucky you can see several species of birds."
Darmstadt – city of the future
The German Economic Institute (Institut der deutschen Wirtschaft Köln e.V.), in cooperation with Wirtschaftswoche (WiWo) magazine and the Immobilienscout24 Internet platform, once again chose Darmstadt as the winner in the city ranking of City of the Future 2019. This is the fifth time in a row that the City of Science has been named the number 1 City of the Future in Germany. According to the ranking, Darmstadt combines the strong innovative power of local stakeholders and is outstanding when it comes to innovation, creativity, and digitalisation.
The Future Index examines how well German cities are prepared for challenges of the future. Research strength is a deciding factor in being able to develop future innovative technologies and processes. For this you need a high concentration of research institutes and high levels of research activities in companies. But a high number of industry-related sectors also contributes to the successful development of any location.
Using three indicators, the ranking compares the status quo, development, and sustainability of 71 major German cities. They look at the socio-economic structures and advances based on quality of life, economic structure, plus the labor and property market. The future viability of a city is based on two location factors that are decisive for innovation: industries of the future and creative services. Munich and Erlangen rank 2nd and 3rd behind Darmstadt.
Burg Frankenstein
If you want to add some mystery to your life and have a couple of spare hours – go south, direction Eberstadt to visit a medieval fortress of Frankenstein. You can go there by tram, but if you like cycling, join Mia and Masha on their trip!
Mia,
Business Administration/Industrial Engineering – specialising in Civil Engineering B.Sc.
It's a little challenge to reach this destination with a bicyle!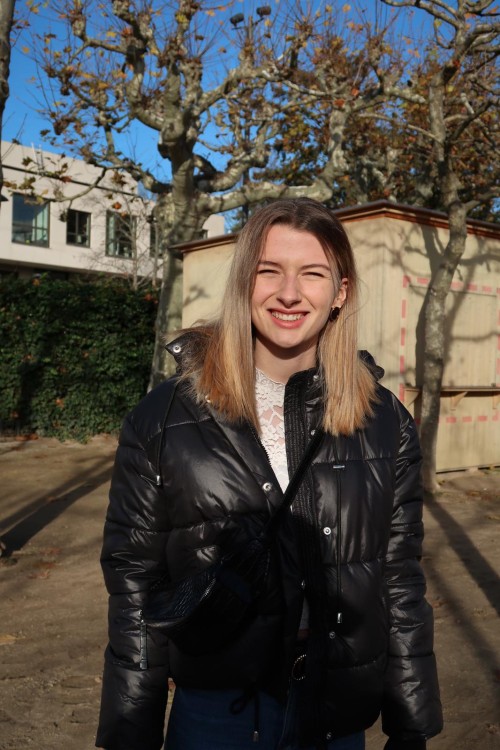 Picture: Marie Brandt
"Reaching our destination point – burg Frankenstein – was quite a challenge. Going up the hill well reminded us about all the winter months of sitting at our desks and barely doing any sports. However, our burning curiosity to discover the medieval castle gave us a second wind and we made it to the top. The old fortress was built sometime in the 13th Century in the best of Gothic tradition! It has a long and special history, characterized by many legends about the castle including dragons, alchemists, and honourable knights. According to legend, this place inspired the English author Mary Shelley to write "Frankenstein". No wonder! We could truly feel the mystery in the air! Precisely because of this spooky atmosphere, the annual Halloween Festival has taken place at the castle for many years."
Herrngarten
But you don't have to go that far to get some fresh air and be in the green. A park called "Herrngarten" is right in the city centre, next to the Campus Stadtmitte. Nicole introduces it to you.
Nicole,
German studies and philosophy J.B.A.
Whether for eating, reading, relaxing, walking or playing – in the Herrgarten, passionate duck watchers and joggers will also get their money's worth.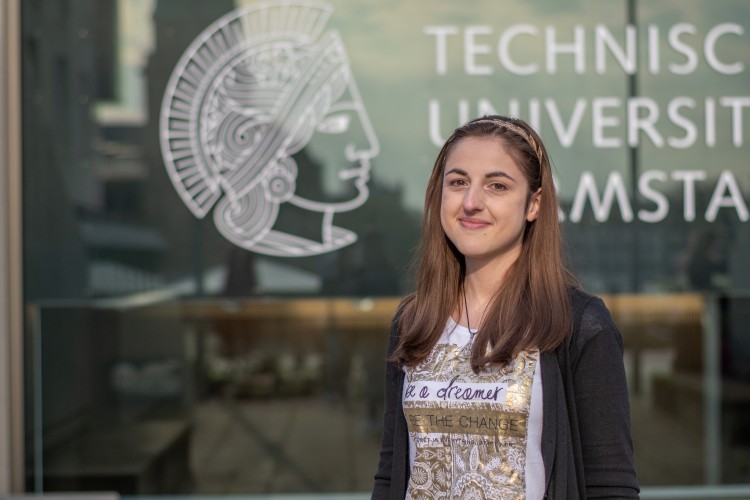 Picture: Juan Aleman
"The green lung of Darmstadt invites you to sit together! The longer and warmer the days become, the more it attracts people to go outside. So visit Darmstadt's oldest park and convince yourself of its inviting green areas!
The keywords are: picnics and company! The pandemic is still going on, but if you meet at a distance and in the fresh air, you will be able to enjoy spring with a few friends. Whether for eating, reading, relaxing, walking or playing – in the Herrngarten, passionate duck watchers and joggers will also get their money's worth (No need to pay anything, don't worry. ;)).
Curious? Then enjoy the Herrngarten in the centre of Darmstadt!"
Rote Brücke
There are so many other places we would like to tell you about, but we also don't want to spoil it all. So, do come and check for yourself and tell us about your favourite spot. When coming to Darmstadt, you will find the bright red bridge not far from the train station, freshly built and made for. Go across the bridge together with Catalina.
Catalina,
Biomolecular Engineering B.Sc.
"The Red Bridge is unique."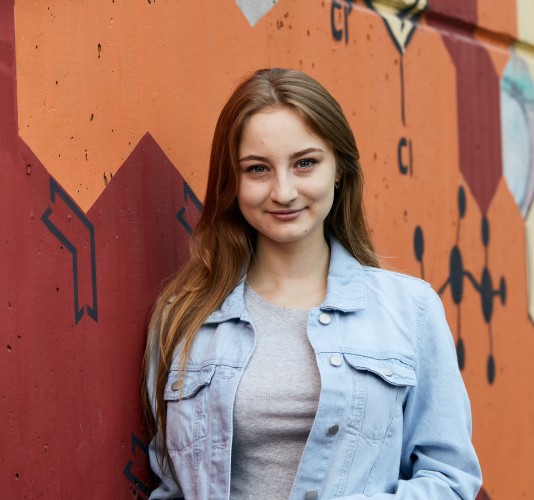 Picture: Britta Hüning
The 318-meter-long red bridge was recently opened near the main train station. It is now much easier to cross a busy road, both on foot and by bike. The bridge itself is red, which makes this place outstanding and gives it uniqueness.
In addition, there is a beautiful view from the bridge, and in the evening the bridge is illuminated, so it is worth taking a look at and walking along the bridge at least once.