Published: 26th February 2021
Julia ,
Business Administration/Industrial Engineering – specialising in Mechanical Engineering B.Sc.
My tip: The Pomodoro Method: 25 minutes of work, 5-minute break, after 6 units 15 - 30-minute breaks.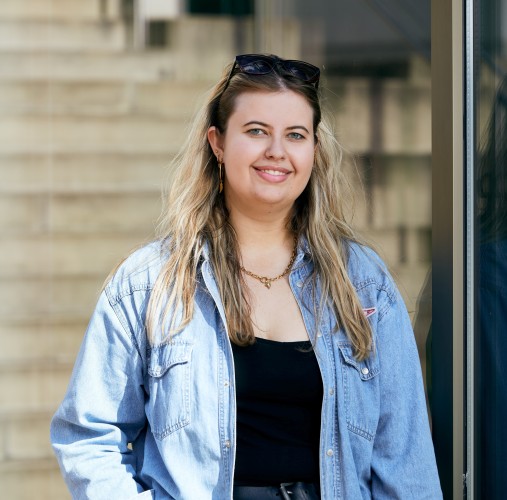 Picture: Britta Hüning
Tip 1: Success with a routine
I wake up at the same time every day, get dressed (even if it's tempting to stay in my pyjamas), and pretend I'm going to university. I set out drinks and snacks, find out my materials, and sit down at my (at best) tidy desk. I set up a schedule and stick to it. Among other things, I write down live meetings, practise time (as part of a group I tend meet deadlines), lectures, preparation and follow-ups but also breaks. The so-called Pomodoro technique works best for me, which means I work for 25 minutes and then take a 5-minute break. After 6 units, I take a longer break, i.e. 15 to 30 minutes. This way, larger tasks are easier for me to complete and I get less distracted. I am more of a nocturnal person so I try to complete the most challenging tasks at night. Observe when you work more effectively or when you are rather listless, and adjust your routine.
Tip 2 : Make a note
I write down important deadlines, for example, of exams and submissions in my weekly calendar. I write weekly or daily to-do lists, depending on whatever seems right at te moment. I use a weekly calendar for this purpose, so I have enough space to make notes without losing track of time and I can plan the week in advance. I have also tried bullet journaling. You use a notebook as a calendar, shopping list, project planner and much more. I had a lot of fun with it, but (unfortunately) I couldn't really integrate it into my daily routine. After some time it was too much work for me, but I can definitely recommend to try it out for yourself. Maybe you will like it. It is just important that you write it down somewhere. Everything that you write down won't clutter your mind and distract you, and you won't forget anything
TU Darmstadt supports you
Studying digitally in particular can be a challenge for students . On the website of the University Didactics Office (HDA) you will find a lot of tips and the learning strategy that is right for you.
And yes, preparing for exams can wear on your nerves, so stay cool and master exams with mental and emotional strength.
Tip 3: Don't forget to breathe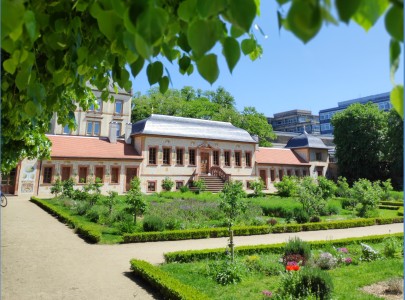 It doesn't have to be a hobby, but something that distracts me. I like to cook, so I combine a distraction with something meaningful, which I would have had to do anyway. Painting takes my mind off things as well, and what I have recently discovered for myself is taking walks. I live pretty much in the city centre of Darmstadt, hence, not far from the Staatstheater. Especially on sunny days, it is very nice there and when it is dark LED panels shine so beautifully, which makes it a great photo opportunity. Occasionally, I need some alone time, so I go out and enjoy the nature. I go to Herrngarten next to the city centre, Lichtwiese at the outskirts of Darmstadt or to the plenty of other parks in the city.
Tip 4: Put away your phone
Whether I like it or not, my phone is my loyal companion and I usually use the time on it mindlessly. That's why I put my mobile phone in another room or switch it off – the most important thing is to get it out of my sight. On some days, however, it has to be near me because I'm expecting an important call, for example. Then I either put it in concentration mode, which is possible on many smartphones in the settings, i.e. you set which apps you are "allowed" to use and which you are not, and these are then blocked accordingly. So if you absolutely want to have your smartphone with you, I recommend using applications to block the apps that distract you easily for a certain time
Tip 5: Music for motivation
I can strongly recommend background noise. I like to listen to music, but when I have to write or read texts I like to listen to "focus playlists" or nature sounds (what I like very much are rain or beach sounds) or I play special learning music. I have created a few playlists of my own, which play about 25 minutes of study music and then two feel-good songs for the break. It makes it easier for me to stay focussed on the task and it relaxes me during breaks.
Learning together despite the pandemic: Digital Co-Working
You need the ambience of a library to be able to focus? Have you ever tried co-working in your "home office"? It's a great way to simulate collaborative learning at home.
With your Zoom license, you can set up a meeting at any time and work virtually with your friends and fellow students even for hours like in the library. This "silent" work in the groups also helps to avoid distractions, and questions can be addressed immediately in the learning group.
Tip 6: My favourite tip – Stay positive!
I know, it's hard. I feel the same way. Some days go better and some go worse, but I am up for the challenge. I'm learning to organise my day on my own, I can plan my own schedule and tasks, and I'm saving time because I don't have to drive to the university (even though I'd like to). I complete the tasks I'm not keen on first. This way, the biggest task is already done, I don't have to worry about it anymore and I already have a boost of motivation when I start studying.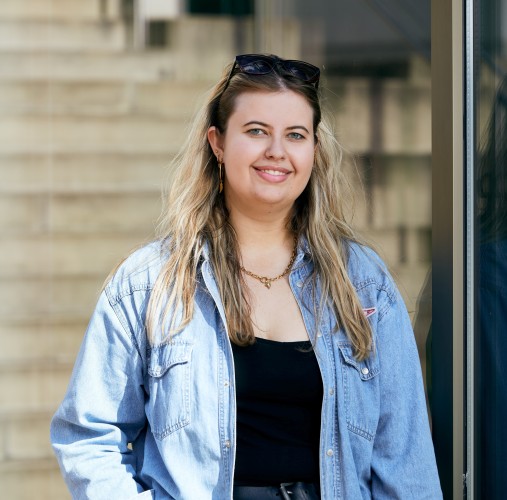 Picture: Britta Hüning
Julia
Hi, I'm Julia and I have been studying Industrial Engineering, specialising in Mechanical Engineering. I am one of the first students who started their studies digitally. It was different from what I imagined, but considering the circumstances, I liked it. There were many online activities to meet new people, which went very well.