EU promotes science-policy dialogue at regional and local levels
Rhine-Main Universities selected for pilot project
2023/01/17
The Science Meets Regions programme of the European Commission is promoting science-policy dialogue at regional and local levels. As part of the programme, the Rhine-Main Universities – Technical University of Darmstadt, Goethe University Frankfurt and Johannes Gutenberg University Mainz – will offer dialogue opportunities for policy professionals from Hessian and Rhineland-Palatinate state institutions and city administrations on issues concerning green and digital transformations.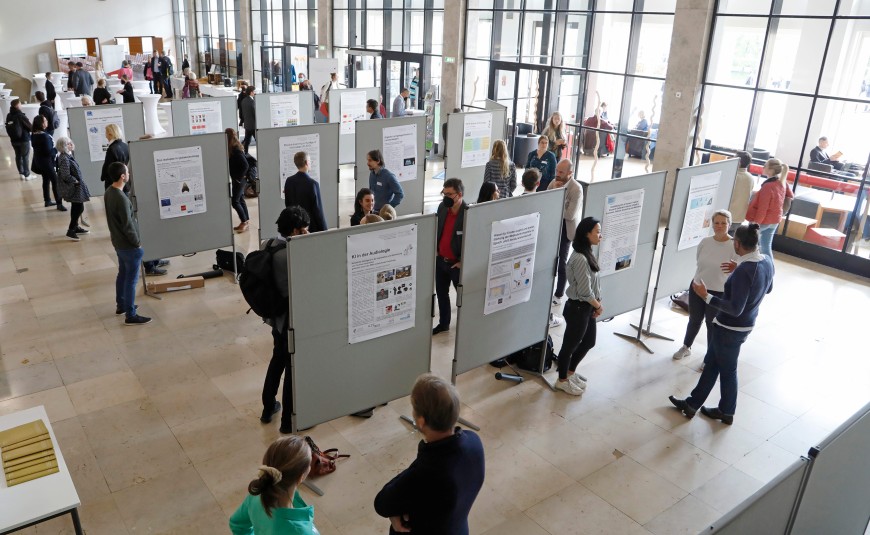 Policy professionals will be visiting the research facilities of the LOEWE center emergenCITY and those of the research area Energy and Environment in March. Up to 100 face-to-face meetings between policy professionals and researchers are going to be conducted in May 2023.
Solutions for shaping green and digital transformation processes
Professor Tanja Brühl, President of Technical University of Darmstadt, explains the importance of bringing researchers and policy professionals together: "The shaping of both the green and the digital transformation is of utmost importance to our economy and society. Researchers at the Rhine-Main Universities are working closely together to find sustainable solutions that will turn these processes of transformation into reality – be it the acceleration of energy transition, the preservation of biodiversity, cyber security issues, or the automation of work processes. In order to jointly develop sustainable solutions for local needs, we as universities are in close dialogue with our partners from outside the academic field. We are therefore very pleased about the pilot funding from the European Commission, which makes this kind of dialogue with representatives from state institutions and city administrations possible."
The Science Meets Regions programme of the Joint Research Centre of the European Commission supports eight other pairing schemes in the European Union besides the one at the Rhine-Main universities.
About RMU
The Goethe University Frankfurt am Main, the Johannes Gutenberg University Mainz and the Technical University Darmstadt – they form the RHEIN-MAIN-UNIVERSITIES (RMU). With over 100,000 students and around 1,500 professors, they cooperate closely in research, study and teaching. As renowned research universities, they shape Frankfurt-Rhine-Main as an integrated and globally visible science region.