Published: 17th July 2021
Torben,
Materials Science M.Sc.
Materials Science is super diverse, so there are constantly new perspectives opening up. It is intriguing over and over again!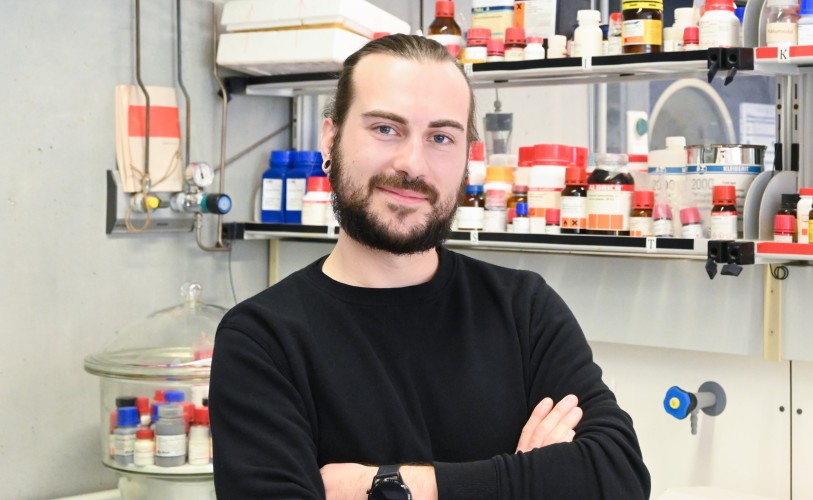 Picture: Andreas Hönl
The ultimate science mix and so much more
In many people's heads Materials Science does not ring a bell the first time they hear about it. However, it actually appears in many different everyday situations and the different materials are just super important! Or could you imagine a world without metals, plastics and textiles? Well, we definitely can't! In fact, Materials Science is closely linked to human development. Think about it: We talk about the Stone Age, the Bronze Age and the Iron Age for good reason.
The foundation of the degree course is a healthy mix of all kinds of STEM disciplines, with a strong emphasis on chemistry and physics. So for all the science geeks who don't want to choose just one specific direction, Materials Science is a dream coming true. On top of that, there are other exciting connections to research fields such as mechanical, electrical or medical engineering, and more. Furthermore, you will not only get to know different kinds of materials during your studies but also how to analyse and improve them for specific processes. Obviously, aircraft turbines have to maintain functionality and stability at enormous temperatures – but which materials qualify for this and how can we tailor them to meet all requirements at once? That's just one of many examples in which we rely on the expertise of materials scientists.
"Mat Sci" is an absolute insider's tip, even beyond the curriculum: you'll feel comfortable from the very beginning, as the degree course is (unfortunately) still relatively unknown and less than 100 students start every year. The advantage is that everything is very informal. Everyone helps each other out and the professors are also highly committed to the students' well-being. You can read more about these advantages and other exciting insights in our interview with four enthusiastic Mat Sci students.
Materials for next generation mobility, 3D printing, electrochemistry – what's it going to be for you?
But let's get down to business: You probably want to know what possibilities a Materials Science degree opens up for you, don't you? Here's the best news up front: Since Materials Science is so diverse, there will be a whole bunch of opportunities! This squad is the perfect example:
While Janik focuses on fuels in the automotive industry, Torben prefers to do research in the field of failure prevention, also in his part-time job at a Fraunhofer Institute in Darmstadt. In his work, he looks into changes in material properties under certain external influences. Exciting, isn't it? Sophie is interested in a completely different area: after attending a lecture on 3D printing, she has been passionate about medical engineering and is eager to save the lives of many people one day with the help of printed organs. This also relies on the right materials and correspondingly adapted processes.
As you can see, Materials Science can lead you into many different directions. And that was just the beginning. Currently, a lot is happening in this field, especially in terms of sustainability. For example, materials scientists put a lot of effort into research on alternatives for the widely used lithium ion batteries. The batteries of the future will have to provide both high power densities and mechanical robustness in order to be just as suitable for future engines. But at the same time, they should be a lot more environmentally friendly and consume less natural resources – and possibly be even cheaper – than existing solutions. Super interesting and important topics, right?
In our interview with Prof. Hofmann, you will get a brief insight into the research on functional materials, such as a so-called artificial leaf, a promising candidate for next-generation energy harvesting. Have a look!
Recommended external content
We have selected external content from YouTube for you and would like to show it to you right here. To do this, you must reveal it with one click. You can hide the external content at any time with another click.
I agree to external content from X being shown to me. This may result in personal data being transmitted to third-party platforms. You can find more information in our Privacy Policy.
By the way, you can always find news about current research in Materials Science on the department's website.
No specific plans for the future yet? Don't worry! Janik and his colleagues' interests and priorities only emerged during their studies. And even if you know right from the start where you want to end up later, it's still worth getting a taste of other areas. You will see how Materials Science fascinates you over and over again.
Materials Science goes international
Did you know that Materials Science at TU Darmstadt strongly focuses on international cooperation? While only a few lectures in the Bachelor's programme are held in English, the Master's programme is taught entirely in the English language. By this means, TU Darmstadt wants to promote international cooperation and not only welcome students from abroad, but also prepare German students for the global job market. International scientific cooperation is everyday business of a Materials Scientist and just as exciting as important– thinking outside the box can open up so many new perspectives!
Discover the world with Materials Science - International Master's programmes
One degree course, so many opportunities – especially after the Bachelor's degree, things really take off for you! For all those who want to stick with Materials Science, TU Darmstadt has a lot of great international Master's programmes. Whether it's a double degree, a scholarship or an exchange with a partner university – everyone will find what they're looking for!
International Master's programmes:
Materials Science (M.Sc.): advanced Master's programme in Materials Science
FAME+ – Functional Advanced Materials and Engineering: Double Master's programme in cooperation with seven high-ranking European universities as part of Erasmus+
AMIS – Advanced Materials for Innovation and Sustainability: Double Master's programme initiated and funded by EIT (European Institute of Innovation and Technology), an institution of the European Union
AMIR – Advanced Materials: Innovative Recycling: Double Master's programme enabling students to study at six top-ranking European universities, also supported by EIT
Energy Science and Engineering – the interdisciplinary M.Sc. Energy Science and Engineering offers a specialisation with a focus on energy systems and applications
What about a scholarship?
The Future Leaders Scholarship offers a ten-month stay in Taiwan, consisting of a semester at the National Cheng Kung University that is followed up by an internship at Robert Bosch Taiwan Co. Ltd for five months.You will be paid for the full ten months!
You would rather like to specialise in a specific STEM field after your Bachelor's degree? No problem – you'll have good chances to join the Master's programme in electrical engineering, mechanical engineering, earth sciences, etc.
Recommended external content
We have selected external content from YouTube for you and would like to show it to you right here. To do this, you must reveal it with one click. You can hide the external content at any time with another click.
I agree to external content from X being shown to me. This may result in personal data being transmitted to third-party platforms. You can find more information in our Privacy Policy.
Learning by doing – let's get down to business!
The most exciting part of Materials Science is definitely the high amount of hands-on experience! Did you know that Materials Scientists at TU Darmstadt have developed a mobile phone antenna as part of a project to achieve better coverage for the 5G network? Pretty cool, isn't it?
The curriculum of the degree course also includes a large number of exciting (laboratory) practical courses that reinforce what is being taught in the lectures and demonstrate it in practice for a better understanding. E.g. the physics lectures in the 1st and 2nd Bachelor's semester are entirely accompanied by practical experiments – a total of 20. From optics to heat conduction, all of the physics fundamentals are deepened in practice.
Moreover, there are also interesting experiments to accompany the Materials Science lectures which are recorded, analysed and always reflected on independently. For instance, the tensile testthat is being covered in the first semester is very simple but impressive: Various test samples are pulled apart by a tractor and the deformation of the samples is measured precisely until destruction. Here it becomes visible what loads individual materials can bear and how the composition of a material influences this mechanical property. Check out this video to learn more with a real-life example of use for this experiment:
Exciting insights are also provided by the solar cell experiment in which you can learn more about the different behaviour of the devices in darkness and light and explore what can and must be improved. However, these are really only two small examples of the many experiments that await you.
The Advanced Research Lab during the Master's degree, which is basically a small research project in itsself, also contributes a major part to the practical components of the degree course. In this module in particular, you can choose and design your own research topic. Of course, all the research work in the degree course also prepares you perfectly for your Master's thesis.
Due to the current pandemic situation, the practical experiments and the general practical part are at this time primarily recorded on video and made accessible to the students afterwards. This is certainly not the ideal way, as the students are missing out on the exciting hands-on experiences but the department is constantly working to get the best out of this time for the students. In any case, Sophie, Janik and Torben are already looking forward to returning to the labs soon – perhaps together with you?
Interdisciplinary research using iron as an energy source as an example
The project Clean Circles teams up scientists from multiple disciplines to explore how iron and its oxides can be used in a cycle as carbon-free chemical energy carrier to store wind and solar power. Watch the video to see what role Materials Science plays in this.
More info here
Recommended external content
We have selected external content from YouTube for you and would like to show it to you right here. To do this, you must reveal it with one click. You can hide the external content at any time with another click.
I agree to external content from X being shown to me. This may result in personal data being transmitted to third-party platforms. You can find more information in our Privacy Policy.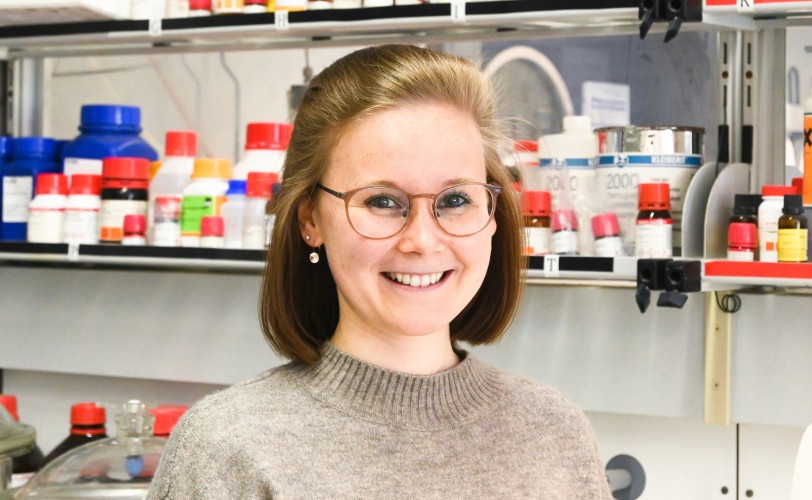 Picture: Andreas Hönl
Sophie
Hi, I'm Sophie and I'm doing my master's in the Materials Science programme. The large diversity of the programme has fascinated me time and again and awoken new interests. I've now reached the end of my studies and have decided to write my thesis on cell characterization and modification, something I never would have expected when I first started studying here. I would personally recommend the degree programme to anyone who is interested in all natural sciences and is open to a wide range of subject matters.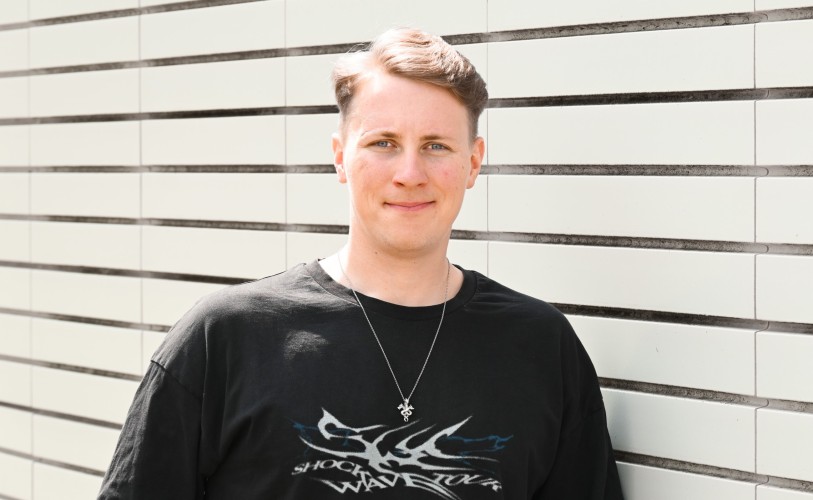 Picture: Andreas Hönl
Sean Janik
Hi, I'm Janik and I'm doing my master's in Materials Science. I'm very glad I choose this degree course as it has proven to be extremely diverse and has also brought me many new contacts, whether in the form of friendships or direct links to the industry. In addition to studying, I have also been an active participant on the student council since the first semester of my bachelor's degree with the intention of being able to help students with any problems in their degree. I expect to complete my degree in spring next year, and looking back, I'm very grateful for the great times and the familiar atmosphere within the comparatively small department.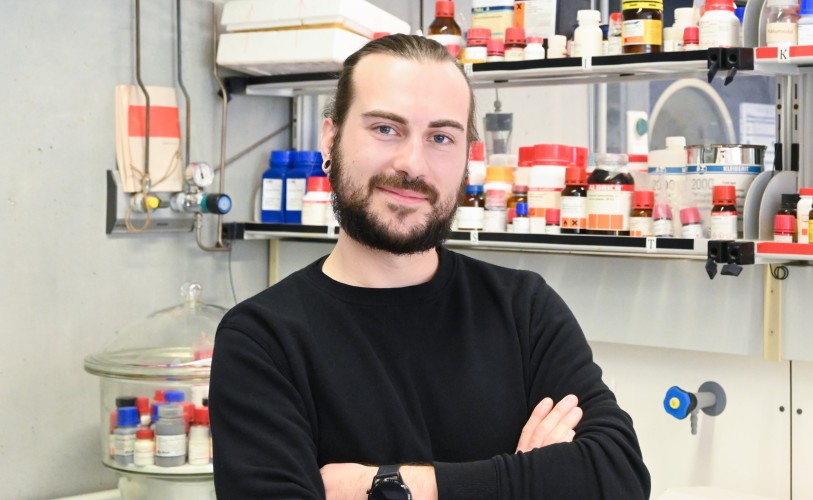 Picture: Andreas Hönl
Torben
Hi, I'm Torben and I'm doing my master's in Materials Science which I'm completing part-time. Alongside my degree, I also work at a Fraunhofer Institute where I can immediately apply what I've learned. This helps me to better understand complex issues and expand my knowledge. I have also been working in the interest and for the well-being of our students on the student council since my first bachelor semester. In my spare time, I have projects such as working on old mopeds, 3D printing or voluntary participation in organising a non-profit festival, in which I greatly benefit from the skills I've learned in my degree.