Published: 18th June 2021
Erik,
Mechanical Engineering B.Sc.
Sustainability is one of the most relevant topics of our time. It's great that TU Darmstadt recognises this and has now made mechanical engineering even more forward-looking!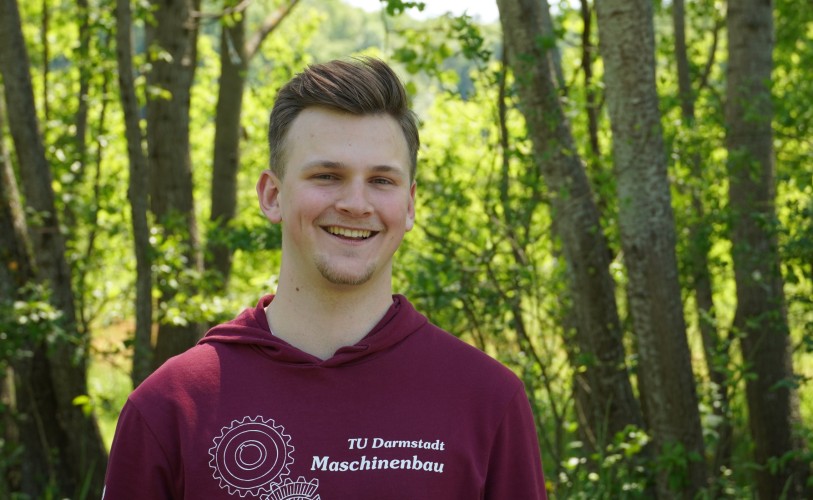 Picture: Meike Neufeld
Welcome to the future
You're into math, technology and science, but sustainability is also a subject that's very important to you? Great news: From the upcoming winter semester on, the Bachelor's degree programme in mechanical engineering now carries its claim to sustainability directly in its name: Mechanical Engineering – Sustainable Engineering. And that's not all: Various adjustments to the study programme highlight the importance of sustainability for the programme.
With these changes, TU Darmstadt offers you the opportunity to develop future technologies with a sense of responsibility for the people as well as for the environment. That sounds pretty exciting, doesn't it? Of course, even before the recent changes, that was the aspiration of the mechanical engineering programme at TU Darmstadt. After all, the most important goals of our research are optimising processes and making the best use possible of the resources on hand. So of course, sustainability goes hand in hand with that. But now, TU Darmstadt is highlighting the importance of sustainability by putting it in the name of the programme – and that's a really good thing in our opinion! Resource conservation, sustainability and climate change are very closely related and hit the nerve of our generation, who's now and will in the future deal with these topics intensively.
So, welcome to the future, welcome to the Mechanical Engineering – Sustainable Engineering programme!
Change your perspective
We're quite sure that you now want to hear everything there is to know about the study programme Sustainable Engineering, right? Well first of all, there are a lot of basics to learn in the Bachelor's programme. Because these basics are the key to further tinkering, experimenting, and designing! So be prepared for a lot of maths, but also basics in mechanics, mechatronics, materials science, fluid mechanics, design and electrical engineering that await you. The topics are widely spread, so there really is something for every science lover out there!
This may all sound very theoretical at first, but you'd be surprised, what a great deal of realism the study of mechanical engineering has compared to disciplines such as pure maths or physics. We promise: Two weeks of studying and you'll see the world with different eyes! Have you ever wondered, for example, why bubbles form when you cook pasta or how the cruise control in your car manages to maintain the same speed continuously? You will learn all about it in this programme. It's really impressive how you can break down the world in mathematical formulas, isn't it?
Speaking of maths and formulas. Of course, the learning curve in mechanical engineering is high and can't necessarily be compared to learning in school. Studying requires a lot more self-discipline and a healthy work ethic. But that's no reason to panic, because the motivation is naturally much higher during your studies than it used to be at school. Here you can focus on your personal interests to a large extent and manage your time much more flexibly. This makes it so much easier to find the time to sit down and learn. In addition to that, we offer several voluntary support programmes, especially at the beginning of your studies, to help you get off to a smooth start in university life.
Tips from our #studentsofTUdarmstadt for first-year students
The Mechanical Engineering – Sustainable Engineering programme does involve a lot of work. For a successful start to your studies, we provide you with a few helpful learning tips:
At TU Darmstadt there are various offers before starting your studies such as the math pre-course (VEMINT) or accompanying your studies like the maths support course (MSK), for example. Especially for first-year students, who don't rush from school to university directly, it's a perfect way to refresh their knowledge.
Attending the exercise courses that go along with the lectures, is highly recommended. This is where you can deepen and consolidate your knowledge once again. Attending these is always a good idea!
Form a study group: This way you'll not only meet new people, but you can also support each other by sharing your knowledge. With your combined strengths it's so much easier to figure things out and complete your studies as a team.
Don't be afraid to ask lots of questions! Self-initiative is the be-all and end-all of studying. If you actively ask for help, you will receive it – whether in the exercise courses, the consultation hours with the professors or in the lectures.
Tinkering with a good conscience
As already indicated, the new study programme of the Mechanical Engineering – Sustainable Engineering programme retain the basic structure of the old programme as well. The fundamentals of mechanical engineering remain relevant, even if the focus in some modules has been shifted more towards sustainability. For example, materials science is now strongly focused on resource conservation, and the subject of thermodynamics, which is essential for everything evolving around energy, has now gained even more importance.
Isn't that amazing? For us it's great to see that TU Darmstadt is responding to the interests and needs of our generation and is revising the study programmes in the spirit of sustainability. As a Master's student, Theresa can no longer benefit from the new Bachelor's programme, but even in the Master's programme, she clearly notices the increase of importance of the topic. One of her favourite subjects, Energy Systems III, deals primarily with innovative carbon sources (i.e. biomass, waste, sewage sludge and CO2) and their ideal use as an alternative to the conventional processes. It focuses primarily on processes that can close the carbon cycle and thus reduce our carbon emissions in the long run.
Last but not least: Mechanical engineering and digitalisation
Conserving resources can also mean digitalising procedures and processes more and more. As mechanical engineers we're most of all dedicated to finding solutions to a problem, even though it might take a while and a great number of attempts before we achieve what we set out to do. Programming languages, simulation programmes and digital data recording therefore save us lots of valuable time and resources.
That's why digitalisation is so important for Mechanical Engineering – Sustainable Engineering. Not only is it an important contemporary issue, but it is also a real advantage for your career entry, if you've already dealt with programming languages, digital twins, machine learning and digital business during your studies. We therefore really recommend that you take in as much as you can. And we can assure you: Programming can be a lot of fun, too!
One of thousands – but not lonely!
Admittedly, the size of the programme takes some time getting used to. In some of your lectures, you might sit in a hall with as many as 800 students from a variety of different study programmes. But we can reassure you: Despite the large number of people, no one gets lost. Instead, you will form your own groups and support each other during your studies. One important tip is to never be afraid to talk to others and make new friends. You will quickly notice that everyone else is in the same situation and open to meeting new people, too! And of course, there are also smaller lectures where the mechanical engineering students are only among themselves.
Cooperation is essential in the mechanical engineering programme. Your everyday learning routine usually consists of sitting down in a group and poring over an assignment – and that, of course, welds you together quite nicely!
Theresa,
Mechanical Engineering M.Sc.
Women and mechanical engineering – there's nothing wrong with that! So don't worry and just go for it!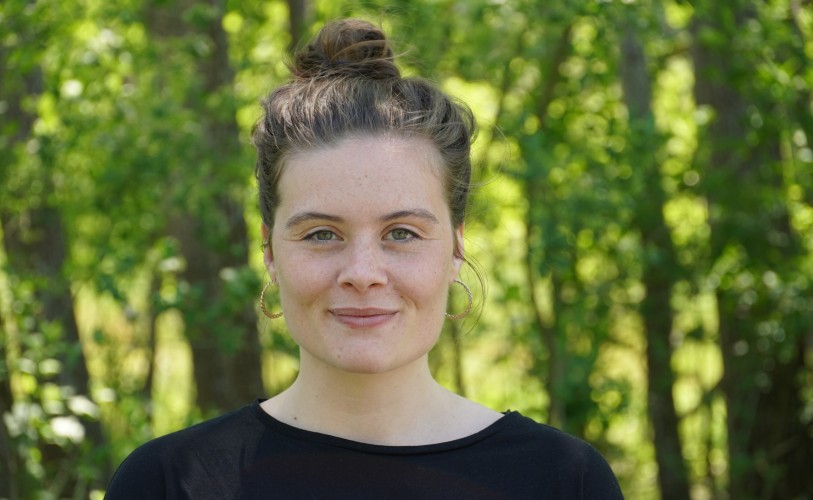 Picture: Meike Neufeld
The majority of students in the department are currently male – that's a fact. But that really shouldn't scare anyone off! In the programme, everyone is welcomed with open arms because research really has nothing to do with gender. In fact, diversity even moves a research group forward: different experiences, angles and views can open up new perspectives as well. So don't worry and just get started! Be confident that you will master your studies just as well as the male student next to you. Go for it!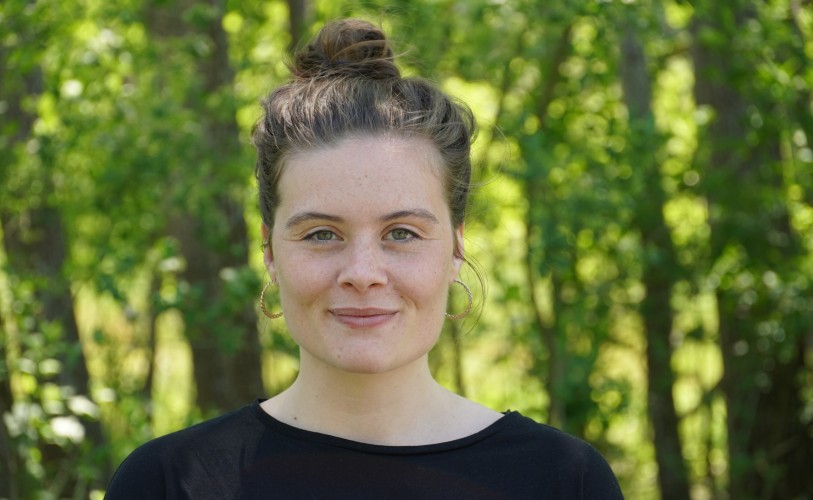 Picture: Meike Neufeld
Theresa
My name is Theresa and I am doing my master's in mechanical engineering. I am a member of the mechanical engineering mentoring programme at TU Darmstadt. We support exchange students in mechanical engineering at TU Darmstadt and help with any problems and offer them a variety of different activities. In my free time I love to travel and hike.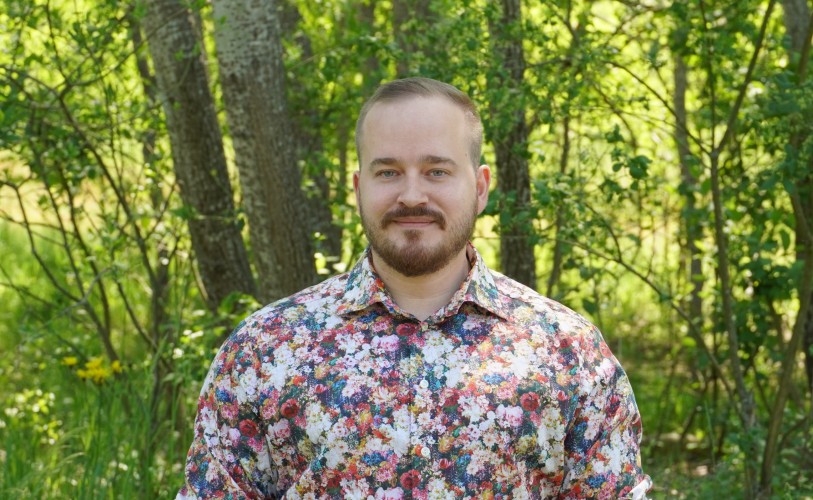 Picture: Meike Neufeld
Marvin
Hi, my name is Marvin and I'm studying mechanical engineering at TU Darmstadt. I have always had an interest in technical devices and really fit the cliché of the boy who always tinkers with one's moped and then moves on to study mechanical engineering. However, during my studies I also got to know many other sides of mechanical engineering, discovered new interests and learned an enormous amount, both hard skills and soft skills. Above all, these include teamwork, discipline, resilience and selfcare.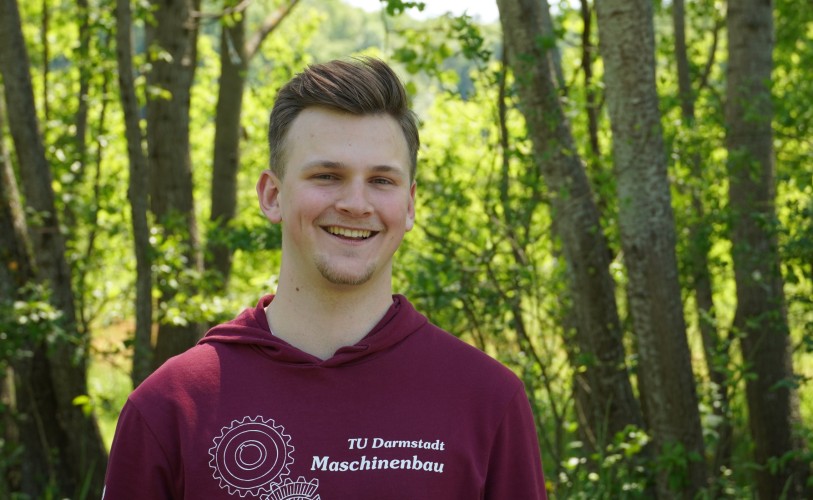 Picture: Meike Neufeld
Erik
Hello, I'm Erik and I'm studying mechanical engineering at TU Darmstadt. I decided to study mechanical engineering, because I have always been interested in technology and especially aerospace. The presentation of the programme at TUDay really convinced me. I like the sense of community we have here, which is why I decided to join the student council. I also plan on doing my Master's degree here as well, since additional specialisations, such as Aerospace Engineering, are now available.