Food
There is no need to go hungry on campus thanks to the cafeterias and bistros provided by Student Affairs (Studierendenwerk). Students will find a wide selection available: from breakfast to snacks and pastries to various main meals and side orders which can be combined for lunch. Anyone who likes to cook can obtain free food from Fairteiler (part of foodsharing Darmstadt) (in German) , which is located in the student's union (AStA) open space.
Getting about: Attractive mobility options for TU students
Getting about: Attractive mobility options for TU students: The Semesterticket (in German) covers use of all local public transport lines throughout the RMV network. Cyclists benefit from reduced rates at Call a Bike or can use the zwanzig° bike workshop (in German) to repair their own bike. flinc (in German), the ride-sharing network, brings together drivers and passengers.
University sport
SweatFit, parkour, quidditch , climbing or perhaps you prefer yoga? It can be difficult to decide what to do when the choice is so great. The University Sports Centre (in German) at TU Darmstadt provides counterbalance before and after lectures. There are also plenty of opportunities to do sports at the university stadium or swimming pool. Entry is free of charge to both facilities.
betterTUgether – stronger together through your studies!
Student Health Management: To make your studies the best time of your life, we offer you many activities, events and offers to keep you fit, relaxed and well-prepared throughout your studies!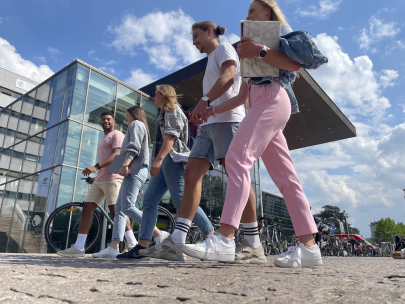 University societies and groups
Build a racing car, act and perform or simply get together to make music – TU Darmstadt has numerous societies and groups catering for a wide range of interests and offering something for everyone. The aim is to think outside the box, try something interesting and get to know lots of new people. University will never be boring!
Getting involved in student politics
Relaxing and going out
From catching up with classmates to celebrating late into the night – TU Darmstadt students' union (AStA) facilities are the perfect venue. There are concerts, readings, cinema evenings and club events taking place in the Schlosskeller (in German) all the time. When the weather is good, you can obtain delicious snacks and drinks in the Schlossgarten (in German) until midnight. And the spacious café (in German) is the ideal place if you like good coffee.
TU meet & move – campus festival at TU Darmstadt
Sport, culture and internationalism – these are the driving forces behind the TU meet & move campus festival (in German) which the university holds in June. A varied programme awaits visitors to the university stadium until late into the evening: sports competitions, opportunities to join in, taster activities, international food stalls and games, bands and dance performances on the stage.
TU meet & move 2017: The next TU meet & move takes place on 7 June 2017.