Prospective students at TU Darmstadt
Before studying at the TU Darmstadt
The TU Darmstadt – that's what it should be. But which academic programme suits me best? Orientation and information are helpful. Everything important can be found here.
Academic programmes
There is something for everyone: The courses available at the TU Darmstadt are widespread amidst technical emphasis. It has appealing offers in engineering, natural sciences and human as well as social sciences.


Online Self-Assessment
__________
Do your strengths and interests match your chosen degree programme? This self-assessment section will help you find the right course for you.
Application and Admission Procedures
Application made easier – an overview of data and facts about application and admission to study at TU Darmstadt. In case of difficulties, numerous counsellors offer their assistance in making an informed decision.
International Prospective Students
Whether you want to get a Master's degree or spend a semester abroad in Darmstadt: TU Darmstadt offers a wide range of appealing options for international students.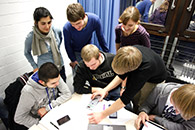 Overview of departments for prospective students
Are you interested in a specific department already? Our overview contains links to the web pages of individual departments and fields of study aimed specifically at prospective students. go


Counselling and Help
Help and contact points for prospective students.
Information events
Every year, the TU invites school pupils to find out about degree programmes at the university. Open days include presentations, guided tours, lectures and opportunities to talk with teaching staff, other members of staff and students. go
In January each year, TU Darmstadt, Darmstadt University of Applied Sciences, the Evangelical University of Applied Sciences and Darmstadt's employment agency hold information events for young people from across the region. go