Moiz,
M.Sc. Material Science
The lively atmosphere, the international diversity, and the historic sites – all of what thrills me about Darmstadt.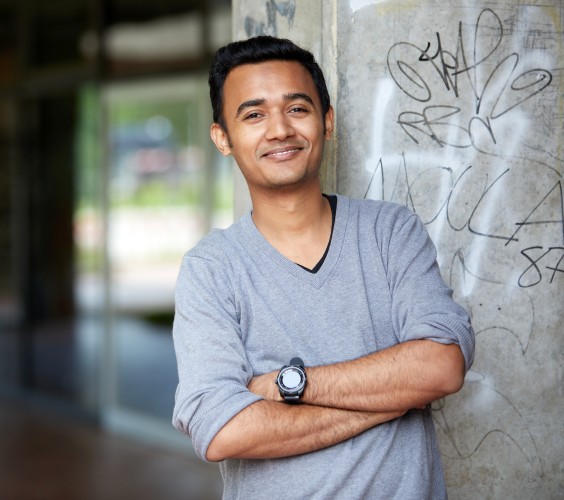 Picture: Britta Hüning
Profile
Nationality:
Pakistani
Study programme:
M.Sc. Materials Science
Prior education:
B
Why I chose TU Darmstadt:
Germany was always my dream study destination and the decision of choosing TU Darmstadt came without any questions, firstly, the excellent rankings and secondly, the availability of my preferred programme in English language.
What I like about Darmstadt:
The lively atmosphere, the international diversity, and the historic sites – all of what thrills me about this city.
What do you do in your free time?
I love to play and teach Scrabble. It is a word game played on a board. So if you ever find someone on campus (after everything returns to normal) laying down achelor of Engineering (B.E.), Materials Engineering, NED University of Engineering & Technology, Karachi, Pakistansome weird looking words on a board, that would be me. Do not hesitate to have a few games with me then, I would let you win the first one ;).
How do you balance your job and studies?
Working part-time alongside online education has turned out to be a lot easier for me, because the lectures are recorded and are always at my disposal, so there is no fear of missing out on them.
Pick three words to describe your personality.
Curious, friendly, optimistic
Fun fact about me:
I have won World Scrabble Championships in the junior category. Google 'Moiz Ullah Baig' :)
My favourite motto:
Rome was not built in a day
Scrabble champion Moiz – whaaat?!
Scrabble champion – what?!
Moiz is a passionate Scrabble player and quite talented too! Among other things, he is the 2013 World Youth Scrabble Champion and won the World Junior Scrabble Championship 2018. His latest success was in Berlin in 2022, when he won the 10th Continental Scrabble Championship in Berlin, Germany. This makes him a little star in his home country Pakistan – and also at TU Darmstadt!
We asked him a few questions about his hobby.
I was 8 when I came across this game, and due to English and Maths being my favourite subjects then, I got completely hooked on it. The rest is then history. I have played 800+ matches in 35 tournaments, including Junior and Senior World Championships, in over 9 countries, and have also won multiple Junior World Championships. The best thing about Scrabble is learning new words and using them with a strategy to win. Other than that, the invaluable opportunities it gives me to travel and meet like-minded people are just phenomenal.
Just like any physical game requires physical training, this mind game requires mind training. There are two aspects to it; one is learning or revising words and the other is practising those words on the board. There are dedicated software applications for both things. Before a tournament, I usually dedicate 30-60 mins learning/revising words daily and the same amount of time playing against the computer to practise those words.
Tip # 1 is to always focus on having fun and learning, and not winning. This is more of a general tip, but the best technical tip would be to not just always go after playing longer words, sometimes the shorter words also give more points if placed on the right spot e.g. on the right bonus squares present on the board.
The letter 'Q' is my least favourite one for two reasons; first, there are not a lot of words containing it, and second, mostly it requires an additional letter 'U' to make some score-worthy words.