Sooyeong,
M.A. Data and Discourse Studies
Of course, living in the vibrant atmosphere of Darmstadt, full of students, excites me most. It infused my mind with the wishes to get to know new people in different areas from every corner of the world. Besides, beautiful spots for a stroll in nature and nearby cities for hiking are not to be missed :)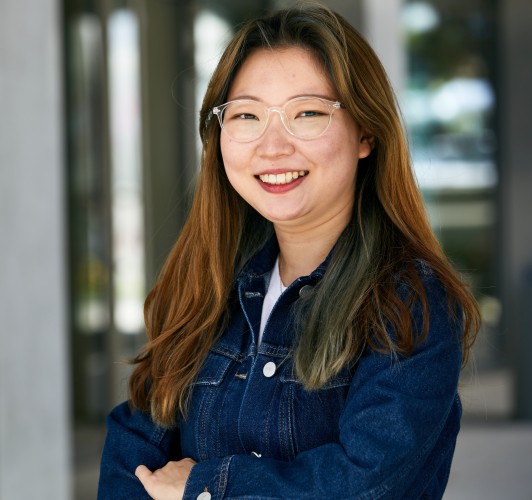 Picture: Britta Hüning
Profile
Nationality:
Republic of Korea (South Korea)
Study programme:
M.A. Data and Discourse Studies.
Prior education:
B.A. German / B.S. Masscommunication and Journalism
Why I chose TU Darmstadt:
Besides its renownedness, TU Darmstadt was one of the universities of which the opportunities of interdisciplinary studies and research were opened to me. Especially, my course in data and discourse studies takes promising approach to the area of my focus, in which diverse academic experiences are possible to converge into applied studies in digital linguistics. For me being interested in various areas at the same time, that appealed to decide with TU Darmstadt.
What I like about Darmstadt:
Of course, living in the vibrant atmosphere of Darmstadt, full of students, excites me most. It infused my mind with the wishes to get to know new people in different areas from every corner of the world. Besides, beautiful spots for a stroll in nature and nearby cities for hiking are not to be missed :)
What makes me happy:
Sleeping, taking a walk in the sun, travelling new places, beer, and chocolates ;)
When you were a kid, who(m) did you want to become? Are you on your way there now?
I've dreamed of becoming a pilot for a long time as I loved airplanes and flights. My path is now far from it. Yet, I'd love to make trips across other cities instead, which is always so refreshing to me :)
My favourite Book:
My favourite book is "The Sixth Sleep" by Bernard Werber. It makes me think of the regrets from old days but, eventually they turn into nothing and I get focused on living in the now to the full.
Pick three words to describe your personality.
easy-going, curious, tolerant
What would you tell your younger yourself?
Listen to yourself more, take it seriously whom you want to be and be confident in you going for it. Be encouraging to your people, but be generous to those who do you wrong and just keep going. Don't forget that I love you :) and enjoy your life more!
Fun fact about me:
I cannot eat spicy food, so my friends call me 'spicy-idiot'.
My favourite quote:
"The responsibility of tolerance lies in those who have the wider vision." – George Eliot