Masha,
Data and Discourse Studies M.A.
Moving is always kind of an adventure. Either you anticipate it or fear it, maybe preparing thoroughly or being spontaneous, by all means, the whole process triggers lots of emotions.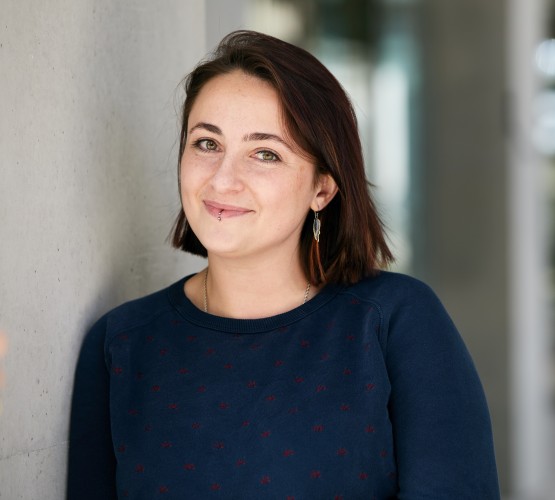 Picture: Britta Hüning
#1 A girl's road trip to the Netherlands
Lucky me
Published 26th October 2021
Planning this year was a bit special. No one knew pretty much until the very last moment whether an exchange semester would be possible at all. (Luckily it happened to be!)
In respect of the circumstances, I wanted to be as flexible as possible. Of course, the Netherlands is no Faraway Kingdom, but anyway, you know you have to get your head around it.
I was lucky! A good friend of mine was moving to the Netherlands with the car just about the same time. So we agreed on the date that would suit both of us and started to looking forward to our girl's road trip.
Remember the rescue lane!
I guess the biggest challenge was to fit all our multiple possessions in the car. After a little struggle, we've finally hit the road. Thank god we have a similar taste in music, this fact alone has already spared us quite some trouble.
People love driving in Germany, they love cars and speed and I totally get why, highways here are really nice. However, travelling on Friday afternoon, you can expect a lot of traffic.
If you are ever stuck in a traffic jam in Germany remember to make a Rettungsgasse (rescue lane)! It can indeed be a matter of life and death sometimes and german people are very responsible about it.
Yellow car plates everywhere
Trying to avoid a jam we took a detour through a federal road. Yes, sure, takes longer, but you know the views are worth it! Forests, picturesque villages, timber-framed houses… You should drive through Hessen one day!
At some point, somewhere at the end of North Rhine-Westphalia, there were no more turns left or right, just a straightway to the Netherlands, the country of Erasmus Roterdamus and Vincent van Gogh. When most of the car plates turn yellow, you know you are in NL and the city of Nijmegen is just across the border!
Our trip went smooth, we had time to enjoy each others company and catch up a little. It is a new page for both of us, and it is always good to have a friend by your side when you are up to something new. Fingers crossed for the new semester.
P.S. No idea how I am going to travel back in January with all my belongings.
The Department of International Relations & Mobility
Studying abroad is a great opportunity to gain new knowledge and skills. With a network of more than 300 partner universities around the world, TU Darmstadt offers its students not only subject-specific but also intercultural education. The department for International Relations & Mobility and the International Officers in your specific department support students in aspects of application and organization of their stay abroad. Information about the semester abroad and support programs are presented at information events. Field reports by returning students provide you with in-depth insights.
Within the framework of an exchange semester at a partner university, no tuition fees are charged and the European Credit Transfer System (ECTS) ensures that the study achievements are also credited at the TU Darmstadt. The Erasmus+ program allows students to spend up to 12 months abroad in Europe. For those who want to go further away, there is a wide range of tuition-free exchange places in Asia, America and Oceania. But also summer schools or winter schools or internships abroad are possible. At TU Darmstadt, students can also graduate with a double degree in various master's programs. They obtain two degrees simultaneously at a partner university and at TU Darmstadt.
Why study abroad?
As a part of my study programme at TU Darmstadt, our third semester is supposed to be either staying abroad at one of the partner universities of the TU Darmstadt or optionally an internship.
The deadline for the application period for the exchange semester was November 2020. For me, it was only one month after I have started my studies in Germany. I didn't know whether I want to do an exchange at all. I have just moved to Germany, and the perspective to move again didn't seem so attractive. Besides, because of Corona, everything was so unsure, no one could tell whether an exchange would take place.
I've heard so many stories about Erasmus and how wonderful this experience is. Back in Ukraine when I did my Bachelor and my first master's degree there was not yet a possibility to do Erasmus so for me it was sort of an unfinished business – in my "bucket list" list. So eventually my curiosity took over and I decided to give it a go and applied.
Why I wanted to study in the Netherlands
There were many options where to do an exchange: other continents and parts of the world. I was not up to a long-distance move, so eventually, I have applied to 3 different universities within Europe.
The Netherlands was my first choice. I've heard a lot about modern alternative approaches to studying humanities, e.g. using various digital tools – that is also what we are doing in TU Darmstadt, so I thought it might be good to stay on this course. Besides, researching a bit about Radboud university what won me over was the cooperation with international research institutions such as Max Plank. Additionally, my personal decisive factor was that one part of my family lives in the Netherlands.
My goals/ expectations/ hopes for my semester abroad:
Initially, I didn't have any particular expectations, apart from making new experiences and maybe learning to approach research from another angle. However, now I am looking forward to the semester beginning. I'm sure the bunch of classes from different disciplines that I've chosen will help me seeing alternatives, how multilaterally things can be approached and considered. And I've indeed set a small goal for myself. I plan to improve my programming skills, so once I'm back at TU Darmstadt I can start properly working on my master thesis using more sophisticated digital tools. And of course, I'm looking forward to learning Dutch culture and language.
#2 Food in the Netherlands
Croquettes from a vending wall – hello future!
Published: 22nd November 2021
Dutch people are quite determined about their eating habits. For example, if you want to invite a Dutch friend for a dinner, and let's say you've forgotten to specify the time, you could expect your friend to arrive around 6 pm. Everywhere in the Netherlands that is a common dinner time.
It is usual for a Dutch household to eat croquettes and French fries once a week. There is indeed a variety of croquettes: made from meat, fish, cheese, vegetables. You can deep fry it yourself, grab takeout or fetch it from a vending wall (hello future!).
Doing groceries here can also be quite futuristic, self-checkout lanes and handheld scanners would be an option in every decent-size supermarket. Such a possibility of self-service helps to avoid queues and saves you an effort when you are not up for small talk at the cashier.
Btw, if you don't feel very creative today and don't know what to make for supper, don't worry, there is a solution for you. Often supermarkets offer sets with all the necessary ingredients for the known dishes from cuisines all over the world: Indian, Greek, Mexican etc.
What was successfully integrated and eventually became typically Dutch is food from former colonies, like Indonesian and Suriname cuisine. Many supermarkets have a few aisles with ex-colonies food only and if you are invited to that very dinner at 6 pm you may also get Indonesian food as a treat, many families cook it in respect of the tradition.
"Danish open sandwiches": Sandwiches zum Mittagessen – typisch niederländisch. / "Danish open sandwiches": sandwiches for lunch – typical Dutch.

Verkaufswand mit verschiedenen Arten von Kroketten / Vending wall with different kinds of croquettes

Krokettenvielfalt im Schaufenster / Variety of croquettes in shopwindow

Altes Geschäft in Nijmegen, das niederländische Snacks verkauft. / Old shop in Nijmegen selling Dutch snacks.

Kroketten – beliebte niederländische Snacks / Croquettes – favourite Dutch snacks

In den Niederlanden könnt ihr problemlos Küchen aus der ganzen Welt finden. Zum Beispiel, Japanisch / In the NL you can easily find cuisines all over the world. For example, Japanese.

In den Niederlanden essen die Menschen viel Fisch und Meeresfrüchte. / In the Netherlands, people eat a lot of fish and sea fruits.

Vorgepackte Sets mit Zutaten für Gerichte aus der ganzen Welt / Prepacked sets with ingredients for dishes from all over the world

Kibbeling – niederländische Spezialität: panierte Fischstücke / Kibbeling – Dutch speciality: battered fish pieces
Previous
Next
Go to picture 1

Go to picture 2

Go to picture 3

Go to picture 4

Go to picture 5

Go to picture 6

Go to picture 7

Go to picture 8

Go to picture 9
Everything for fish gourmets and sweets lovers
However, not much preparation would be expected for breakfast and lunch. They keep it simple and time-efficient: bread (surprisingly soft) and all possible cold cuts and sweets on the top. Probably the most common on bread would be chocolate sprinkles (they've got those in different colours and even with anise flavour) and of course cheese (the older – the better). Even going out for a lunch, be prepared that sandwiches may be your only option in a cafe.
If you are a fish lover like me, any time of the day you can go for delicious street food: herring of different kinds, Kibbeling (<3) or deep-fried shrimps, here you will have a lot of choices.
And don't forget sweets! Famous syrup waffles, liquorice, and an endless variety of pastry (it seems there is a speciality for almost every city and every occasion). I am enjoying teatime here indeed!
Well, I'm happy to tell, that Dutch people do love their food and they are justly proud of it!
#3 Voyage, voyage!
Tips on travelling in the Netherlands
Published: 20th December 2021
One of the greatest benefits of Erasmus is the possibility to discover new places! While applying for an exchange semester, of course, I was hoping to travel around and learn a thing or two about the host country. And to be fair it is indeed easy to travel in the Netherlands!
First of all, the country is quite compact. Many spots are manageable for a day trip and almost all the places could be seen on a weekend trip.
Secondly, the Dutch railway system is indeed conveniently organised. There is one card that works for all the means of public transport. Either prepaid or link to your bank account, it spares all this fuss with buying tickets every time. You just have to check in and check out when entering/exiting a train station or a bus. Moreover, the ticket prices for domestic trips don't change, thus there is no stress with hunting for the cheapest ones.
Another little tip. If you love expositions and art, think of getting a museum card which grants you access to all the major Dutch museums for one year. There are a lot of masterpieces in Dutch collections worth seeing (van Gogh, Rembrandt) and museums are organised vividly and interactively.
Travel-destination recommendations by Masha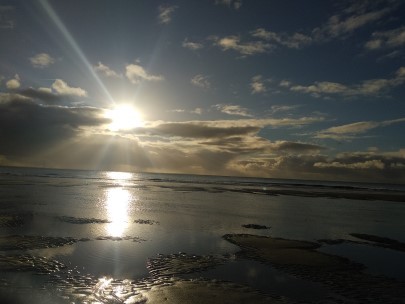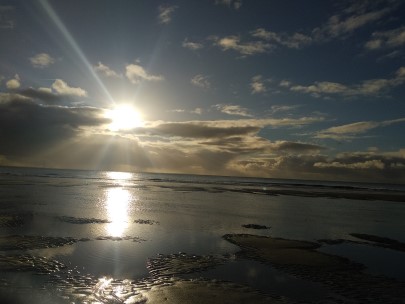 Being here for almost three months now, I have quite a few favourite places. My absolute best-loved location is Zeeland (the place New Zeeland was called after) – the Dutch province located in the southwest bordering Belgium. Mostly consisting of islands and peninsulas with absolutely beautiful costs, colourful shells, sand dunes and pine trees. In all the seasons the scenery there is just fascinating.
My most favourite Dutch city is Delft. Known for its ceramic blue pottery and Johannes Vermeer the city is absolutely charming with many canals and typically Dutch urban architecture. Oncevisited,I keep dreaming of coming back to those cosy and picturesque streets. By the way, Delft is just near the famous Den Haag, which is of course absolutely worth visiting!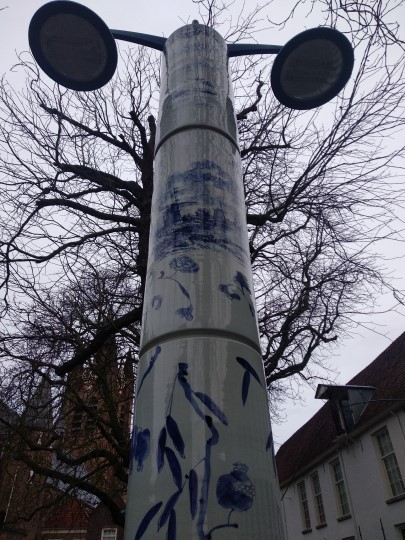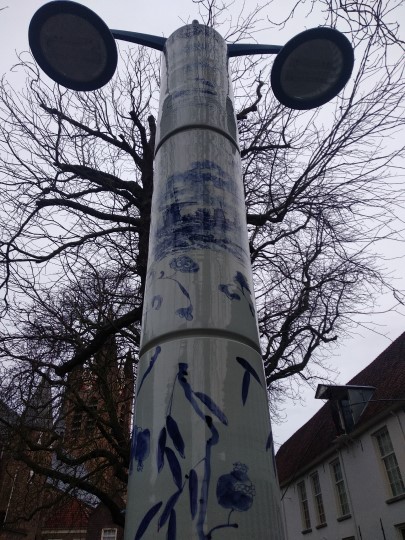 Germany – Netherlands: an easy travel
It is also quite easy to reach the Netherlands from Germany. My friends came to visit from different cities. It takes about eight hours to come from Berlin and only five hours by train from my favourite town Darmstadt. A couple of weeks ago, my friend-colleague-classmate Polina has paid a visit. We had an amazing and active weekend, discovering Nijmegen and looking for similarities and differences between German and Dutch culture.
Polina's impressions: close, but different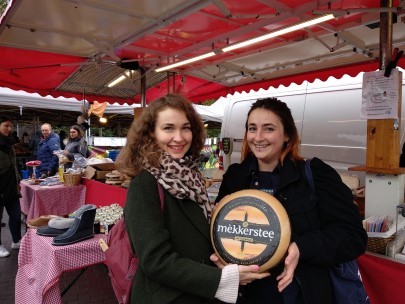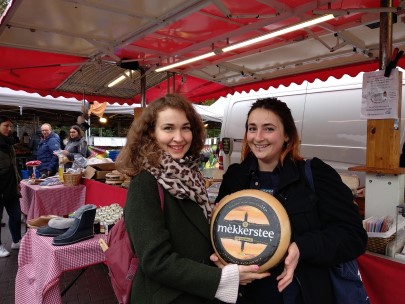 "I've been to the Netherlands a few times, but I'd never heard of Nijmegen until recently. Yet it is the oldest city in the Netherlands! At first glance, the city didn't really seem "typically Dutch" to me, mainly because there are no canals (and that's one of the things I think of as "typically Dutch"). There is some water, though, because Nijmegen is situated next to the river Waal, tributary of the Rhine (very close to the German border). When you take the train, however, you quickly realise that you are no longer in Germany. Although Germany and the Netherlands are neighbouring countries, the landscape, architecture, and city flair differ considerably.
Not only the atmosphere in the city is different, but also the fashion. Every time we sat in a street café, we observed stylishly dressed people. By the way, we were really lucky with the weather – we caught the beautiful golden autumn, so we spent a lot of time outside. Although Nijmegen is not a capital and not a metropolis, everyone speaks English, which is very pleasant, especially for people with no knowledge of Dutch."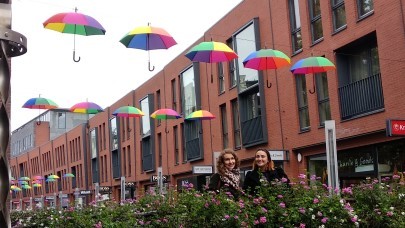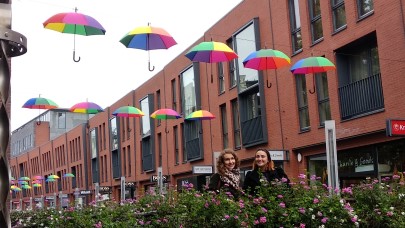 Eine Straße in einem niederländischen Dorf mit kleinen Häusern und Pflanzen / A street in a Dutch village with little houses and plants

Eine Straße mit Häusern, Fahrrädern und Dekorationen in der Stadt Delft / A street with houses, parked bikes, and decorations in the city of Delft

Keramische Karte der Stadt Delft / Ceramic map of the city of Delft in the Netherlands

Hofvijver See und die Generalstaaten der Niederlande / Hofvijver lake and the States General of the Netherlands

Blick auf die Gracht mit Booten in der Stadt Dordrecht / View on the canal with boats in the city Dordrecht

Blick auf die Gracht mit Booten an einem sonnigen Tag in der Stadt Dordrecht / View on the canal with the parked boats on a sunny day in the city Dordrecht

Kinderdijk Dorf: fünf Windmühlen an der Gracht / Kinderdijk village: five windmills on the canal

Die Landschaft von Zeeland: Sandstrand und die Nordsee / The Zeeland landscape: sand beach and the North Sea

Die zeeländische Landschaft mit der untergehenden Sonne: Sansstrand und die Nordsee / The Zeeland landscape with the setting sun: sand beach and the North Sea

Die zeeländische Landschaft: Kiefern und Sanddünen / The Zeeland landscape: pine trees and sand dunes

Polina und Masha auf dem Markt, mit Käselaib / Polina and Masha at the market holding a cheese wheel

Polina und Masha stehen einer blumengeschmückten Brücke, unter Regenbogenschirmen / Polina and Masha standing on the bridge decorated with flowers, under rainbow umbrellas
Previous
Next
Go to picture 1

Go to picture 2

Go to picture 3

Go to picture 4

Go to picture 5

Go to picture 6

Go to picture 7

Go to picture 8

Go to picture 9

Go to picture 10

Go to picture 11

Go to picture 12
#4 LGBTQIA+ rights in the Netherlands
Published: 19th January 2022
During my stay here, I have been noticing the different expressions of support of LGBTQIA+ both at individual and social levels. It is impressive to see how those processes meet, coming both from top-down and bottom-up. Advanced Dutch legislation (extensive and effective) can be an excellent role model and so can be the choices people make on a daily basis. For me, it shows how we can make a difference for the sake of peaceful, prosper and sustainable coexistence.
NL – the pioneer for LGBTQIA+ rights
In 2001, the Netherlands, as the first country in the world, legalised same-sex marriages. The first ceremonies took place on the 1st of April the same year, thus enabling the fulfilment of one of the crucial rights the LGBTQIA+ community is fighting for.
Especially for the young generation, it feels like the diversity of sexual orientations and gender identities is perceived as an ordinary part of societal development and wouldn't even attract any specific attention. Being in the Netherlands for four months now, I have a feeling that it is indeed the country where people feel much freer to express their sexuality, as they do not anticipate being confronted with judgement.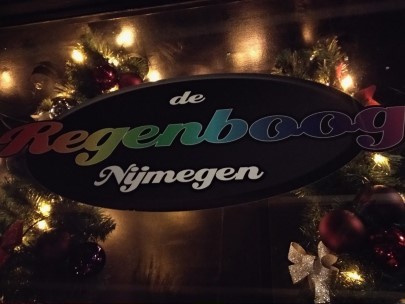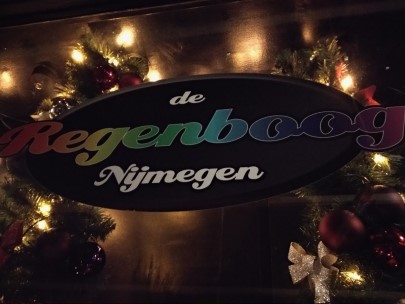 Everyday life deeds matter!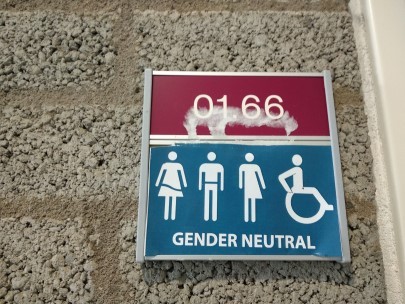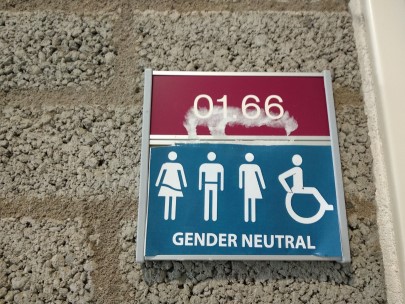 One of the strongest astonishments I have experienced at the beginning of the semester was gender-neutral bathrooms on campus. Such a simple concept, but somehow very powerful and makes one think of how we can make our society more equal in the everyday routine.
Another very strong impression was left by the National Coming Out Day (the 11th of October) and how the city of Nijmegen responded to it. You could see bright rainbow flags hanging everywhere: at the university, next to churches and public offices, at private households, even at the petrol stations and next to supermarkets. The expression of support and feeling of unity coming from everywhere that day was very impressive to me.
The engagement of the university for LGBTQIA+ rights
Radboud University has also a few initiatives, contributing to the matter. There is an LGBT+ youth organisation at the university that was founded in 1985 and is the oldest LGBT+ students association in the Netherlands. Also, there is a university brainstorming event with the purpose to discuss what an LGBTQ+ platform should look like at the university. Other Dutch universities also have similar platforms aiming to contribute to celebrating diversity and making an impact on the policies of universities.
Note about the different abbreviations
For this blog, I have decided to use the term LGBTQIA+ (lesbian, gay, bisexual, transgender, queer/questioning, intersex, asexual/aromantic/agender) as the more inclusive one. However, there are different ways to refer to the community: LGBTQIA, LGBTQA+, LGBTQA, LGBTQ+, LGBTQ, LGBTQQ (queer + questioning), LGBTI, LGBTIQ, LGBT+, LGBT (probably the most common one), GLBT (as a variation of more feminist LGBT) etc. Additional letters can be added to the abbreviation such as U for unsure, C for curious, P for polyamorous etc. There is no agreement on which term is the most suitable and shall be used. Different organisations and communities adopt the abbreviation that reflects their position the most.
Thus, in the previous paragraph abbreviations LGBT+ and LGBTQ+ are part of the proper names adopted by organisations.
The Pride Parade gem
Maybe another deeply impressive thing for me was to learn that during the famous Euro Pride Canal Parade starting in 2016 among the participants was the so called "First World Religion Boat" representing the major world religions (Islam, Judaism, Buddhism, Hinduism, Christianity). The gay and gay-friendly representatives of religious communities gathered for showing solidarity with the LGBTQIA+ community and viewing their rights as human rights as well as for expressing the desire for peace and coexistence.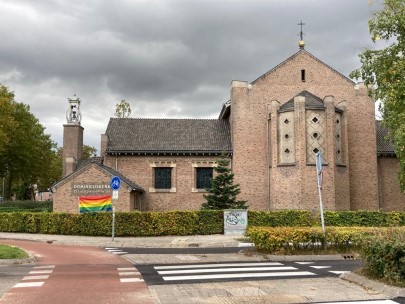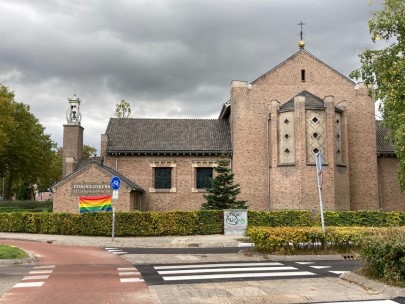 Looking into the future
During the past few months, another significant change was introduced. In October 2021, it has become possible for Dutch royals to marry same-sex partners and to be able to keep the right for the throne at the same time.
For me, the Netherlands is indeed an inspiring example of a state that is not afraid to face the future.
#5 NL! yes, and btw studying.
Published: 21st February 2022
While choosing the host university, academic reputation was an important criterion for me. Dutch universities, especially in the domain of humanities, are famous for cutting edge research and experimental approaches. Namely, Radboud University – the partner of TU Darmstadt, has high positions in rankings among classical universities.
Keep it up!
Coming from TU Darmstadt, where standards are really high, I was astonished to discover that the requirements in Radboud were possibly/probably even higher (at least for humanities). They love their efficiency and they kind of have this expectation for the players of the academic world to comply.
I must say that I personally prefer when the education load is calculated in a way that allows some time to process and to absorb the knowledge. Having taken a lot of cool disciplines I was a bit sad as I couldn't get rid of the feeling that I constantly kept running after that train that had already left. Do you know the feeling?!
Erasmus experience makes a difference
However, easy or not, I am quite satisfied with the semester results. My study programme allowed a free choice of subjects during the exchange semester. As you can imagine I got a bit overenthusiastic and decided on very diverse disciplines, also to explore some new fields a bit.
It was possible because of the precious policy of TU Darmstadt. The university encourages its students to take part in international exchange, considering gaining new experiences and not the performance itself to be the main objective. There are no requirements as to how many courses a student is obliged to take/pass and also in my case the grades, received at the partner university are not calculated towards the GPA (everage grade). So eventually I was brave and chose courses I was genuinely interested in, even if I may not have shown the best performance.
In Dei nomine feliciter
The Radboud University, same as TU Darmstadt, offers study programmes in English and has a high coefficient of international students obtaining degree within its walls. Interesting fact – Radboud used to be a catholic university and is named after a Saint.
The skills gained
By all means, I am very contented with the choice of my exchange university. During these months, I have discovered that studying in the library is actually for me (imagine libraries where you are allowed to drink coffee and have a snack). I have learned to crack cyphers and manuscripts, read the Shakspeare English and omg a lot about cognition. Those bits (although they seem not to have much connection now) have massively helped me to decide on the future direction of my research and enriched my academic background.
I've taken all with me back to Darmstadt and genuinely anticipate new wonderful projects built on top of the experience I have gained.
BTW, due to the corona hybrid semester, it was actually possible for me to take simultaneously a couple of courses from my home university. Isn't it amazing?! One can indeed be at two places at the same time.
I was here:
 

Die TU Darmstadt ist immer präsent – TU Darmstadt is with me always ;-)

Die Anforderungen an der Radboud sind fast noch höher als an der TU – Requirements at Radboud are even higher than at TU.

Ich hätte mir mehr Zeit gewünscht, den Lernstoff besser zu verarbeiten, absorbieren zu können – I wish I had more time to process and absorb the things I've learned here…

Radboud Campus von oben/ from above…

 

Hier konnte ich gut lernen – in der Bibliothek. This is where I loved studying, in the library!
Previous
Next
Go to picture 1

Go to picture 2

Go to picture 3

Go to picture 4

Go to picture 5

Go to picture 6

Go to picture 7
#6 Time to look back
Published: 31 March, 2022
Almost ten months of preparation, five months of the actual semester abroad and two months to arrive back home to Darmstadt and get all the stuff settled. As with everything else in life, my Erasmus time is also over now and it is about time to draw conclusions. I think it would be fair to say that my exchange semester has brought a lot, however, curiously, it was a bit different experience from what I expected it to be.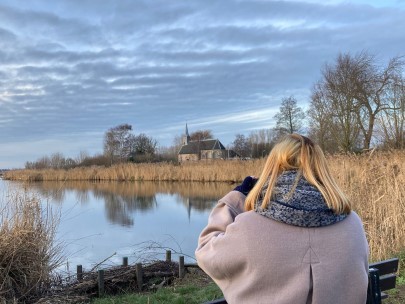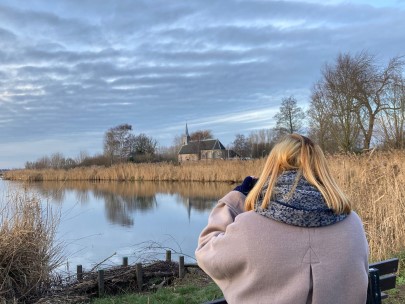 Thank you, Radboud!
Having all freedom in the world to choose whatever I like in terms of the academic component I indeed have enriched myself with an eclectic mixture of subjects. First I thought that broadening so much my academic horizon would only make it more complicated to finally focus on one direction. However, surprisingly this experience has helped to decide upon prospective research focus at least for the near future. Thank you, Radboud!
Admiring the Dutch people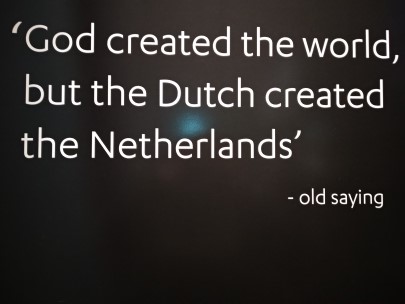 Additionally, my closer acquaintance with Dutch culture has deeply impressed me! Their unique traditions, their incredible cosiness all over the place, their indeed phenomenal capability to cycle everywhere, their stoic love for endurance sport in any weather, their efficiency and of course their very progressive and liberal society. I will take this experience with me and I wish I could just update myself with Dutch impeccable taste and organisational skills.
Chop chop!
If I have to think of things I had difficulties with I would say it is a very "fast" country. They like their train connections just, their cycling as fast as a car would go and their workload to such extent that your work/studies are also your hobbies and your free time. I indeed missed some time for reflection in-between. I don't know about you, but I need my time to process and extrapolate.
Like Alice in Wonderland
Regarding the academic level, it is indeed very high. You know, like in Alice in Wonderland only in order to stay afloat, you actually need to paddle very fast. Studying in NL is demanding and I can imagine that such intensity for a longer time would just not be fun anymore. However, they do keep the standard and the reputation of their academic system and this is definitely praiseworthy.
If I could change anything, probably I would tell myself to worry less and to go out more. Sometimes just a little walk in the neighbourhood, observing the beauty around can give the necessary energy to carry on. And things have a tendency to sort themselves out anyway, so most of the nerves were really in vain.
New perspectives
Nevertheless, I am absolutely sure that such an experience opens new perspectives and helps to find secret doors. I am very happy and grateful to TU Darmstadt for establishing such a partnerships all over the world! It gives its students the possibility to discover not only other cultures and academic systems but also new facets of themselves.
Photo gallery: A lot to discover
Nijmegen: Grote Markt square // Gote Markt Platz

old Dutch saying (part of museum exposition) // altes niederländisches Sprichwort (fotografiert in einer Ausstellung)

Rotterdam: Erasmus bridge + Masha // Erasmus-Brücke und Masha in Rotterdam.

Van Gogh painting: almond blossom // Van Gogh-Gemälde: Mandelblüten

Zwijndrecht: an old church on the canal + Masha // alte Kirche am Kanal und Masha

two bikes in the forest // zwei Fahrräder am Waldrand.
Previous
Next
Go to picture 1

Go to picture 2

Go to picture 3

Go to picture 4

Go to picture 5

Go to picture 6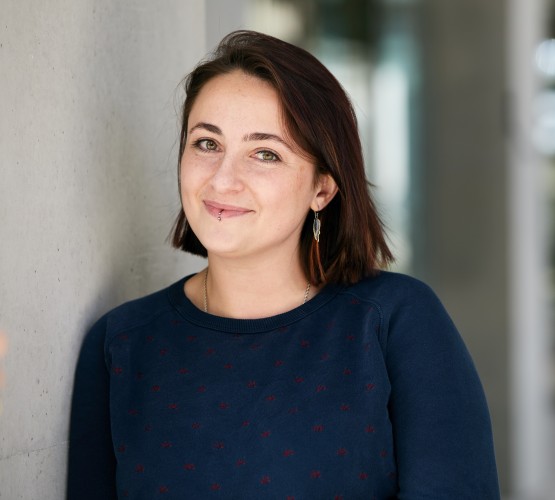 Picture: Britta Hüning
Masha
Hey! My name is Masha and I'm doing my master's in Data and Discourse Studies. It always takes long to explain what exactly I am studying. My program is a kaleidoscope of disciplines and methods, which are weirdly and fruitfully intertwined together. For me it is a fusion of hobby and profession: languages, history, programming, philosophy! I love it how we mix approaches trying to gain this voluminous image of our world.