Juan,
Environmental Engineering M.Sc.
I think trying to travel more sustainable sometimes pays off with dreamy landscapes and unique experiences.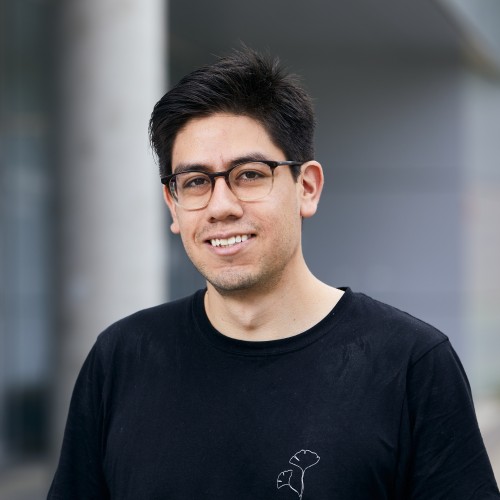 Picture: Britta Hüning
#1 Arriving in Turin
Published: 6th October 2021
The moment I knew Europe was agreeing on using a common vaccination pass that permits to travel and move freely through the different countries I started to plan my trip to Turin, Italy. I started to look for tickets two months before the start of the semester in Italy, because I wanted to concentrate for my exams at TU Darmstadt and be with less things to do during the exam period. I decided not to take an airplane with the aim of having a less environmental impact and so my options were reduced to travelling by bus or train. Fortunately, I got a good deal by train and I booked my ticket from Frankfurt to Milan.
The route that the train followed was spectacular. Crossing Switzerland and the north of Italy took my breath in several occasions. The landscape was beautiful. But not only the landscape was inspiring, I also was interested in the engineering part of the construction of the route. Specially the part when we crossed the "Gotthard Tunnel" – world's longest railway tunnel. I think trying to travel more sustainable sometimes pays off with dreamy landscapes and unique experiences.
Warm welcome and first hiking trip
After arriving in Milan I took a regional train to Turin where my new flatmates were kindly waiting for me with a traditional Italian pizza. I felt so welcomed and that made my first days in the new flat easier. For the first days I had to make some burocratic stuff, but that went really easy. I also started to know new people and with them I went hiking and started to explore Turin.
The Department of International Relations & Mobility
Studying abroad is a great opportunity to gain new knowledge and skills. With a network of more than 300 partner universities around the world, TU Darmstadt offers its students not only subject-specific but also intercultural education. The department for International Relations & Mobility and the International Officers in your specific department support students in aspects of application and organization of their stay abroad. Information about the semester abroad and support programs are presented at information events. Field reports by returning students provide you with in-depth insights.
Within the framework of an exchange semester at a partner university, no tuition fees are charged and the European Credit Transfer System (ECTS) ensures that the study achievements are also credited at the TU Darmstadt. The Erasmus+ program allows students to spend up to 12 months abroad in Europe. For those who want to go further away, there is a wide range of tuition-free exchange places in Asia, America and Oceania. But also summer schools or winter schools or internships abroad are possible. At TU Darmstadt, students can also graduate with a double degree in various master's programs. They obtain two degrees simultaneously at a partner university and at TU Darmstadt.
#2 Alps and Sea – Discovering the region
Published: 8th November 2021
People from Turin are telling me this year we are being lucky with the weather. In the last weeks there were so many sunny days, so I couldn't miss the chance to explore and discover the regions of Piemonte and Liguria. At the beginning of October me and my friends decided to explore the lovely city of Camogli and its surroundings. There we hiked in really well conserved and challenging forests next to the sea. The view was amazing. Me and my friends were so amazed about the landscape that we waited every day to see the sunset up from the mountains of the regions.
After that weekend we went to the Alps in Piemonte. That hike was already planned several weeks ago. We were really lucky with the weather because the sky was clear so we had every single minute an spectacular view of the Alps. I must say this hike was more challenging for me because at some points there were ice and we really had to be careful to not fall down and hurt ourselves.
Again, we were so in love with the landscape that we lost a little bit track of time and we were given an amazing sunset as a goodbye from Rocciamelone (3500m). After talking, eating, singing and laughing it was already dark and we had 1,5 hours still left to go. Luckly it was not cloudy at all and we had a full moon that gave us light in our last meters before ending the hike. I am still really curios about the region and its landscapes. I am excited for next week where I am going to the Aosta Valley with the university to see the effects of climate change in the mountains to evaluate possible measures that could be taken for the adaptation of the effects.
Juan auf dem Rocciamelone (3500 Meter) in den Westalpen. / Juan on the Rocciamelone (3500 meters) in the Western Alps.

Bei Eis und Schnee mussten wir gut aufpassen, dass wir nicht ausrutschen und uns verletzen. / In the ice and snow we had to take good care not to slip and hurt ourselves.

Tolles Geschenk zum Abschied: Der Sonnenuntergang über den Alpen. / Great farewell gift: the sunset over the Alps.

Tolles Geschenk zum Abschied: Der Sonnenuntergang über den Alpen. / Great farewell gift: the sunset over the Alps.

In Ligurien kann man durch Wälder direkt über dem Meer wandern. / In Liguria you can walk through forests just above the sea.

Camogli ist eine wunderschöne Stadt in Ligurien. / Camogli is a beautiful town in Liguria.

Camogli ist eine wunderschöne Stadt in Ligurien. / Camogli is a beautiful town in Liguria.
Previous
Next
Go to picture 1

Go to picture 2

Go to picture 3

Go to picture 4

Go to picture 5

Go to picture 6

Go to picture 7
#3 Field Trip to Cervina in the Alps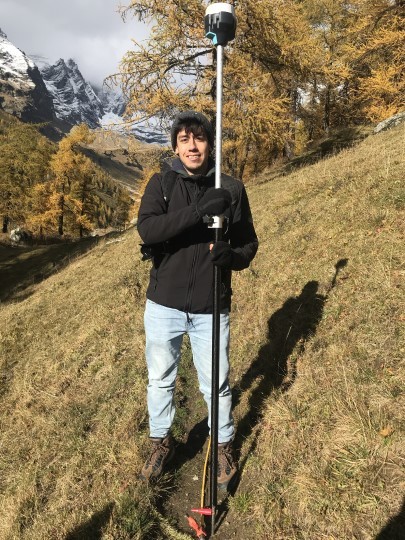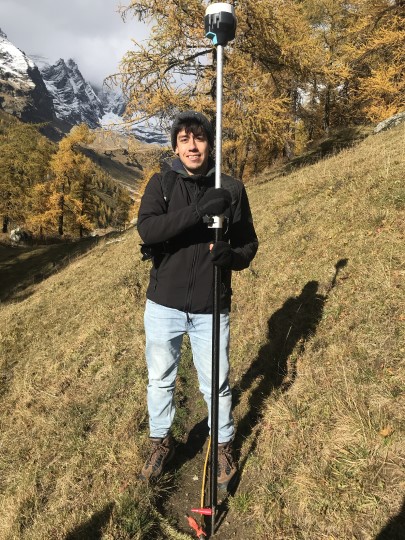 Published: 10th December 2021
Most of the courses I am taking at the Politecnico are related to climate change. More specifically, what can engineers do to provide solutions and accurate data for a proper coping and adaptation to this challenge. I was very lucky that on the course "Climate Change Adaptation" we went on a field trip to the Aosta Valley, northern from the Piemonte region where Turin is located. It was a 2 hours bus ride to get there, where the goal of the field trip was to collect relevant geodata of the Blue Lake. This with the aim of monitoring the lake and seeing the effects of climate change on this ecosystem and for proposing possible adaptation strategies.
We were able to collect and to do a quick analyses of the needed data using the PoliTO´s moving Lab. We flew a drone to collect georeferenced photos of the area, we did an electrical resistivity tomography survey, we measured the discharge of the lake and we georeferenced the area of interest. We collected all that data with the proper techniques for creating a 3D Model of the lake on a computer and to explore, analyze and understand the status of the lake. In this way, possible adaptation measurements can be discussed and the lake can be monitored in a detailed way through the years.
I was really happy to work in a field that I really like, the mountains. It is very nice to go out of the classrooms sometimes and do something, to put the theory into practice. And, yes, we were very lucky to work really close to the Matterhorn.
Becoming an expert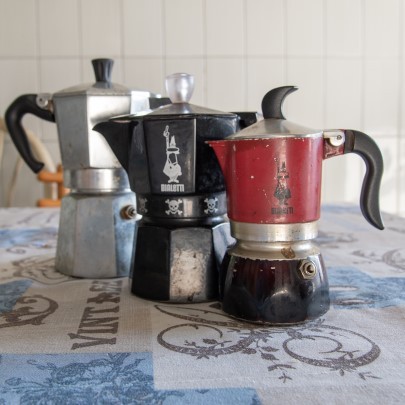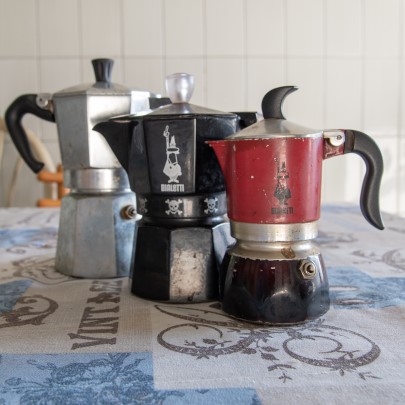 My flatmates said to me that the usual way to drink coffee at home is with the "Moka". At our home we have three of different sizes. At the beginning I was surprised how little the cups were for breakfast, I am already three months here and I am still surprised. Sometimes over breakfast, I do want to take my time and have a big cup of coffee. When I say that to them, they laugh. I guess I will have to show them that feeling. It is very important though that the home-made coffee is made perfectly. At the beginning they did not trust me for making it even though in Germany I used to have a "Moka". I must say I have learned some tricks here like boiling the water in low fire. I did not know that! But it really changes the taste of the coffee! Now I am an "expert" and after cooking together they ask me for a coffee, and I do it just the way they taught me.
Ever heard of "caffè ginseng"?
When I go to a coffee bar there are so many options. The common one is the famous "espresso", but I have tried the "marrochino", "caffè Ginseng", "espresso macchiato", "lungo", "d'orzo", "latte macchiato" and one I do not remember. I must say the "caffè ginseng" is a must-try. My Italian teacher showed us a picture where you can order over 50 different types of coffee, so yes, it is true that coffee is a thing here.
My favourite coffee
I think I still have to try more tastes and aromas of this beautiful drink. It is very interesting to know how people around the world prepare coffee. Me, coming from Ecuador, a country that grows coffee beans, I'm used to drinking coffee and I must say even though the Italian coffee is world-class, I do prefer the Ecuadorian one. As I said, I will still be looking for my favourite coffee here.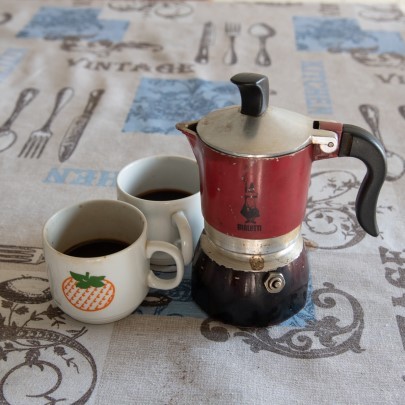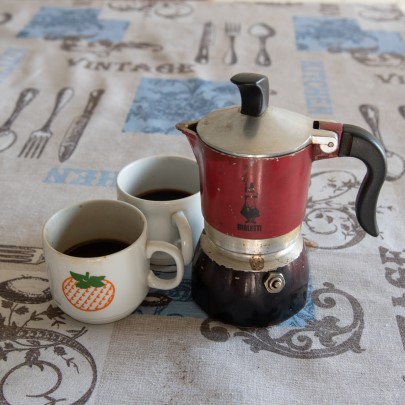 #5 Italy and Food
Published: 7 march 2022
How was my experience with the Italian food? – Simply great! Like almost all people who go to Italy, I had high expectations of the food culture, also known as the oenogastronomy (food and wine culture) in Italy.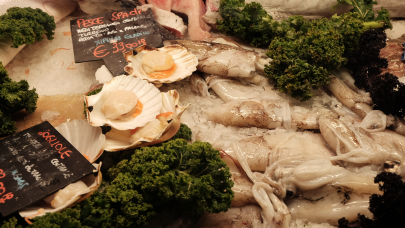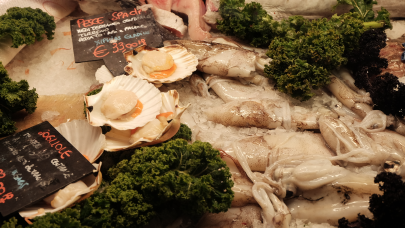 The sea is the main factor in Sicily's gastronomy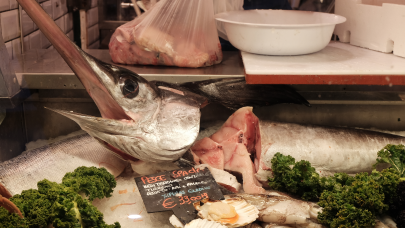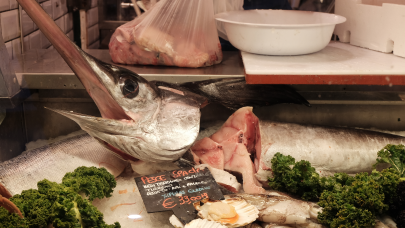 My culinary journey started in Sicily; a region where the sea is the main factor in gastronomy. Here I could eat very fresh seafood. They were mainly prepared very simply, but the taste and quality of the products were very good.
I was also able to try new small dishes here: Arancini, Canolli and Granito, which I treated myself to very often and with pleasure. It's not for nothing that people say that the food in southern Italy is top-notch. We were even given food and wine for free at a wine farm! They were very proud of their food and wanted us to taste some things for free.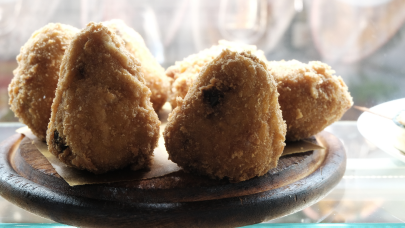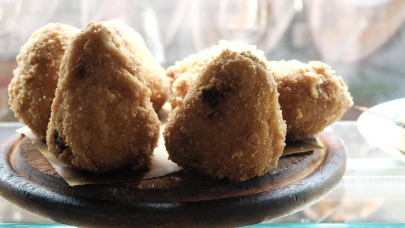 We cooked almost every day
After Sicily, I finally arrived in Turin with the hope of getting to know Italian culture in depth. This definitely includes the food. I was lucky enough to live with three Italians, so Italian food was cooked almost every day. Let's go step by step…
Breakfast. For me, the most important meal of the day, was unfortunately a disappointment. In Turin, traditionally you drink a cappuccino and eat a croissant with a filling of your choice (pistachio, cream or jam). And that's it. My flatmates and many Italians drink milk or coffee with some biscuits. As I am usually very active in the morning, I needed a bit more. Of course, when you went to the café, the cappuccinos were world class.
Two courses is the norm
Now we come to lunch. Unlike in Germany and similar to Ecuador, my home country, lunch is very important in Italy. Normally, you eat a "primo" and a "secondo", so two courses. Usually the "primo" is a pasta or risotto and the second course is meat, fish or other protein. My flatmate worked from home and when I was at home we often cooked together and I have to say that she can make the best risotto gorgonzola!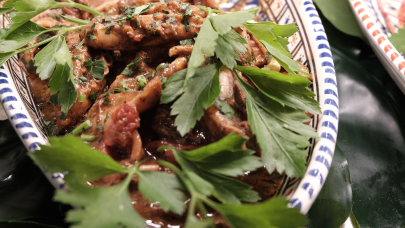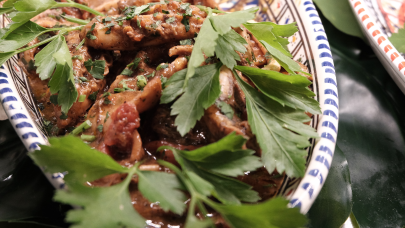 Eating and talking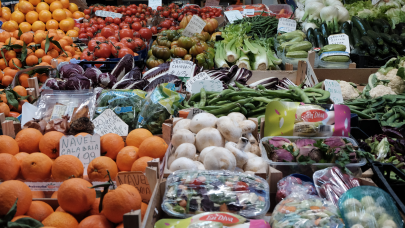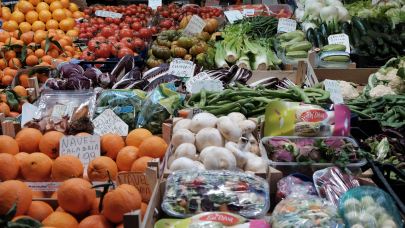 For dinner we ate something lighter. But also a lot. Here, as the first dish, vegetables are definitely the main protagonists. Always seasonal and preferably from the region. Usually we also like to eat pizza in the evening. We always have dinner dates with friends or with my flatmates. It's very important to eat together and talk about everyday life. This is where I learned the most about Italian culture!
Enjoying an aperitivo after work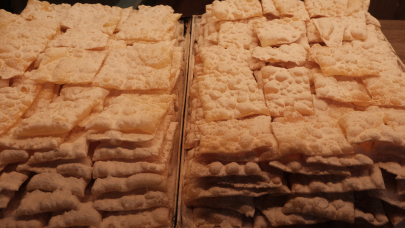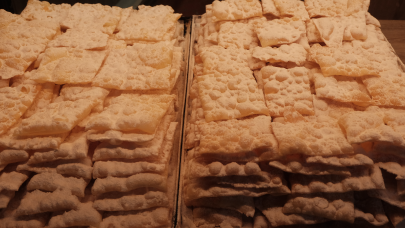 Not to be left out of all meals is the "aperitivo". It is very popular and is often served after work and before dinner. It is a time when friends, colleagues or couples get together and are served very tasty snacks such as olives, ham, sausages, small pizzas, chips or typical gourmand snacks from the region. Always with a drink, typically a spritz. From about 7pm Torino glows in red and orange because of the wine and the Spritz. You see almost all the squares of the city alive and full of desire for aperitivo and then… dinner. Aperitivo, was my absolute favorite meal. It is a time where you can have deep conversations and where you can feel the best energy of the people.
Food is ALWAYS a topic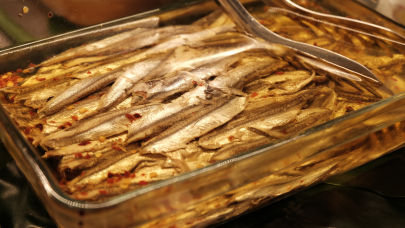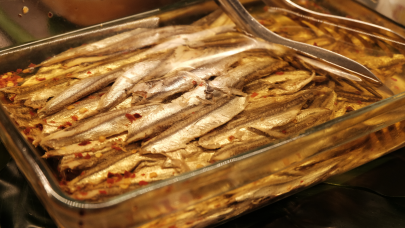 I have to say in Italy you can really feel the food culture. I have been asked several times as "small talk" what I ate yesterday, what I am going to eat today or how I prepare this and that? Even conversations between Italians always include the topic of "food". When I went on an excursion, I was always asked if I had eaten something typical from the region, and indeed every small town or region has its own specialty. In Puglia the "Burrata", in Emilia Romagna the "Pasta and Lasagna", in Piemonte and Toscana the wine and cheese and so on. This blog post will not be enough to describe everything I ate.
I can only confirm that in Italy a lot of value is placed on traditions. For example, you often only drink cappuccino in the morning, you try to eat fruit for dessert, you don't eat much for breakfast, you try to eat very healthy and simple, but the products have to be of good quality and you respect the combinations of ingredients. You don't mix much and there are always seasonal dishes and delicacies.
#6 Conclusion
Published: 7th April, 2022
Visiting Italy as a tourist? Sure! Living in Italy for a semester? That's something else! Doing an Erasmus in Turin was one of the best decisions I made during my studies.
The Erasmus in Turin more than met all my expectations. I had a little idea of what Italian culture is like, what I couldn't imagine is being able to blend in well myself. Fortunately, it was very easy and I gained a lot of new experiences and definitely broadened my horizons.
Studying
Studying went very smoothly. The level at the Politecnico is good and very similar to the one at TU Darmstadt. But you have more contact with the professors, which makes it all easier. I worked in many project groups there and took a lot home with me.
Free time
Italy has a lot of leisure activities to offer. I spent most of my time in the Alps. Hiking and skiing with nature-loving people were my main activities apart from studying. I made very close friends there. Fun fact, I only learned how to ski there!
Everyday life
My everyday life was always very different. Discovering new restaurants, looking for the best pizza in Turin, studying, Italian course, meeting friends, aperitivo, and going to the museum were all part of everyday life. Oh, and drinking coffee too…
My experience in Turin was very pleasant and I am grateful that I was able to do it. I always appreciated people taking the time to do things there and it definitely made my experience more personable.
Studying abroad with TU Darmstadt
You also want to study abroad for one or two semesters, like Juan at the Politecnico de Turin in Italy through the Erasmus programme? Or Masha at Radboud University in the Netherlands ? Or would you like to spend your semester abroad at a partner university in the USA, Australia or Asia?
The International Relations and Mobility Office regularly answers all the important questions at its virtual information events "Wege ins Ausland" ("How to study abroad"). Register for free and find out about the many possibilities within TU's network of more than 300 partner universities worldwide!
Please note: The info sessions "Wege ins Ausland" are held in German.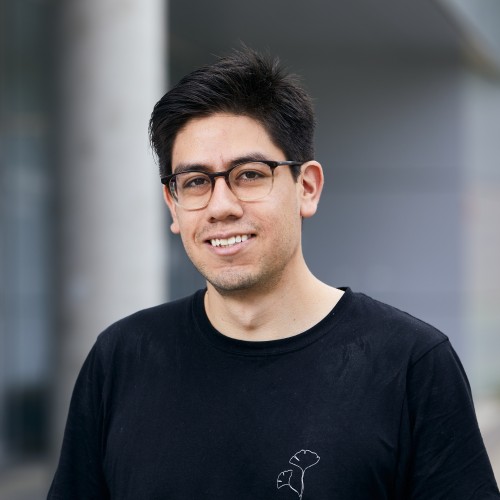 Picture: Britta Hüning
Juan
Hello, my name is Juan. I come from Quito, Ecuador and at the moment I am doing my master's degree in environmental engineering. Coming to Darmstadt was one of the best decisions I could have made not only because of the study program, but for being able to get amazing work and cultural experiences.