Diego,
Mechatronics B.Sc.
When I walked across the campus for the first time, I said to myself: It was definitely the right choice to study at TU Darmstadt! I feel super comfortable both at the university and in the city itself, and as an international student, I am perfectly integrated.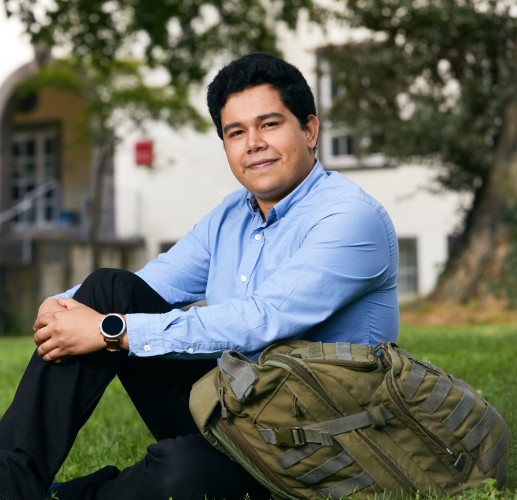 Picture: Britta Hüning
Student life in the middle of South Hesse
I know that for some foreign students, the issue of security can be a pretty big concern. I can absolutely understand that this is different to what some students have experienced in their home country – but Germany, especially Darmstadt, is very safe. I don't have to worry about security at all, no matter which areas of the city I visit.
But Darmstadt is, of course, not only a safe place to live, the city also has a lot of charm and I am constantly discovering more and more beautiful spots. My fellow student, Moritz, wrote an article about student life in Darmstadt , in which you can find some more valuable tips.
At the beginning of my studies at TU Darmstadt, I enjoyed spending a lot of time at Campus Lichtwiese, which is surrounded by woods and parks. Darmstadt has a population of around 160,000, so it is not too big and everything is perfectly reachable for me. I either ride my bike or I take the bus or tram. Thanks to my semester ticket, I do not have to buy a ticket every time.
Travelling all over Hesse with the RMV-AStA semester ticket
Every TU Darmstadt student receives a semester ticket as soon as the semester fee has been paid. With this ticket, you can take all regional trains, trams, underground trains, and buses in the entire area of the Rhine-Main public transport network (RMV). The RMV area covers the whole of southern and central Hesse.
The semester ticket is valid for the entire semester, and any number of trips are permitted within this period. As of summer semester 2012, the ticket is also valid one month before the semester starts. This means that you can travel for a total of seven months with the ticket.
With the semester ticket, students of the TU Darmstadt can not only travel free of charge on the RMV public transport system, but also see the performances at the Staatstheater Darmstadt free of charge.
From Darmstadt to the surrounding area and the world
If you take a look at the map, you will see that Darmstadt is close to many big cities. Frankfurt, Wiesbaden, Mainz, Heidelberg – they are all just a short distance away from Darmstadt. And it gets even better: Most of these cities can be reached without paying extra due to the semester ticket. That is why I have seen a lot of this area and I really like to hang out with my international friends in Frankfurt at the riverside or at a beach club in Mainz. I really recommend it in the summer!
Also, good to know for all international students: Frankfurt Airport, one of the biggest airports in Europe, is only 30 minutes away. And even better: There is a direct bus connection that gets you to the airport and back to Darmstadt very fast.
As I see it, Darmstadt is a great place to be and located perfectly in the middle of Germany. You can take the train and do a little trip to Berlin or you take the bus to Prague. You can even hop on a plane to Spain! Sure, at the moment everything is quite limited due to corona, but that will get better again, I promise!
Discover the city and its green surroundings
So, now you know the best way to get out of Darmstadt, but what are the best things to do in the city itself? No worries, Darmstadt is very inviting. I noticed that the city is the perfect size and you can easily discover everything on foot, by bike, bus or train. And if you don't have a bike when you start your studies at TU Darmstadt, just use one of the Deutsche Bahn rental bikes. You can find these bikes all over the city.
I spend a lot of time at Mathildenhöhe – a real landmark of Darmstadt. A lot of people meet up there to play boules in the shade. If you want to join, asking usually works, as the people living in Darmstadt are really friendly and open-minded. I feel like I was welcomed with open arms.
What I also like a lot is hanging out with my fellow students at Herrngarten. This beautiful park surrounds a large part of the campus in the city centre and offers plenty of space for slacklining, football or just enjoying the sun. Herrngarten is like a second home to me in summer! My tip: Afterwards, wander through the adjoining Martinsviertel, as there are a lot of nice bars and affordable restaurants.
After studying
Did you get a good first impression of TU Darmstadt and the student life in the City of Science? I've got to say, I have become a huge fan of my new home and settled in quickly. I am currently looking for suitable jobs to build a life here after my studies. Luckily, you can find a lot of jobs in this area. By the way, I wrote another article about Darmstadt as a business location .
If you are unsure whether TU Darmstadt is the right choice for you, make sure to reach out to the Central Student Advisory Service (ZSB) , they can offer you advice without pressuring you to make a decision. The team is really friendly and helpful. They will answer all of your questions about studying at TU Darmstadt.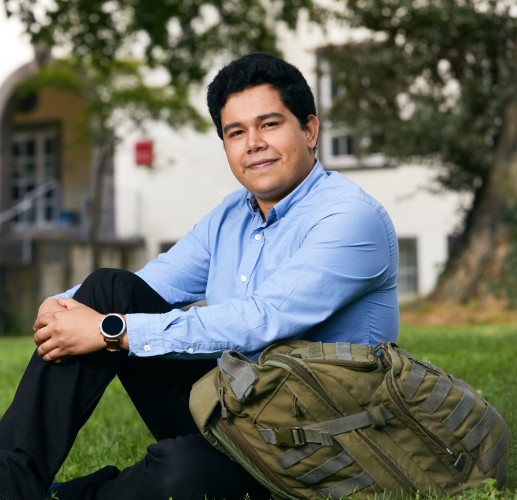 Picture: Britta Hüning
Diego
¡Hola, my name is Diego and I'm studying mechatronics at TU Darmstadt. I came here from my hometown of Caracas, Venezuela to this metropolis in southern Hessen specifically because of TU Darmstadt's reputation as a top university, and I feel very comfortable here. And I can already say: I can definitely imagine staying on in Darmstadt after I graduate!!