As of October 2015, the Coordinating Center for Refugee Integration (ZKF) prepares and guides current and perspective students with refugee status for university life, serves as the central point of contact for refugees at TU Darmstadt, and takes on a wide-range of internal and external requests.
The ZKF guides and advises on topics such as, but not limited to:
University Entrance Requirements & Qualification
Learning German
Financing Your Studies
Networking
Consultation hours
Online and in person consultation hours are held at the following times:
Tuesday 13:00 – 15:00 h
Thursday 10:00 – 12:00 h
If you have any questions and need advice, please click on the following button during office hours and type in the password "ZKF" to enter the virtual waiting room and please wait for your host.
Please note that we might ask you for personal data during the consultation (e.g. name, status, etc.) in order to give you helpful advice.
Current call for applications HessenFonds
The Hessian Ministry of Science and the Arts (HMWK) awards scholarships for particularly talented and high-achieving refugee students within the framework of the "HessenFonds".
Prerequisites:
Eligible for asylum or status as a recognized refugee
Generally not yet registered in Germany for more than four years at the time of the start of funding, i.e. the asylum application may not have been submitted before 31.03.2019.
the continuous residence in Germany does not exceed five years.
Students

Enrollment at TU Darmstadt (if you are studying at another university in Hessen, please contact the respective office at your university)
outstanding academic performance
Doctoral Students

Acceptance as a doctoral student incl. supervision commitment at a public university in the state of Hesse
outstanding scientific performance
Extent of support:
Students
Doctoral Students
Funding period:
1. April 2023 – 31. March 2024
Direct application to the Hessian Ministry of Science and Arts is not possible.
Are you interested in applying? Then please contact us as soon as possible. We are happy to help you and answer your questions.
Application deadline (internal) is 10 February 2023
Services for prospective students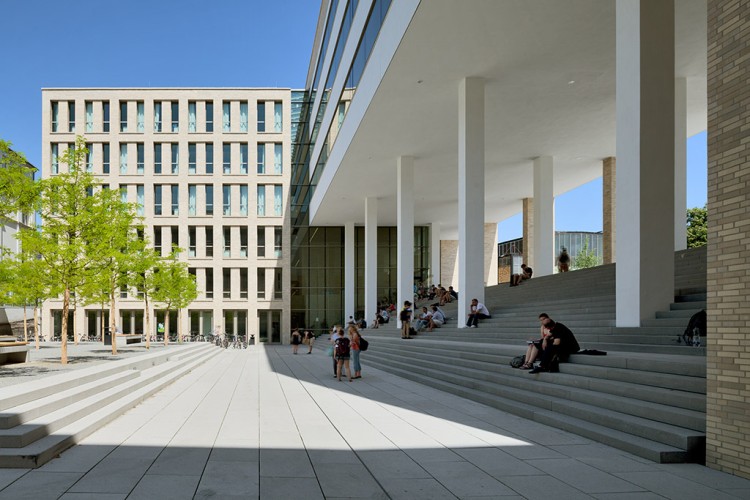 Preparatory Courses
ZKF, in close cooperation with the Language Centre of the TU Darmstadt, offers 4 preparatory courses with language focus at different levels. These courses prepare prospective students to acquire the language skills necessary for studying in Germany.
At a glance:
Modular structure (10 weeks per module)
Teaching of academic language, with technical terminology being taught from the very beginning
Daily instruction, 24 hours per week
Participation is free of cost
A goal-oriented supporting program, which consists of regular study-related trainings and workshops, cultural events, and in-depth mentoring round out the language offerings.
You need to apply for a spot in our university preparation courses.
Application to the preparatory courses
Are you interested in joining a course? Then please register below.
We will then invite you to an information event "Campus Orientation".
Participation in the campus orientation is compulsory for the subsequent application.
Please note that there are no courses offered on the language skill levels of A1 and A2. For those levels, please consider other institutions offering language courses.
Please also note that the next free course places are expected to be available from October 2023.
Video about the application process
In this video you will learn how the application procedure for our preparatory language courses works. You can also use our flyer with a checklist to guide you through all the steps of a successful application.
1. Registration
Please register with us using the registration form. We will then contact you as soon as possible.
2. Campusorientation
After you have registered we will receive an invitation to the next Campusorientation.
During this interactive information event, we will explain the requirements for participation in the university preparation courses and provide a first look at the diverse degree programs TU Darmstadt offers. The event will be conducted by one employee and two student employees from the ZKF. In many cases, the information from this event can be translated into several languages.
3. Review of academic qualifications
After the Campus Orientation Tour, you can make an appointment for the Transcript Review. During this Review, you will discover if you have the qualifications required to study in Germany.
The following documents are required for the Review:
School-leaving qualifications
University certificates (if available)
Language certificates (if available)
The certificates must be translated to German, English, or French.
4. Documents to be submitted
After you completed all the requirements mentioned above, you can hand in the following documents:
CV
Verification of German language skills (if available)
Copy of Residency Status
5. Assessment & Placement
After you have submitted a complete application to us, we will invite you to our internal placement exam for the preparatory language courses.
Your previous language certificate will not predetermine your placement.
Through this test we will examine your skills in the areas:
"Listening Comprehension"
"Text Comprehension, including Vocabulary and Grammar"
"Written Text Production"
There will be no oral examination in conjunction with this test.
After the placement exam, we will put together a ranked list and assign you a place in one of the courses.
You will obtain more information about the start of the courses via email.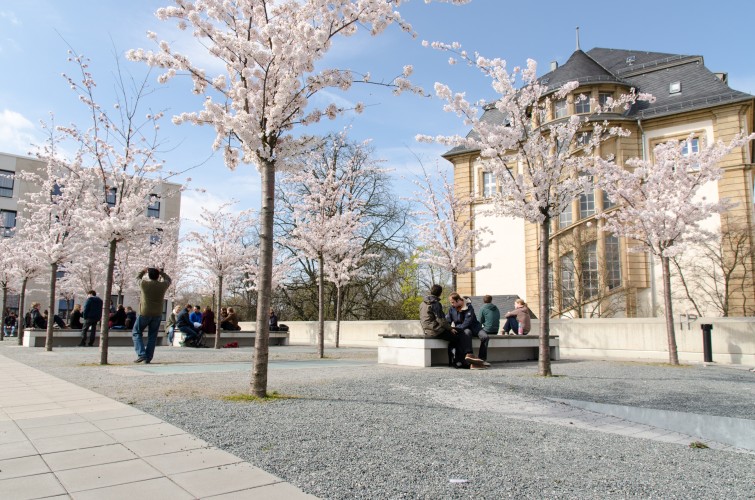 Picture: Patrick Bal
Services for Students
The units "Central Coordination Office for Refugee Integration" (ZKF) and "International Student Services" (ISS) are grouped together under one specialised department, thus bringing together students with and without a refugee background at all the various stages.
ZKF is there for you during your studies. Please do not hesitate to contact us.
Our orientation programs provide you with helpful information for your start at the TU Darmstadt.
The Kick-Off Days is aimed at all international students. The diverse program supports you in having a successful start in your studies and takes place every October.
The pages of einfachsTUdieren provide comprehensive information for all new students at the TU Darmstadt.
Financing your studies must be well thought out.
The is responsible for processing Studierendenwerk Darmstadtapplications. We are happy to support you with your documents. BAföG
TU Darmstadt supports its international students with its own scholarship programs and information on . scholarship searches
Integration Network of Hessian Universities
Universities in Hesse work closely together in a cooperative network to prepare refugees interested in studying for a degree in Germany.
The jointly published information brochure provides an overview of the wide range of offers throughout Hesse.
Please contact the university near you.