Study preparation: In the two-week PreCIS Prepatory Course, which takes place in September before the regular start of your studies, you prepare for your studies at TU Darmstadt.
Study support: From October to March you will participate in the PreCIS Buddy Programme. You will meet regularly with students from higher semesters to discuss questions about your studies. As a PreCIS participant, you also have the opportunity to benefit from PreCIS Workshops.
11 September – 25 September 2020
The two-week Preparatory Course in gets you ready for your studies at TU Darmstadt.
Intensive course in the technical language of mathematics and German as a scientific language
Intercultural training
Training in study skills
Orientation at the university
Campus excursions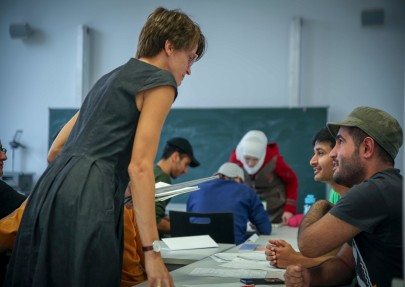 Course contents in detail
Intensive course in the technical language of mathematics and German as a scientific language:
You can read the mathematical term in German in the picture above? Congratulations! If not – don't worry. Many international students face this linguistic challenge in the early stages of their studies.
With a language trainer, you will acquire a basic mathematical vocabulary and practice expressing your own questions and thoughts adequately. You will also deal with German as scientific language and explore how speaking and writing at the university differs from everyday language.
Training in study skills
Student trainers impart knowledge about different types of courses and help you develop techniques for good learning. They will also cover important topics of self management and time management.
Intercultural training
In intercultural training you will receive information about the German education system, work out what culture is all about and analyse different communication styles.
Introduction to mentoring
This event prepares you for the PreCIS Buddy Programme.
Orientation at the university and in Darmstadt
Campus tour "Stadtmitte"
Campus tour "Lichtwiese"
Darmstadt City Rally
Visit to a research facility of TU Darmstadt
Excursions
The PreCIS Preparatory Course includes at least two excursions.
canoe trip on the river Lahn:On the river you will get to know the other PreCIS participants* better and meet your buddies for the first time.
visit of the particle accelerator of the GSI- Helmholtzzentrum für Schwerionenforschung
Please notice that the PreCIS Prepatory Course has to take place virtually. Therefore excursions will be replaced by other activities.
PreCIS is open to international first year students who are taking up a bachelor's degree course at TU Darmstadt in the winter semester. The PreCIS Preparatory Course is suitable for all Bachelor's degree programmes.
To be eligible to register, you must have received your admission for a Bachelor's degree course at TU Darmstadt and mus already have demonstrated all necessary language skills required for your course of study.
Participation in the PreCIS Preparatory Course, the PreCIS Buddy Programme and the PreCIS Workshops is free of charge. To participate in any course excursions (e. g. canoeing on the Lahn) we charge a contribution towards expenses of up to 30 Euros.
Only a limited number of places are available for participation in PreCIS 2021/22. You should therefore register as soon as you have received your admission to a course of study at TU Darmstadt.
Registration for PreCIS 2021/22 will be possible by June until 22 August 2021.
Learn – Discover – Make friends
What former participants say about PreCIS