Aravind,
M.Sc. Logistics and Supply Chain Management
I never imagined that I would get to know about my university and other students this much, digitally. I really appreciate the efforts ISS took in providing international students like me, a hassle free beginning at TU Darmstadt.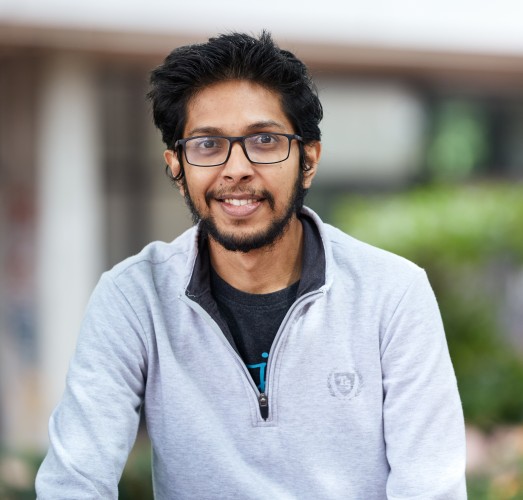 Picture: Britta Hüning
About me
Nationality:
Indian
Study programme:
M.Sc. in Logistik und Supply Chain Management
Previous education:
Bachelor in Commerce
Why I chose TU Darmstadt:
When I decided to do my Master's degree in Logistics and Supply Chain Management in Germany, it was very clear to me that I wanted to do it at TU Darmstadt. There are a number of comprehensive facts that strongly reinforced my decision to study here. The main factor that attracted me is the excellent worldwide reputation of TU Darmstadt as one of the best ranked universities in Germany and within Europe. The Master's programme at TU Darmstadt is a perfect choice for my interests and offers me a valuable opportunity to combine theoretical studies with practical experience. TU Darmstadt is known for its research activities and the courses are also designed so that students can learn things in greater depth. I am excited about the fact that this programme will give me the unique opportunity to get involved in the ongoing research projects in logistics at TU Darmstadt and expose me to the current processes in logistics and supply chain management. I am sure that the excellent study opportunities and global exposure I will receive at TU Darmstadt will enrich and shape my skills and be beneficial for my future career path.
What I like about Darmstadt:
The first thing that comes to mind when I mention Darmstadt is its universities, research centres and institutes, which is why it is also known as the "City of Science". Darmstadt is not only a city of science, but also a city of art, thanks to its amazing Art Nouveau architecture. It is a small but modern city and in its small area you can find everything necessary for a comfortable life: many beautiful parks, artificial lake with beautiful beach in the city centre, museums, leisure places and very tasty traditional German cuisine.
How I manage my studies and my job:
I stick to a schedule. When I am working, I give my hundred percent and stay focused on my work and when I am studying, I concentrate on my studies alone, it's as simple as that.
Fun fact about me:
I love music. I always hum a melody to myself, even if I don't realise it, and I always have a song in my head. I also love writing down my thoughts because it helps me express myself.
My favourite motto:
"When life gives you lemons, make lemonade."
My favourite quote:
"And when you want something, the whole universe conspires to help you achieve it." – Paulo Coelho, The Alchemist
My favourite book:
The Secret by Rhonda Byrne
Three words that describe me:
adaptable, reliable, calm
What I would say to my younger self:
Life is a challenge and win or lose depend on the path you choose. If you think you are alone, you will find the courage and strength to carry on and if you fall in your way, have faith in you and you will be okay because your family and friends are there to pull you through.
This is what I do in my spare time:
In my leisure time I love playing board games, watching movies and also, I maintain an Instagram page where I pen down my thoughts.