Published: 16th March 2021
Ons,
Mechatronics B.Sc.
A clear structure is key!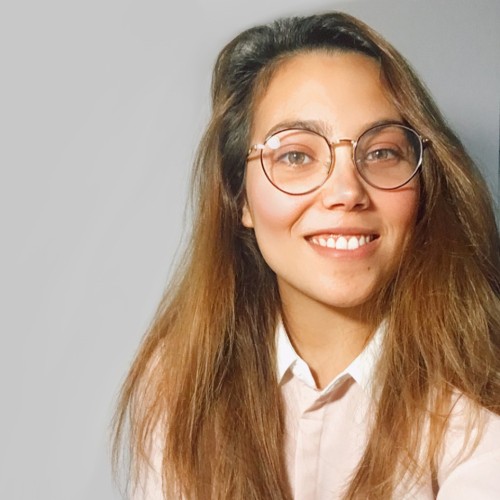 Picture: Britta Hüning
Tip 1 by Ons: Create an easy-to-follow structure
Once I was asked to make a presentation in front of a large group of people. At that time I was too young, too scared but also excited. I had a lot of ideas and information that I wanted to share, but I ended up having no clue how to organize them. But since then, I learned from my mistake and have been following this structure, it can help ;) You just need to keep in mind that your presentation needs:
An introduction: a brief overview of the topics you're going to talk about.
A Body: the main part of your presentation. This is where you explain your topic and where all your information is presented.
A conclusion: the stage at which you summarize your main points and you prepare the audience for the end of your speech.
Tip 2 by Ons: Remember the 10-20-30 Rule (Guy Kawasaki)
Based on my experience, I can assure you that presenting more than ten points in a meeting is relatively useless. Your audience will quickly get bored and move on… even if the people in front of you will keep looking at you, or even smile at you.
Well, if you get to know Guy Kawasaki, a marketing specialist, you can make sure it won't happen again. Well, I think he had a point that I had to discover the hard way. You just have to follow his rule. It's quite simple! A Powerpoint presentation should:
Contain no more than 10 slides. Focus on one idea per slide!
Last no more than 20 minutes.
And have no font size less than 30pt on any slide page.
Aravind,
Logistics and Supply Chain Management M.Sc.
If you really want to deliver a rousing presentation, practice well!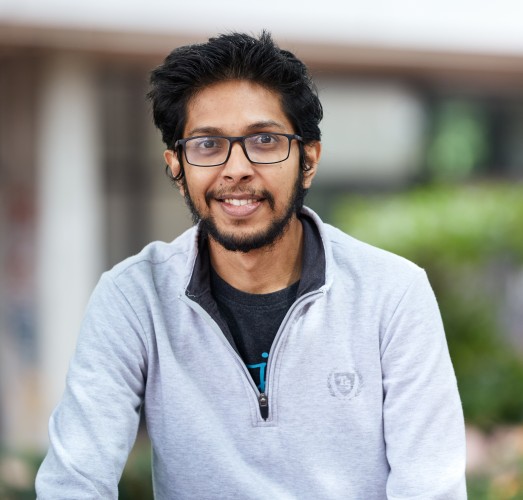 Picture: Britta Hüning
Tip 3 by Aravind: I'll say it again – rehearse, rehearse and rehearse!
After my first presentation, I felt like I've conquered the world. I was well prepared and confident and was able to give a stunning presentation. It gave me good confidence, to be honest I became a little over confident about my next presentation. This time, I rehearsed only while travelling to the meeting. Soon I realised the mistake, I got too nervous and lost confidence and I couldn't give my best in that presentation.
If you really want to deliver a rousing presentation, practice well! A good amount of rehearsal will make you appear and feel confident. You should know your topic backwards and forwards and should be able to present without over dependence on notes. Remember the saying "practice makes it perfect". If you don't want to sound like you have memorized your lines and barely reading off a script, make sure you rehearse thoroughly. Below are some of the tips and tricks that I always try to present like pro:
Do a practice run for a friend or colleague.
Practice with a timer.
Try recording your presentation and play it back to evaluate which areas need work.
Practice in front of a mirror.
Rehearse in various positions – sitting down, standing up, with arms open wide etc. The more you mix up the positions, the more comfortable you'll feel with your speech.
Try to practice where you'll be delivering your talk.
Tip 4 by Aravind: Begin and end your presentation with a bang!
I've always noticed that great presenters have remarkably many similar things. Every one of them just grabs the attention of their audience in a span of time that the audience find it hard to pull their eyes away from the presentation. You know first impression always matters, so master the art of starting the presentation like a pro. And that's what we are going to look at next!
Here are a few gripping ways of starting a presentation:
Start with a stellar opening line to entice the audience to keep listening.
Ask your audience a simple question.
Share an interesting fact about your presentation.
Stimulate curiosity – the human brain relishes curiosity and prepares for better learning.
On a personal note, I like unpredictability just like the way we love movies with a twist. When your audience knows what to expect from the next cue, they tend to pay less attention. So a little unpredictability always helps to gain participants attention!
All good things must come to an end isn't it? So does your presentation. The end of the presentation is as important as the beginning. It is the best chance to leave your audience with a lasting impression. So don't just leave your thoughts trailing off. Let's see some of the best ways to end the presentation:
Call the audience to action: Tell them exactly what to do with the information you've given them and how they will benefit from it with a clear and direct call to action.
Paint a vision of what the future will look like based on your presentation. This is my favourite point! Back in 2019, I attended a presentation conducted by an educational institution in India. The topic was "Studying in Germany". At the end of the presentation, I imagined myself studying in one of the best universities in Germany! Well, the rest is history and now I am at my dream university!
Finish with a clincher – one last story that serves as a cherry on top of ice cream.
Ons,
Mechatronics B.Sc.
I have experienced embarrassing moments and learned from them.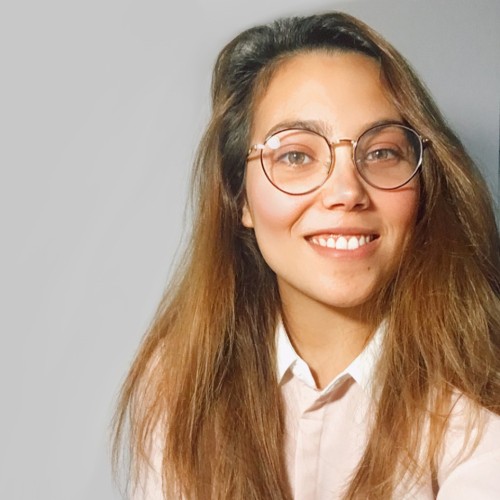 Picture: Britta Hüning
Tip 5 by Ons: Know what slide is coming next
I still remember a very embarrassing moment I experienced during a presentation. The remote control didn't work to put on the next slide and I had no idea what was on it. There was an awkward period of silence and then confusion when the next slide appeared and it made me feel very uncomfortable. Therefore, I would recommend that you always know the content and the layout of your slides. It really sounds very powerful if you say "what you're going to see on the next slide is…".
Tip 6 by Ons: Make eye contact with your audience
I'm a shy girl but despite of being shy I personally love doing presentations. I'm comfortable giving speeches but I still feel nervous just before giving any speech. Once I had a mentor who told me during a project: "When you engage in a conversation with someone, you look that person in the eye, right? Whether you're talking to one person or a room full of people, the desire of the listener is still the same; to feel important and involved in the conversation." Well that really hit me and helped me overcome my shyness.
Personally, before starting a presentation, I take a look at the audience and take a deep breath. This helps me get rid of my nervousness. Be sure to make eye contact with your audience. But if you are still feeling shy and you can't look straight at the people, that's also okay. Just try to fake the eye contact. Weird, isn't it? But believe me, it works! You would probably ask yourself how you'd do that? Just look above the top of their head. This will give the impression that you are making eye contact with them, but actually, you're not ;)
Aravind,
Logistics and Supply Chain Management M.Sc.
The best presentation I've ever sat through was the one that made me feel the presenter was talking with me and to me and not at me.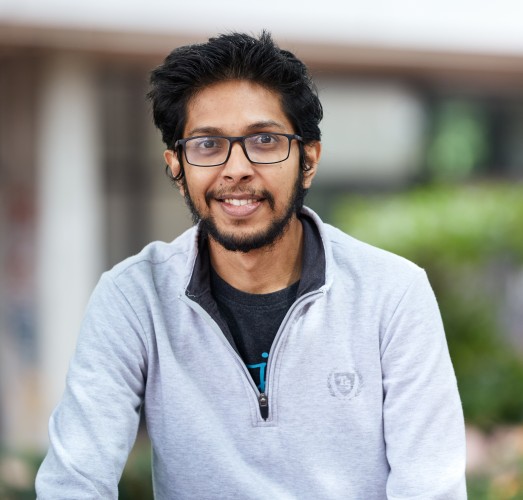 Picture: Britta Hüning
Tip 7 by Aravind: Actively engage the audience
The best presentation I've ever sat through was the one that made me feel the presenter was talking with me and to me and not at me. Trust me, people love to talk and make their opinions heard, but the nature of presentations can often seem like one-sided proposition. It doesn't have to be though. If you want to make a connection with the audience and have them pay attention to you and your message, then be engaging. Also try to speak like you are speaking to one and only one person at a time. An interactive presentation will grab your audience' attention and helps building a good rapport with them. Here are some simple ways to achieve this:
Get off the stage (and into the audience) – in case you're not giving a virtual presentation ;-)
Ask the audience what they think.
Invite questions and other means of welcoming the audience' participation.
Include some gaming and quiz sessions in your presentation.
Ask a series of "Raise your hands if…" questions.
Tip 8 by Aravind: Tell your audience compelling stories, personal experiences and make them laugh (a little)
Looking to create a presentation that can leave a lasting impression? Then take the help of stories and personal experiences. After attending great presentations, I've found that the best presenters are also incredible storytellers. Stories should have a purpose and should be relevant to the experience and interests of your audience. Purposeful stories that reach the audience's heart and mind are those that move them to action. Therefore make your stories crisp, clear and short.
I feel it is a lot easier to listen to someone tell a personal, engaging experience than to hear a formal speech. The important thing is when you choose a theme from your own life, that it is clearly relevant for your audience, something which they can relate to, something they can take away with them and ponder.
Sitting through a boring presentation is never fun and giving one is even less so. Having a good laugh always cheers us up, make us feel happy and light. So, sprinkle in moments of humour around the main body of your message. Making your audience laugh occasionally will keep them alert, entertained and more likely to keep listening to your message. However, it's important to maintain a balance –after all, you're not performing a stand-up routine and people didn't come to your presentation with the sole intention of being entertained. Also always remember to use general humour that isn't crass or offensive to others. Keep it light and fun for the most natural laughs.
Tip 9 by Aravind: Get the tools and technology right
In one of the presentations I had attended, I saw the presenter spend nearly 15 minutes of his presentation time trying to CTRL+F7 his laptop onto the projector because he was using an old laptop. By then he had lost his audience – literally .They started walking out. It took away presenter's time, his message and also his credibility. All the hard work that goes into creating a presentation can be derailed by technological glitches. So before you're going to give a presentation, it is in your best interest to be prepared especially on the technology side. Here are some points to consider:
Arrive early and check everything is connected, on and working. This helps in avoiding the flurry of activities before starting the presentation.
Avoid overusing animation, video and audio contents.
Don't depend on web based contents; embed directly from the laptop.
Upgrade to latest tools and technology for creating enticing presentations.
Ons,
Mechatronics B.Sc.
Relax and believe in yourself that you can do it and you know what you are doing and saying to your audience.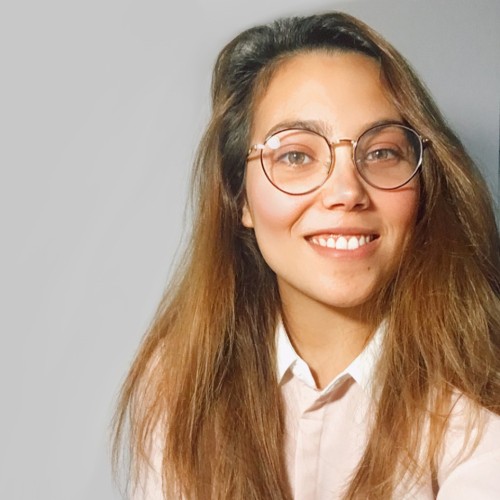 Picture: Britta Hüning
Tip 10 by Ons Don't be afraid to mess up
I know this sounds easy to say but hard to do. Just remember that most of us, even those who are familiar with speaking in public, can suffer from anxiety. You'd probably be saying: "I don't like being in the spotlight, I'm scared of people looking at me, I'd mess up if someone asked me something I didn't prepare…" Just keep in mind that all this is normal. Relax and believe in yourself that you can do it and you know what you are doing and saying to your audience. Everyone can mess up at some point. After all we are not robots, we are humans and we do make mistakes. If you feel yourself losing control of your pacing, just take a nice pause, breath out and keep it cool.
Delivering a presentation puts the presenter on spotlight. Possessing great presentation skills doesn't come naturally to people – it's something that is learned and practiced over time. As with most other things in life, you must continuously work on refining your presentation skills to get better and better. In this blog we have come up with some tips and tricks that will help you quickly improve your presentation skills so that you can start to nail it every single time!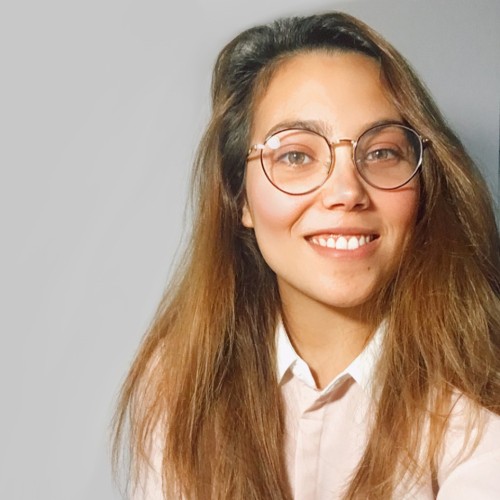 Picture: Britta Hüning
Ons
Salut! My name is Ons and I am currently studying mechatronics at TU Darmstadt. I come from Tunisia. I decided to study at TU Darmstadt because I can study mechatronics here, which combines my passion for mechanics and electrical engineering with my interest in computer science.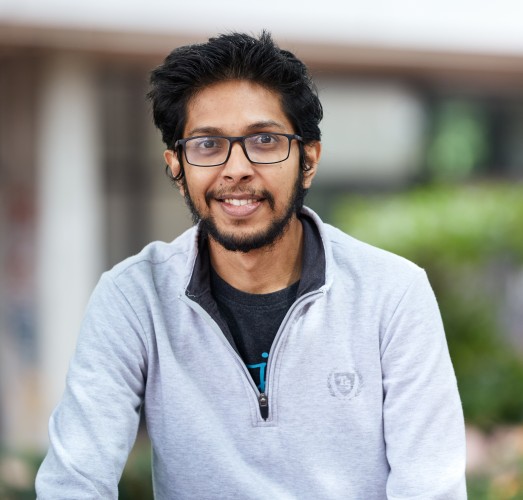 Picture: Britta Hüning
Aravind
Hey, I'm Aravind, and I am studying Logistics and Supply Chain Management at TU Darmstadt. Why I came all the way from India to study here? TU Darmstadt's excellent global reputation in being one of the top ranked universities in Germany and within Europe attracted me, above all. The Master programme at TU is a perfect choice for my interests. I am excited that in this programme I will get a unique opportunity to involve in the ongoing research projects in Logistics and also gain practical experience.