Catalina,
Biomolecular Engineering B.Sc.
I like that the subjects that are available to me in my degree programme offer a wide range of knowledge in different fields.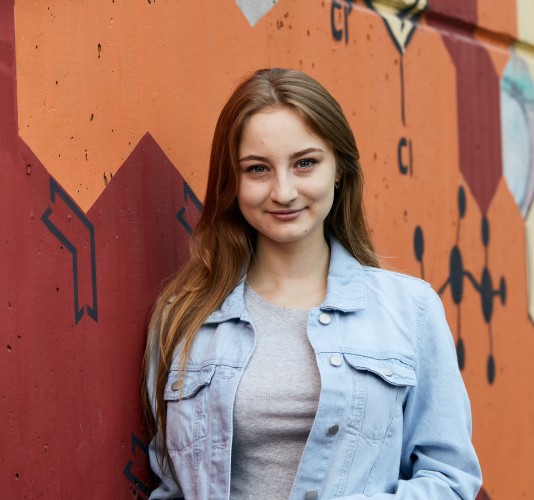 Picture: Britta Hüning
About me
Nationality:
Moldavian
Study programme:
Biomolecular Engineering (BME) B.Sc.
Previous education:
Theoretical Lyceum N.Gogol, Balti, Republic of Moldova
Why I chose TU Darmstadt:
The Technical University of Darmstadt is one of the best technical universities in Germany and part of the university network of TU9. Therefore, I can confidently say that this university imparts technical and practical knowledge at a high level.
I also like that the subjects that are available to me in my degree program offer a wide range of knowledge in different fields. In addition, the university is in a science city and there are many research opportunities. I am interested in all of this and that's why I chose this university.
What I like about Darmstadt:
When I arrived, I immediately noticed a large number of parks and green spaces. But most of all, it is the people whose words and actions make it possible to get to know the city. I was pleasantly surprised that people are so positive and happy. I am incredibly pleased when I go shopping I meet so many people who just smile in such a friendly way. How can I see that through the mask? The eyes convey this sincerity and warmth, so such moments leave a good impression of the city in general.
How I felt about the start of the Digital Semester:
My studies started in September when I was attending a course for international students organized by the university. This project gave me the first idea of ​​how my studies will take place. Even then I had difficulties. Namely unstable internet. There have been cases when the sound completely disappeared and the video freezes every now and then. This is a really big disadvantage, and I was afraid that I would face the same problem in lectures. But when my studies began, I was glad that the university found a way out of this situation. Since all lectures are recorded and saved, I can watch them again at any time. This is a great benefit as you can stop the video and if something is not clear you can find information about it on the internet.
Another difficulty was that some lectures overlap in time. I can have 3 lectures almost at the same time. But they are recorded, that's why this problem is solved.
The advantage of the digital form of study is that I can calmly master the material in a familiar environment, but the disadvantage remains that there is not much communication. Although I got to know other students and although various groups were founded on Discord and Whatsapp, in which we could get to know each other even better, digital communication remains a little difficult for me. But I am sure that we will definitely get to know each other better as soon as the corona situation improves.
Fun fact about me:
Hard question. I have never seen "Harry Potter," "Star Wars," "The Chronicles of Narnia," "The Lord of the Rings", "The Hobbit" and many other famous films. :) And every time when someone finds out about it, they are incredibly surprised. Tell me if I should ever watch any of this :)
My favourite motto:
Action begets Action
When you were a kid, who(m) did you want to become?
As a child, I asked many questions about the world around us, to which adults could not always give an exact answer, so since my childhood I wanted to become a person who could explore and create in order to find the answers I needed. I have always dreamed of becoming an astronomer because I really wanted to study the universe beyond our beloved planet. Exploring space sounds very exciting, doesn't it? When faced with a choice about a future profession, you might think that I did not choose my childhood dream, but in fact, as I wanted, I can explore and apply the knowledge gained, creating something. I decided that learning about life on our planet sounds exciting as well.
What will you do first on your premier on-site day at the university (when corona is over)
On that very day, I want to meet my classmates and take a photo together. In other words, I want to capture the moment when we see each other in real for the first time, instead of looking at the zoom icon. Well, after that, together we can walk around the university campus, the facade of which we have been looking at for so long.
What I would say to my younger self:
Always try and don't be afraid of mistakes. And keep up the good work. I'm proud of you!
What makes me happy:
I like the path to achieving the goal. The result itself is also pleasant, but what I experience before achieving it, makes me much happier. And of course, spending time with people dear to me makes me feel happy as well.
Which places in Darmstadt I´ve always wanted to visit, but still haven't:
I would like to visit the Landesmuseum and attend one of the festivals in order to get to know the culture of Darmstadt and Germany.