Catalina,
B.Sc. Biomolecular Engineering
I like that the subjects that are available to me in my degree programme offer a wide range of knowledge in different fields.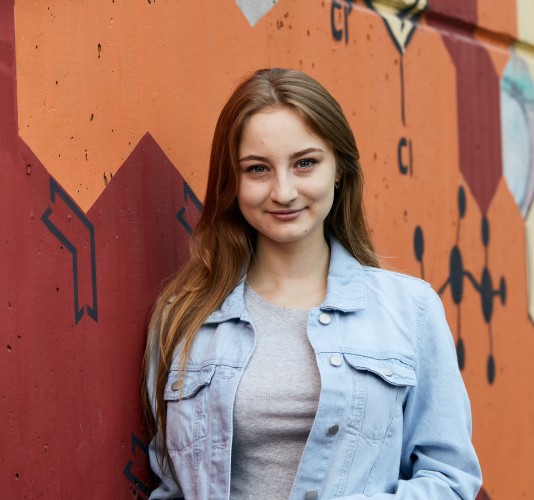 Picture: Britta Hüning
About me
Nationality:
Moldavian
Study programme:
B.Sc. Biomolecular Engineering (BME)
Previous education:
Theoretical Lyceum N.Gogol, Balti, Republic of Moldova
Why I chose TU Darmstadt:
The Technical University of Darmstadt is one of the best technical universities in Germany and part of the university network of TU9. Therefore, I can confidently say that this university imparts technical and practical knowledge at a high level.
I also like that the subjects that are available to me in my degree program offer a wide range of knowledge in different fields. In addition, the university is in a science city and there are many research opportunities. I am interested in all of this and that's why I chose this university.
What I like about Darmstadt:
When I arrived, I immediately noticed a large number of parks and green spaces. But most of all, it is the people whose words and actions make it possible to get to know the city. I was pleasantly surprised that people are so positive and happy. I am incredibly pleased when I go shopping I meet so many people who just smile in such a friendly way. How can I see that through the mask? The eyes convey this sincerity and warmth, so such moments leave a good impression of the city in general.
Fun fact about me:
Hard question. I have never seen "Harry Potter," "Star Wars," "The Chronicles of Narnia," "The Lord of the Rings", "The Hobbit" and many other famous films. :) And every time when someone finds out about it, they are incredibly surprised. Tell me if I should ever watch any of this :)
My favourite motto:
Action begets Action
When you were a kid, who(m) did you want to become?
As a child, I asked many questions about the world around us, to which adults could not always give an exact answer, so since my childhood I wanted to become a person who could explore and create in order to find the answers I needed. I have always dreamed of becoming an astronomer because I really wanted to study the universe beyond our beloved planet. Exploring space sounds very exciting, doesn't it? When faced with a choice about a future profession, you might think that I did not choose my childhood dream, but in fact, as I wanted, I can explore and apply the knowledge gained, creating something. I decided that learning about life on our planet sounds exciting as well.
What I would say to my younger self:
Always try and don't be afraid of mistakes. And keep up the good work. I'm proud of you!
What makes me happy:
I like the path to achieving the goal. The result itself is also pleasant, but what I experience before achieving it, makes me much happier. And of course, spending time with people dear to me makes me feel happy as well.
Which places in Darmstadt I´ve always wanted to visit, but still haven't:
I would like to visit the Landesmuseum and attend one of the festivals in order to get to know the culture of Darmstadt and Germany.