Bye-bye straight curriculum vitae
Once you have decided on a degree programme or a specific course of study, this does not necessarily mean that you have decided on a specific profession. Clear career profiles such as those for medicine, law or teaching are the exception rather than the rule. It is much more realistic to lay the foundation with a degree and to acquire analytical and solution-oriented thinking that will later be needed in many different professional fields. Former German Chancellor Dr. Angela Merkel, for example, holds a doctorate in physics. And the president of the TU Darmstadt, Prof. Tanja Brühl, started her career with a teaching degree. Even if you realise during your studies that you are actually drawn in a completely different direction, there are many options open to you: changing your degree programme, taking a Master's degree in a different subject or taking appropriate additional and further training courses. In any case, the most important thing is practical experience, and there are many opportunities for this even during your studies.
The straightforward curriculum vitae, in which you decide early on where you will end up later, is therefore a thing of the past. Instead, there are permeable career paths and countless opportunities. Graduates of a traditional university have even more freedom and choices, especially compared to application-oriented universities of applied sciences. On the one hand, this means freedom, but also the agony of choice. This is also the experience of the #studentsofTUdarmstadt ambassadors.
Career Service at TU Darmstadt
TU Darmstadt offers a lot in the area of Career Service.
Certain employment regulations apply to international students. So find out in good time, for example at the Career Service, if you want to work during your studies, such as in a company or your first job after graduation. Further information and help is available from the ComeTOgether office in the Studierendenwerk.
Finding your own way
Polina is about to graduate with a Master's degree in Linguistic and Literary Computing. In her previous German studies, she realised that she would actually prefer to work in the IT field and therefore decided to do a second Master's degree. So she already has a pretty concrete idea of where she wants to go and is preparing herself accordingly.
Polina,
Linguistic and Literary Computing M.A.
My degree programme does not prepare students for a specific profession; it teaches a wide range of knowledge and skills that can be combined and applied in a variety of ways. So you have to become active yourself.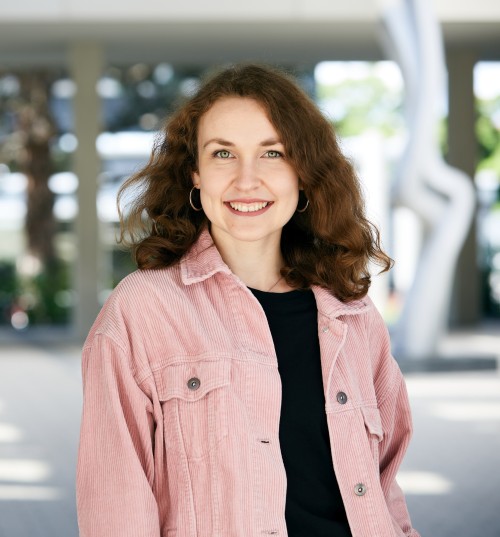 Picture: Britta Hüning
Nicolas is studying mechanical engineering for his Master's degree and uses his free time to get involved with topics that are not directly related to his studies. That's why he was active at the Darmstadt business contact fair konaktiva for two years. For him, studying is also about trying things out and discovering new things. He doesn't yet know exactly where he wants to work later, and that's fine.
Nicolas,
Mechanical Engineering M.Sc.
Everyday professional life comes soon enough! I think it's more important to focus on your own interests during your studies and to get a taste of new areas. In the long run, that also opens up completely new possibilities!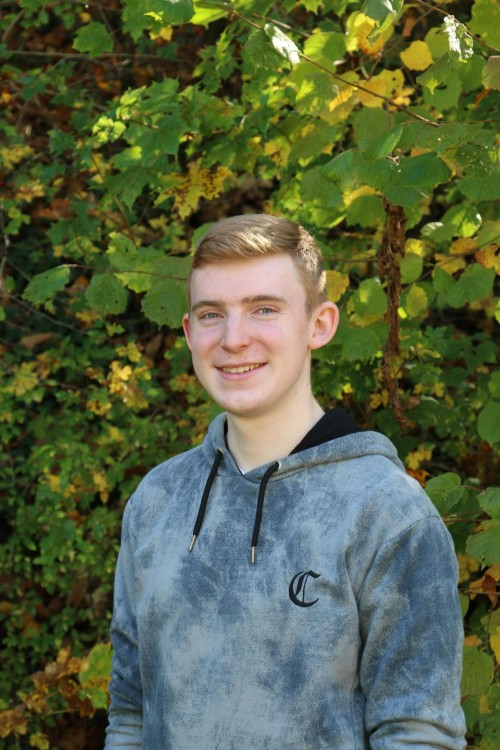 Picture: privat
We asked Polina and Nicolas what they think about their upcoming career entry and in which areas they are active in this regard.
What opportunities and offers do you use at TU Darmstadt to prepare for your career entry during your studies?
Polina: I find the software training courses from the ULB (University and State Library) very helpful in particular. I also took part in application workshops at the SchreibCenter, such as "CV & Coverletter" and "Designing applications authentically". I already knew roughly how to do it, but the concrete input was super. It's especially useful when you're writing a CV or cover letter in German for the first time.
Nicolas: There are many helpful offers from the university. In my department of mechanical engineering, for example, there is the MechCenter (mechanical engineering study office), which not only advises on module selection, but also on planning towards a career. Recently, for example, the department held a workshop on salary negotiations.
SchreibCenter (WritingCentre) at the Language Resource Centre
The SchreibCenter offers a wealth of information on the topic of job applications in German and English:
Where have you become active yourselves, what do your studies and the university not cover?
Polina: My degree programme does not prepare students for a specific profession; it teaches a wide range of knowledge and skills that can be combined and used in a variety of ways. That's why I took additional computer science courses at the university and on the external learning platforms. I also did a lot of research on interesting job postings and IT professions and analysed the skills they were looking for.
You can read about Polina's concrete approach in her Alumni Tip .
Nicolas: I used the time between my Bachelor's and Master's degrees to work as a student trainee. This gave me a lot of insights. I was also a volunteer team member for two years at konaktiva(Website in German only) – the Darmstadt Business Contact Fair, which is organised solely by students. During my time as a team member, I was active in company support, for example. There, I accompanied and looked after representatives of several companies to prepare for the fair. It's easy to get involved with konaktiva, there are regular information evenings. Working at konaktiva gives you the opportunity to deal with topics that you don't study and to pursue interests that you don't have time for in your studies. It's a great way to be active, meet new people and develop soft and hard skills. Depending on your time capacity, you can also get involved flexibly. For me, konaktiva was a great balance to my studies, because I have enough mechanical engineering there.
Konaktiva – the Darmstadt business contact fair
konaktiva (Website only in German) is a business contact fair that takes place once a year for three days in the Darmstadtium in Darmstadt. As a student university group, it is based at TU Darmstadt and has thus been organised entirely by students for over 30 years – a real highlight in Darmstadt!
Under the motto "Students meet companies", students have the opportunity to get in touch with representatives of companies from various sectors. Each day, 87 companies – from small businesses to large corporations – present themselves with a booth on site. During your free visit to the fair, you can make contacts, take application photos, have your CV checked or listen to lectures or a career chat. Maybe you'll even have your first job interviews or find an internship or student job. In any case, you can lay the foundation for your career entry.
There is a lot of interest from companies, so you can look forward to meeting leading companies from almost all sectors: banks, car manufacturers, energy suppliers, consulting firms, etc.
What tips do you have for first-year students who are considering career prospects?
Polina: Internships and working student jobs in different areas are always helpful, best to start immediately, the sooner the better! Otherwise, networking with alumni helps to gain new insights into the professional world. It also makes sense to research interesting job postings and analyse the hard and soft skills that are being sought. Then you can look for suitable courses, workshops or other learning opportunities accordingly.
Nicolas: Don't let yourself get too stressed! First of all, focus on your own wishes and interests and don't orientate yourself too much on the job descriptions of the companies – in the end, you'll have to learn the ropes there anyway.
Stellenwerk: Job portal for students
Stellenwerk is a job portal for students. There you will not only find job advertisements from the TU Darmstadt and the Studierendenwerk, but also from companies, businesses and industries in Darmstadt and the region that want to employ students.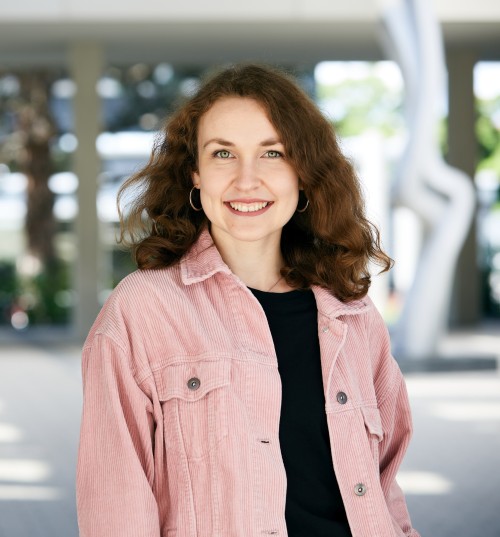 Picture: Britta Hüning
Polina
Hi, I'm Polina and I'm studying the master program "Linguistic and Literary Computing". The study program is very interdisciplinary, which is challenging and fascinating at the same time. Furthermore, it offers excellent future perspectives. I like this mix of the linguistics and computer science, and also the possibility to study in two languages – German and English.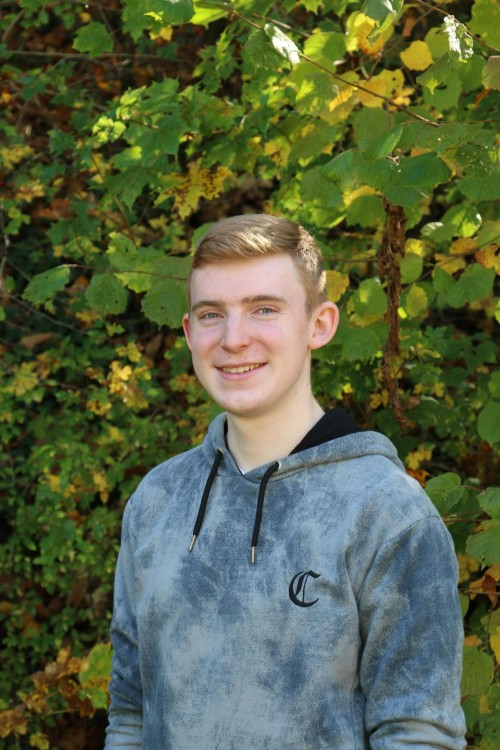 Picture: privat
Nicolas
Hi, I'm Nicolas and I'm pursuing a master's degree in mechanical engineering. Since I was little, MINT and technical subjects have always been a major point of interest for me. So when it came to choosing my major, mechanical engineering at TU Darmstadt was the right choice! Studying here opens up many different opportunities, job paths and helps me build up useful knowledge and skills!