Published: 30th October 2020
Patrick,
Business Administration/Industrial Engineering M.Sc.
What TU Darmstadt has to offer, which goes way beyond the courses, is fantastic. I'm super grateful that my university is so future-oriented and actively supports its students in planning their careers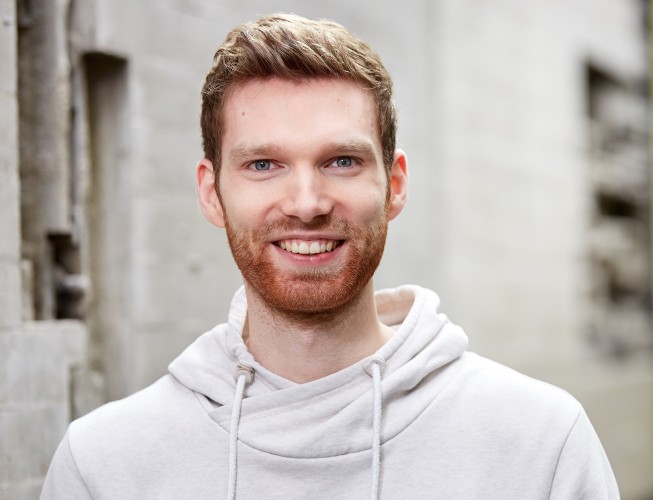 Picture: Britta Hüning
On the path to your dream job
All of us would like to study at a university that could help open the door to the career of our dreams – not just in our home countries, but around the world too. This was one of the reasons I decided to do my degree at TU Darmstadt. While I was looking for the right university, I researched extensively on the internet, looked at various study guides and important university rankings. But at the end of the day, I kept coming back to TU Darmstadt.
Are rankings important to you too, and would you like to study at a highly ranked university? Then take a look at some well-known international university rankings, like the Times Higher Education (THE) ranking by subject, and the QS Graduate Employability Ranking.
Every year, the QS global career and training network publishes various rankings, including its Graduate Employability Ranking. This ranking draws on a wide variety of criteria to indicate the opportunities that a university's graduates will have on the job market, both in Germany and abroad. These criteria include employer-provided information on which universities have the most innovative graduate programmes, evaluations of which universities have had particularly successful alumni, partnerships among universities and businesses and the presence of companies on campus. The ranking also records the percentage of graduates who have a job one year after graduating.
All these criteria are evaluated and the result is a list of the 500 best universities worldwide. And guess which university appears on the list? You guessed it! TU Darmstadt is among the top 100 international universities, and on a national level, it's ranked among the top five German universities. And when it comes to the field of computer science, TU Darmstadt is at the top of the THE list, ranked amongst the top 100 universities worldwide – in Germany, it's even among the top 10.
QS also provides rankings at the subject level. Mechanical engineering and materials science, rank really well here, placing among the top 10 of German universities in both of these fields.
The Rhine-Main metropolitan region doesn't only attract students
After completing my bachelor's degree in Paderborn and spending some time abroad, I wanted to do my master's degree in /Industrial Engineering/Business Administration at TU Darmstadt. Which worked out great! You may be wondering why I decided to go to Darmstadt. Apart from the tons of exciting master's programmes, the high rankings and numerous interesting companies and research institutes make Darmstadt an incredibly attractive location to go to university. Companies located in the region include the renowned Software AG, Merck pharmaceutical and chemical company, the European Space Operations Centre (ESOC), Deutsche Telekom, as well as three Fraunhofer Institutes and the Helmholtz Centre for Heavy Ion Research (GSI). These companies decided on Darmstadt because of its location as a well-connected economic hub. Would you like to discover more about Darmstadt and the companies located there? My fellow student, Diego, has written about this very subject .
Now, I've already mentioned the names of some of the larger companies in the region, but I also want to introduce a small Darmstadt company: COMPREDICT! This company was founded by two TU Darmstadt graduates and for me, they're two absolute role models. Dr Stéphane Foulard and Dr Rafael Fietzek started their own business with a great idea and with support from TU Darmstadt. And because I was so interested, I got in touch with Dr Foulard to discover how he successfully started his own business with the help of TU Darmstadt.
Dr Stéphane Foulard, co-founder of COMPREDICT
Dr Stéphane Foulard, co-founder of COMPREDICT
2007 – 2011 Double Degree Master's degree at the École Centrale de Lyon (France) and TU Darmstadt, with a master's thesis entitled: "Development and experimental validation of a BMW M3 E92 drivetrain model ". Degree: M. Sc. Mechanical and Process Engineering
2011 – 2015: PhD student in a German-French double doctorate degree programme at TU Darmstadt/Institute for Mechatronic Systems in Mechanical Engineering (IMS) and the Ecole Centrale de Lyon/Department Laboratoire de Tribolgie et de Dynamicque des Systèmes (LTDS) / Dynamique des Structures et des Systèmes (D2S).
2015 – 2016: Post-doctorate at TU Darmstadt at the Institute for Mechatronic Systems in Mechanical Engineering (IMS)
2016: Founding of COMPREDICT start-up
From TU Darmstadt graduate to successful start-up founder
After completing his first degree in General Engineering at the École Centrale de Lyon (France), Stéphane came to TU Darmstadt to study Mechanical Engineering as part of the double degree master's programme. Once he finished, he still wanted more and was offered the opportunity to do a double doctorate as part of a German-French doctoral programme. Naturally, he grabbed the opportunity with both hands! It's exactly these kinds of opportunities that Stéphane has taken advantage of time and again throughout his career, without any fear of change or new challenges. After finishing his PhD, an exciting opportunity opened up for him: together with Rafael these two graduates developed a really interesting idea for a start-up company and implemented the whole concept with the support of TU Darmstadt.
So, what exactly was the concept? Wouldn't it be great if you knew what part of your car would break down or wear out next? Well, they thought the same thing, which is why they developed software to predict exactly these scenarios. The virtual sensors developed by COMPREDICT supplement the sensors in the vehicle and collect information on the loads being put on vehicle components while the car is being driven. Using this information, he COMPREDICT platform then calculates the current condition and the respective remaining lifetime of the vehicle components. This information is important for the automotive industry so they ca optimise vehicle parts design, identify components at risk of failure and plan maintenance intervals more precisely.
I'm also toying with the idea of starting out on my own after graduating, and after talking to Stéphane, I'm more resolved than ever. He makes it quite clear that without the help of TU Darmstadt, his company might not even exist. At the time they were starting up their company, Stéphane and Rafael were also involved in HIGHEST, TU Darmstadt's innovation and start-up centre, which was still in its infancy at the time, and got an incredible amount of advice. The centre helped them find support with financing, with the consulting team helping them prepare and submit applications for the EXIST start-up grant. His academic and research experience from both Darmstadt and Lyon gave Stéphane extraordinarily valuable scientific and technological expertise from both universities – the broad aspects of an engineering education in France and a specialisation in Darmstadt.
Even today, COMPREDICT has close ties to the university and benefits from current research results and the direct exchange with researchers. Stéphane is certain that without TU Darmstadt, the flourishing Darmstadt start-up scene wouldn't exist.
Do you have a brilliant idea and you're considering starting a business yourself? Then I can only recommend you contact the HIGHEST team and arrange a consultation. I've already booked my appointment!
COMPREDICT – a start-up from the innovation hotbed at TU Darmstadt
If they knew what component in a car needed replacing next, car owners and manufacturers could both save a lot of money. Dr Stéphane Foulard and Dr Rafael Fietzek, both graduates of TU Darmstadt, have developed software that can predict this exact scenario. The virtual sensors developed by COMPREDICT are combined with the sensors in the vehicle and collect information on the loads on vehicle parts during a journey. Using this information, the cloud based COMPREDICT platform then creates a use profile and calculates the current condition and the remaining service life of a vehicle component. With COMPREDICT, car manufacturers and suppliers can see how vehicle components are actually impacted during use and optimise vehicle design accordingly. With COMPREDICT, car owners can identify vehicle components at risk of failure and can get them serviced before they break down.
In 2017, COMPREDICT was the only start-up company to be awarded both first prize and a special prize for big data for its software solution by the German Federal Ministry of Economics. The following year, in 2018, the company came second in the "Digital Start-up of the Year 2018" competition. COMPREDICT is already working with automobile manufacturers worldwide and currently employs about 20 people. Two months ago, the company completed the second round of financing and the team is currently looking for new members.
A strong partner at your side
It is a great feeling to have a strong partner at your side – not only during your degree but also beyond that. Even Stéphane, a successful entrepreneur, agrees: "If it wasn't for the TU, I wouldn't have achieved everything that I have. I have no idea where this adventure will take me, but I'm very grateful to have experienced so much during my studies in Darmstadt". And it's not only in research projects where COMPREDICT is still closely connected to TU Darmstadt: the company also recruits the majority of its employees directly from the university. Six of the current ten employees are TU graduates, while the company also employs seven work experience students from the TU. This is a win-win situation for everyone – the students gain practical experience, and for the company these students are basically potential future employees.
Anyone thinking about starting their own business should definitely take advantage of the free advice offered by the HIGHEST innovation and start-up centre. The team will provide confidential support in preparing idea papers, concepts for a company and business models. And if you need financial support to put your business plan into action, HIGHEST is also the best port of call. They'll give your lots of support in finding and choosing funding and financing options. In my opinion, their services are fantastic and I'm extremely grateful that my university is so future-oriented and that they actively support their students.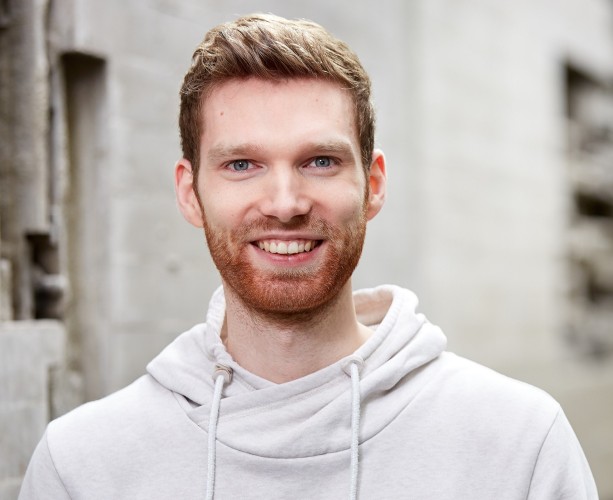 Picture: Britta Hüning
Patrick
Hi everyone, my name is Patrick and I'm studying industrial engineering and economics at TU Darmstadt. Two main factors made me decide to come to TU Darmstadt: the excellent rankings and the personal recommendation of some TU Darmstadt alumni engineers that I know. I'm really happy to have TU Darmstadt as a strong partner who's supported me in my career planning. Maybe we'll run into each other on campus or at one of the university clubs.