Diego,
Mechatronics B.Sc.
After arriving in Darmstadt, I immediately looked up what I could do in my free time at TU Darmstadt. I was totally surprised about what the university offers. I liked the idea of university groups and immediately registered for the FabLab.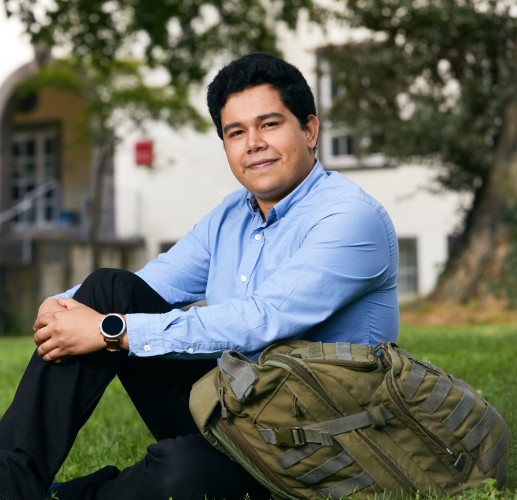 Picture: Britta Hüning
Better Together
Phew, the decision to come to Germany from abroad and to study in a foreign country is a courageous one. That's how I felt when I got off the plane that brought me from my hometown Caracas, Venezuela, to Frankfurt. Sure, I wanted to arrive safely in Darmstadt, settle in and slowly find my way into the new system. But it was also very important for me to socialise and to share experiences with other international students. I was really amazed by everything that TU Darmstadt has to offer to help international students settle in.
Especially at the beginning of your stay at TU Darmstadt there are some things that need to be arranged. So, it would be cool if you had a contact person who would be able to give you an overview of what needs to be done. No worries, TU Darmstadt offers this. There's even a whole team of them, just waiting to hear from you. After your arrival in Darmstadt, I recommend International Student Services (ISS) as your first point of contact. With great orientation programmes such as campus tours and information on all important topics, they will support you at TU Darmstadt right from the start. Here, it is easy to get in touch with other students and find out everything about the extensive variety of recreational activities at TU Darmstadt. By the way, my friend Laura introduces all important contact points in her article . Feel free to read it!
International Student Services will ensure a successful start at TU Darmstadt!
International Student Services (ISS) advises and supports international students, exchange students and refugee prospective students in all non-academic areas and ensures a successful start at TU Darmstadt.
ISS aims to promote diversity and the international experience of all students on campus, as well as to provide the services necessary to meet the needs of international students and to support before and after their arrival in Germany and at TU Darmstadt, contributing to their eventual academic success. ISS provides information about visas and health insurance, gives advice on student finances, assists in finding accommodation and answers all other questions about living in Darmstadt.
Tutor International Makes Starting University Easier
In addition to ISS, you will find several other groups at TU Darmstadt, which will make your stay here easier. For example, TUtor International, a student initiative of TU Darmstadt, aims to support you socially, culturally and professionally at the beginning of your studies.
The tutors come from all over the world and, because of this, know very well what the interests of international students are. Learning groups, training sessions, workshops and leisure activities such as cooking together, excursions or parties are offered. Even during Corona you can have fun with TUtor International: You can meet and chill online, learn German through games, improve your skills in calligraphy or meet for game nights virtually.
TUtor International
TUtor International promotes the social, cultural and professional participation of international students at TU Darmstadt. The team cooperates with the Student Union, IGM and international student associations (e.g. Latin America, Tunisia, Egypt, Pakistan, China, India).
Especially during the beginning of your studies, TUtor International is there for international students – as the first point of contact, but also as companions and friends.
The team consists of tutors from all over the world (Iran, Cameroon, Uzbekistan, Colombia, China, Germany etc.) who are specially trained to help international students.
With a programme of study groups, trainings, workshops and consultation hours as well as recreational activities (which include exploring the world's cuisines as well as cultural trips, excursions, and parties), numerous students and people from many countries of the world have already been brought together.
Getting Involved in Darmstadt with the Erasmus Network and ITT
The term Erasmus is something that most international students are familiar with. But did you know that there are also local groups at many universities that can help you with advice and support? These groups are organised in the Erasmus Student Network (ESN) . You will also find ESN at TU Darmstadt, where it strives to integrate international students, to help them to find their way in their new home country and to make their stay abroad an unforgettable experience.
This includes lots of activities, events and trips together, which are regularly posted by ESN on Instagram and Facebook. Slowly but surely meet ups are starting again, while of course following all coronavirus prevention measures. If you don't feel like getting together in person just yet, ESN also offers a lot of online alternatives. Have you ever heard of ITT? ITT stands for Intercultural Tutor Team and is a programme initiated by the Student Union Darmstadt. The group consists of students with different backgrounds who have been studying and living in Darmstadt for a long time. The team helps you out with the start of the semester, supports you in everyday life at the university, visits to government agencies, and language difficulties. But ITT also has a lot of useful offers in store for you: The team organises activities such as excursions, company tours, cultural events and workshops. I think the programme is great and I was able to make friends quickly here.
By the way – even though some activities had to be cancelled due to corona, ITT is always there for you! The team has created online alternatives, such as a book club for all you bookworms, or the cooking event Cook'n'Eat.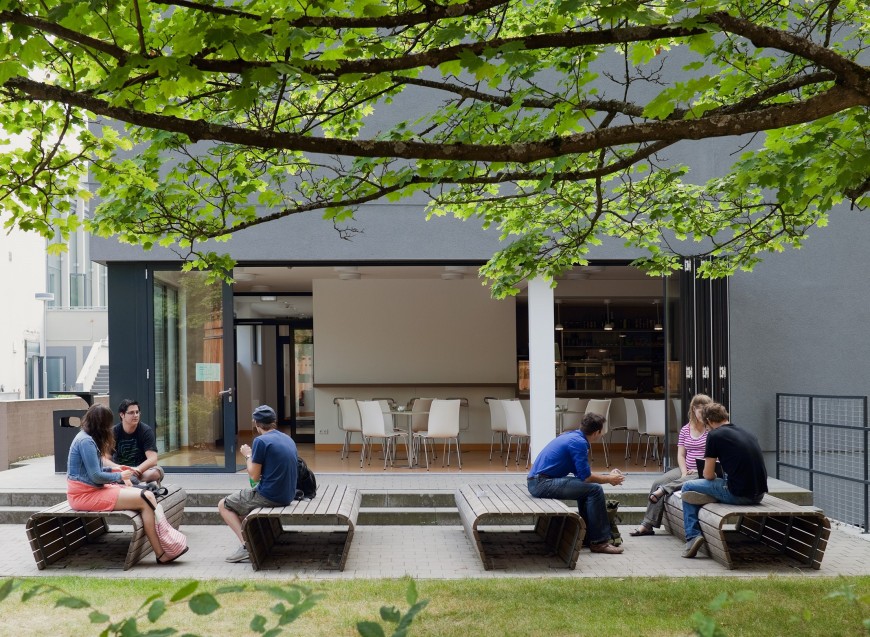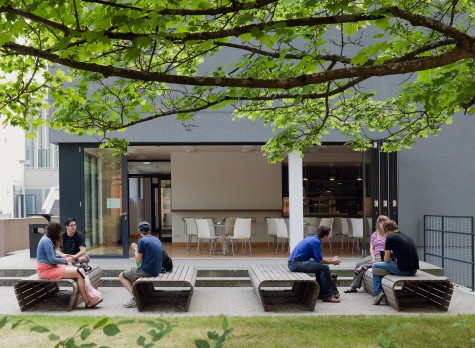 Do what you Enjoy at TU Darmstadt
FabLab, Akaflieg or TU Racing Team. Don't have any idea what I'm talking about? No worries if not, as soon as you start at TU Darmstadt, you'll find out! The terms stand for some of the numerous groups and clubs at the university, where you can take up a hobby and get in touch with other students. For example, I tried out FabLab. This is where inventors, hobbyists, creative minds, innovators, tech geeks, scientists, and programmers get together. I also want to try out Akaflieg! Also known as the Academic Flying Group of TU Darmstadt, with Akaflieg, you have the opportunity to construct and build gliders. I really like the concept and didn't expect a student group to do something so cool.
Don't think that gliders and FabLab are really your thing? No problem, TU Darmstadt has something for everyone: Motor sports, stock market, choir, environmental protection, horse riding, and so on.
Do you want to find out more about the different student groups at TU Darmstadt? My friend Denise wrote an article about her experiences . Happy reading!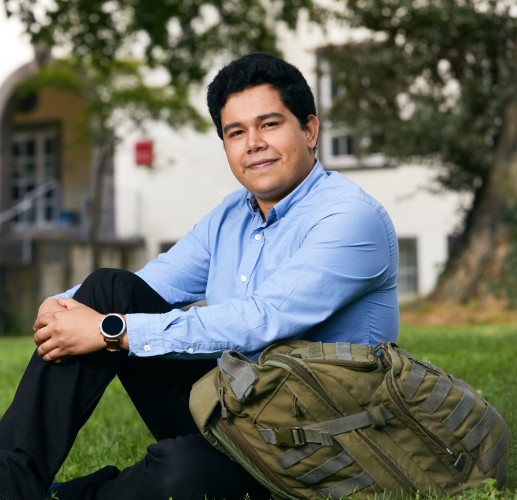 Picture: Britta Hüning
Diego
¡Hola, my name is Diego and I'm studying mechatronics at TU Darmstadt. I came here from my hometown of Caracas, Venezuela to this metropolis in southern Hessen specifically because of TU Darmstadt's reputation as a top university, and I feel very comfortable here. And I can already say: I can definitely imagine staying on in Darmstadt after I graduate!!