International Summer University
The International Summer University is a unique six-week programme designed to provide insights into cutting-edge German engineering technology, to improve international language skills as well as to discover and learn more about the German culture. It combines engineering courses, company visits, intensive German language courses, cross-cultural competencies training for engineers and social and cultural activities.
News and Events
Wrap-up of our ISU 2023, read it in our international news here.
ISU 2024 programme dates: June 3 – July 13
two weeks virtual + four weeks in Darmstadt
This programme is part of
Hessen:International Summer University
Ernesto,
National University of Singapore
There were a plethora of memorable moments for me on this summer program. Firstly, being able to exchange my culture with people from all around the world gave me a great insight into how different people live and work. Americans, Mexicans, Turkish and even my fellow Singaporeans! Secondly, the trips to Munich, Heidelberg and Stuttgart were extremely fun as I was able to visit landmarks and automotive museums […] which was really breathtaking for me.
Read what other students have to say in our testimonial section below.
The programme consists of three components:
Engineering Courses and Workshops
The various engineering courses offer students the opportunity to gain insights into Mechanical Engineering or Electrical Engineering through a combination of lectures, interactive workshops and group presentations.



Excursions to German companies (such as):

Mercedes-Benz – German automobile manufacturer
ESA (European Space Agency)
Continental AG – German automotive manufacturing company
Merck KGaA – German research company in chemistry and pharmacy located in Darmstadt
ETW (European Transonic Wind Tunnel)
German Language Courses – STEM
Students will gain German speaking, writing, reading and listening skills for every day communication through the lense of the academic world. This course is offered at a beginner's level for students with no previous knowledge as well as on intermediate and advanced levels for students that have taken German classes at home.
Cross-Cultural Competencies Training for Engineers
This seminar will train non-German students in intercultural skills to help them successfully navigate in an intercultural working and learning environment in Germany. It will also introduce students to practical techniques, skills and knowledge surrounding themes of living, studying and working in Germany.



Social and Cultural Programmes
We will take a city tour to Frankfurt and Heidelberg, a nice weekend trip to Munich, and explore the history and best spots of Darmstadt. Many more exciting events will also be offered throughout the programme.
All Engineering courses as well as the Cross-Cultural Competencies Training for Engineers will be held in English.
Detailed descriptions of the courses contents can be found on our 2023 syllabus (opens in new tab) . Our 2023 weekly program can be found here (opens in new tab) . For further information see our info sheet (opens in new tab) .
Be sure to visit our Instagram Account to see what students were doing during our Summer programme the past years!
If you are a student of one of our partner universities (see our partner database):
1. Please apply at/consult your universities' international office for the ISU at TU Darmstadt. Your international office will need to send an informal nomination to our email.

Nomination Deadline: March 01, 2024

Application Deadline: March 30, 2024

Please keep in mind: Nomination by the home university does not guarantee a placement in the programme. Also keep in mind: With a successful nomination you might qualify for a partial scholarship. Please consult with your university's international office.
2. We will confirm a successful nomination via email. Make sure to check your emails regularly.
Your next steps will then be:
a. Register with TU Darmstadt via our Online Portal. Please also fill out this Application Form (opens in new tab) and upload it as your Motivation Letter in the 'Relevant Documents' Section on the application portal. Please do not forget to upload the additional following documents as attachments:
unofficial Transcript of Records
Copy of passport (found in step 1: Personal Information)
Once the application is completed you can download a summary of your application. Please send the PDF document to our email.
b. Pay the Programme Fee
c. Receive a Letter of Acceptance for your visa application (if applicable)
If you are a student of a university not contained in our partner database, please follow the next steps to apply successfully:
1. Please contact us via email to state your interest in our programme.
Please make sure to inform us about your home university
Tell us your course of study
2. After proving your eligibility to participate in our programme, we will forward information on how to apply.
3. When the formal admission requirements are fulfilled, we will review your application. If we can offer you a place in our programme, we will contact you. The next steps would then be:
Pay the programme fee
Receive a Letter of Acceptance (if applicable)
Application Deadline: March 30, 2024
Please Note: Students who will need to apply for a visa prior to their entry into Germany will need the Letter of Acceptance to complete their visa application. It is advised to start this process as soon as possible. The visa may take up to three months to process.
If you are a student from the University of Massachusetts system, the University of Wisconsin system, and participating universities in Queensland you will participate as exchange students and will not pay fees directly to TU Darmstadt. Please contact your study abroad advisor for more information on how and when to apply.
This programme is especially designed for undergraduate students from our partner universities.
Total Fee: € 2,500
The total fee covers:
language courses, course materials, workshops, engineering courses, intercultural practice, company visits, social activities and excursions
public transportation ticket, health insurance and student services
accommodation: shared twin room and kitchenette
It is only possible to obtain a partial scholarship for nominated students from our partner universities. Please consult with your university's international office.
Travelling expenses, meals, other day-to-day expenses and individual travel will need to be covered by the participants.
For breakfast students should plan about 2 – 5 €, meals in the Mensa costs between 2 – 7 € and with dinner students should plan with an average of 10-15 €, which is about 392 – 759 € in total for 4 weeks. In the accommodation students have a small kitchen that can be used to cook themselves, which would reduce the above amount.
There will be a 2-week virtual period followed by a 4-week on-site period.
Course duration: June 3 – July 13
Virtual Period: June 3- June 15
On-site Period: June 16 – July 13
Arrival Day: Sunday, June 16
Departure Day: Saturday, July 13
Students will complete tasks/assignments, work in groups, give presentations and write final exams. At the end of the programme they will receive a grade for each completed course and ECTS credit points for the successful completion of the programme.
Students can earn 12 ECTS (6 US/Canadian credit points) worth of academic credit for the entire programme. To make sure the credits will be accepted by your home institution we kindly advise you to get in touch with your home University faculty in advance.
Engineering courses and workshops:

Mechanical Engineering: 150 Hours; 6 ECTS (3 US/Canadian credit points)
or
Electrical Engineering : 150 Hours; 6 ECTS (3 US/Canadian credit points)

German and Culture (6 ECTS, 3 US/Canadian credit points):

Intensive German language course: 100 Hours
Cross-Cultural Competencies Training for Engineers: 50 Hours
1 ECTS (0.5 US/Canadian credit points) = approx. 25-30 hours of academic work
The applicant must
be currently enrolled and remain enrolled throughout the programme at a university.
have a profound interest in engineering topics.
Please note: This programme will be most useful to undergraduate students with an interest or previous knowledge in Mechanical or Electrical Engineering. Students studying similar subjects within the field of Engineering and Sciences are however also welcome to apply.
Please schedule your arrival for Sunday, June 18, 2023. A good arrival time in Frankfurt is 9am to 8pm (German local time). Everyone arriving at that time will be able to go directly to the accommodation (you can enter your room from 11am onward) and to get some rest before the summer university starts on Monday. There are no activities planned on the arrival and departure date.
As a Summer University participant you will be picked up by one of our friendly tutors and accompanied back to your hotel in Darmstadt.
This only applies for the arrival day (June 18, 2023!)
To arrange a pick-up please send us your details to our email
no later than Wednesday, June 14, 2023, and include the following information:
arrival date and time at FRA airport
name
flight number
current picture
phone number (if international)
to organise everything accordingly.
IMPORANT NOTICE: The size of Frankfurt am Main Airport can be overwhelming.
Meeting point at the airport: MEETING POINT in TERMINAL 1: ARRIVAL HALL B (Arrivals = Level 1)
To make sure you do not search/miss the tutor, please keep in mind to walk to the MEETING POINT in TERMINAL 1: ARRIVAL HALL B after your arrival.
The Meeting Point in Terminal 1 is located exactly between areas A and B.
In the case that you arrange the pickup with us transport fee will be included. Otherwise, you will have to arrange and pay for the transport yourself.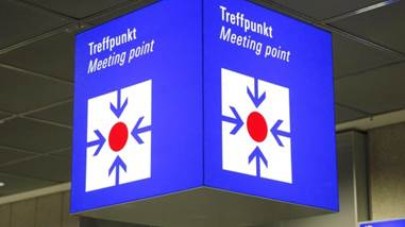 If you are arriving on a date other than June 18, 2023, did not email us about your flight details or want to travel to the accommodation by yourself, you will need to travel to the hotel on your own.
You can do so by using public transport. At Frankfurt airport take the yellow AIRLiner bus to Darmstadt. At Terminal 1, the AirLiner bus departs from bus stop nr. 14; at Terminal 2 it stops in front of Hall E, Exit 8. The bus runs every 30 minutes at peak times, otherwise every hour. You can find the timetable here (opens in new tab). The bus takes around 35 minutes to reach Darmstadt. In Darmstadt you should get off the bus at Luisenplatz in the city centre. From Luisenplatz, board tramway nr 9, towards Griesheim. Get off at the stop called Flughafenstraße. From here it's a 5 minutes walk to the Achat Hotel.
Another option is to take a taxi from Frankfurt airport directly to your hotel. This will cost around 60-70 Euros and take 30-40 minutes. See below for the hotel's address (Where will I stay?).
For information on traveling to TU Darmstadt click here.
Yes, you are very welcome to arrive earlier. However, you can not arrive later than three days after the official start.
If you arrive later or earlier, you will not be picked up from the airport by one of our staff and arrange the transportation to your hotel by yourself.
Later: Please organise appropriate transportation from the airport to the train station Darmstadt Hauptbahnhof, for example with the AirLiner Bus. One of our friendly tutors will be happy to pick you up there.
Earlier: Please note that we cannot offer accommodation before the official arrival day. Therefore you will need to book an accommodation on your own.
Yes, during the weekends students can join our social programme or explore Germany and Europe on their own. Please note that some of the social programme is obligatory!
Yes:
+49 6151 16-24060 (during office hours) and there will also be a mobile number during the programme, which we will distribute to participants during the programme.
Yes, students from non-partner universities are welcome to join the summer university at TU Darmstadt, too.
Students from partner universities: Please let yourself be nominated for your stay at TU Darmstadt.
Students from non-partner universities: Please apply without nomination in advance.
The most convenient way is by public transport (tramway). A tram stop is within 5 walking minutes from the hotel. The program fee covers a public transport monthly pass for the city of Darmstadt, which is provided upon arrival.
You will be staying at
ACHAT Comfort Hotel Darmstadt/Griesheim
Flughafenstrasse 2
64347 Griesheim
Tel.: +49 6155 – 882 900
Fax.: +49 6155 – 882 999
E-Mail: darmstadt@achat-hotels.com
Website: https://achat-hotels.com/en/hotel/darmstadt-griesheim
The room type is shared twin (two participants will share one room). Rooms have a small kitchen with cooking utensils and a bathroom with shower.
No breakfast or meals included.
The program fee includes a monthly public transport pass, which is valid within the city of Darmstadt; this includes traveling from your accommodation to the university.
Yes. The health insurance that is included in the program fee covers the entire Schengen area.
For breakfast students should plan about 2 – 5 €, meals in the Mensa costs between 2 – 7 € and with dinner students should plan with an average of 10-15 €, which is about 392 – 759 € in total for 4 weeks. In the accommodation students have a small kitchen that can be used to cook themselves. Then you can reduce the above amount.
Yes, you need a European plug adapter to use with your wall charger so that you can plug it into a wall outlet (Type F) in Germany or elsewhere in Europe (except the UK/Ireland). If possible, we recommend you to bring at least one adapter and a multi plug and extension cable so you can use all your devices.
Hear what our Students have to say about the:
Adam Lubinsky, University of Rhode Island:
What did you like the best?
"The people was my favorite part of the experience. It was so interesting to meeting people who came from all over the world to share their passion for Engineering and science in a city as beautiful as Darmstadt."
Gerald Lim Yu Kai, National University of Singapore:
What did you like the best?
"The program structure which encompasses engineering content, German language and German culture to give us a all in one package that could be completed in a month. The program was intensive yet manageable and there are trips to various cities such as Munich and Stuttgart to let us explore some of the attractions."
What was your most memorable moment?
"When we went to Heidelberg, we stayed to watch the fireworks and our group consisted of Singaporeans, Turkish, Americans and Mexicans. It was a truly heartwarming moment that people of different backgrounds were bonding on the river bank of Heidelberg as we watched the fireworks."
Samuel Dixon, University of Western Australia
Your advice to other students considering this program:
"I would recommend this program to any Engineering students who want to broaden their technical knowledge whilst also immersing themselves in German culture. The course is intensive, but also rewarding, and whilst learning you get to go on many once-in-a-lifetime experiences in Munich, Darmstadt, Stuttgart and more. I also appreciated that the program gives you the option to explore where you wish, with some students travelling to Paris, whilst others went to the Black Forest or Vienna. Through it all, you will have great company, with the program being a great way to meet other students from all over the world. I have thoroughly enjoyed my time at the ISU in Darmstadt and will cherish my memories of the program."
Vincent Han Zhong, National University of Singapore
Your advice to other students considering this program:
"This programme allows you to expand your knowledge in both your field of studies and also the cultures of Germany. You are able to meet different students from different backgrounds and countries and get to learn about them too. I have no regrets joining this programme and I hope that anyone who has the chance to attend to this programme will seize it as it is once in a lifetime"
Liu Yiming (National University of Singapore):
Hi everyone, I'm Michael and I'm a Mechanical Engineering and Design student from National University of Singapore. I decided to join TU Darmstadt Summer Programme because it offers both Engineering and German Language Courses, and it is the first time international on-site sessions being available ever since Covid outbreak. The Mechatronics Engineering class was very interesting and useful. I actually utilised some of the knowledges I gained in TUDa even after I came back to NUS. As for the Intensive German Course, as the name suggests, the workload will be intense, but you will be surprised by how much progress you can make. The instructors are very friendly and helpful, and you can make huge improvements under the learning environment of TUDa. Besides academic contents, during our time in Germany, we also had a chance to travel to various cities. We have visited classical attraction sites, such as the old city of Heidelberg and Munich, as well as engineering and technology-focused places, such as the European Space Agency and the Mercedes Factory. travelling around Germany allowed me to expose to the unique culture and innovative environment. It was indeed a memorable experience. I do recommend joining this session if you are interested in Engineering. Kommen Sie bitte nach Darmstadt, denn wir sind Ingenieure!
Jia Ming Huang (University of Toronto):
My name is Jia Ming (Carter) Huang, and I am a computer engineering major at the University of Toronto in Canada, with minors in artificial intelligence and engineering business. I participated in the International Summer University programme at TU Darmstadt in the summer of 2022. This was my first time in Continental Europe, and I was impressed with the ease of integration into the local culture as a result of the incredible orientation from the ISU team. The in-person delivery of this program was also a refreshing shift from the virtual classroom environments normalized by the pandemic. I enrolled in the electrical engineering and German language track, which immersed us into German language and culture, and showcased TU Darmstadt's own research developments. The programme had a healthy mix of intensive and interactive course instruction, and group activities. We were offered both the structure of a closed-exchange – in a positively German way – and the freedom to explore Germany on our own – greatly aided by the 9-Euro ticket initiative – which allowed us to tailor our experience to within our comfort zones and left open the doors to new experiences should the itch arise. Nevertheless, whether it'd be the company visits, excursions to other German cities, or traveling across the country to watch a concert, there was always a challenge ready to be tackled, an experience grasping you by the reins, and simply put, good company. For me, the experience opened up the way I perceived the world, sensitized my reception to foreign cultures, and unlocked the confidence and drive to reach out again and experience the world far from my own. I have made concrete steps to amplify my experience in Germany, first by attending a German language course at my home university, and later by applying to job opportunities in German-speaking countries. The German diaspora had brought the experiences from Germany to Canada long before this exchange. Whether it'd be Oktoberfest in Canada's Wonderland, German Mennonite settlements in the prairies, Bavarian restaurants in the cities, or the now-not-so-exotic BMW, Audis, and Mercedes roaming the streets, I have never felt more at home seeing these German influences around my home country. This trip, this summer, this program, has ignited a special spark in my personal growth, and if I could, I would attend the ISU once a month, if not just to see the amazing mentors that pushed this experience from excellent to the best, or in my proudest German anecdote – a solid 1,0 GPA.
Binish Mohan (National University of Singapore):
Overall the program was enriching and met people from different countries. Though it was better meeting face to face, the organisers tried their best to make the virtual program as interactive as possible :) The virtual company visits by Continental AG and Merck KGaA were also very informative and learnt about what they do and their deep connections to TU Darmstadt. The cultural programs organised also allowed me to learn more about the German cultures as well as the cultures of other students! The courses I have taken – German and Automotive Engineering were also great and learnt a lot about the subjects. The lectures were passionate in what they were teaching and also make the classes interactive! They were friendly and easy to talk to :) I definitely will try to apply for this program and I recommend other students to try out the summer school program at TU Darmstadt too!!
Sofia Lanzi (University of Rhode Island):
I enjoyed being able to learn German and new topics regarding engineering in a culturally diverse setting. It made me more aware of the advancements and research that is being done at Darmstadt for automotive and robotic applications
Matthew Wolenski:
My name is Matt and I am from the United States of America. My home state is New Hampshire and I study Civil Engineering and German at the University of Rhode Island. The summer School program at TU Darmstadt has been a positive experience and I am glad that I took the opportunity to see what the school is like.I enjoyed that we were able to visit a variety of different engineering companies throughout the four weeks. I was surprised by how many interesting companies there are in Darmstadt and I think we were fortunate to be close to all of these incredible places. Along with learning about engineering, we were able to learn German in small classes. I appreciated that we were able to take German classes that were at our skill level whether we were beginners or at an intermediate level. We were able to use our German at our own comfort level throughout the city.It has been a unique experience attending the Summer School and being surrounded by the German culture. I am glad that I spent these four weeks in this program and would recommend it to anyone who is interested in engineering and wants to learn more about TU Darmstadt or the German culture.
Tang Jian:
My name is Tang Jian, I come from Tsinghua university, Beijing, China. I study construction management. I think the Summer School I took this year really gave me a meaningful experience. We took German classes, we visited companies and we learned some engineer lessons too.What most impressed me was our battery design activity, which we did in a group with some of my other classmates. We worked out a plan of fail-safe battery design. We learned the German way of product design, how precise they are and how many things need to be considered during the procedure. Besides the Summer School classes, I also had a lot of travels in some other places in Germany like Munich, Neuschwanstein, and a weekend in Paris.I went there to see the city, the architecture and the people. They surrounding cultures here are very different from the people in my home country and also different from my expectation. The four weeks here made me think a lot, practice a lot, and see a lot new things. I felt like this was my best summer vacation ever!
Jonathan Nguyen:
My name is Jonathan and I'm from Fort Myers, Florida, in the United States and I'm studying Aerospace Engineering at University of Illinois at Urbana-Champaign. I think the Summer School program was great, as were the tutors. Most of the company excursions were interesting and a lot of the engineering seminars and classes were pretty cool as well.One of the engineering classes had us do testing with cars and we got to test features of a BMW i3 and a Mercedes S500. Those of us with driver's licenses could drive the i3 and I was one of them. I thought it was an awesome experience. Another thing I got to do at TU Darmstadt personally was to visit Dart Racing, the FSAE team for TU-Darmstadt.I am part of the FSAE team at my university so visiting them was a valuable experience. The timing was interesting because they were, at the time, preparing for one of the largest races in Europe. What I'll be taking back home with me are some concepts within German Engineering to incorporate into my future work and the phenomenal experiences I've had here.
Manuel García:
Hello! My name is Manuel and I am an Industrial Engineer student from Spain. I am currently studying at the Polytechnic University of Madrid. I decided to join the TU Darmstadt Summer School Program because it gave me the possibility to learn the German language.German classes were really interesting, fun and at the same time useful; as I have improved my German level a lot throughout the course. At the same time, I know some of the most important companies like Opel, Merck and Lufthansa are based in Germany and wanted to know more about how they work. This program has also given me the opportunity to meet a lot of people from different cultures and different backgrounds.
Salinas, Nanyang Technological University
Don't let fear stop you! Many students may be afraid of the unknown and unfamiliarity that this program encompasses. As it might be the first time that they are traveling abroad alone, to a place so far away from their family and friends and so foreign to them. […] My advice would be to not let this fear stop them from embarking on this journey. […] It is definitely worth it in the end. The irreplaceable memories and friendships forged, and the valuable knowledge you gained through this program, will really stick with you for life and may be really useful for your future.
Valeria, Clovis Community College
"Participating in this program was an incredible experience that exceeded my expectations in many ways. Having the opportunity to interact with other cultures and gain knowledge on the field that I like (engineering) was incredibly enriching and fulfilling. Everyone who has the opportunity to form part of the International summer Program should definitely do. Make sure to be open-minded, respectful, adaptable, and ready to learn."