Published: 12th November 2020
Diego,
Mechatronics B.Sc.
I think it's fantastic to be able to study at a university which combines tradition and pioneering research. This combination of past, present and future really is visible every day at TU Damrstadt - like when you walk onto campus for the first time. You've got everything from historical buildings to cutting edge facilities.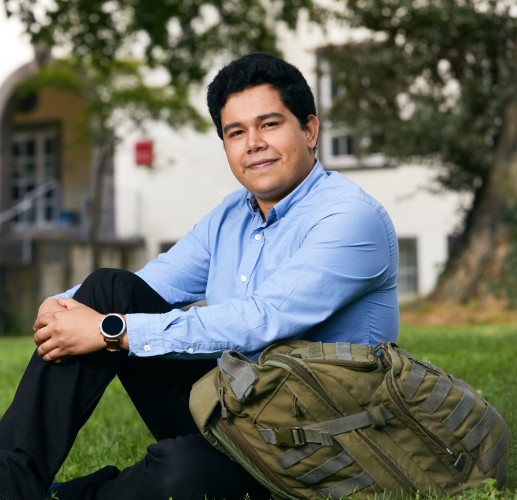 Picture: Britta Hüning
Pioneering spirit from day one
Everyone has heard of Albert Einstein, right? Imagine that he's your uncle and you're asking him for advice on where to go to university. This is exactly what his nephew did in 1919, when his uncle Albert recommended TU Darmstadt: "In my opinion, you definitely ought to go to Darmstadt. They have a good polytechnic school there," he said. When I came across this quote while looking for the right university to do my mechatronics degree, I immediately thought: Okay, if Albert Einstein recommended studying at TU Darmstadt, then I have to go there. Of course, this wasn't the deciding factor since a lot of famous ranking systems have given the university high marks for decades now. You can read more about this in the blog by my fellow student, Patrick .
TU Darmstadt can look back at over 140 years of history and can lay claim to a whole bunch of famous people who did their engineering degree here. So, Erasmus Kittler, for example, the first electrical engineer in the world. You could even say that TU Darmstadt basically invented electrical engineering! And the first German female engineer, Jovanka Bontschits, also finished her degree at TU Darmstadt in 1913 – a real pioneer. And even some Nobel Prize winners taught and researched at TU Darmstadt, including physicist Peter Grünberg and chemist Gerhard Herzberg.
Ready, steady, go! INSPIRED has arrived
INSPIRED is an event format which combines interdisciplinary teaching and learning in international teams, blended learning via an initial e-learning phase and then a three-week stay in Darmstadt doing teamwork projects. Wait a sec, blended what? Blended learning, also known as integrated learning, combines the benefits of e-learning and in-class lectures.
Well, at least that was the plan… The current situation unfortunately means students from places like Lisbon, Barcelona or Stockholm couldn't come to Germany this year. However, the event planners came up with a cool interim solution for the participants. INSPIRED was turned into a virtual event format and took place as the very first UNITE! project.
Do you want to find out more? Contact INSPIRED and get some non-binding advice to find out more about your options. Or you can watch a short video on INSPIRED that will give you a bit more information.
Recommended external content
We have selected external content from YouTube for you and would like to show it to you right here. To do this, you must reveal it with one click. You can hide the external content at any time with another click.
I agree to external content from YouTube being shown to me. This may result in personal data being transmitted to third-party platforms. You can find more information in our Privacy Policy.
Everyone is talking about it, TU Darmstadt is doing it
Around 25,000 students are enrolled at TU Darmstadt, besides me, and I'm positive that each and every one of them is enjoying the first-class research happening on this innovative and redesigned campus. The wide range of engineering and technical degree programmes is helping prepare us students to tackle the tasks and challenges of tomorrow, thanks to the research-based teaching. And the university really can claim to be shaping the future with its current research: the energy revolution and intelligent mobility, sustainable cities and health, digitisation and artificial intelligence, cyber security, cognitive science, and sustainability. Everybody's talking about these issues – at Darmstadt, we're studying them!
A lot is happening at the university right now and the researcher here all have exciting projects on the go. When it comes to artificial intelligence, TU Darmstadt is one of the top addresses, and even Chancellor Merkel was waxing lyrical about it, when she said it was a "jewel in the crown when it comes to artificial intelligence". The Chemistry and Materials and Earth Sciences Departments were recently awarded two Heinz Maier-Leibnitz prizes for their research into energy technology. This award, named after the physicist and former president of the German Research Foundation, has been awarded for over 40 years to up-and-coming young scientists for their outstanding work. That's pretty cool, right? But these aren't the only awards given to TU Darmstadt researchers. The Computer Science Department has also just won the Copernicus Prize from the German Research Foundation for their cutting-edge research in the field of cryptography and IT security. As a tech geek, I think TU Darmstadt has the perfect environment to prepare myself for an exciting career.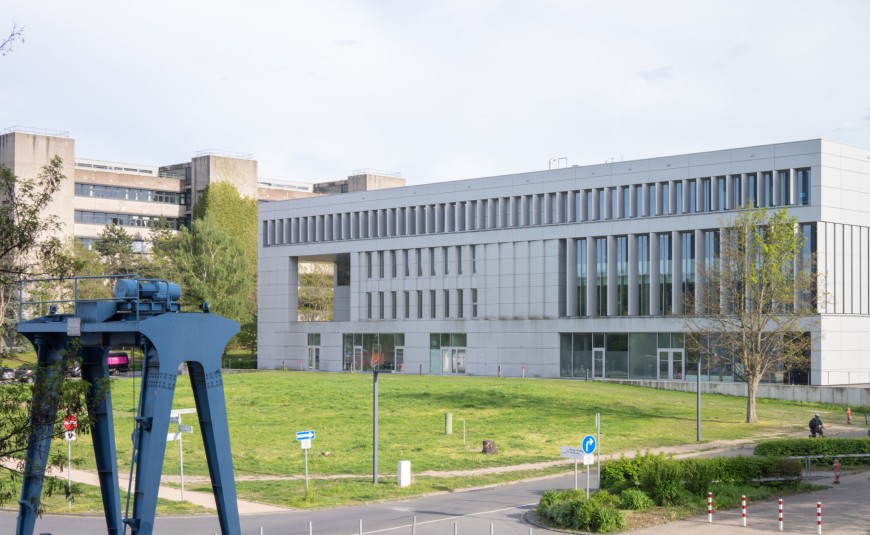 Try it out for yourself: the International Summer University
So, now I've given you some insight on TU Darmstadt, and as you can probably tell: I feel right at home at this university and I'm enjoying life in the 'city of science' in the south of Hesse. But maybe you're still not sure whether TU Darmstadt is the right place for you? Okay, then I've got a great tip for you. Have a look at the International Summer University. It's awesome! In between semesters, TU Darmstadt invites international students to spend four weeks at the university to learn about a German engineering degree, and also to learn some German and experience life here in Darmstadt. You find out how lectures work, tour big companies like Mercedes-Benz, improve your German skills and meet students from Darmstadt and around the world. I think it's a fantastic opportunity to get a taste of university life, and no worries, the Summer University is held in English. Sounds pretty cool, right?
If you can see yourself coming to Germany and TU Darmstadt to study, contact the International Relations and Mobility Unit and benefit from a quick, uncomplicated and non-binding consultation with them.
From German to European Engineering
Did you know that TU Darmstadt also offers you the chance to do two Mechanical Engineering degrees at once? Sounds good, doesn't it? The first Double Degree programme at TU Darmstadt was created in cooperation with the École Centrale de Lyon – the two universities have have been on a partner basis for many years. If you decide on mechanical engineering in a Double Degree programme, you'll spend two years at TU Darmstadt and then another two years at the EC Lyon. From the fifth semester up til (and including) the eighth semester, you'll study mechanical engineering at the partner university in France. And to make sure your start at the Grande École is a smooth as possible, TU Darmstadt offers a mathematics refresher course in French before your switch. After your stay in Lyon, you'll get your bachelor's degree from TU Darmstadt and then you can immediately continue with a master's degree in Mechanical Engineering – Mechanical and Process Engineering. Once you've finished your Master's in Darmstadt, you'll also get the diploma from the EC Lyon.
Two students who decided to go the Double Degree path are Immo and Hendrik. The twins studied in Lyon from early 2018 to the end of 2019 and are now in the second semester of their master's degree, so they're well on their way to earning their double degree. I asked them how it was going.
If you want to find out more about the Double Degree programme in the Faculty of Mechanical Engineering, you can contact the MechCenter, which is the faculty's office for student affairs.
Hendrik,
Mechanical Engineering
I decided on the Double Degree programme with the École Centrale de Lyon because I wanted to spend an extended period of time abroad. The exchange programme with Lyon is special because right away you spend two years abroad, which means you gain extensive experience abroad. The Double Degree programme in Lyon is a great chance to get to know the French culture, to learn the language and to experience a completely different university life. If you want to find out more about the Double Degree programme in the Faculty of Mechanical Engineering, you can contact the MechCenter, which is the faculty's office for student affairs.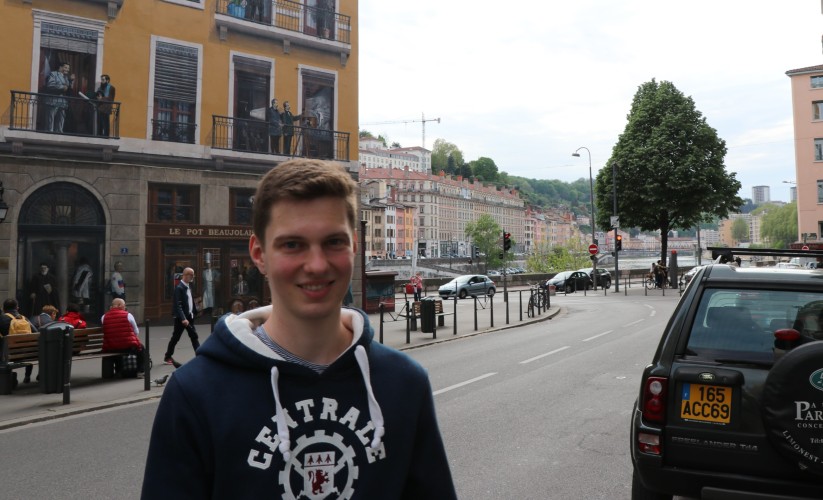 Picture: Privat
Immo,
Mechanical Engineering
I decided on the Double Degree programme with the École Centrale de Lyon so I could get to know the French culture and language. I was a bit unsure at first because of the language barrier – all the courses in Lyon are taught in French! But with the excellent support at the EC Lyon and making friends with the students there this uncertainty vanished, especially since my language skills improved really quickly once I got there. The best part of the Double Degree programme is that you learn a lot about the French culture, lifestyle and university life since you're living there for so long.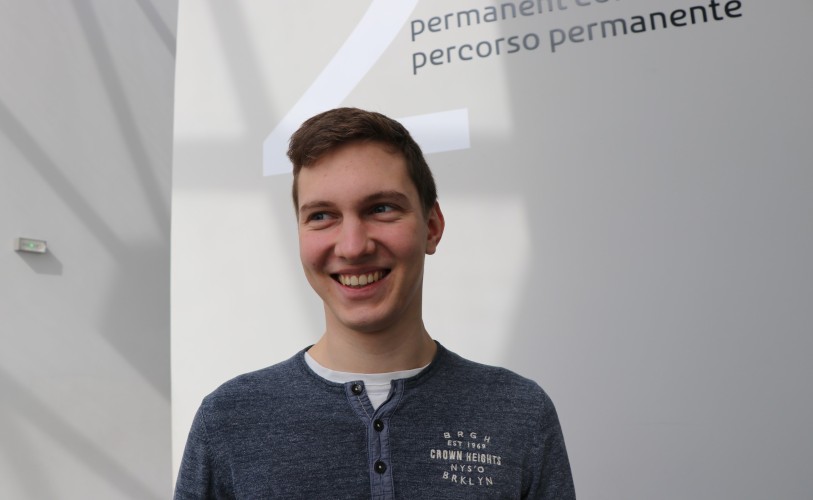 Picture: Immo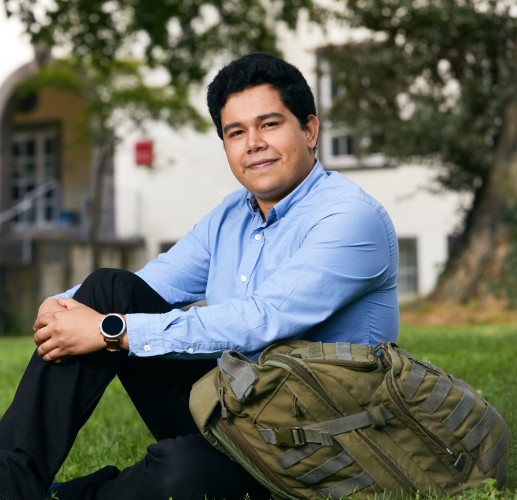 Picture: Britta Hüning
Diego
¡Hola, my name is Diego and I'm studying mechatronics at TU Darmstadt. I came here from my hometown of Caracas, Venezuela to this metropolis in southern Hessen specifically because of TU Darmstadt's reputation as a top university, and I feel very comfortable here. And I can already say: I can definitely imagine staying on in Darmstadt after I graduate!!