International Counter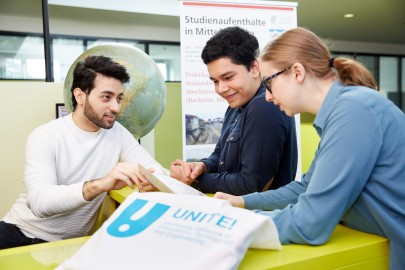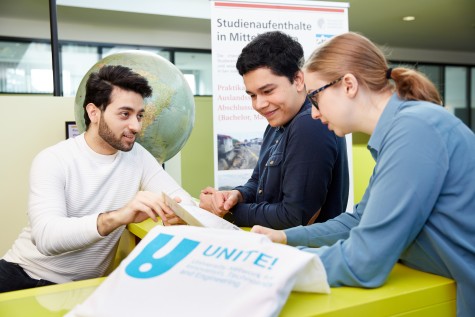 The International Counter is the first point of contact for international students. You can visit the counter online or on campus Stadtmitte in karo 5.
Opening hours on campus:
Monday 14-16:00 h (CET)
Tuesday – Friday 10 – 12:00 h (CET)
Opening hours online:
Monday 14 – 16:00 h, Tuesday, Wednesday & Friday: 10 – 12:00 h (CET)
Meeting password for the online Counter: Counter
Telephone Hotline for International Students
+49 6151-16 21675
Monday: 10:00 – 13:00 (CET)
Thursday: 10:00 – 13:00 (CET)
Contact information
Application & Admission
(Enrollment for Degree-Seeking)

international.admission@zv.tu-…

International Student Services

iss@zv.tu-…

Refugee Integration

refugees@tu-…

Exchange Incomings Erasmus

europe-incomings@zv.tu-…

Exchange Incomings Overseas
overseas-in@zv.tu-darmstadt.de
Exchange Outgoings Erasmus

europe-outgoings@zv.tu-…

Exchange Outgoings Overseas
overseas-out@zv.tu-darmstadt.de
FAQ International Students
Organising your stay
The student ID/ semester ticket will be sent to you by mail to the address saved in TUCaN. If necessary, update your address in TUCaN or inform International Admission about your current address.
To get a confirmation for Foreigners' Office please send an e-mail to International Admission with the following documentl as a .pdf attachment
a copy of your Performance Record (Leistungsspiegel). This can be
The Foreigners Office works as fast and efficiently as possible. We know that you need these documents, but under the current circumstances, we have no influence on appointments with the immigration authorities.
When you send a request/e-mail to the Foreigners Office, please make sure to write exactly what you need in the subject line. For example: "Fiktionsbescheinigung expired dd.mm.2020". Please also make sure to include your full name, the address where you are registered, your birthdate and country (as written on your passport).
When you are in an emergency situation, for example: expired Fiktionsbescheinigung, leaving the country with no valid documents or arrived as a tourist and still waiting more than 8-weeks to receive an appointment, please contact ISS directly per e-mail.
Please send your request by email to the International Student Services (ISS) and mention if you are an exchange or degree-seeking international student.
Other questions
International Counter: General questions and concerns; first contact point for international students
International Admission: Questions about application, admission, matriculation, delivery of the semester ticket/ student ID, semester fee and video consultation
international.admission@zv.tu-…
International Student Services: Questions about health insurance, visa, residence permit and other non-academic subjects as well as registration for online consultation hours
Housing: Questions about accommodation
ESHA: Exchange students

housing@zv.tu-…

Wohnraumservice: International students

wohnraumservice@zv.tu-…
Refugees: For specific questions and concerns of refugee students.
Erasmus Incomings Europe: Questions from European incomers
Incomings Overseas:Questions from incomers form overseas
Erasmus Outgoings Europe: Questions from outgoers
Outgoings Overseas: Questions from outgoers
PreCIS: Questions about the PreCIS programme
The Welcome Centre support TU Darmstadt international researchers and ATMs in providing both professional advice and practical help in the non-scientific aspects of international research life in Darmstadt. Please contact the Welcome Centre by e-mail.
Questions regarding enrollment for doctoral degree students (with and without a final qualification) belong to VIIIA: International admissions e-mail
Questions regarding enrollment for doctoral degree partner university exchange student belong to VIII C: Erasmus Incomings Europe & Incomings Overseas
Questions regarding information on training and development for doctoral degree students belong to the, Graduate Organisation Ingenium e-Mail
Questions regarding applying to a research group for a doctoral degree students should be addressed directly to the individual group leaders
 
Name
Working area(s)
Contact

International Student Services (ISS)

Flüchtlingsintegration (ZKF)

Mo + Th 11:00 – 13:00 // Tu 13:00 – 15:00

Benedetta Gennaro

PhD

Head of Unit

Gabriella D'Introno

M.A.

Advisor for international students

gabriella.dintrono@tu-...

Aaron Szczerba

M.A.

Unite! Inclusion Officer, Refugee Programmes Officer

Birgit Brandes

Dipl.-Ing.

Consultations by appointment only

Graduation grants for international students, Coordinator Refugee Programmes

Mannaseth Nana Abban

Refugee Integration Administration

mannaseth_nana.abban@tu-...

Natalie Wocko

M.A.

Digital Services

Brenda Gonzalez

M.A.

Counter and Hotline Coordination (ISS)
 
Name
Working area(s)
Contact

Christian Tischer

M.A.

Partnerships and Coordination Oversea Exchange

Sabine Roos

Int. Dipl.-Vw.

Institutional Erasmus+ Coordination, Strategical Partnerships Europe

Tanja Torres Alberich

Student mobility Europe (incomings), EU - Work-Placement (Internship), Université franco-allemande

Julia Fitzthum

M.A.

Partnerships and Student Exchange USA and Canada
 
Name
Working area(s)
Contact

PreCIS

Dr.

Saltanat Langohr

Head of Department "Programmes for Preparatory Studies and Entrance to Studies"