At TU Darmstadt you can find the degree programme that suits you best!
First, the good news: If you have decided to take part in an open degree programme with no admission restrictions, there is no limit on the number of applicants. Sounds good?! It is!
All you need to do to enroll in an open bachelor's degree programme at TU Darmstadt is to fulfill the following formal requirements (e.g. relevant university entrance qualification, proof of health insurance). Do you have that? Then congratulations – you are guaranteed a spot in the degree programme. Are you still unsure whether you really meet all the formal requirements for your desired degree? You can find out more about the requirements in the checklist, which is individually generated for you in the online application (all the information can be found below). Can you check off everything on the list? Perfect, then just put the necessary documents in an envelope and send it off. Another little bonus for applying early: some of the admission-free degree programmes have a longer application period!
As soon as your application has arrived and has been checked by TU Darmstadt, you will receive a letter of admission in your online account on the application platform. This letter of admission includes information about the next steps to take for enrollment. So, make sure you check your account or your e-mails frequently. As soon as you pay the semester fee, you're a registered student of TU Darmstadt with a student ID and semester ticket that lets you use public transport for free.
An overview of all degree programmes, their application deadlines and admission procedures can be found on the TU Darmstadt website.
Moritz,
Digital Philology B.A.
The application for my degree programme 'Digital Philology' at TU Darmstadt was super easy - even though I 'only' have a general high school diploma. You simply apply online, submit all the necessary documents and you're in.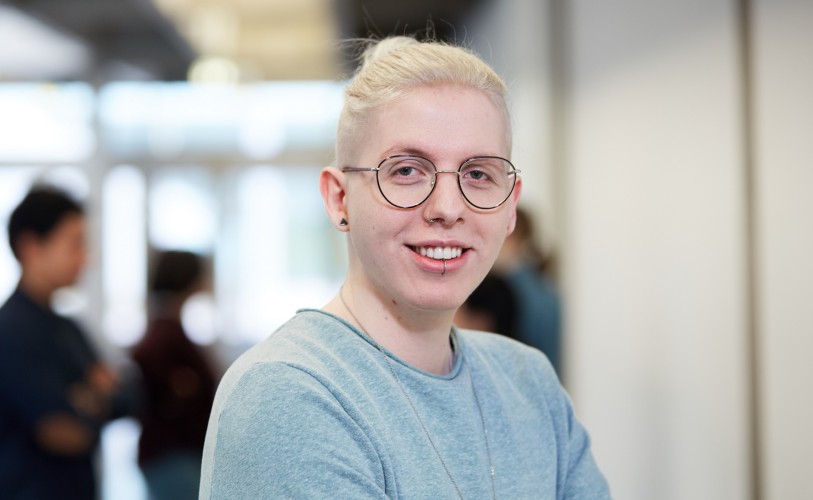 Picture: Britta Hüning
Sometimes it takes a bit more, like an assessment test
Of course, there are some degree programmes at TU Darmstadt that have additional requirements to qualify for university entrance. The additional requirements of the assessment test vary as much as the prerequisites for the degree programmes themselves. You can find the specific details in the degree profiles. The assessment test can also give you more assurance that the degree meets your expectations.
In order to be able to take an assessment test, you have to hand in the additional required documents by the specific application deadline, including the formal application which was generated in your online application.
Assessment tests are a prerequisite for admission to the following bachelor's and teaching degree programmes:
And how do you apply step-by-step?
This can be done quite easily via TUCaN if you have received German university entrance permission (HZB for short) from a school in Germany or from a German school abroad. And yes, TU Darmstadt has a sense of humor and named its campus management software after a bird.
Find the answers to the most important questions about TUCaN.
Your online application: This is how it works with TUCaN
First of all, you have to create a TUCaN account to be able to start with the second step, the "application".
As soon as you have input all the necessary information into the questionnaire, and you've submitted it electronically, either an application for admission (for open, admission-free degree programmes) or just an information sheet (on assessment procedure and NC degree programmes) will be generated.
Okay now, watch out here: When the application appears on your screen, you have to print it out and sign it. The application is only binding once the printed and signed application is mailed and received by the TU Darmstadt. Don't forget about the application deadline for your dream degree – maybe you'll soon be one of the #studentsofTUDarmstadt!
For applications for NC degree programmes, the screen will show you the information sheet right away. The application is only binding when it is sent electronically. Important note: If you would like to apply for an NC degree programme, you also have to register in advance on the "Hochschulstart" platform!
Welcome to the life of a university student!
Studying at TU Darmstadt with an international university entrance qualification
Did you attend an international school in Germany or abroad? Or did you get your university entrance permission at a foreign school abroad or at a preparatory college? Then you can apply online just as easily to study at TU Darmstadt.
All prospective students apply via the TUCaN portal. Please first create a TUCaN account. You will then receive access data by email so that you can complete the online application. Please note that it can take up to four hours for the activation email to be sent. Please also check your spam folder.
With the access data, you can then start your application under the corresponding menu item. You will find information on which documents are required on the website of the International Admissions Office.
When the application appears on your screen, you must print it out and sign it. Your application is not binding until the printed and signed application is received by post. Now add all the documents, check everything again (nothing forgotten?) and then send it all off to TU Darmstadt – International Admissions Office:
TU Darmstadt
Referat Zulassung International
Karolinenplatz 5
64289 Darmstadt
…and now, if your documents are complete and received on time, you're officially a contender!
You can't wait? Then you can check the processing status of your application online any time. We're keeping our fingers crossed for you and would be happy to welcome you at TU Darmstadt very soon!
The early bird gets the you know what
Applying early gives you a whole bunch of advantages. TU Darmstadt recommends that you apply for your dream degree programme as early as possible. This actually makes a lot of sense: Applying early also means you know the outcome sooner and can start planning right away!
Applying early only has advantages. A few of them are:
• You'll find out as soon as possible whether you've been admitted
• You can start searching early for a flat, roommate or a room in student housing in Darmstadt
• You'll receive the student ID with the semester ticket (RMV) before the start of your first semester
• What's really cool: You can register for courses, modules, and seminars up to one month before the start of the semester. You can therefore plan, prepare and look forward to university
• You'll already be enrolled at the TU Darmstadt when the fresher orientation courses start
• If it applies to you, you can take care of BaföG and child benefit (Kindergeld) early
• You can start exploring the tons of leisure, sports, and cultural activities in Darmstadt before the semester starts.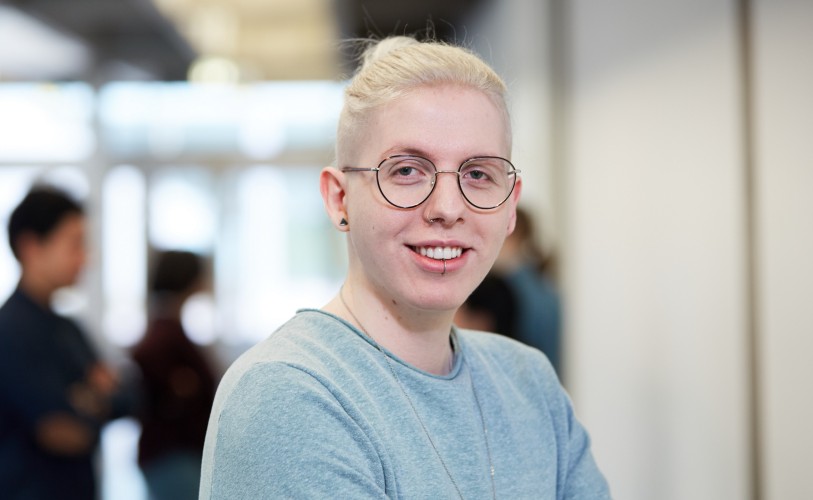 Picture: Britta Hüning
Moritz
Hey, my name is Moritz and I'm studying Digital Philology at the TU Darmstadt. You can find out here why I chose such a specialty degree programme and why I especially profit from and enjoy working together with other departments. Maybe we'll run into each other at TU Darmstadt on Campus Stadtmitte or we'll get to know each other through my work on the faculty's council and as a member of the university student council. If you see me around, please feel free to say hi!