Moritz,
Digital Philology B.A.
I have been studying Digital Philology for six semesters and I am really happy with this innovative programme, which combines several different disciplines. At the TUDay, TU Darmstadt's open house, I was able to attend a lecture on the very new programme and thought it was very exciting. The professors were really motivated and very approachable, which I liked a lot. That definitely influenced my decision.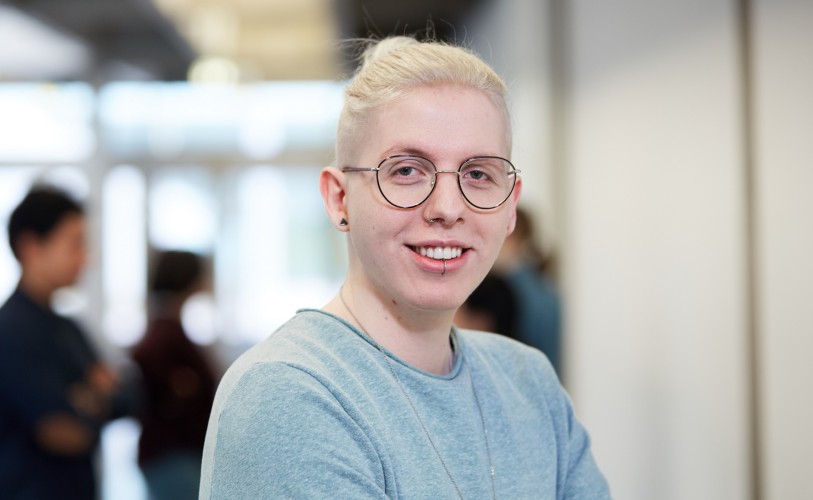 Going to university –definitely! But what programme is right for you?
Maybe you want to get an overview of what you can study at TU Darmstadt? No problem! We'll show you a selection of bachelor's and bachelor of education degree programmes sorted by major or specialty – short and to the point. Now you just have to decide which one makes your heart beat a little bit faster.
Test yourself: which programme is right for you?
The sheer number of degree programmes can quickly make you feel overwhelmed. Perhaps you already have an idea in which direction you want to go, but would like to test which programme suits you best? TU Darmstadt offers online self-assessments for two-thirds of its bachelor's degree programmes. You can easily check whether your expectations match the programme. During the self-assessment, you can solve a task relating to your desired field, as well as test your learning behaviour.
Fridays for Future: programmes focused on sustainability and the environment
Are you part of the Fridays for Future movement? Are the environment and sustainability issues that are high on your list of priorities? Then TU Darmstadt has a lot to offer: It's not only biology or environmental engineering that focus on the environment – we also have a whole bunch of other programmes, such as applied geosciences, chemistry, materials sciences, mechanical engineering and civil engineering, which could be just the right fit for you and your priority issues. After all, it's pretty clear that without technology, there's no way the world of tomorrow can be improved.
Communication is the key
Do you feel at home with Goethe and Freud? Do you enjoy debating with others and milieus are totally your scene? Then Cognitive Science or Digital Philology might be interesting programmes for you. "Digital what?" Just click through the programme descriptions and find out more.
But the best communication doesn't work without the right technology: electrical and information technology and computer science smooth out the channels of communication. And the language of mathematics is probably the most international – without very many words.
The Central Student Advisory Service: Your first stop for any question related to your studies
Do you have any questions about studying at TU Darmstadt? Then contact the Central Student Advisory Service (ZSB) – the best way to do this is to send them an e-mail. The ZSB is your first contact and is not only for students at TU Darmstadt, but even prospective students. They will give you all the important information about choosing the right programme, the planning and organising your enrollment and completing your degree. If things are not going well, the ZSB team will also support you while you are a TU Darmstadt student.
Travelling through space as an engineer?
Everything to do with technology is right up your alley and robots are more than just machines to you? Or do you prefer to reach for the stars and discover new universes? Then TU Darmstadt has these programmes for you: mechatronics, computational engineering, information systems technology and physics. Is just reading this getting you interested? Then find out more about the programmes here:
The wish: A professional life filled with companionship, politics, culture and art
You're a true information nerd and as soon as you wake up you have to check online to find out what's going on in the world? Reading the culture/entertainment section and philosophical discussions are part of your everyday routine? You want to be a part of change in society? Then one of these programmes could be perfect for you: sociology, history, political science, philosophy, education, sports science or architecture. Of course, TU Darmstadt has even more to offer. Find out more about your dream programme here: