All official announcements for the summer semester 2022 and the status of the Corona-related exceptions can be found on the TU Darmstadt website.
Freshman again?! Back to the start
Masha spent her last semester as an exchange student in the Netherlands. The majority of her courses were in person. This is how she felt during her first week:
Masha,
Data and Discourse Studies M.A.
What surprised me the most during the first week there is how nervous I was going back to studying on campus. I felt like if I was panicking! I felt so "visible", so observed, so vulnerable in a way!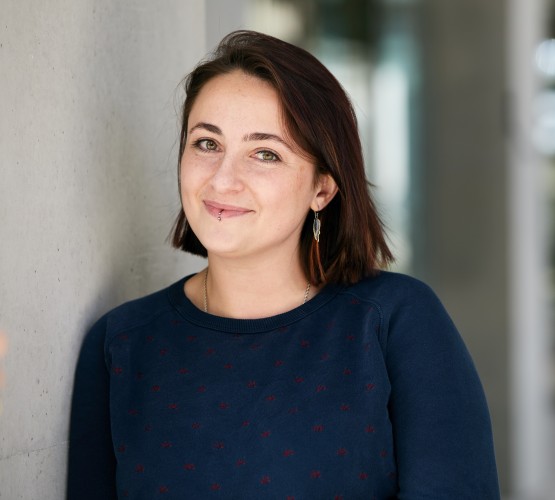 Picture: Britta Hüning
"I remember when applying to TU Darmstadt I was anxious about the possibility of having to study online. I knew I can focus much better in a classroom or lecture hall and I was worried that my motivation may suffer as well.
If I am being honest, the digital format was trying at times. However, I did my best during the duration of the pandemic, making the best possible investment – in my education and thus, in my future.
I have spent the last winter semester in the Netherlands, where they offered a hybrid semester. I was lucky and most of my classes took place on campus. What surprised me the most during the first week was how nervous I was going back to studying on campus. I was almost panicking! I felt so "visible", so observed, so vulnerable in a way! From showing only your face on camera or even occasionally turning the camera off to being in a classroom and not in the comfort of my home in pyjamas.
I know it may sound silly, however, this experience was a throwback to my first day in school. And it was a rather tense situation. Something we barely had to worry about studying online was rather tumultuous when in person: "How do I appear?", "Is it me, or is someone looking at me?", "Did I say something wrong?", "Do I act weird?", "Does everyone know it only I don't?"
The whole first week coming to new classes I was absolutely astonished to feel that way. This being my 8th (!!!) year of studying at a university, I didn't expect to feel like such a "newby". All together it was just overwhelming and confusing!
I am absolutely sure that returning to the campus will be beneficial in regard to the productivity, motivation, and academic performance of our students! I hope to give you a little heads up, so you may have enough time to prepare yourself mentally. Especially because I was caught in this weird state of mind just a couple of months ago.
Important: there is always help at the university if you need it!"
New on campus? Relax at these places
If all the hustle and bustle is too much for you, it's time for a little break and relaxation. That's also possible on the TU Darmstadt campus. Mia shows you the best spots for it.
Mia,
Business Administration/Industrial Engineering – specialising in Civil Engineering B.Sc.
We are all in the same boat and you are not alone with your questions! Don't be shy, there will always be someone there to help.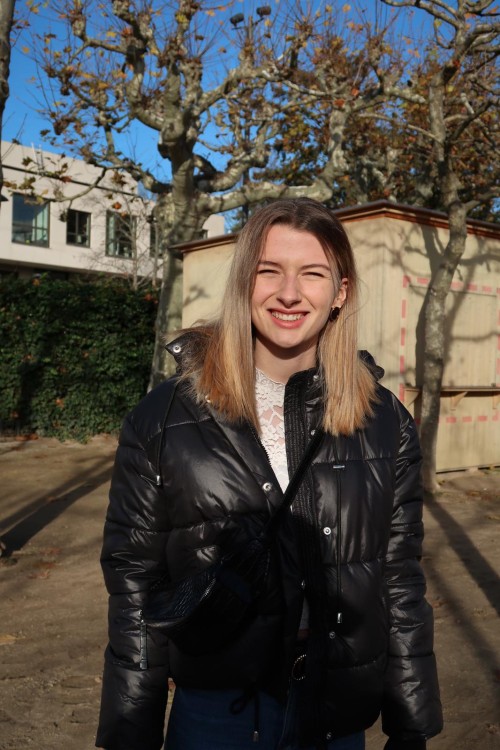 Picture: Marie Brandt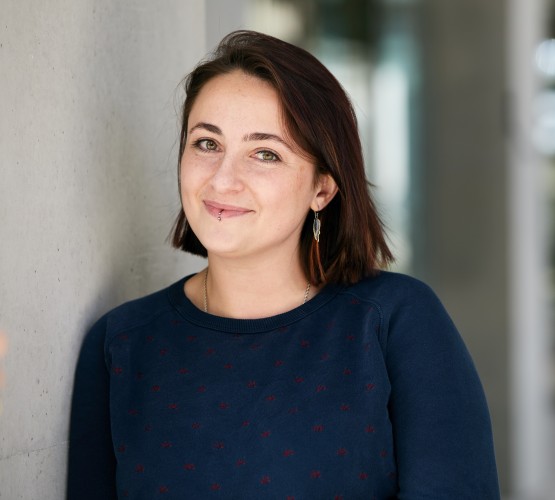 Picture: Britta Hüning
Masha
Hey! My name is Masha and I'm doing my master's in Data and Discourse Studies. It always takes long to explain what exactly I am studying. My program is a kaleidoscope of disciplines and methods, which are weirdly and fruitfully intertwined together. For me it is a fusion of hobby and profession: languages, history, programming, philosophy! I love it how we mix approaches trying to gain this voluminous image of our world.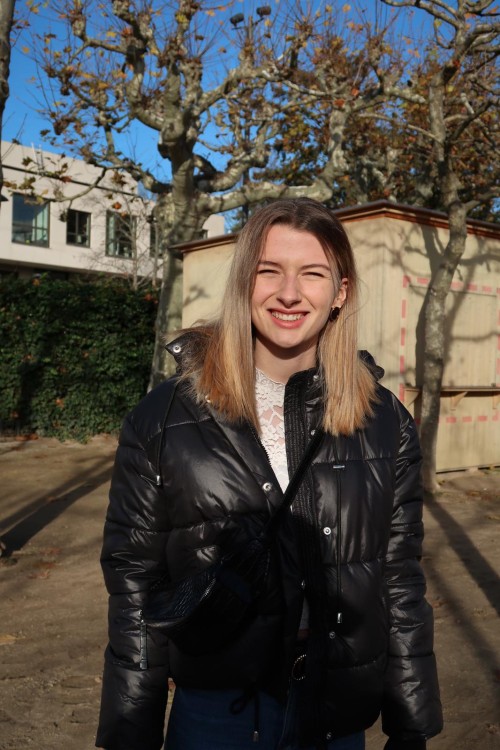 Picture: Marie Brandt
Mia
Hey! My name is Mia and I'm studying Economical and Civil Engineering at the TU Darmstadt. I am very excited to give you some insights of what a student-life at TU Darmstadt looks like and hope I can help you!