Published: 28th January 2022, last edit: 4th July, 2023
Richard,
Biology and Chemistry Teaching at Secondary Schools
During school, I pushed the decision on what I would study in university for a long time. It didn't really start until I was in 11th grade, with the open door events of the universities. But for me, the focus was primarily on getting through high school.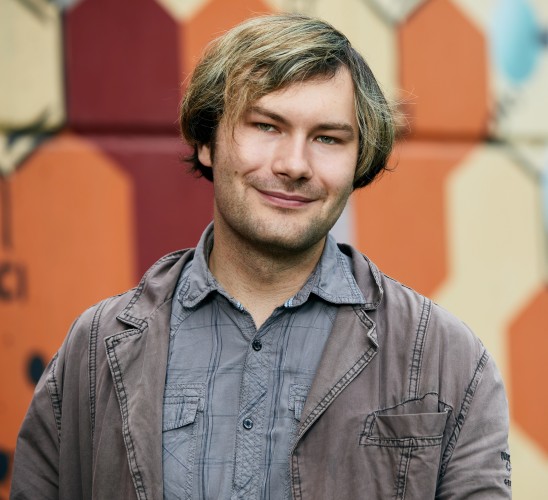 Picture: Britta Hüning
Most people put off choosing what they are going to study until high school graduation. Sure, before that you just have other things to worry about, right? But it can be worth investing some time and researching in detail what courses are offered. Focus on where your own strengths and interests lie, take part in orientation events and perhaps even get a taste of everyday university life before sending out applications. "It's completely up to you on how long the choice on what to study ultimately takes. But you can never start too early," says Franziska Ritter from the Central Student Advisory and Orientation Service (ZSB) at TU Darmstadt : "Of course, it's best if you already take into account the direction you might take when choosing your advanced courses. But it's usually not a prerequisite to have had the advanced courses in that specific field."
Fortunately! Because in Richard 's case, the desired combination of advanced courses didn't exist at all: "In tenth grade, I thought the advanced course made a lot of difference and decided a lot. Today I see it a little differently. But at the time I was thinking about whether I wanted to take biology or chemistry as an advanced course. Chemistry was love at first sight for me in school. But before that, bio was my favorite subject." The decision was made by external circumstances: "Unfortunately, there were not enough students to form an advanced biology class at my school and therefore I had to choose chemistry."
Because the choice of study programmes at university starts so early, there are often regional information events with the participation of schools and cities. These are often days on which high school students are released from school so that they can find out what universities in the area have to offer. That's what happened to Richard: "In Saxony, where I grew up, there's a university day, where all secondary school students had the day off and there was an open day everywhere and you could look at the universities."
In Darmstadt, for example, there are the local university and career information days (hobit) and TU Darmstadt also offers the TUDay. The most recent TUDay took place as an online event and was therefore also open to students from all over the world. What's super convenient about it, is that other online information and recordings of various lectures and panels are still available on the TU Online Days page. After registering for free, you can still get information there afterwards.
Roadmap for study orientation
What you need to do and by when you need to do it
One year before deciding to study: Collect interests, skills, strengths and hobbies, for example in a mind map.
Ask your environment, such as parents, friends, teachers, for their assessment of you, but always question this assessment and compare it with your results – no one can decide for you!
Take an interest test (for example the study information test from ZEIT) and assess the results. SIT

Do the suggestions match your ideas? Great, then continue with 4!
Are the suggestions surprising for you? Then also continue with 4!
Do the suggestions not fit? Then look at the results critically and think about why this is the case.

Look for and scribble down suitable study programmes, for example in the Higher Education Compass, of the respective university and check the requirements, for example: How high is the math portion in the study programme? read the course descriptions
Take and check your own expectations. Does the study programme meet them? online self-assessments (OSA)
Get to know study programmes in detail and talk to students, for example in programmes such as "" or "Leseratten" you can work your way through the so-called module handbooks and find out exactly what the study programme entails. Studi für 1 Tag
And finally: Decide on a course of study. It is important that you set your own criteria. If this is too difficult, you can also attend a . decision-making workshop
Despite good preparation, the decision is not always easy: "I did my Abitur in 2017 and for me it was a back and forth at that time whether I wanted to do teaching chemistry and bio, whether I wanted to do pure chemistry," says Richard: "On the one hand, becoming a teacher was always my dream job, but on the other hand, I also very much wanted to work in chemical forensics. At the time, we went on an excursion from school to a doping laboratory, which I found very interesting. I was so torn there!"
The fact that the choice is so incredibly difficult for most is no coincidence. After all, the bad news is that probably no degree programme is a 100 percent fit for you and your needs. But here's the good news: there are probably several degree programmes that are really exciting for you. "A great match with your own ideas is already very good," says Franziska Ritter. Often, several study programmes come into question that have similar content or mix subjects. "That's why you should formulate personal criteria for yourself in order to have a basis for comparing study programmes," she explains. "What are my wishes? What does the degree programme definitely have to include? What is important to me? Which study programme meets my criteria? This can include hard facts like the required GPA or degree content."
Richard also knew from the start that he would very likely have to make a compromise: "For a teaching degree, depending on which subjects you choose, you can't go to just any university. And especially for chemistry and bio, which you might think is a traditional combination, there are actually only a few universities in Germany. At the time, there was only one in my area and it had an incredibly high NC. That's why I first decided to take a diploma in chemistry. Also because I didn't want to move too far away from home. Obviously, though, things have changed for me in the meantime (laughs)."
Other study programmes and subject combinations are not necessarily available at every university. But then there are individual treasures that are super innovative and sometimes even unique. In Darmstadt, for example, there is the new master's programme in Aerospace Engineering , which was able to come about, because Darmstadt is home to the European Space Operations Centre (ESOC), the international airport in Frankfurt, and the renowned Department of Mechanical Engineering at TU Darmstadt, which brings together the concentrated expertise of the Rhine-Main region. Of course, you will also find an article on our blog about the other particularly innovative study programmes at TU Darmstadt.
What suits you comes down to personal preferences. Before applying to university, you should therefore take a close look at your interests and hobbies to find out which study programmes are worth considering. Franziska Ritter recommends: "At the beginning, you should ask yourself 'What are my strengths and interests? What can I imagine myself doing at all? Do I want to turn hobbies into a career or would I rather use them as a balance?' Only then should you get more specific." List your strengths, but also weaknesses and wishes, e.g. as a Post-It on a wall or in digital form in a mind map. In this way, your personal profile grows over time own its' own. The profile will then most likely show you your direction.
The second step is to do some detailed research. You can search for specific study programmes and look at the offers of various universities. First and foremost, you should focus on the content and fundamentals of the teaching, the so-called modules, which you will find in the course descriptions. And of course, the admission requirements also play an important role in your choice. The information you have gathered can then be reflected on in the next step: "It's a matter of looking to see whether the degree programme suits me." As mentioned above, it is best to formulate your own criteria for this in order to be able to better compare the study programmes with each other. Matching your own interests with the course content, the university location, a specific career aspiration, your basic knowledge, flexibility, opportunities for study abroad or double degree programmes and much more are all possible criteria. Do you want to spend a semester abroad in a certain country? Then you should take a closer look at the partner universities. You decide for yourself what is important to you. Afterwards you can bundle all the information to get a good overview and not to forget any detail. The results can then be compared by different methods, for example with a pro-and-con list.
On the one hand you have the rational comparison, on the other hand your emotional state is important as well. Franziska Ritter knows that from her experience in student counselling. "You also have to listen to yourself and ask: Do I have a tendency toward a certain study programme or am I still undecided? It's important to pay attention to your gut. Some people prefer to decide rationally, others emotionally, but especially if two courses of study are a good fit for me, I should listen to my gut feeling. In that last step, sometimes you need support, like a certain line of questioning or methods to structure the information you've gathered and ultimately make the decision."
One thing that is particularly close to Ms. Ritter's heart: "Don't let third parties and your environment influence you too much! Listen to yourself, and lean into your decision. Don't be intimidated by phrases like 'You can't do this' and 'You can't do that.' Prejudices and stereotypes can help influence decisions. But if I'm motivated and have ambition, I can manage a degree that others wouldn't have thought I could."
But what if you want to apply for a restricted-admission degree programme with a numerus clausus (NC) and you don't know for sure whether you'll make it into your dream programme? "Then it's good to have a backup solution, something you're also interested in, so that you definitely have a place to study that also interests you. That's often the case with psychology, because the NC is high here," advises Ritter. At TU Darmstadt, you can apply to up to three NC degree programmes at the same time. But if you're unsure whether you'll get a spot in your desired programme because of the admissions restrictions, that's not the only option. Of course, the Central Student Advisory and Guidance Service (ZSB) will also advise you on alternative admission procedures such as waiting semesters or lottery procedures. Admission-free study programmes can also have similar study content and can therefore be a good alternative and lead to the same or similar occupational fields.
Orientation offers of TU Darmstadt for students
At TU Darmstadt there are various orientation and counselling services for students. A good place to start is the Central Student Advisory and Orientation Service , which will help you with advice and support before and during your studies. Here you can find further offers for students for study orientation:
Decision-making workshop: You don't have a plan yet what you want to study or you just can't decide between two or more courses of study? Then the digital decision workshop is just the thing! It's all about your expectations and priorities.
Self-test with the Online Self-Assessment OSA: For all those who already have an idea or would like to check whether their desired course of study is really a possibility, there is our Online Self-Assessment Tool, or OSA for short. Here you can compare your expectations of the course of study, carry out specialist tasks on key topics and learn about your prior knowledge of the course of study, as well as your personal learning behaviour.
Want to get a taste of university life while still at school? No problem!
On Girls' and Boys' Day, the girls' future day, schoolkids can spend a day visiting the technical, craft and IT areas of TU Darmstadt in particular and gain an insight into their work. Many laboratories and workshops in different departments are open to you and are waiting for curious schoolkids who are interested in STEM subjects! STEM stands for science, technology, engineering, and mathematics.
Student for 1 day: Here you can get in touch with students to gain an even more intensive insight into your studies and everyday life, also online. Through the exchange with students, you will be supported in the transition from school to study and get closer insights into possible study programmes and everything you need to know about studying (study organization, preparation for study, everyday study, financing), in order to prepare you for your studies.
The junior study programme enables particularly gifted high school students to take part in regular courses and examinations at an early stage, currently also online. After consultation, the course selection can be individually arranged. This way, students can gain initial experience that will facilitate their orientation for later studies, and examinations that are passed can even be recognized for later studies. Further information on the requirements for junior studies is available from the ZSB.
Richard enjoyed his diploma studies in chemistry, but: "Becoming a chemist, I realized, didn't suit me after all. I asked myself again what I actually wanted to become. That's when my childhood dream of becoming a teacher came back to me, which is why I decided to switch to a different study programme. Which required me to take the bull by the horns. I had my group of people and got along excellently with my fellow students. It was really difficult to get myself to make the necessary change. Especially because I started looking around for universities and knew: OK, I have to leave Eastern Germany and go to a new city where I don't know anyone. For me, it was the first adventure in my life."
Despite the best preparation, sometimes it just doesn't click and you're not happy with your choice of study. Then the first thing to do is to identify the real problem. The ZSB supports you in this, so that you can find out whether the doubts have professional or private reasons and what solutions there are. Sometimes it happens that you discover a passion for a new subject during your studies. If you have the feeling that your chosen course of study is not the right one after all, or that another course of study would be better suited to you, then a change of direction is not a disaster.
"The best thing to do then is to come to the student advisory service to clarify for yourself: 'Why wasn't this the right study programme?' and reflect on what didn't go so well, and why you didn't like it as much as you thought you would have." That way, you'll be better-prepared for the programme change, confirms Ms. Ritter.
Richard ultimately dared to change from the diploma programme in chemistry to a teaching degree in chemistry and biology: "It was the best decision of my life to change to a teaching degree programme. If I had just continued with my chemistry studies, I would have succeeded it, but I definitely wouldn't have been as satisfied with my life." And he hasn't regretted the switch to Darmstadt either: "TU Darmstadt is a good university and there's a respectful atmosphere. The size is also great: not too small – there are always more than a handful of people in each lecture. And also not too big – you don't have to fear that you don't know anyone. You still have very personal contact with the professors. And even though I couldn't get every course I previously took acknowledged, I didn't start from scratch. I gained a lot of expertise and experience in my former studies, and that's why in some courses at TU, I was able to write the exam even without participating in the practical events."
Finding a place to study and deciding on a study programme is not always easy, after all there are countless options! TU Darmstadt's counselling services will help you find your very own path. Sometimes it's even worth to take a breather and try things out for yourself before you start studying. An internship or voluntary service may provide the clarity you are looking for. And why not take a gander at the wide range of courses offered by TU Darmstadt? Maybe your dream study programme is already there!
Tips for choosing a degree programme - Here's what you should keep in mind
Here are a few tips and concrete questions that you can answer for yourself and that may help you find the right degree:
Take enough time and start preparing early. The earlier you start, the less pressured you will feel.
What do you enjoy? You don't necessarily have to study what you are already particularly good at. You can also acquire specialist knowledge through diligence later. Therefore, it is more important that you are very interested in the subjects, so that you enjoy dealing with the contents of your studies. This is also called intrinsic motivation. Are you ready to move? Unfortunately, some degrees are not available in every city. Therefore, ask yourself if you are willing to move for a degree programme or if you would prefer to study a similar study programme at a certain university. If you like to go abroad: Again, find out about , partner universities, and other dual degree programmes that you can benefit from later. international study opportunities
Think about criteria that are particularly important to you personally. This will help you compare individual study programmes.
And if you find it difficult to make a decision, listen to your gut. There is no guarantee that you will make the "right" decision. However, it is important that it feels right for you.
In compiling this list, we were supported by the expertise and experience of the Central Student Advisory and Orientation Office of TU Darmstadt . If you like to make an additional personal appointment, you can easily do so via the online appointment booking tool of the ZSB.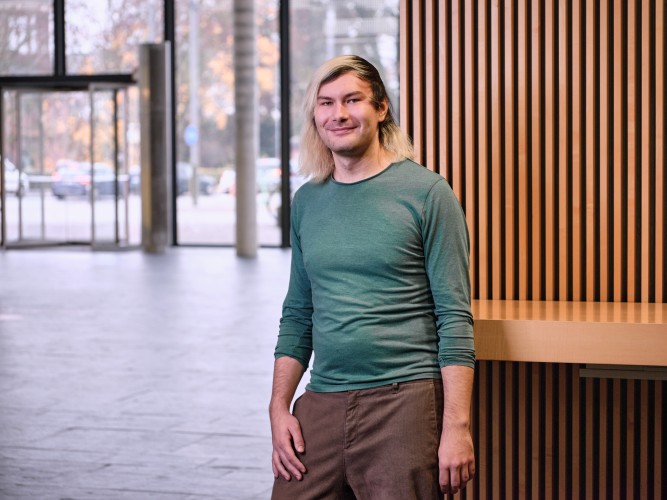 Picture: Stefan Elges
Richard
Hello! My name is Richard and I am studying biology and chemistry to become a teacher at secondary schools. Becoming a teacher is my dream job. By combining my science subjects with sociology, education and psychology, I look at many exciting questions from different perspectives during my studies. I love to support other people in their endeavours.