Published: 15 February 2023
Malley,
IREP Participant 2022
"My summer at TU Darmstadt was one I will never forget. I made life-long friends and learned more about myself in these short 3 months than I ever could at home. I contributed to research behind 3D bio printing which later encouraged me to pursue a master's in biomedical engineering. I am also grateful to have gone outside my comfort zone and participated in this amazing experience!"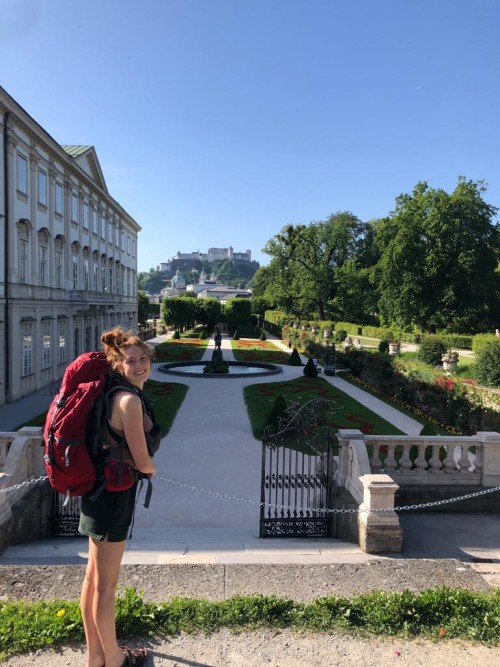 Picture: Privat
IREP
For the International Research Experience Program (IREP), there are many different research projects offered by different teams in a variety of disciplines, ranging from maths and physics, over chemistry or engineering, all the way to philosophy and social sciences. When you apply, you have to pick some projects that you would be interested in, or you can even develop your own research question and ask supervisors if they would be interested in working on it with you. Depending on personal knowledge, interests and skills, the projects can be adjusted to fit you and the supervisors.
Once the research project starts, you will be working in the lab of your group, meet the team members, and get to know how university research in Germany works. About your project , you will write a graded final report, and up to 18 credit points (=9 US credits) can then be transferred back to your home university in North America.
If you want to participate in IREP, but the summer time does not fit you well, you can also look at IREP Spring and IREP Fall. In these terms you can also take a one-month intensive German course.
Who can participate?
Please keep in mind that IREP is only available to students who are coming from a TU Darmstadt partner university in North America.
Billy,
AESG Participant 2022
"The opportunity to study abroad at TU Darmstadt is truly once in a lifetime. On top of receiving education at one of the most prestigious universities in Germany where you'll get to work on state of the art projects, the connections and memories you make on this trip will last a lifetime."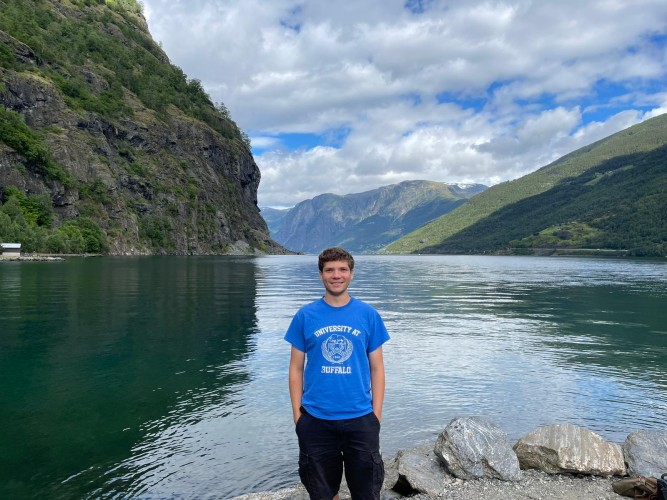 Picture: privat
AESG
Billy goes on: "Outside of the classroom you also learn so much from being in a different country and experiencing another culture first hand. I'd also recommend making friends in the program and hopping on a train with a small group to visit neighbouring countries on the weekends. Although it may seem intimidating to pack up and move to Germany for a couple months, by the end of the summer you'll be asking yourself how was it ever even a debate."
The Automotive Engineering Summer Germany (AESG) is a programme designed for students of engineering disciplines who are interested in motor vehicles. This programme is different from IREP in the sense that each year there is a different group design project, and you will work on it and take courses with German students (everything is in English though, so don't worry!). Apart from the design project there is also a series of lectures on current research topics, so that you can learn more about motor vehicles and get an insight into current research questions. Also, there is the engineering lab, where you can perform experiments and put theoretical knowledge into practice.
You will also prepare a graded final submission for this program, so that you can transfer 12 credits (=6 US credits) back to your home university.
Who can participate?
Please keep in mind that AESG is currently only available to students of the University of Buffalo, the University of of Illinois at Urbana-Champaign and the University of British Columbia.
IREP and AESG: Orientation Week and Travelling
The first day in Darmstadt will be in the middle of May. Most students will be arriving by airplane, except for those who had already spent some days travelling in Europe before the program. You will be picked up at the central train station by one of us from the international team, and we will accompany you to your hotel and help with the check-in. Since everybody will be arriving at different hours, there are no plans for this day, so you can settle in and get some rest. You will receive a little welcome packet containing the plan for the next four days (the orientation week) and general information about the country, city, and campus, as well as some goodies, so that you can feel right at home!
The orientation week consists of different activities, for example campus tours, a city tour, an inter-cultural training, a visit to the museum, and a visit to a production plant or other industrial institution. Also, we will go to Heidelberg, a beautiful old city not far from Darmstadt, to taste German cuisine and learn about the city's history of over 700 years. All participants will be able to get to know each other in this week, and in past years it has opened the opportunity to travel around Europe together on the weekends.
Speaking of travelling, it is actually very easy here! With a very broad railway system and many different bus companies, you can go almost anywhere on your own. Citizens of the United States and of Canada are allowed to be in the Schengen-Area for 90 days, and there are no border controls between Schengen-Countries, thus making travel uncomplicated. Last year, some exchange students even went to Norway for a few days. Apart from the possibilities to travel on your own, there will also be trips planned by us. For example, every year we visit to Munich in June, where we have a program with a city tour, a visit to the museum, tasting German cuisine, and more!
Levin,
Student Assistant at TU
"Since it's my job to help coordinate IREP and AESG, I had the privilege of accompanying and guiding the participants in the orientation week and on the trip to Munich. It was fun to share information, tips and tricks for example on German etiquette, and free-time possibilities. I was happy to visit Munich with so many friendly people whom I got along with great!"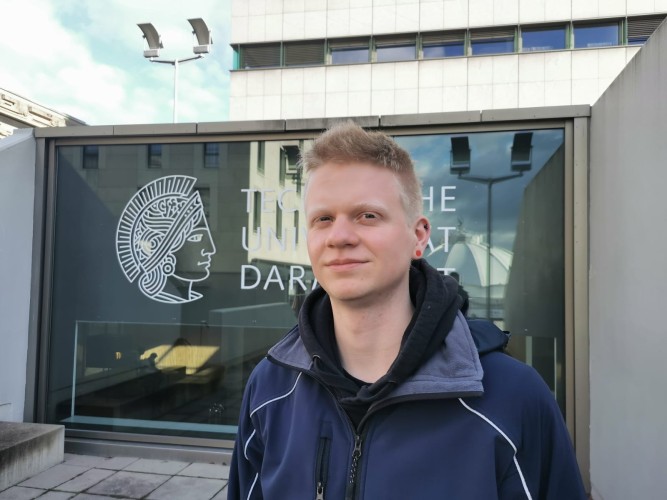 Picture: Privat
Internships and courses
After the orientation week your exchange program will start with your respective supervisors and last 10-12 weeks, so well into July or even until August. This is the part where you will do research and write a final report in order to get credits that can be transferred to your home institution.
ISU
I also want to mention the International Summer University – German Engineering and Language, which is a little different than IREP and AESG. This program has a virtual preparation period in the first half of June, and then you will be on site in Germany for a month. ISU Participants will take German language courses in different levels, and cross-cultural competencies training for engineers. You will also participate in the trip to Munich with the IREP and AESG students, you will visit Heidelberg and other cities, and there will be many more orientation, social, and cultural programmes.
During the ISU you will visit courses and workshops on electrical or mechanical engineering in English, and there will be excursions to German companies, in order to get insights into these branches. In the past there have been excursions to companies such as Merck KGaA, Continental AG and Mercedes-Benz. Visits of the European Space Agency (ESA) and EUMETSAT are also part of the programme.
There will be graded final exams for the engineering, German language courses and cross-cultural competencies training, after which you can transfer 12 credits (=6 US credits) to your home institution.
I want to share Michaels comment with you: "Hi everyone, I'm Michael and I'm a Mechanical Engineering and Design student from National University of Singapore. I decided to join TU Darmstadt Summer Programme because it offers both Engineering and German Language Courses, and it is the first time international on-site sessions being available ever since Covid outbreak. The Mechatronics Engineering class was very interesting and useful. I actually utilised some of the knowledges I gained in TUDa even after I came back to NUS. Besides academic contents, during our time in Germany, we also had a chance to travel to various cities. We have visited classical attraction sites, such as the old city of Heidelberg and Munich, as well as engineering and technology-focused places, such as the European Space Agency and the Mercedes Factory. travelling around Germany allowed me to expose to the unique culture and innovative environment. It was indeed a memorable experience. I do recommend joining this session if you are interested in Engineering. Kommen Sie bitte nach Darmstadt, denn wir sind Ingenieure!"
Michael,
ISU Participant 2022
"As for the Intensive German Course, as the name suggests, the workload will be intense, but you will be surprised by how much progress you can make. The instructors are very friendly and helpful, and you can make huge improvements under the learning environment of TUDa."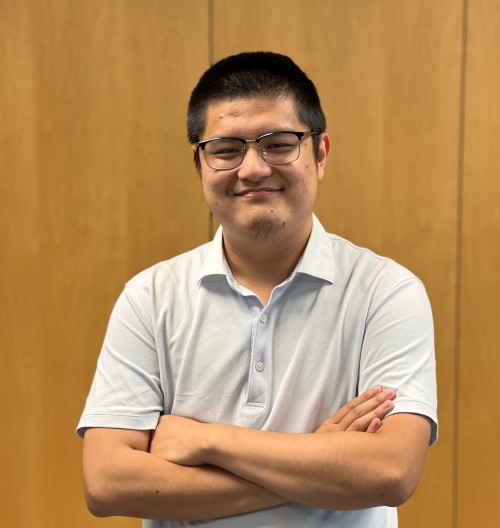 Picture: Sandra Ristić
Who can participate?
The ISU is available to any student that is enrolled in any university worldwide who has profound interest in engineering topics.
Follow ISU on instagram
Application process and participation fee
Since it can be confusing what needs to be handed in where at what time, I will provide a short overview of the application processes.
For IREP and AESG, you first need to apply with the international office of your home university (after checking that you are enrolled in an eligible university).
Once you have received the confirmation from your university, that it has nominated you to TU Darmstadt, you can proceed to apply with us via our online form.
We will check your eligibility, and after the application deadline we will forward the information to the respective supervisors.
When we get a confirmation from their side, that they will accept you into the project, you will receive a confirmation.
The next steps will be for you to transfer the participation fee, apply for a visa (if necessary), book your flights, and register for health insurance. I know this may sound like a lot, but we will assist you and let you know everything that is important!
For ISU, the process is the same as described above when you are enrolled in a partner university of TU Darmstadt.
If you are not, however, you should reach out to us and inform us about your university and course of study.
The participation fees cover your accommodation, health insurance and university enrollment as well as a semester ticket and the excursions to Heidelberg and Munich. The respective fees for each programme can be found on the respective website of each short-term programme.
In any case, if you have any questions during the application process, the organisation of the trip, or during the programmes, you can feel free to reach out to us, and we will be happy to assist you!
Contact
The Team "Overseas" within TU Darmstadt's Directorate "International Relations" is organising the short-term programmes IREP and AESG as well as the International Summer University.
If your questions are not answered by reading carefully the detailed websites, then just send an e-mail to: irep@zv.tu-… or summer@zv.tu-….
Photo gallery: Impressions of Darmstadt
When you start googling Darmstadt, most probably the first thing your search engine will show you will be Mathildenhöhe – a UNESCO World Heritage Site.

As a second your search engine might return Waldspirale designed by Austrian artist F. Hundertwasser.

Arriving in Darmstadt with train or bus, the first thing you see is the train station – build, like many other buildings in Darmstadt, in Art Nouveau style.

A true gem in the middle of the city: a moated castle right back from the middle ages. The Palace belongs to TU Darmstadt, hosting one of the departments and TU administration.

The Palace has a museum, and occasionally hosts expositions and festivals. Also, the student union AStA runs a cafe and a club there.

Just in front of the Palace located is the old City Hall – a wonderful example of Baroque architecture.

The Downtown pedestrian area of Darmstadt is always full of life. The main shopping area of the city and a place for various festivals and markets all around the year.

Darmstadt State Theatre is one of the favoured spots of the city. The theatre offers plays and concerts, as well as opera and ballet. The square in front of the theatre is also a known place for gatherings.

The Hessisches Landesmuseum of Darmstadt hosts a multidisciplinary collection, from mammoth relics and Egyptian artefacts to mineral collections and art nouveau.

The congress centre "Darmstadtium" is named after the chemical element discovered in the city. Various international scientific conferences take place in the centre.

Karo 5 is the main building of TU Darmstadt which is the welcome centre for most enquiries.

The Logo of the university is Athena – the ancient greek goddess of crafts and science.

The old main building of TU Darmstadt back from times when TU was still called Technische Hochschule Darmstadt.

Campus city centre of TU Darmstadt in spring time.

The University and State Library of Darmstadt on Campus Stadtmitte (city centre).

Herrngarten – just next to the city centre campus, always full of students.

As well as Prinz Georg Garten – for a brief respite between lectures.

Martinsviertel – a bohemian and artistic district of Darmstadt, where many students live.

Another green spot of green Darmstadt – beautiful Orangerie.

Some parts of the city do not look like a city at all. Green fields and gardens, like the Oberfeld.
Previous
Next
Go to picture 1

Go to picture 2

Go to picture 3

Go to picture 4

Go to picture 5

Go to picture 6

Go to picture 7

Go to picture 8

Go to picture 9

Go to picture 10

Go to picture 11

Go to picture 12

Go to picture 13

Go to picture 14

Go to picture 15

Go to picture 16

Go to picture 17

Go to picture 18

Go to picture 19

Go to picture 20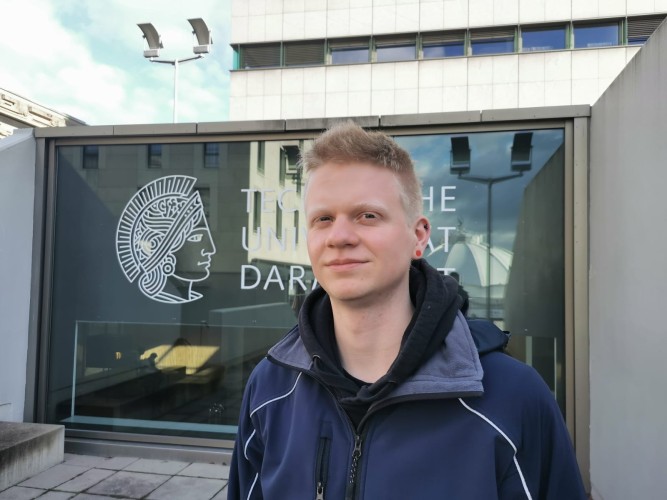 Picture: Privat
Levin
Heya, my name is Levin and I'm studying Cognitive Science. In this programme, I have gained a broad overview over different subjects, especially Computer Science, and because of this I have much freedom regarding what subject I want to focus on in the future. At the moment, I am most interested in philosophy, but programming AI or reading new papers in English is also exciting!