Published: 30th April 2021
Sooyeong,
Data and Discourse Studies M.A.
I've always felt that the university makes a lot of effort to create pleasant study conditions and provide a sense of security.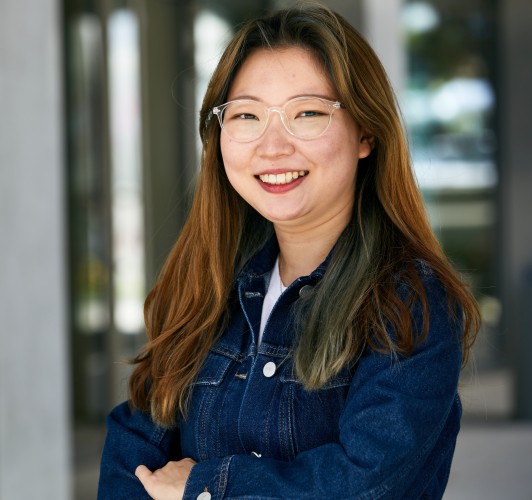 Picture: Britta Hüning
Welcome to the new digital semester
Hello everyone and thank you for taking the time to answer a few questions. Of course, in concert with the theme, the interview will take place digitally. You already have a lot of experience with that, don't you? How did you experience studying digitally at TU Darmstadt last year?
Julia: All in all, very well. But of course, it depends on the professors whether you feel prepared adequately. Some of them offered a lot of tutorials, which made it easy to make new contacts or get experience from more advanced students. I study industrial engineering with a focus on mechanical engineering, which is a very broad degree programme. Especially in the first semester, it was good to see or hear familiar people from time to time.
Aravind: The start of the digital winter semester really was a valuable experience. I started my studies in India and came to Darmstadt later in the semester. So far, I was only used to classical learning, so of course I was excited. The Kick-Off Days from the International Student Services (ISS) and the digital orientation week from my department helped me a lot with my first steps at TU Darmstadt and gave me a smooth start. I never thought that I would also get to know the other students so well through digital means. I especially appreciate the efforts of the ISS. I was always able to easily set up a video meeting through the online counter when I needed help.
Masha: When I found out that everything was going to be completely digital, I was a little disappointed at first and also a little scared. Disappointed, because studying in Germany was my big dream and of course I wanted to experience everything that studying abroad entails. Digital studies simply can't offer all that. But the fear is gone after one semester. The last year has had a great impact on all of us, us students as well as the teachers, and I have often experienced a feeling of mutual support and understanding.
Moiz: The transition went smoother than I expected. The university has played a very big role in this. From the delivery of lectures over labs to exams, faculty and staff at all levels were extremely helpful and considerate. However, I would recommend other international students to start the digital semester in their home countries if possible, this way you can focus more on your studies.
Ons: I also think it's good to be in a familiar place to increase motivation. I'm in my third semester, which means I've already lived the university life for one semester. The transition into the digital semester has honestly been pretty tough for me. I was in a phase where I was still exploring my studies and the university itself, then everything changed again all of a sudden and I had to deal with it, just like everyone else. At the beginning I was a bit lost, but after a while I got used to it and also got the help I needed. I feel much more comfortable with online study now. The info page on E-learning at TU Darmstadt, for example, helped me a lot.
Sooyeong: I personally prefer on-site study for international students despite everything, the feeling of studying abroad is also quite different despite the restrictions. And I was especially grateful that some professors hold their office hours online. So, I could still talk to them and receive advice. I was also impressed that TU Darmstadt is trying to offer so many options to make studying manageable even in this chaos. For example, in one of my courses we were able to postpone the exam to the summer semester if we wanted to. I always had the feeling that the university makes a lot of effort to create pleasant study conditions and to convey a feeling of security.
That sounds very positive in general! In your opinion, what worked particularly well?
Julia: We have a Discord server where the practice sessions (at least in math) take place. There was almost always someone available to talk to about the assignments, both fellow students and tutors. I also see the freedom to study anywhere as a clear advantage. It simply makes you more flexible. When lectures are uploaded, there is also the flexibility in terms of time.
Aravind: Yes, so much flexibility is great. With online lectures, I could study from anywhere and devise my own schedule. I could attend classes from the comfort of my own home without having to worry too much about getting to the university. Since I was still at home in India at first, I was able to coordinate my German lessons in my home country perfectly with the lectures at the TU Darmstadt.
Moiz: Yes, the biggest advantage is the flexibility of being able to study from anywhere. So, in the summer semester of 2021, I was able to decide whether to attend the lectures from my home country, Pakistan.
Masha: I was actually surprised that I was able to concentrate much better during the digital classes than I had expected.
Ons: Yes, I found that too. For me, the online classes also helped me keep a regular schedule and practice good time management. I have felt very productive. Being able to study from anywhere is super beneficial. For example, I'm with my family in Tunisia right now.
Sooyeong: During the digital semester, not only did the classes take place online, but also the group work. Since we worked in a digital meeting room, we were able to have discussions more often without time and place constraints. Since I didn't have to physically be in the lecture room or change rooms on campus, I was able to be more flexible in planning my schedule and also had more choices.
Internationalization@Home: The virtual International Summer University makes it possible!
Six weeks together with other young people from all over the world to get to know the latest in engineering, learn German, and experience and understand German culture. Sounds good? Then you should take a look at the International Summer University!
In the English-language engineering courses and workshops, you will learn about mechanical or electrical engineering in theory and practice. In addition, the German companies Continental AG and Merck KGaA present themselves in virtual excursions and share their knowledge and work.
You will learn German together to make your daily life easier and to support you with a focus on STEM-related content and academic work, especially in the working world or in your studies. In addition, you will receive a crash course in intercultural competence so that you can easily find your way in a diversified working world. Perfect to prepare you for a stay abroad at university or an internship in Germany!
You can also earn valuable credit points for your studies. Up to 12 ECTS (or 6 US/Canadian credit points) can be added to your transcript.
You can find more information on the website of the International Summer University. There you will also find all details about the requirements and deadlines. Maybe you are also interested in other short-term programmes for international students of the TU Darmstadt.
Moiz,
Materials Science M.Sc.
The biggest advantage is the flexibility of being able to study everywhere. In the summer semester of 2021, I was able to attend classes from my home country.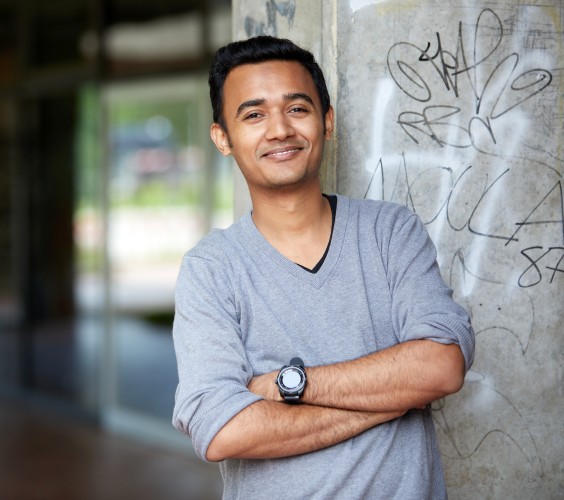 Picture: Britta Hüning
Are there any other benefits of studying digitally?
Ons: Whether you're more of a fast learner or a slow learner, you can set your own pace, because you can rewatch the lecture as many times as you need to without any pressure.
Aravind: True, a big advantage of digital learning is that a lot of the courses have been recorded. So, if I missed something or didn't quite understand a particular topic, I could watch the course again. I was also able to take breaks when I felt I couldn't concentrate any more – a luxury you don't have with face-to-face lectures!
Masha: Wearing pajamas all day! But all kidding aside, it's really nice that the corporate license for Zoom is made available to us and that we have access to many books from the library via the VPN connection. I also know that the library is working on making even more material available digitally soon. I also like that the online communication is really fast. I always get answers from the university within a day.
Were there things that didn't go so well and where you currently see potential for improvement?
Masha: I would say that the orientation week could have been organized a little differently. My experience was that many people were too shy to ask questions online. Especially with so many people listening. I think it's especially important that right at the beginning of the programme everyone has a convenient and appropriate way to ask questions and have them answered.
Julia: I believe it would be beneficial if you could get information about what is live and what will be made available as a recording before the semester starts. Since the lectures sometimes overlap, you have to choose them at your own risk. Personally, I also found it a pity that there was no option for the freshmen to have a small city tour or similar events. Doing everything digitally is very exhausting in the long run.
Moiz: Yes, of course, studying online has its pitfalls. I study materials science and would have preferred to do the lab units at the university. The lab is simply an important part of my studies. A hybrid semester would have been perfect for me, i.e., all lectures online and all lab practical offline. Unfortunately, that wasn't available at my department. But of course, the university and the departments always have to weigh things up and observe the regulations. In chemistry, for example, there were lab exercises in person.
Sooyeong: In my case, there were last-minute changes and a wide range of rules within different courses. Of course, this is completely understandable given the rapidly changing situation. But based on previous experiences with the situation and the digital semester, it would have been helpful to provide changes earlier so students would know what to expect.
Ons: Sometimes I really lacked motivation and didn't feel like studying. In order to not waste the whole day, I worked hard on this. I incorporate more positive activities into my daily routine so that I feel better and more productive at the end of the day. A short walk is usually enough to clear my head and recharge my batteries.
Aravind,
Logistik und Supply Chain Management M.Sc.
I never thought I would get to know the other students so well through digital means. I especially appreciate the efforts of the International Student Services. I was always able to easily set up a video meeting through the online counter when I needed help.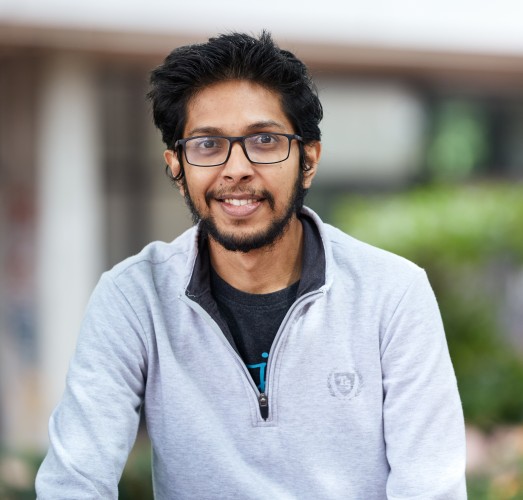 Picture: Britta Hüning
Digital studying: a challenge at first, now part of everyday life
How were your studies organized during the digital semester? What was the exact organization?
Aravind: Everything was really online for my studies. Because of the online lectures, I was able to stay at home in India until shortly before the exams, for which I then had to be present, and only came to Darmstadt at the end of the semester.
Masha: Everything was online for me too, except for one exam. The other exams were designed so that we could take them from home. The lectures were live for the most part. But some of the lectures were also pre-recorded and then we were able to discuss and ask questions on Zoom.
Moiz: Yes, exactly. All of my modules were online, that included the lab practical as well. One week's lectures were all made available at once as videos and then a live Q&A session was organized the following week. But some departments also had face-to-face lectures. In chemistry they have a large practical component, and in some cases, they were able to do their lab practical on site in smaller groups and with special precautions.
Maybe back to the exams again: Some of them were digital, others on site. How did that work out specifically?
Aravind: I took all the exams on site, so there were no big changes there. Of course, hygiene and distance were taken very seriously, so TU Darmstadt was able to comply with all safety regulations.
Julia: My exams all took place in presence, except for one, which was digitized about a week before. We actually had the opportunity to decide whether we preferred digital or face-to-face.
Masha: For me, most of the exams took place online or were converted into homework. My programme is very international, and many were still abroad because they couldn't enter Germany due to the restrictions. So, it was a good compromise to conduct the exams this way. However, a few exams also took place on site. That certainly has its advantages, at least you don't have to worry about the stability of the internet connection, and it was also a really good feeling to be at the university. On the other hand, for those who were stuck abroad, an alternative form of examination was not always possible. That did cause some frustration, which I can definitely relate to.
Moiz: My exams were conducted online. However, there were some last-minute changes that caused confusion. Some exams that were supposed to be on campus were switched to the digital open-book format – so we were allowed to use all transcripts and lecture slides! Sounds great at first, but it caused a lot of stress because we had to completely change our exam preparation strategy at the last moment.
Forms of examination in digital studies
The restrictions we are currently experiencing are a push to introduce alternative forms of exams. For example, some exams have been transformed into either oral online exams or essays. But formats such as open-book exams also took place for the first time in some modules.
In addition, the strict withdrawal deadlines were suspended, and students were able to withdraw unbureaucratically until the exam was issued. Only a no-show was counted as failing the course. Also, for the summer semester 2020 and the winter semester 20/21, failed third party exams were not counted. This at least takes some of the pressure out of studying.
Masha,
Data and Discourse Studies M.A.
I was a little disappointed and scared, when I found out that everything was going to be digital. I was disappointed because studying in Germany was my big dream and I wanted to experience everything studying abroad was about. Digital studies just can't offer all that.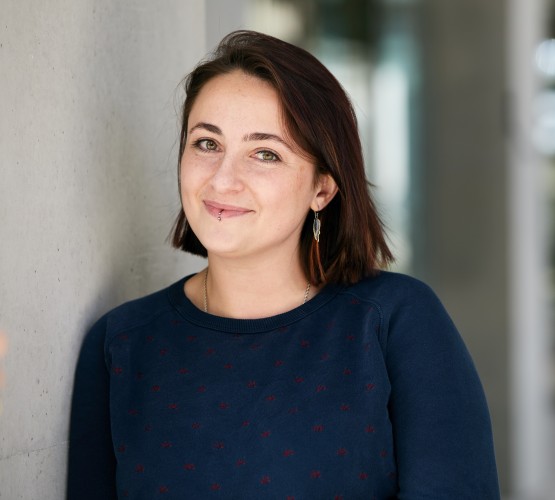 Picture: Britta Hüning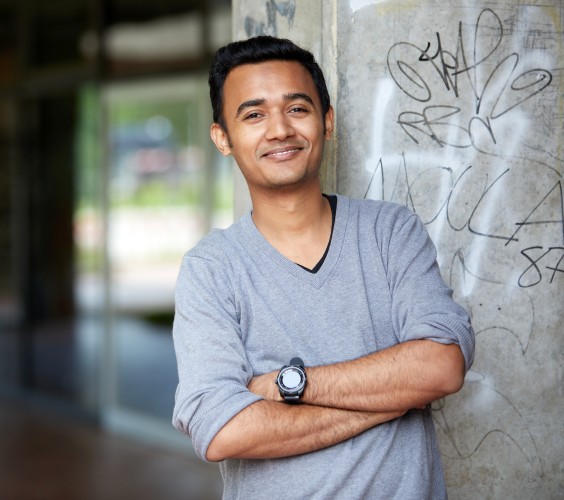 Picture: Britta Hüning
Moiz
Hey, human! I'm Moiz and I hail from Karachi, Pakistan. I study Materials Science. I had always had a dream of studying and living abroad, mainly because of my previous travels to several countries around the world for the game of Scrabble. Out of all, I chose TU Darmstadt because of its research profile and rankings. So, either you are already living your dream of studying abroad or about to live it, I hope that I can help you in your journey with my experiences.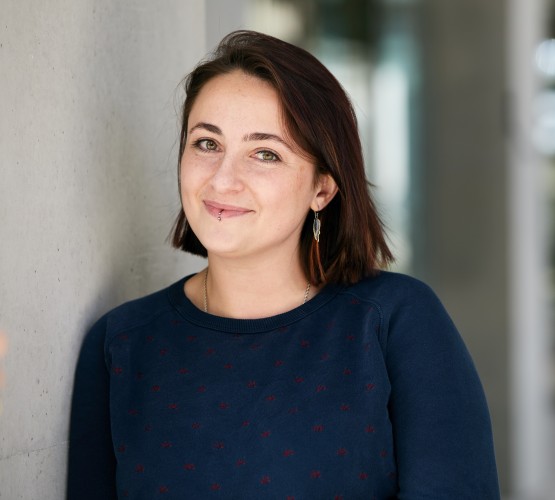 Picture: Britta Hüning
Masha
Hey! My name is Masha and I'm doing my master's in Data and Discourse Studies. It always takes long to explain what exactly I am studying. My program is a kaleidoscope of disciplines and methods, which are weirdly and fruitfully intertwined together. For me it is a fusion of hobby and profession: languages, history, programming, philosophy! I love it how we mix approaches trying to gain this voluminous image of our world.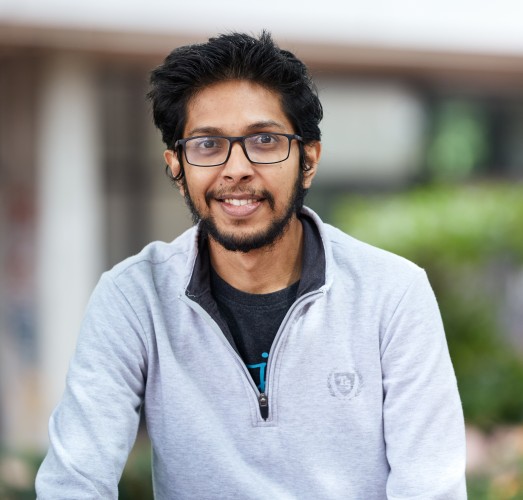 Picture: Britta Hüning
Aravind
Hey, I'm Aravind, and I am studying Logistics and Supply Chain Management at TU Darmstadt. Why I came all the way from India to study here? TU Darmstadt's excellent global reputation in being one of the top ranked universities in Germany and within Europe attracted me, above all. The Master programme at TU is a perfect choice for my interests. I am excited that in this programme I will get a unique opportunity to involve in the ongoing research projects in Logistics and also gain practical experience.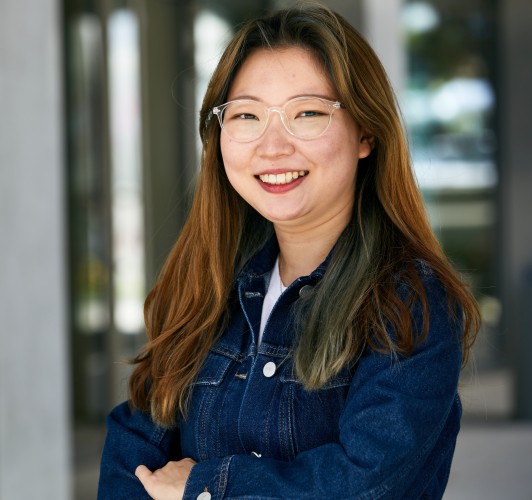 Picture: Britta Hüning
Sooyeong
Hey, I'm Sooyeong from South Korea and doing my Masters in Data and Discourse Studies at TU Darmstadt. I moved to Germany as a piece of my journey to live in my favorite countries and it's been a few years. Here, you will find out why I decided to stay and choose TU Darmstadt, and also how I enjoy my days in this city. Maybe we'll get to know each other soon!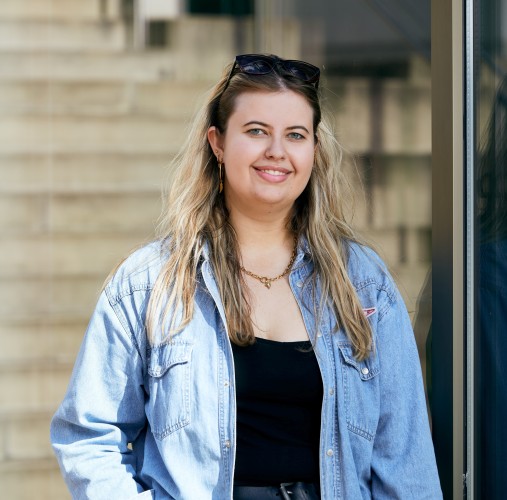 Picture: Britta Hüning
Julia
Hi, I'm Julia and I have been studying Industrial Engineering, specialising in Mechanical Engineering. I am one of the first students who started their studies digitally. It was different from what I imagined, but considering the circumstances, I liked it. There were many online activities to meet new people, which went very well.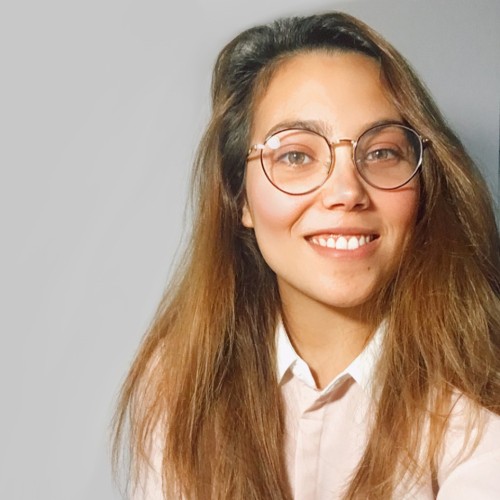 Picture: Britta Hüning
Ons
Salut! My name is Ons and I am currently studying mechatronics at TU Darmstadt. I come from Tunisia. I decided to study at TU Darmstadt because I can study mechatronics here, which combines my passion for mechanics and electrical engineering with my interest in computer science.