Published: 30th April 2021
Sooyeong,
Data and Discourse Studies M.A.
I've always felt that the university makes a lot of effort to create pleasant study conditions and provide a sense of security.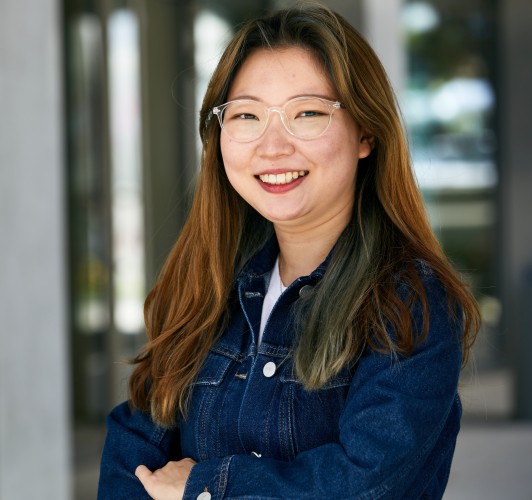 Welcome to the new digital semester
Hello everyone and thank you for taking the time to answer a few questions. Of course, in concert with the theme, the interview will take place digitally. You already have a lot of experience with that, don't you? How did you experience studying digitally at TU Darmstadt last year?
Julia: All in all, very well. But of course, it depends on the professors whether you feel prepared adequately. Some of them offered a lot of tutorials, which made it easy to make new contacts or get experience from more advanced students. I study industrial engineering with a focus on mechanical engineering, which is a very broad degree programme. Especially in the first semester, it was good to see or hear familiar people from time to time.
Aravind: The start of the digital winter semester really was a valuable experience. I started my studies in India and came to Darmstadt later in the semester. So far, I was only used to classical learning, so of course I was excited. The Kick-Off Days from the International Student Services (ISS) and the digital orientation week from my department helped me a lot with my first steps at TU Darmstadt and gave me a smooth start. I never thought that I would also get to know the other students so well through digital means. I especially appreciate the efforts of the ISS. I was always able to easily set up a video meeting through the online counter when I needed help.
Masha: When I found out that everything was going to be completely digital, I was a little disappointed at first and also a little scared. Disappointed, because studying in Germany was my big dream and of course I wanted to experience everything that studying abroad entails. Digital studies simply can't offer all that. But the fear is gone after one semester. The last year has had a great impact on all of us, us students as well as the teachers, and I have often experienced a feeling of mutual support and understanding.
Moiz: The transition went smoother than I expected. The university has played a very big role in this. From the delivery of lectures over labs to exams, faculty and staff at all levels were extremely helpful and considerate. However, I would recommend other international students to start the digital semester in their home countries if possible, this way you can focus more on your studies.
Ons: I also think it's good to be in a familiar place to increase motivation. I'm in my third semester, which means I've already lived the university life for one semester. The transition into the digital semester has honestly been pretty tough for me. I was in a phase where I was still exploring my studies and the university itself, then everything changed again all of a sudden and I had to deal with it, just like everyone else. At the beginning I was a bit lost, but after a while I got used to it and also got the help I needed. I feel much more comfortable with online study now. The info page on E-learning at TU Darmstadt, for example, helped me a lot.
Sooyeong: I personally prefer on-site study for international students despite everything, the feeling of studying abroad is also quite different despite the restrictions. And I was especially grateful that some professors hold their office hours online. So, I could still talk to them and receive advice. I was also impressed that TU Darmstadt is trying to offer so many options to make studying manageable even in this chaos. For example, in one of my courses we were able to postpone the exam to the summer semester if we wanted to. I always had the feeling that the university makes a lot of effort to create pleasant study conditions and to convey a feeling of security.
That sounds very positive in general! In your opinion, what worked particularly well?
Julia: We have a Discord server where the practice sessions (at least in math) take place. There was almost always someone available to talk to about the assignments, both fellow students and tutors. I also see the freedom to study anywhere as a clear advantage. It simply makes you more flexible. When lectures are uploaded, there is also the flexibility in terms of time.
Aravind: Yes, so much flexibility is great. With online lectures, I could study from anywhere and devise my own schedule. I could attend classes from the comfort of my own home without having to worry too much about getting to the university. Since I was still at home in India at first, I was able to coordinate my German lessons in my home country perfectly with the lectures at the TU Darmstadt.
Moiz: Yes, the biggest advantage is the flexibility of being able to study from anywhere. So, in the summer semester of 2021, I was able to decide whether to attend the lectures from my home country, Pakistan.
Masha: I was actually surprised that I was able to concentrate much better during the digital classes than I had expected.
Ons: Yes, I found that too. For me, the online classes also helped me keep a regular schedule and practice good time management. I have felt very productive. Being able to study from anywhere is super beneficial. For example, I'm with my family in Tunisia right now.
Sooyeong: During the digital semester, not only did the classes take place online, but also the group work. Since we worked in a digital meeting room, we were able to have discussions more often without time and place constraints. Since I didn't have to physically be in the lecture room or change rooms on campus, I was able to be more flexible in planning my schedule and also had more choices.
Internationalization@Home: The virtual International Summer University makes it possible!
Six weeks together with other young people from all over the world to get to know the latest in engineering, learn German, and experience and understand German culture. Sounds good? Then you should take a look at the International Summer University!
In the English-language engineering courses and workshops, you will learn about mechanical or electrical engineering in theory and practice. In addition, the German companies Continental AG and Merck KGaA present themselves in virtual excursions and share their knowledge and work.
You will learn German together to make your daily life easier and to support you with a focus on STEM-related content and academic work, especially in the working world or in your studies. In addition, you will receive a crash course in intercultural competence so that you can easily find your way in a diversified working world. Perfect to prepare you for a stay abroad at university or an internship in Germany!
You can also earn valuable credit points for your studies. Up to 12 ECTS (or 6 US/Canadian credit points) can be added to your transcript.
You can find more information on the website of the International Summer University. There you will also find all details about the requirements and deadlines. Maybe you are also interested in other short-term programmes for international students of the TU Darmstadt.