Professor Dr. Tanja Brühl,
President of TU Darmstadt
Sustainability to me is to take responsibility for every future generation. Everyone can contribute - whether in their private lives, in their studies or in a professional context. As TU Darmstadt, we also take responsibility for a sustainable future.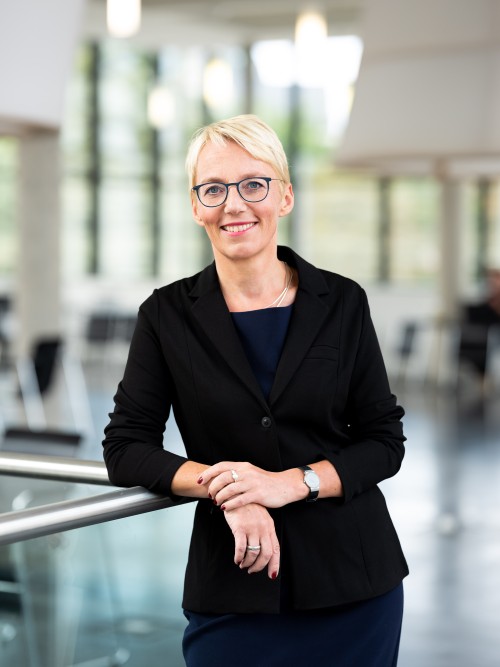 Picture: Katrin Binner
Sustainable study programmes at the TU Darmstadt
At TU Darmstadt, more than 30 study programmes deal with the aspect of "sustainability" from different perspectives. The study programme "Mechanical Engineering – Sustainable Engineering" places a special focus on it: renewable resources, tomorrow's water distribution systems and mobility, or tidal power are central research topics at the department. "Environmental Engineering" focuses on technical solutions for environmental protection and environmental planning. Resources and the energy supply of tomorrow, such as solar and fuel cells are one of the main topics of "Materials Science", for example. Sustainable approaches also play an important role in chemistry: the use of renewable energies, bioplastics and the principles of green chemistry help to conserve resources and contribute to environmental relief.
However, there are still more perspectives on the topic of sustainability: Law and economics, for example, deal with the sharing economy and the optimisation of supply chains, while History and Social Sciences deal historically with environmental history or urban research. In Civil Engineering and Architecture, sustainable energy cycles and resource-conserving materials in construction are taken into account.
Concerning a Master's degree, there are even more opportunities to focus explicitly on the topic of sustainability, for example in the interdisciplinary degree programme "Energy Science and Engineering", in the degree programme "Traffic and Transport" or "Paper Science and Technology – Paper Technology and Bio-based Fibre Materials". Some Master's programmes in the field of sustainability even have an international profile, such as the joint-degree Master's programme "Sustainable Urban Development" or the English-taught Master's programme "Tropical Hydrogeology and Environmental Engineering" (TropHEE).
Sustainability Compass of TU Darmstadt
The Sustainability Compass gives an overview over all sustainable activities at TU Darmstadt. The digital, constantly growing sustainability report offers a platform on which all interested parties can inform themselves about sustainable activities at the TU. The Sustainability Compass is divided into the four fields of action Science, Operations, Governance and Social with a total of 22 areas. The different areas can thus inspire, network and exchange information with each other in order to jointly make the entire campus and social interaction more sustainable.
Interdisciplinary offers on the topic of sustainability
There are even more options to approach the topic sustainability at TU Darmstadt from a scientific perspective outside of one's own degree programme. The project "Sustainability in Teaching" bundles all courses with thematic sustainability relevance – from the seminar "Dealing with the Climate Crisis: Adaptation Policies in Comparison" (History and Social), to the lecture "Sustainable Industrial Chemistry" (Chemistry) or the lecture series "News from Environmental Technology" (Civil and Environmental Engineering). Some of the courses are also part of the interdisciplinary study focus (iSP) certificate programme.
The Office for Sustainability connects all offers and activities in the area of sustainability at TU Darmstadt. The Office is run jointly by staff and students.
University Group Sustainability
The university group Sustainability shows that the topic sustainability also plays a major role in everyday student life. Darmstadt students committed themselves voluntarily to raise awareness in the area of sustainability and organise various projects such as a film circle, lectures and excursions. A special highlight: the urban gardening project "Grünpause". Radishes, kale, various berries and herbs thrive in the raised beds at the Lichtwiese.
Interdisciplinary research using iron as an energy source as an example
The project Clean Circles teams up scientists from multiple disciplines to explore how iron and its oxides can be used in a cycle as carbon-free chemical energy carrier to store wind and solar power. Watch the video to see what role Social Science plays in this.
More info here
Recommended external content
We have selected external content from YouTube for you and would like to show it to you right here. To do this, you must reveal it with one click. You can hide the external content at any time with another click.
I agree to external content from YouTube being shown to me. This may result in personal data being transmitted to third-party platforms. You can find more information in our Privacy Policy.
Sustainable student life
The studentsofTUdarmstadt have thought about what sustainability means to them and have collected tips on how to live more sustainably in everyday student life.
Mia,
Business Administration/Industrial Engineering – specialising in Civil Engineering B.Sc.
I always try to be as sustainable as possible. I feel like it is not a decision though, it is a process.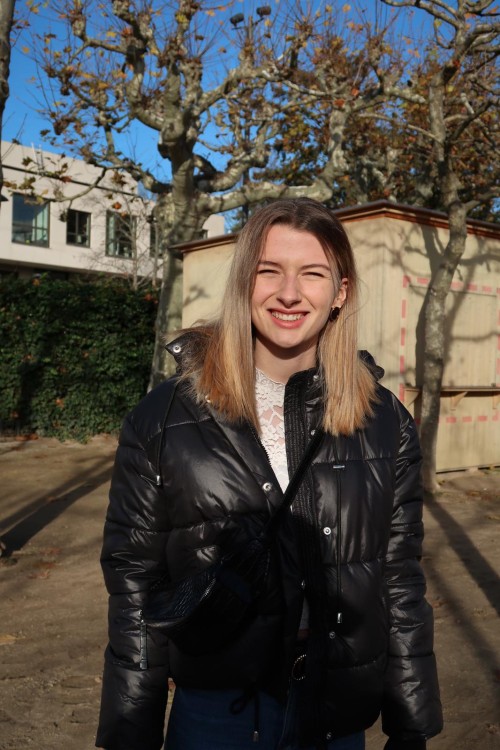 Picture: Marie Brandt
Start small
"I catch myself thinking: "Oh Mia, you could have done this in a more sustainable way!" But that is okay. It is something that needs to settle deep in our head and mind.
I try to reduce plastic bags when I go shopping for groceries or clothing. Also, I try to get some clothing second hand. Moreover, I do not buy plastic bottles anymore; I got a glass bottle that I am using every day."
Moiz,
Materials Science M.Sc.
The concept of sustainability just struck me when I once read somewhere "It is just one piece of plastic, said 7 billion people".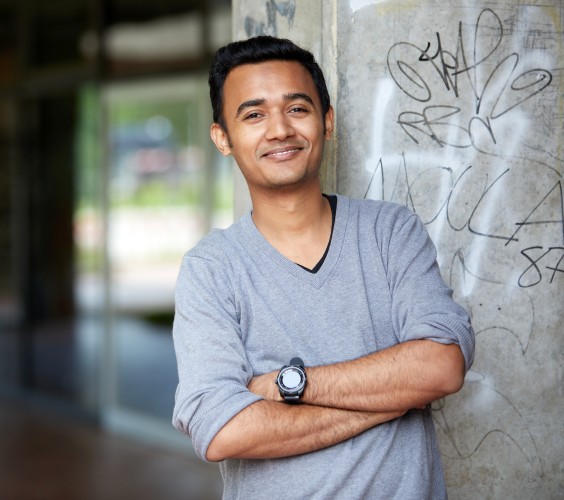 Picture: Britta Hüning
It's the masses that matter
"Since then, I am trying my best to limit the plastic usage in my everyday life, specifically, the single-use plastics or disposable plastics. For example, one of the things that I usually do, is carrying a water bottle with me whenever I'm outdoors, in order to avoid buying one every time and then throwing it away afterwards. I think that this one small step by me won't have a huge impact overall, but it certainly can have, if we multiply that by 7 billion."
Julia,
Business Administration/Industrial Engineering – specialising in Mechanical Engineering B.Sc.
I pay attention to buy cosmetics that contain no plastic.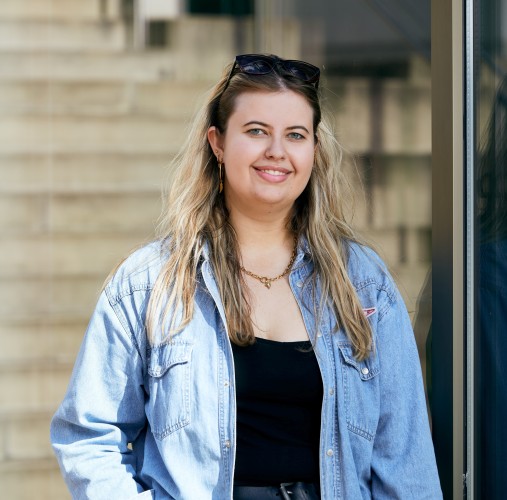 Picture: Britta Hüning
No micro plastic
"Today in particular there are so many alternatives with equally good products. In order to understand what all the ingredients mean while shopping, I use an app. The barcode is scanned in, the list appears with all the questionable and non-questionable substances and a layperson can better understand what is inside. By consuming more consciously, I also appreciate the things a lot more and over time I also get a feeling which brands do not pay attention and then I avoid them."
Nicole,
Philosophy and German Studies J.B.A.
No more Coffee To Go and no bananas welded in foil anymore.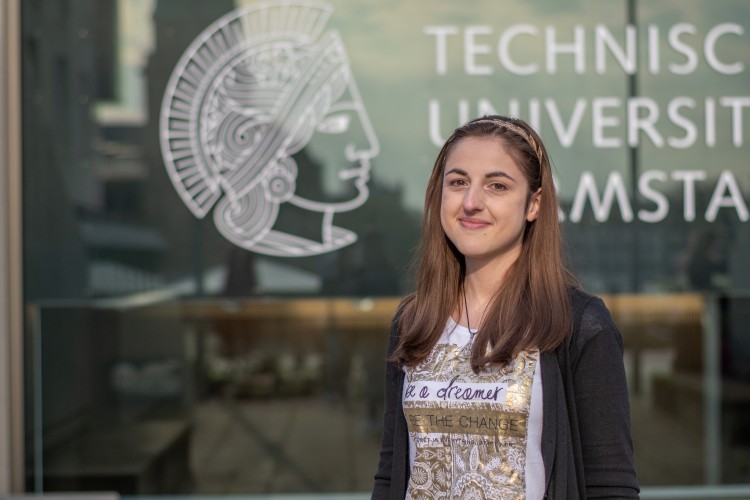 Picture: Juan Aleman
Unpacked
"Why does the human race pack everything twice and three times? Ever since I discovered a bunch of bananas in the supermarket that was stuck in a plastic bag, I have wondered how crazy humanity has become. Why do they package a fruit that by nature already has its own packaging? I want more unpackaged shops in cities and small towns! Humankind needs sustainable packaging options if they are so obsessed with packing and do not want the Disney film Wall-E to become reality in the distant future. We need either resources that are degradable or reusable at any time."
Polina,
Linguistic and Literary Computing M.A.
Care and make-up products are definitely a source of plastic. A few years ago, I discovered solid shampoo bars for myself by accident.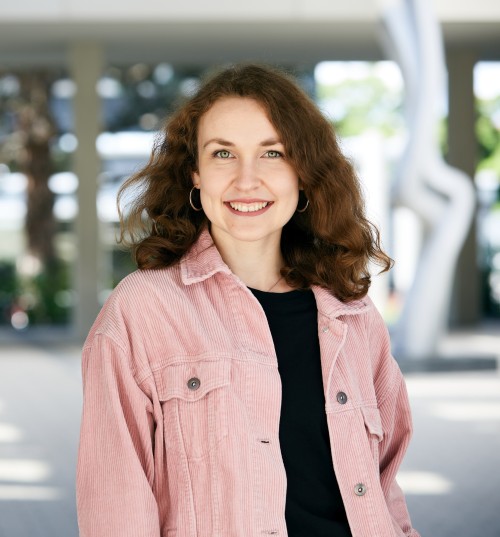 Picture: Britta Hüning
Sustainable care products
"At first, I was sceptical, but I tried them anyway and was thrilled. It turns out that they are not only insanely convenient to take with you when you travel, but they last for a long time, do not contain micro plastics, and are much more environmentally friendly compared to shampoos in plastic packaging. I was so inspired by this discovery that I started looking for alternatives to my other regular skincare products. So, I pretty much revamped my skin care routine and switched to solid shower gels, body lotion, coconut oil and washable pads for makeup removal. It took me a while to find my products, but the trial-and-error phase was definitely worth it."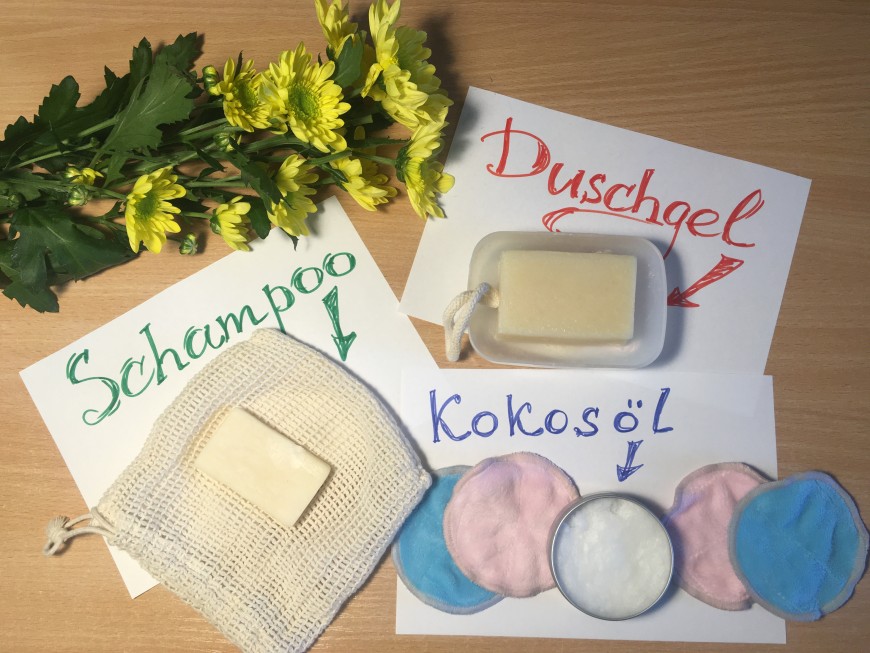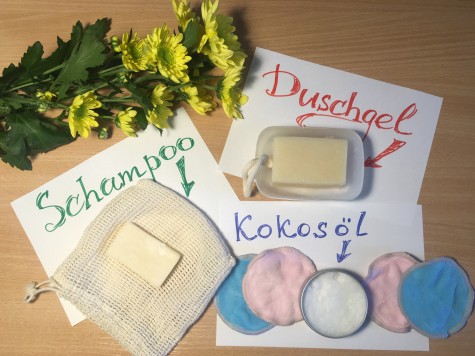 Masha,
Data and Discourse Studies M.A.
An important aspect of sustainable life for me is resource redistribution.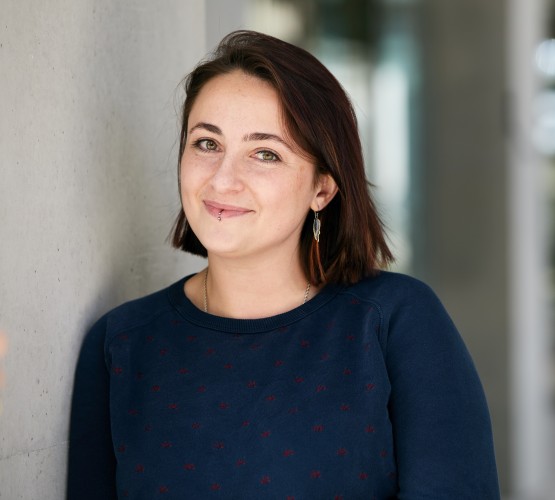 Picture: Britta Hüning
Foodsharing and second-hand clothes
"By this, I mean for example food-sharing and making sure good groceries are eaten instead of being thrown away. Or a wonderful German habit to put stuff "to give away" on the streets and thus to give a second life to the objects that you no longer need. Or multiple groups online that help people exchange things and even favours. 
Buying clothes at the second-hand shop instead of big brands, maybe trying to avoid this massive consumerism and sometimes ask yourself "do I really need this?", or having vegetables instead of meat – those are also little steps towards a sustainable way of living."
Comparison Germany – Ukraine
"Concerning sustainability, there is salient contrast in how things are done in Germany in comparison to my home country – Ukraine.
In Germany, people are at least well informed about the consequences of their actions even if not everyone adheres to it.
On the contrary, in Ukraine, it is something that requires not only a lot of effort but also self-education on the matter. For example, recycling is extremely basic in Ukraine and often it would mean that one has to literally carry rubbish to the other part of the city and pay for each bag to be recycled. Partially because of the unstable economic situation in Ukraine, people cannot effort so much to be conscious and choose more expensive sustainable products or pay extra for recycling.
Living in Germany allows me to choose sustainability almost at my every step. Going to the supermarket, I buy free-range eggs. I take fabric shopping bags with me and buy dry shampoos and deodorant to avoid plastic."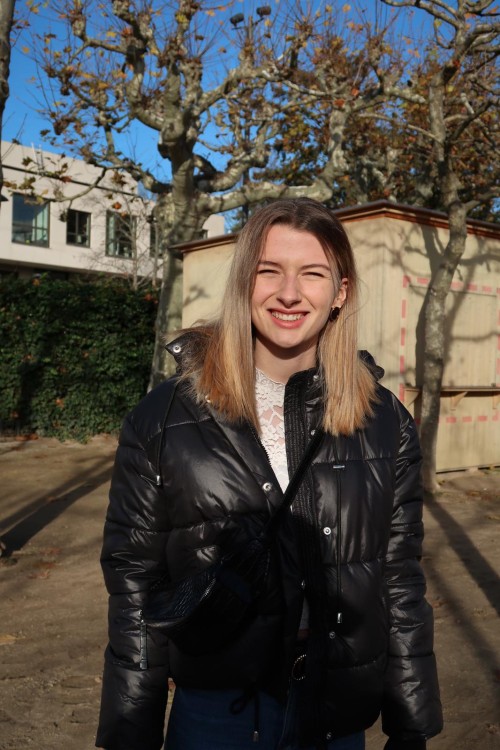 Picture: Marie Brandt
Mia
Hey! My name is Mia and I'm studying Economical and Civil Engineering at the TU Darmstadt. I am very excited to give you some insights of what a student-life at TU Darmstadt looks like and hope I can help you!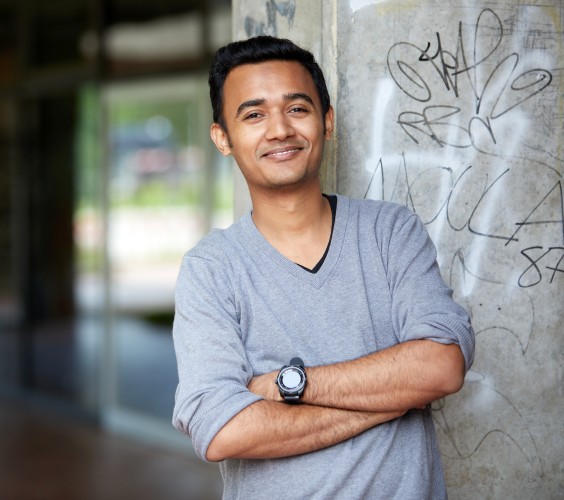 Picture: Britta Hüning
Moiz
Hey, human! I'm Moiz and I hail from Karachi, Pakistan. I study Materials Science. I had always had a dream of studying and living abroad, mainly because of my previous travels to several countries around the world for the game of Scrabble. Out of all, I chose TU Darmstadt because of its research profile and rankings. So, either you are already living your dream of studying abroad or about to live it, I hope that I can help you in your journey with my experiences.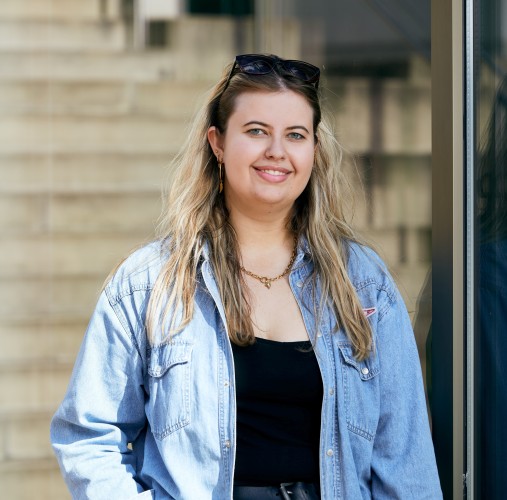 Picture: Britta Hüning
Julia
Hi, I'm Julia and I have been studying Industrial Engineering, specialising in Mechanical Engineering. I am one of the first students who started their studies digitally. It was different from what I imagined, but considering the circumstances, I liked it. There were many online activities to meet new people, which went very well.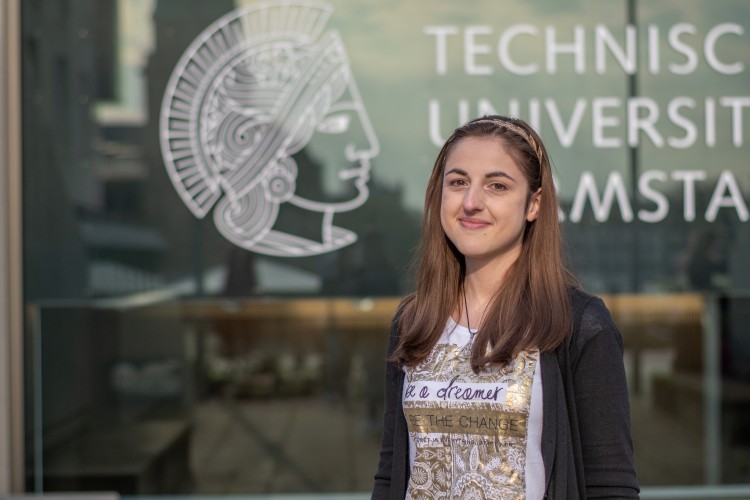 Picture: Juan Aleman
Nicole
Hello, I am Nicole! :) I'm studying German Studies and Philosophy as Joint Bachelor of Arts, which is two degree programmes in one. I study here because the TU Darmstadt was the only university at the time where I could study what I wanted. So keep going, there's always something better than death!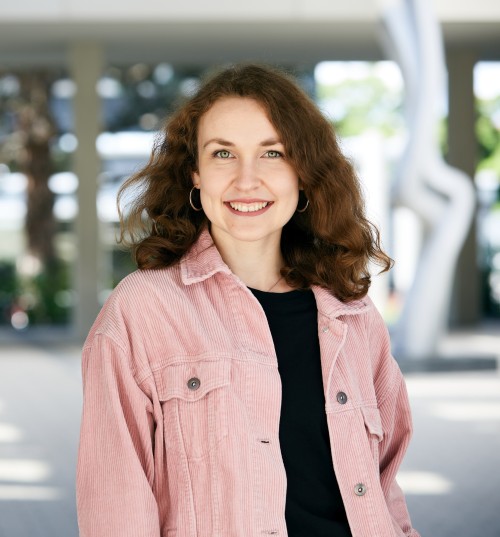 Picture: Britta Hüning
Polina
Hi, I'm Polina and I'm studying the master program "Linguistic and Literary Computing". The study program is very interdisciplinary, which is challenging and fascinating at the same time. Furthermore, it offers excellent future perspectives. I like this mix of the linguistics and computer science, and also the possibility to study in two languages – German and English.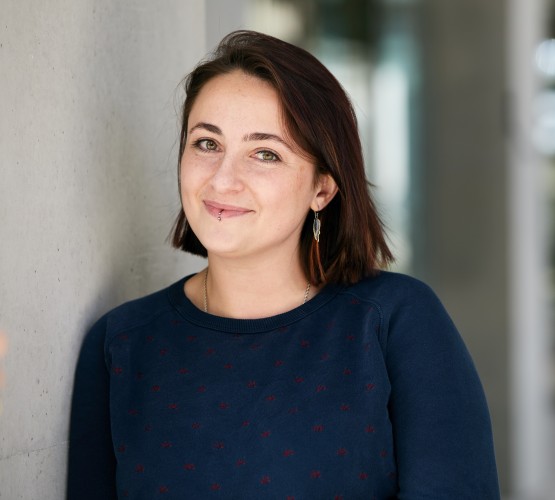 Picture: Britta Hüning
Masha
Hey! My name is Masha and I'm doing my master's in Data and Discourse Studies. It always takes long to explain what exactly I am studying. My program is a kaleidoscope of disciplines and methods, which are weirdly and fruitfully intertwined together. For me it is a fusion of hobby and profession: languages, history, programming, philosophy! I love it how we mix approaches trying to gain this voluminous image of our world.