Professor Dr. Tanja Brühl,
President of TU Darmstadt
Sustainability to me is to take responsibility for every future generation. Everyone can contribute - whether in their private lives, in their studies or in a professional context. As TU Darmstadt, we also take responsibility for a sustainable future.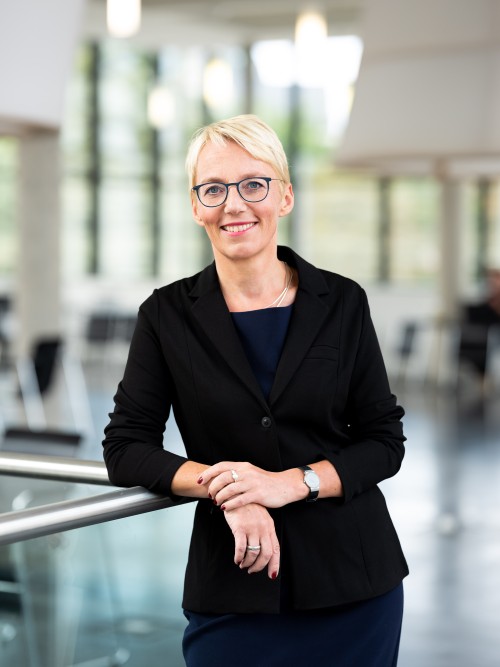 Sustainable study programmes at the TU Darmstadt
At TU Darmstadt, more than 30 study programmes deal with the aspect of "sustainability" from different perspectives. The study programme "Mechanical Engineering – Sustainable Engineering" places a special focus on it: renewable resources, tomorrow's water distribution systems and mobility, or tidal power are central research topics at the department. "Environmental Engineering" focuses on technical solutions for environmental protection and environmental planning. Resources and the energy supply of tomorrow, such as solar and fuel cells are one of the main topics of "Materials Science", for example. Sustainable approaches also play an important role in chemistry: the use of renewable energies, bioplastics and the principles of green chemistry help to conserve resources and contribute to environmental relief.
However, there are still more perspectives on the topic of sustainability: Law and economics, for example, deal with the sharing economy and the optimisation of supply chains, while History and Social Sciences deal historically with environmental history or urban research. In Civil Engineering and Architecture, sustainable energy cycles and resource-conserving materials in construction are taken into account.
Concerning a Master's degree, there are even more opportunities to focus explicitly on the topic of sustainability, for example in the interdisciplinary degree programme "Energy Science and Engineering", in the degree programme "Traffic and Transport" or "Paper Science and Technology – Paper Technology and Bio-based Fibre Materials". Some Master's programmes in the field of sustainability even have an international profile, such as the joint-degree Master's programme "Sustainable Urban Development" or the English-taught Master's programme "Tropical Hydrogeology and Environmental Engineering" (TropHEE).
Sustainability Compass of TU Darmstadt
The Sustainability Compass gives an overview over all sustainable activities at TU Darmstadt. The digital, constantly growing sustainability report offers a platform on which all interested parties can inform themselves about sustainable activities at the TU. The Sustainability Compass is divided into the four fields of action Science, Operations, Governance and Social with a total of 22 areas. The different areas can thus inspire, network and exchange information with each other in order to jointly make the entire campus and social interaction more sustainable.
Interdisciplinary offers on the topic of sustainability
There are even more options to approach the topic sustainability at TU Darmstadt from a scientific perspective outside of one's own degree programme. The project "Sustainability in Teaching" bundles all courses with thematic sustainability relevance – from the seminar "Dealing with the Climate Crisis: Adaptation Policies in Comparison" (History and Social), to the lecture "Sustainable Industrial Chemistry" (Chemistry) or the lecture series "News from Environmental Technology" (Civil and Environmental Engineering). Some of the courses are also part of the interdisciplinary study focus (iSP) certificate programme.
The Office for Sustainability connects all offers and activities in the area of sustainability at TU Darmstadt. The Office is run jointly by staff and students.
University Group Sustainability
The university group Sustainability shows that the topic sustainability also plays a major role in everyday student life. Darmstadt students committed themselves voluntarily to raise awareness in the area of sustainability and organise various projects such as a film circle, lectures and excursions. A special highlight: the urban gardening project "Grünpause". Radishes, kale, various berries and herbs thrive in the raised beds at the Lichtwiese.
Sustainable student life
The studentsofTUdarmstadt have thought about what sustainability means to them and have collected tips on how to live more sustainably in everyday student life.