Published: 13th December 2021, last update: 31st May 2022
Mia,
Business Administration/ Industrial Engineering B.Sc.
Actually yes, it gets very stressful at some times and you will have to work hard, but I would choose TU Darmstadt again.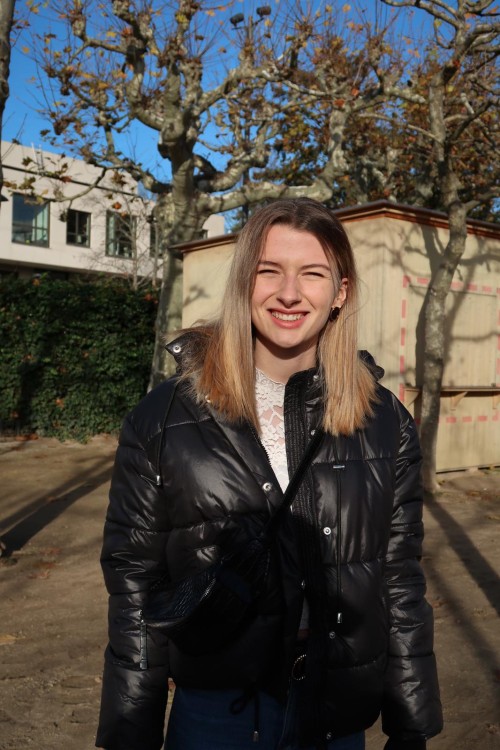 Picture: Marie Brandt
Looking for a challenge
"My name is Mia and I am from Germany. I am studying industrial with civil engineering.
I personally chose TU Darmstadt and thereby Darmstadt because of its good reputation and I was excited to be challenged in a new way. I started becoming more and more interested in science and technology throughout my senior year of high school, so my choice was actually pretty spontaneous.
Darmstadt has many facets. I started liking it even more with time going by.
You can go party, have cozy nights at parks, go get coffee in some sweet coffee bars but nevertheless it is still close to nature, so you can escape from city life.
Actually yes, it gets very stressful at some times and you will have to work hard, but I would choose TU Darmstadt again."
The application phase for studies at TU Darmstadt starts on 01.06.2022. You can apply now for the winter semester 2022/2023! You can see which degree programmes TU offers in this overview. All information on the question "How do I apply to the TU Darmstadt" can be found below in the blog post.
Juan,
Environmental Engineering M.Sc.
Hey, I'm Juan. I'm studying environmental engineering at TU Darmstadt because the university has a very good reputation. I'm sure it will open up a lot of opportunities for me worldwide.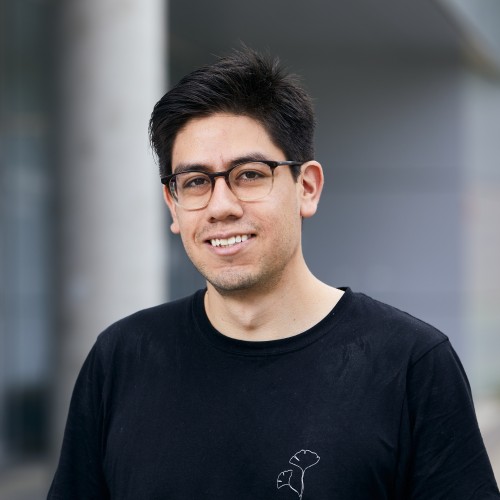 Picture: Britta Hüning
An important decision
Often it is personal impressions and recommendations that help us make important decisions. That's why we have collected all the reasons in this blog post that persuaded our Ambassadors to decide to study at TU Darmstadt. We also have some statements, like Juan 's, in the video:
Prestige and career opportunities
Diego : "Since middle school, I wanted to study engineering because of my fascination with robots and autonomous systems. The decision between mechanical and electrical engineering (and where to study) was not easy for me at the beginning, but in the end the answer was very clear for me: mechatronics in Germany, and at TU Darmstadt."
Diego,
Mechatronics B.Sc.
I chose TU Darmstadt not only because of the prestige in academia and research (TU Darmstadt is a member of TU9), but also because of the excellent reputation TU Darmstadt graduates have in the working world.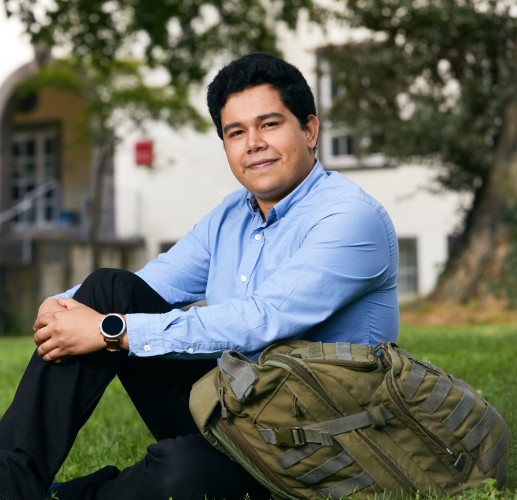 Picture: Britta Hüning
On the topic of careers, Patrick also has a lot of information for you in his blog post, such as how the TU supports your path to self-employment. But read it for yourself !
Exciting Master's programmes in English
TU Darmstadt offers eleven Master's programmes in English – a reason for many international students to choose TU. This is also the case with Moiz from Pakistan:
Moiz,
Materials Science M.Sc.
I chose TU Darmstadt because it ranks very well and my degree programme is offered in English.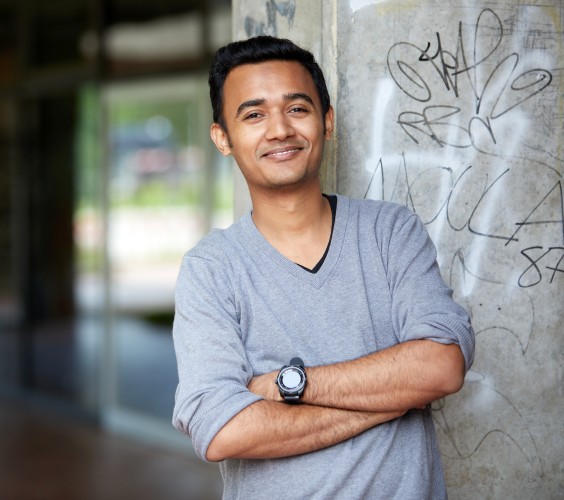 Picture: Britta Hüning
Moiz is studying the English-language Master's programme in Materials Science on Lichtwiese campus. This means he is well equipped for a future career in the national and international automotive, aerospace, chemical, semiconductor, healthcare and energy industries! Would you like to learn more about the English-language Master's programmes? Then have a look at our blogpost :)
Laura is also studying one of our English-language Master's programmes:
Laura,
Data and Discourse Studies M.A.
I chose TU Darmstadt because there is no other university in the world where I could study my current field: Data and Discourse Studies.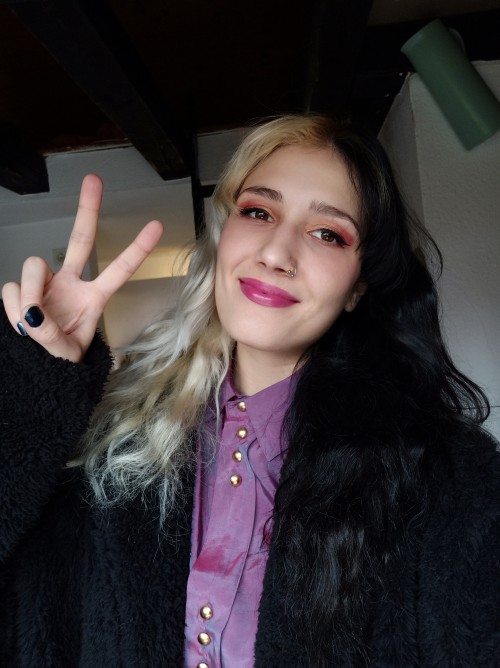 Picture: Privat
"TU was one of the closest universities to my hometown, and convinced me with its focus on technological methods that are also used in the humanities," says Laura.
Moritz is also going in a similar direction with his degree programme:
Moritz,
Digital Philology B.A.
Hey, I'm Moritz and I'm currently doing my bachelor's degree in digital philology. I chose TU Darmstadt because it's one of the few universities that offer degree programmes in digital humanities.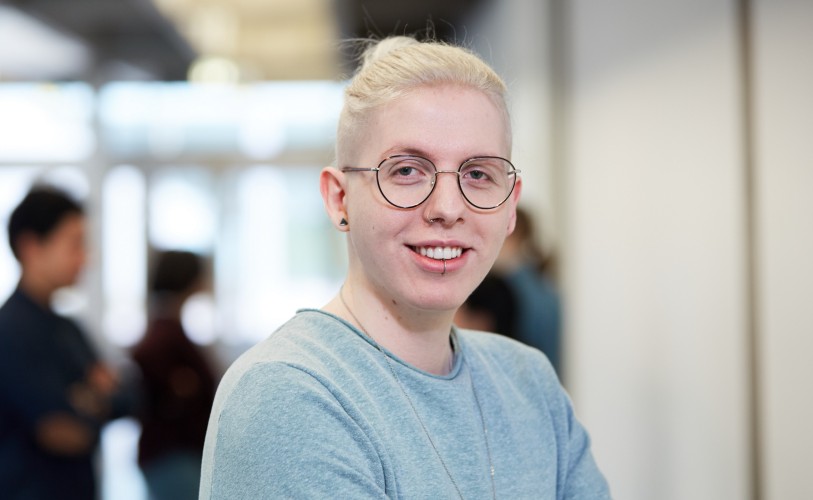 Picture: Britta Hüning
In fact, as the name suggests, TU Darmstadt is a technical university. A large part of the courses offered are therefore engineering courses. But there are also humanities and social sciences, and of course natural sciences such as biology, physics and chemistry. And what could be more natural than for these different disciplines to work together in an interdisciplinary way? Masha agrees:
Masha,
Data and Discourse Studies M.A.
Hey, I'm Masha, I chose TU Darmstadt because of its interdisciplinary approach to studying. Here you can also have a strong technical basis with humanities. I also knew about the diverse opportunities TU has to offer through a friend who studied here.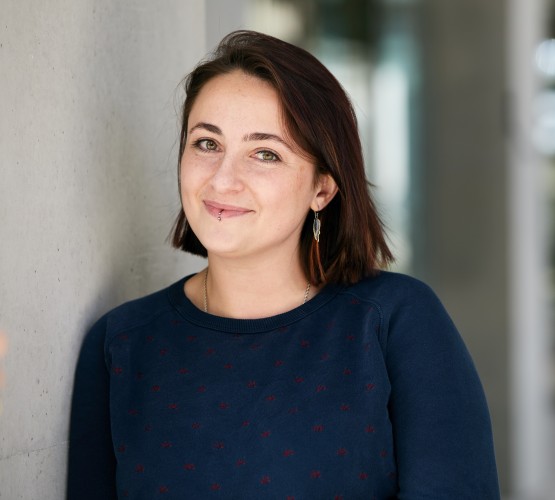 Picture: Britta Hüning
Comfortable in Darmstadt
Catalina's degree programme is also interdisciplinary:
Catalina,
Biomolecular Engineering B.Sc.
I always wanted to study at one of the leading universities in Germany. Surrounded by some of the best professors and students, you can improve your skills faster, gain knowledge and experience from some of the best in the field. I also liked my Biomolecular Engineering course, and there are an incredible amount of development opportunities available here.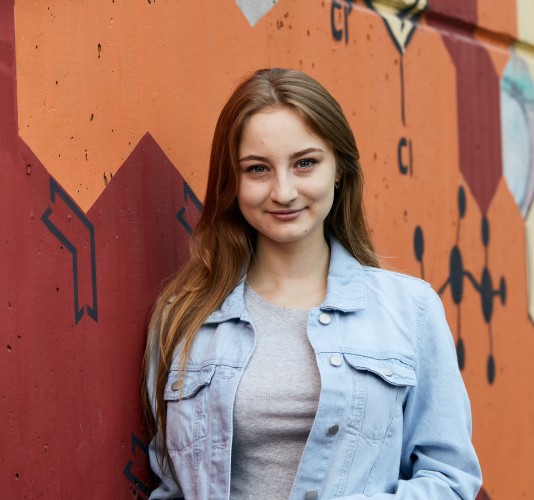 Picture: Britta Hüning
Catalina feels comfortable in Darmstadt. "The location also played a role. The city is not that big, but it's cosy, and there are also many students from whom you can always learn something and with whom you just spend your time well," says Catalina. Read more about Darmstadt in our blog post about student life in Darmstadt .
Great for career changers
TU Darmstadt also offers bilingual programmes, such as the Master of Arts Linguistic and Literary Computing:
Polina,
Linguistic and Literary Computing M.A.
I'm doing my Master's in Computational Linguistics at TU Darmstadt because my programme is open to so-called career changers like me and because it's a perfect balance between computer science and philology.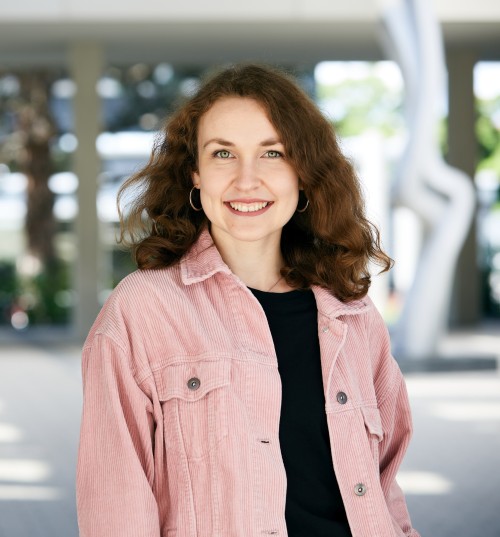 Picture: Britta Hüning
Before coming to Darmstadt, Polina studied German in Russia and elsewhere in Germany. What Polina appreciates about studying in Darmstadt is the possibility to create your own schedule and choose your courses freely. "In Russia this is not possible – the schedule is the same for everybody!"
How do I apply?
You want to get a Bachelor's or a Master's degree at TU Darmstadt? We explain to you what the application process looks like.
All prospective students can apply via the TUCaN portal. Please first create a TUCaN account. You will then receive access data by email so that you can complete the online application. Please note that it can take up to four hours for the activation email to be sent. Please also check your spam folder.
With the access data, you can then start your application under the corresponding menu item. When the application appears on your screen, you must print it out and sign it. Your application is not binding until the printed and signed application is received by post.
Information about the application and the process
More information for international prospective students about the necessary documents, application as well as semester deadlines
An important note: Please find out in good time which language skills are required for the respective course of study and which language certificates are accepted. If necessary, allow enough time for a language test.
Internationally strong, but also large regional catchment area
Almost one fifth of all TU students come from abroad. We are quite proud to have such a large proportion of international students! For students who come to TU from Hesse or the neighbouring federal states, this is a win-win situation. Studying at a renowned, international university that happens to be close by – what more could you want? That's how Julia from Wiesbaden also decided on TU Darmstadt:
Julia,
Business Administration/Industrial Engineering – specialising in Mechanical Engineering B.Sc.
Hello, my name is Julia and I study industrial engineering at TU. I chose TU Darmstadt because of its good reputation on the job market and its international connections. And because I'm still close to my family and friends.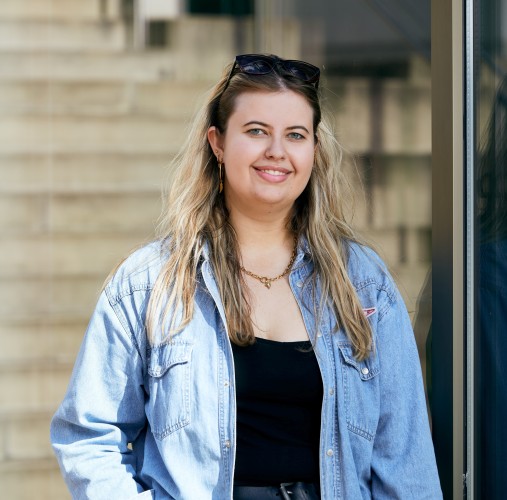 Picture: Britta Hüning
Become a student of TU Darmstadt