Imke,
doctoral student in the Department of Mechanical Engineering
What drives us engineers is the thought that there has to be a better way. In research and in industry, of course, there are targets and goals. But it's also a fundamental thought that we all already carry within us as our own motivation.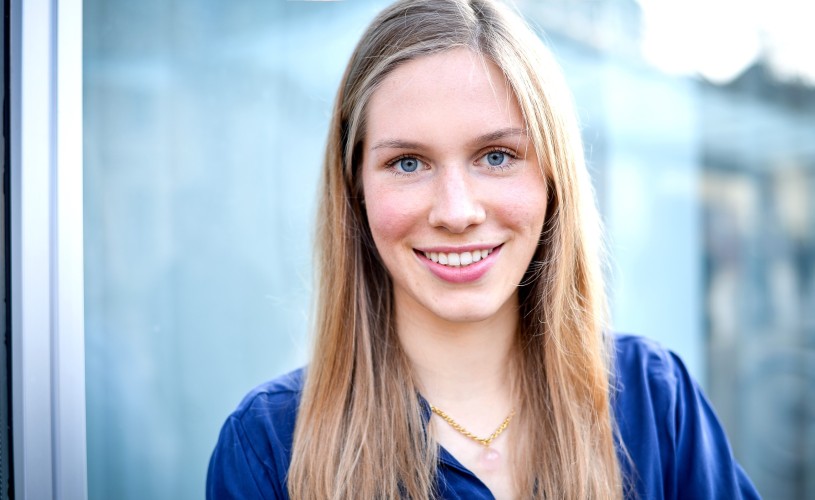 How does TU Darmstadt define sustainability for itself and what are the basic principles?
First off, we must clarify what sustainability means in its essence. After all, many varying aspects are subsumed under the term. The term sustainability is already very old: "It dates back to the 17th century and originally comes from forestry," explains Prof.'in Dr. Anke Weidenkaff, Professor at TU Darmstadt with the subject area "Materials Chemistry/Material Technology and Resource Management" and Managing Director of the Fraunhofer IWKS. What was taken from the forest back then was initially gone. Reforestation of cleared areas was necessary to make the resources available again to the same extent for the so-called grandchild generations. This principle still applies today, but our lives and our economy have become much more complex since then. "We have a lot of waste products: Garbage that ends up in landfills or otherwise escapes and cannot be recaptured. For example, CO₂ emissions are currently a big problem and subsequently not sustainable. For us, the goal is therefore a sustainable circular economy. There, the resulting products are collected and then reused." Ideally, then, there is no longer any waste; everything can be reused indefinitely or converted into new forms. How waste materials can be reused and new materials made more sustainable from the outset is the subject of Anke Weidenkaff's work in the Materials and Resources department.
What aspects were originally at the forefront of sustainability when we go back to the 17th century? On the one hand, of course, the preservation of the forest as an ecosystem, but also as a resource for humans for wood and food. And on the other hand, social responsibility towards future generations, who also depended on the forest. So it's about more than just environmental protection: sustainable action involves responsibility towards oneself and other people. TU Darmstadt and its research groups are therefore guided by the comprehensive sustainability goals of the United Nations. In addition to climate protection, clean water, clean energy, and sustainable consumption and production, health, the fight against poverty, economic growth, justice, and peace are also listed here. After all, we leave all of this to future generations, and we therefore bear responsibility. In total, there are 17 goals that the UN has formulated and to which it is committed.
The Sustainability Office: An address with many projects
For decades, there have always been university projects on sustainability and efforts to make the university more efficient, healthier, and environmentally friendly. Since 2020, there is now officially the Office for Sustainability, which bundles competencies and serves as a central contact point for students and employees.
The Office for Sustainability implements smaller and larger projects e.g., a collection station for old cell phones, bicycle repair stations around the university, and regular CO₂ balancing of the administration. The so-called Sustainability Compass also transparently documents which steps the TU Darmstadt has already implemented. For example, the reduction of CO₂ emissions. This is because the state of Hesse has set itself the goal of reducing its CO₂ emissions by 90% by 2050 compared to the year 1990 as part of its sustainability strategy. The TU, as part of the public sector, is aiming for a reduction of at least 2% per year, just like other universities. You will also find info on health management for staff and students and many other topics.
As a member of the network Universities for Sustainable Development in Darmstadt (HONEDA), the Office for Sustainability is well connected and informs people beyond university topics as well- for example at the next Sustainability Day on November 24, 2021. Because together we can create even more!
Research for a better future
The challenges are extensive and that is why there are many research groups and institutes at TU Darmstadt that deal with sustainability in their research. It is ideal if you are also interested in the topic, because here you can already help make existing systems more efficient and develop more sustainable methods during your studies.
Imke and Tim, for example, are conducting research at the Institute of Fluid Systems Engineering in the Department of Mechanical Engineering on how energy can be saved in water conveyance systems. They are part of the technical operations research team, focusing on two different areas of research and optimization of water delivery and distribution systems.
Imke is currently observing cities and their various influences on water supply. She is looking at the current state of a city's water supply, analyzing in which neighborhoods the demand is greater or less, and how well water systems can handle disruptions and other problems. It also determines how new neighborhoods in growing cities, for example, should be optimally connected to existing water supplies. To do this, she obtains data from urban water utilities, processes the data, and optimizes the supply structure in terms of its resilience, simplifying the water supply resistance to disruptions.
Tim is primarily concerned with industrial plants and their special demands on the water supply. This is because production plants often use large amounts of energy to move water for cooling and to treat polluted service water. In an industrialized country like Germany, this opens a lot of room for optimization and energy savings.